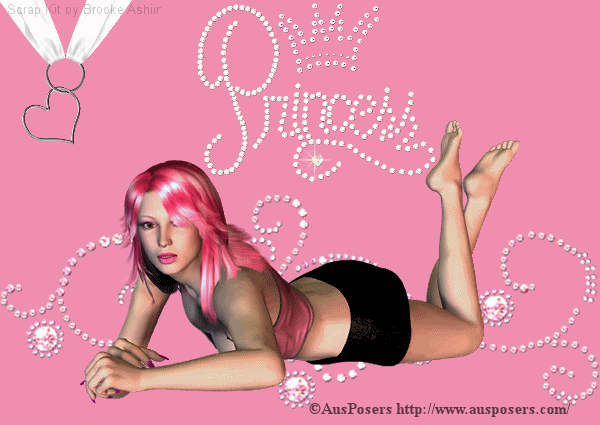 Supplies Needed

Paint Shop Pro   

Tube of your choice - I'm using a tube by AusPosers


Scrapkit BBD- All Girl PTU - By Brooke Ashlin



Open up a new image 600x500. Flood fill with a color of your

choice. I used #f08fb0. Copy and paste your tube as a new layer.

Image > Resize > By 70% make sure all layers is not checked. Open

up Blingswirl copy and paste as a new layer. I put this behind my

tube. Now Resize this by 150%. Open up Princessbling copy and

paste as a new layer. Resize this by 60% and place where you

like.

Open up ribbonheartcharm3 copy and paste as a new layer. Resize

this by 60%. Place where you like. Or use my image as reference.
Make sure your copyright info is on the tag. Place your name on

it.

Now close out all layers except the princess layer and blingswirl

layer. Merge the two layers together. Now duplicate it three

times. That way you have four of this layer. Select the tube tool

and choose a flare. One came with PSP if you don't have one I

would google it. There are several out there.

Place one flare tube on each layer. Use the size you thinks looks

good. When you are done close out the other three flare layers.

Go to Edit > Copy > Copy Merged. Now in Animation Shop copy and

paste as a new animation. Back in PSP close out the layer you

just copied. Open up the next Merged layer. Copy merged and paste

into animation shop after current frame. Now repeat this till you

have all four frames. Always make sure to paste the new layer in

animation shop after the current frame. When you have all four in

animation shop go to view animation.

Go to file and save as. Name it what you would like
.