Phaedra's Elder Scrolls & Fallout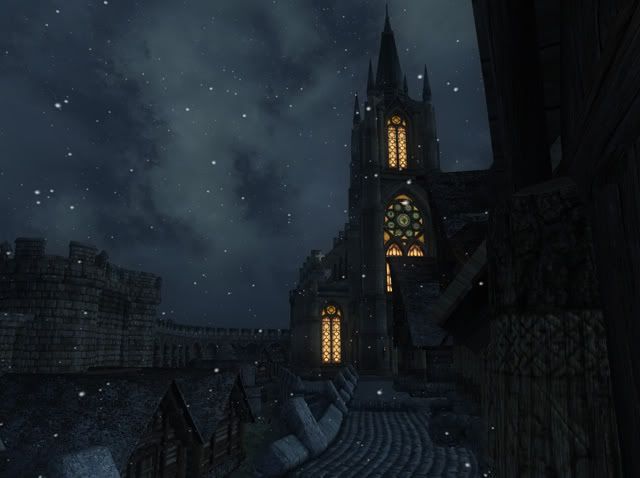 Snow falling on Bruma Chapel.
Introduction
Welcome to my website. My name is Phaedra. On this site you will find my Elder Scrolls and Fallout mods, resources, and tutorials. You can contact me at
LadyPhaedra13@gmail.com
if you have questions or requests.
News, Events, and Other Happenings:
Phaedra's Mod Diary
- My blog where I post ideas and updates on my modding experience or other major happenings around the community.
Phaedra's Twitter - Follow me on Twitter.  I'll tweet random little tidbits like mod releases and news snippets.
Elder Scrolls V: Skyrim -
Mods
A campsite and a crafting WIPz.
Elder Scrolls IV: Oblivion -
Mods and More
Oblivion is the game that I have the most experience modding for so you will find a fair amount a mods for download.  Also there are modder's resources that I have made that you are welcome to use in your own mods.  Information on some group mods and some requests that I have filled over the years is included here as well.
Elder Scrolls III: Morrowind -
Mods
Ah, my first taste of Elder Scrolls and my first taste of modding.  Got a handful of mods here to check out.  No nasty GMSTs, I was sure to be careful of that.
Fallout 3 &
Fallout: New Vegas -
Mods
Just a few mods, one campsite for each.  The modding bug didn't bite me too hard for the Fallout games.  Its not that I don't love them, I was happy with most things the way they were.
Modding Tutorials -
Learn how
A handful of tutorials written by myself and a few others for Oblivion.  Some of the information in the tutorials is helpful for modding other games as well.  So feel free to check them out.
Elder Scrolls and Fallout Links
My Favorite Elder Scrolls and Fallout Links
- Some of my favorite Elder Scrolls and Fallout websites.
Misc Stuff
About Me
- More about me.
My Characters
- Descriptions and screenshots.
You are welcome to link back to any of my sites.  Here are some images that you
can use to create a buttons on your website if you wish to use them.