Litter of chocolate Labs due February 10, 2012.
Contact: Dan Scollard 541.753.6861 or
danscollard@hotmail.com
.
 Please feel free to arrange to meet Jackie Brown prior to whelping, or to visit/see pups afterwards.
Location: Corvallis, Oregon.
Pups:  Pups will be sold wormed, with full guarantees on eyes, hips, and elbows, with dew claws removed (unless you stipulate otherwise), with first shots, having been exposed to water (weather depending), having been exposed to duck, pheasant, quail, and chukar wings. These pups will be whelped and raised for their first 4 weeks or so indoors receiving abundant human contact. This will be Jackie Brown's 3rd litter with Merganser studs.
Jackie Brown X
(
Merganser's Radar O'Reilly
MH, WC x Ruby Mollisol Of The Camas Prairie). Hip OFA LR-170449G30F-PI (Good). Elbow OFA LR-EL36671F30-PI (Normal). Eyes Clear  (2009).  EIC Clear. AKC # SR26120702. CNM clearance #: LR-CNM10-216-F-PIV.
Jackie is a 6 year old, 70 pound AKC chocolate Lab who lives to be with her person and to hunt birds. She is an extremely devoted, happy, calm, and affectionate dog who lives indoors. She carries her own pack while backpacking and is an excellent guard dog at home. She is gentle with children, other dogs, and cats.
Jackie tirelessly hunts ducks, quail, pheasants, grouse, and chukar. She was very easy to train and enthusiastic throughout. She is steady to shot and takes hand signals and casting from a blind, from a boat, or while jump shooting in the field. She scent hunts upland and, not uncommonly, points. 
Jackie has the darkest brown coat of any chocolate Lab I have seen. Her pedigree is very strong with Field Champion, Master Hunter, Junior Hunter, Companion Dog, Working Certificate, Best of Breed, as well as National Field Champion and other titles predominantly on her AKC Sire's side ( 
http://www.duckdog.com/mergansers_radar_oreilly_mh_pedigree.htm
).  
Sire: Merganser's Bonsoir MH (Qualified All-Age)
Bones became a 2008 Master National Finalist after he and Dianne competed in an eight day competition in Minnesota in September. Bones is also a Master Hunter, Qualified All-Age, and has finished some Opens in field trial competition. Bones was on the 2004 Derby List with 12 Derby Points and 5 JAMs in 14 starts.
Bones is handsome, agile, hard charging, and athletic with a medium chocolate coat. Bones is a well socialized house dog. He gets along well with people and other dogs.
Three of Bone's grandparents are FC-AFCs. FC Clubmead Head Over Heels is a full brother to FC-AFC DB's Cracker of Clubmead (Ritz). Smoky Hill Pepsi was QAA and lived until the age of 17. Pepsi's sire is FC-AFC Castlebay's Slew Man Two. No Fear's sire is FC-AFC Black Gold's Kates.
Only two chocolates are in Bone's pedigree - one in the 4th generation and one in the 5th generation. This is a remarkable and important addition to the chocolate gene pool.
PICS OF JACKIE BROWN X
PICS OF MERGANSER'S Bonsoir MH (Qualified All-Age)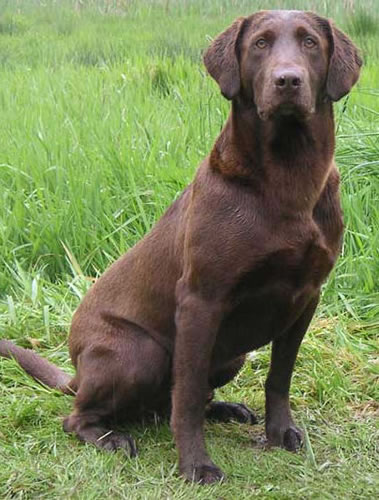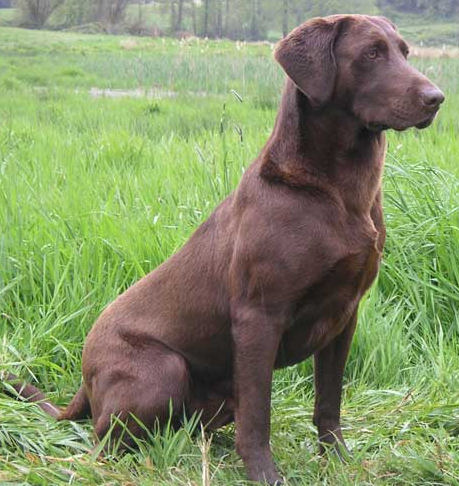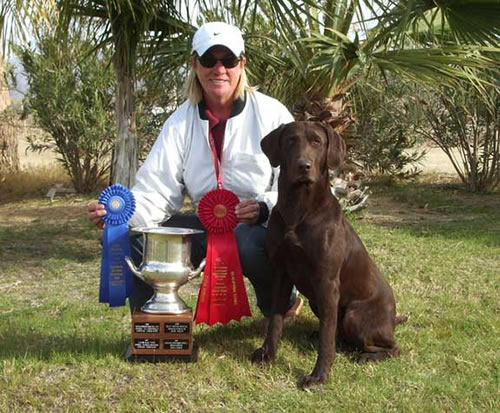 Pics of Jackie Brown's litter from May 2009 with Merganser's Ferris Bueller MH, WC