Aisle Runner
I bought the aisle runner from a local knottie.  I monogrammed with acrylic paint from Michaels.  I created the monogram in Word.  I then emailed the document to Kinko's and they blew it up to 3'x3'.  They charge 75 cents per square foot so it cost about $7 to have it blown up.  Next I taped down the monogram and the aisle runner.  I traced the letters (except I forgot the "Y").  I then untaped it and put garbage bags under the aisle runner.  I then painted it.  It took me about 5-6 hours to do total.  I took these pictures before I fixed the Y.  The Y is now painted.  I'm trying to decide if I want to go around the edges with a permanent marker.  The runner is rolled up and back in storage, though, so I'll decide that later.  I also might buy and paint a dowel to match my colors and buy tasseled rope.  After the wedding, I plan on cutting out the monogram and hanging it on our wall.  For detailed and better instructions check out this blog.

Invites
We are doing pocketfold invites.  I ordered all of my paper from Anchor Paper.  Their website is kind of confusing so I emailed them and Tom emailed me back.  He was great!  After some emailing back and forth, he helped me figure out what paper I needed.  They pre-cut the 4x6 for the middle invite, the 4x5 square for the pocket, and the big piece that is folded to create the invite.  It ended up costing about $80 for enough paper and envelopes for 175 invites.  I haven't decided yet if I want to do belly bands.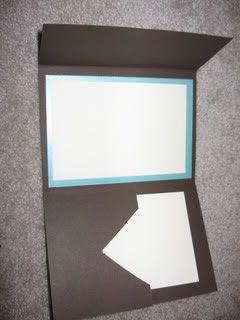 My first sample that I made to get the general look of what I was going for:
Second Sample!  I had all the invites and inserts printed at a local printing company.  The insersts were on a 8.5x11 paper and they cut them up into the inserts for me.  The 4x6 cost more because they had to feed it through their printer.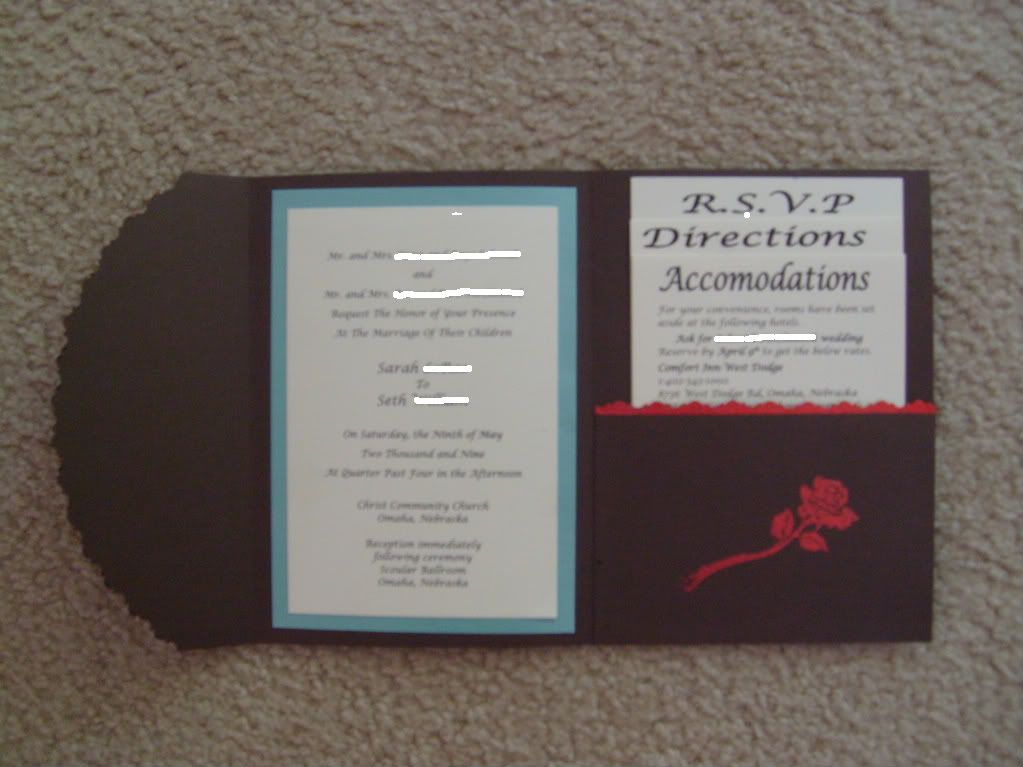 The inserts: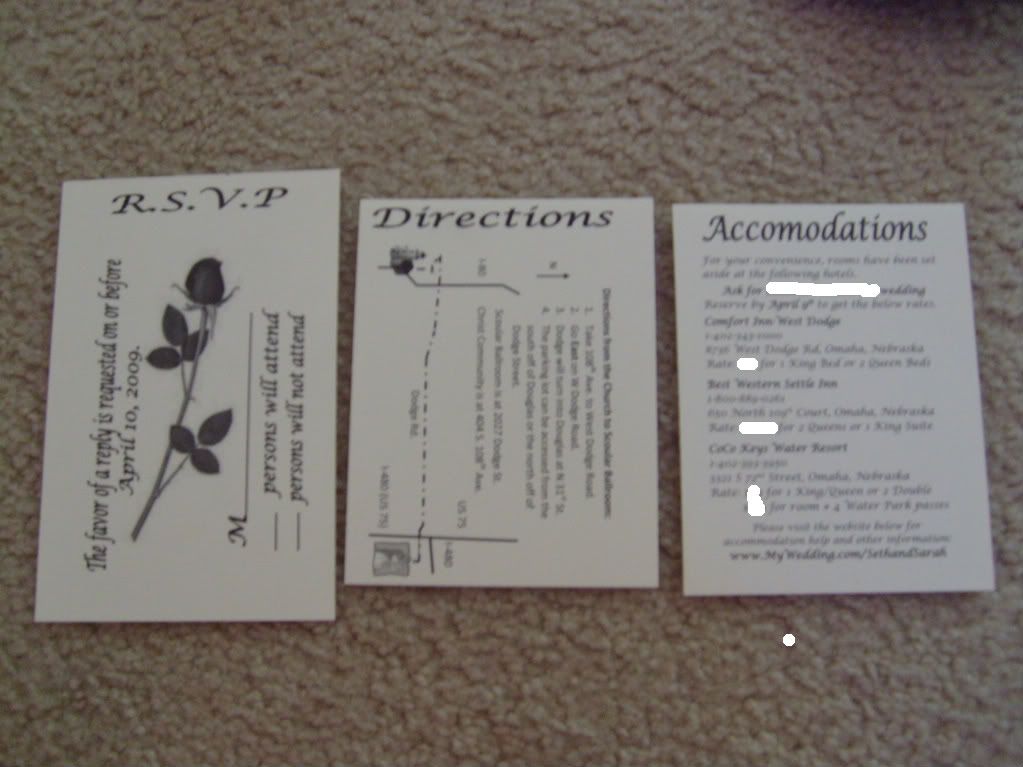 Now, we just have to do that 150 more times!  It's kind of hard to tell in the pictures but the rose and the edging is embossed.  Also, I spelled "accommodations" wrong on that insert card so I'm planning on reprinting that insert card closer to the wedding date.  I'm waiting in case any other information changes.   
Menu Cards
I'm considering doing menu cards.  I'm personally always curious about what the meals are at events so I thought it would be a nice gesture to let our guests know what the meal is before going up to the buffet.  I haven't decided if I make them or will buy them.
The menu cards are done!  Click here for more info.
Guest Book

The guest book is done!  Click here for pictures!
 Programs
Because of all the other DIY projects, I didn't want to completely DIY the programs.  So, Seth and I went to Michaels and he picked out the ones he liked the best.  He picked ones from Gartner Studios.
 So, now I just have to download the template, figure out what we want them to say, and print and assemble them.