The Dress!
I went to 4-5 different bridal stores before I found the one.  I went in looking for a simple, white, dress with some "poof."  Up until the last store, I really liked Mori Lee's 2105, I just wasn't sure if I liked all the embellishments. 
I went to Bridal Traditions with my FMIL, FSIL, and mom and after trying on 5  or so dresses, I tried on Bonny 755 at the suggestion of one of the consultants, Linda.  I loved it.  It was simple, yet had some embellishments on it, and it had the right amount of "poof." 
 I couldn't decide if I wanted to order it through Bridal Traditions or online.  After calling Bridal Traditions and talking to Judy, the owner, just the dress would cost too much, even with a discount.  Netbride cost much less after a 5% discount to match RK Bridal.  The veil, alterations, etc would also be more expensive with Bridal Traditions.   So, I contacted Linda Lee and had her measure me and I ordered the dress from Netbride on July 1st.  I got my dress October 24th, about a week before I was supposed.  It looks great and I don't think I'll need many alterations.  I'm so glad I ordered it online and saved so much money.

Dresses that didn't make the cut
I still really like both of these dresses.  The one on the left is Mori Lee 2105. It just was a tad too much for me with all of the designs everywhere.  The one on the right is a Maggie dress.  It is so pretty but it just didn't feel like "my" dress.

My shoes
My hair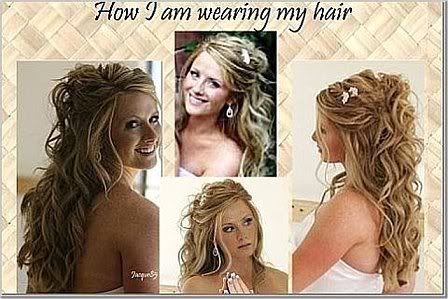 I want to have my hair half down with waves.  Similar to the this knottie's ideas.  My mom will be doing my hair.  She has always done my hair for formal occasions and wanted to do my hair for my wedding.  
I love this hair from The Knot's real wedding pictures.
Here is a link to insipration pictures that I will go through eventually.
My earrings
These are the earrings I'm planning on wearing.
My bracelet
This is the bracelet that Seth got me for Valentine's Day that I'm planning on wearing.
My Necklace
I got this necklace on ebay so I'm going to fix it and possibly wear it.  I haven't decided if I want to wear a necklace.