Andy & Juli 
May 17, 2008 

                       And I wonder
                              If everything could ever feel this real forever
If anything could ever be this good again
- Everlong, Foo Fighters 
All photos taken by the amazing Amy Carroll .
 Getting Ready
The tasty treats made by my fabulous Mama.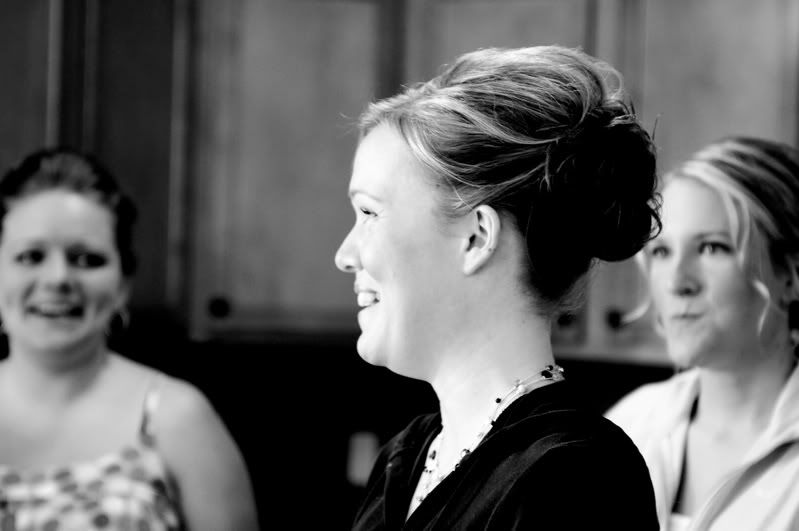 My crafty Mama and  the towel cake she made that I didn't want to take apart!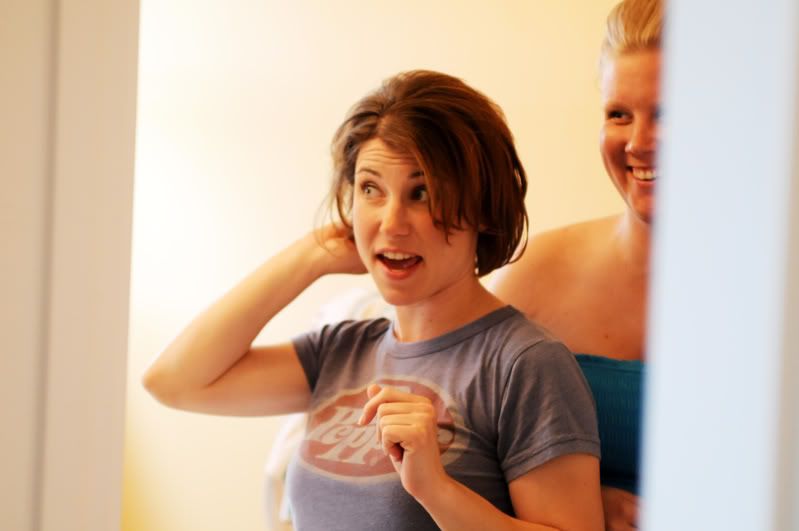 Lookin' good!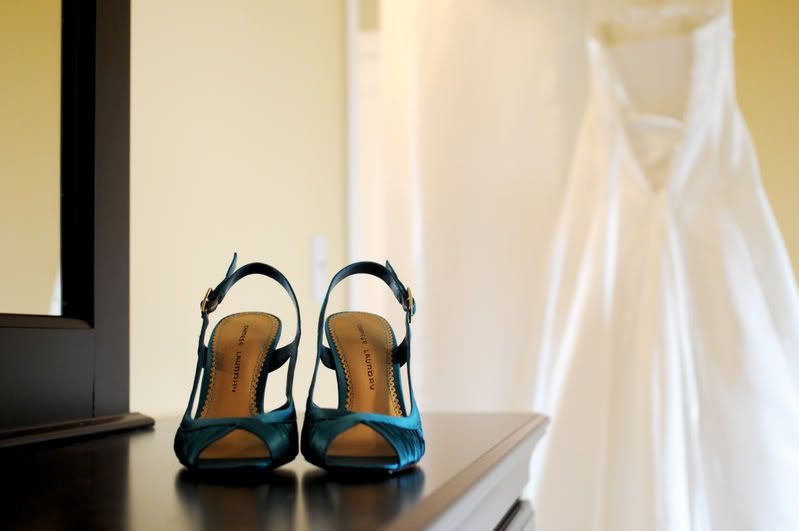 Putting on the dress was a team effort! 
First Dad helps me . . .
. . . then he helps brother.
The boys look a little confused.
Mom and Grandma step in to help with the boutonnieres.
Lookin' sharp!
My handsome man is set to go.
Ceremony
The bridal brigade helps keep me hidden pre-ceremony.
Our string quartet sets the mood. 
Awwww, Dad!
 The smooch seals the deal.
The knot has officially been tied!
Portraits
My gorgeous gals.
The whole party.
The gentlemen strut their stuff.
Why not go for a swing in a wedding dress?
Shoe shot.
Reception
The gift table with our gorgeous engraved pot.
Our escort cards and signature frame.
Gilby checks thinks out.
The microbrewed favors.
Kickin' back and waiting for the party to start.
Aletha is poised and ready to coordinate!
Apparently tying shoes is one of the bridesmaids' duties.
Making our entrances.
Mr. and Mrs. Davies!
The round robin bridesmaid speech!
Cheers!
The Best Man Rick speaks.
Dad gives his speech.
Dinner time!
Our delicious cake with our Detroit English D cake topper.
First dance.
Dad and I and Andy with his mom.
Let the party begin!
Vendor Reviews
Fallasburg Park – Ceremony Site  - A  Everything was great, the man who is the head park manager was very helpful and very accommodating.  Everyone at the park actually was always very kind and willing to take a few moments to answer questions and help out when we were visiting and trying to figure out how to set up the enclosed shelter.
Hilton GR – Reception Site – B +  The Hilton worked very well for us – reasonably priced and they offered a good option for us for alcohol.  We knew we wanted to have an open bar the whole night, and this site had the best option/price for us.  Sometimes our coordinator there took awhile to return emails, but when we met/talked he was always very nice and helpful.  They also let us give away alcohol as our favor (which other places would not allow).  They also didn't need the final count until the week of and let us make changes up until that last week.
Pearls Events – Day of Coordination – A +  Aletha was GREAT.  She set up our reception/ceremony site and everything looked perfect.  She also took care of some little mishaps that happened on the day and I was none the wiser.  I really didn't want friends/family to have to worry about setting things up so getting Aletha was perfect for us.  She was always very accessible by email and always responded quickly.  Very organized, helpful and I would highly recommend her to anyone looking into getting a DOC.
Amy Carroll, LLC – Photographer – A + Amy is amazing.  I have only seen the preview so far but it is fantastic.  She is so easy to work with – she gets amazing shots and takes tons of pictures.  She moves the shots along but without being pushy.  She was always helpful and easily accessible during planning too – I couldn't have asked for anything more in photographer!
Horrock's – Flowers – A   I was a little nervous in using Horrock's because sometimes the sales people didn't seem organized.  However, their prices were great and our flowers were PERFECT.  I had to change them up a couple of weeks before because I had changed my mind about a color, and they were helpful and accommodating to my changes.  All of my flowers were exactly what I had envisioned.
Quartet 441 – Ceremony Music – A  Everything was perfect.  The girls were helpful and quick to respond to emails during planning.  They did a fantastic job on the ceremony and I was so glad we hired them – it really helped add to the ceremony instead of having recorded music.  No complaints at all!
Forever2gether – Officiant – A   Our ceremony was exactly what we wanted.  Andy and I are not religious and we wanted to have a lot of say in how our ceremony was put together.  We were able to do that and everyone was very nice and accommodating.  We had booked Gust, but his son ended up getting married on our day, so we had John as a replacement and he did a great job. 
Sweet Cakes Design, LLC – Cake - A  Barb was great!  So easy to work with, great prices, and the cake looked and tasted perfect.  We were able to sample any flavors we wanted (I think we sampled about 6 total) and they were all delicious.
Woodland Manufacturing – Cake Topper – A   We knew we wanted a custom made Detroit Tigers English D for our cake topper and ordered ours from Woodland.  They sent us preview pics to make sure it was correct and it came out perfectly.  Easy to work with too!
The Bridal Lane – My dress – A   Again, all was great.  The girls are so kind and helpful, the dress came in perfect and on time, and the alteration appointments were easy and all the alterations were done well.  The dress was steamed the week of and I think it looked great!
Bridal Gallery – Bridesmaid Dresses – A   No complaints here either.  The girls are nice and helpful and they have a good selection.  No problems at all!
Design 1 Cascade – Hair and Makeup – A  They did a GREAT job.  It was so nice because each girl had their own hair stylist on the day of – so we were in and out in an hour and a half for 7 hair appointments and 4 makeup appointments.  All of my girls loved their hair and I loved mine too.  The makeup was also great – I really have nothing bad to say!
Moonlighting Professional Sound & Lighting – DJ – A   Rich was great to work with throughout planning.  He is very accessible, has a huge collection and will find whatever you want that he doesn't have.  Very affordable too.  However, we didn't get to see him in action because the day of our wedding he got kidney stones!  I believe he was setting up at our site when he had to go to the hospital – but he found a replacement at that last minute for us.  I don't think I liked the replacement as much as I would have Rich, he wasn't bad by any means but I think Rich would have been better, but really I was just so thankful he was able to find a replacement!
Sondra's Ink – Place cards, favor tags, table numbers – B-  Everything turned out great from Sondra – all the stationary looked just like what we wanted.  However, she was somewhat difficult to get a hold of on email and we didn't receive our products until the week of, which added a little stress to our last week.  Her prices are very reasonable though and I really did like the way everything turned out.  She even delivered them to my work because we just didn't have to time to pick up them that last week – so that helped.
Invitations – nonjustinvitation.com – A  We couldn't afford to spend a lot of money on invitations.  We ordered a very simple design at a very good price.  The invitations arrived within a week and were exactly what we wanted.
Schmohz Brewery – Favors – A – Schmohz is great – we have been members at the brewery for a few years now and all of the guys there are so easy to work with.  They helped us make our custom labels and although we were planning putting the labels on, they had some extra time and put them on for us.  There was no charge for the custom labels either, we just paid for a case of beer like any other case – so the prices were great for us.