Jordana & Chris    
                                              January 19, 2008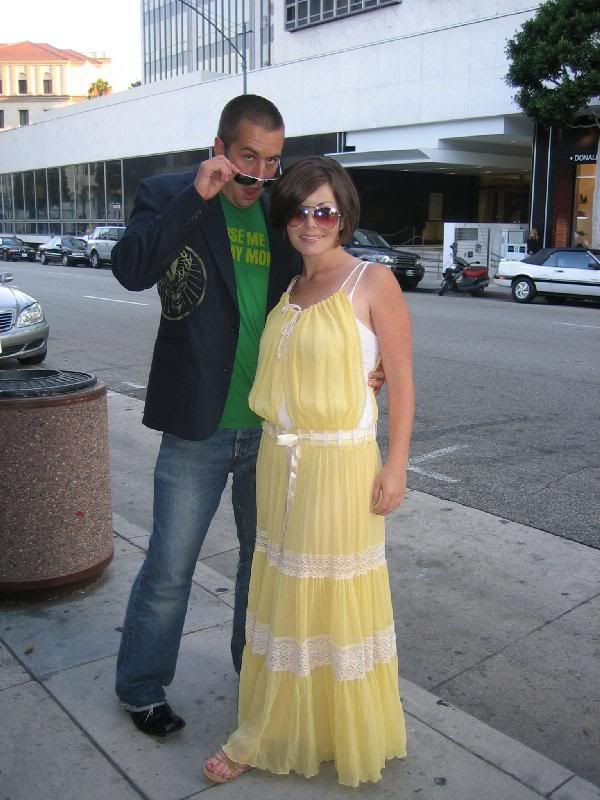 The Proposal
It was our two year anniversary and we decided to take a romantic trip to Santa Barbara.  During the daily vacation ritual of pre-dinner hot tubing, he thought he would throw me off by giving me the ugliest bracelet he could find.  I, knowing that this must be the most awful of jokes, told him that he was a silly idiot and that I would never wear that bracelet!  He nearly cried, telling me that he had searched high and low to find this one of a kind , very expensive, piece.  I  felt so bad that on the walk back to the room I started to cry!  Chris, in turn, felt so awful that he knew he had to do something.  He sped up the proposal process and decided to pop the question in the middle of the hotel room while wearing his bathing suit!  He was so nervous that the ring flew out of his hand, whizzed by my head and across the room before I even knew what was happening.  He got it together, got down on one knee and asked me to be his wife forever.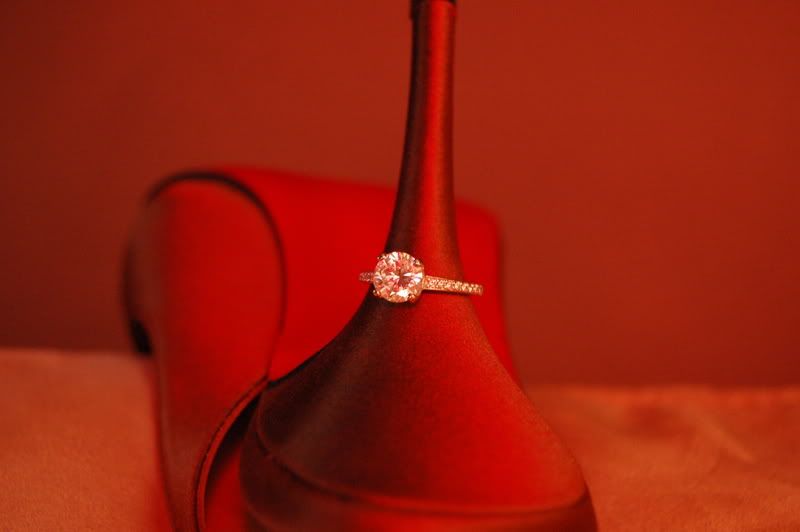 The stone was my grandmothers'.  My aunt told him about it and he asked for it in August.  It sat in his sock drawer for 3 months!  There are two matching bands.  Apparently I am only  "allowed" to have one at the wedding.  The second one will be our first wedding anniversary present.
Chris is my fabulous photographer.  When we got back from Santa Barbara he wanted to have a photo shoot with our new Nikon D50.  So, I went to change.  When I came back he'd set up lighting, candles, pillows on the floor and music.  It looked like a porn shoot!  We had a great time!  The above shot is my favorite of the 200 he took!
Engagment Photos
We took our engagement photos with Rob Holley in Manhattan Beach in May.  We are in love with him and the work that he does!  We started a block from the pier at a construction site, walked down to a parking lot, changed in the beach bathroom and then hit the beach.  The water was FREEZING!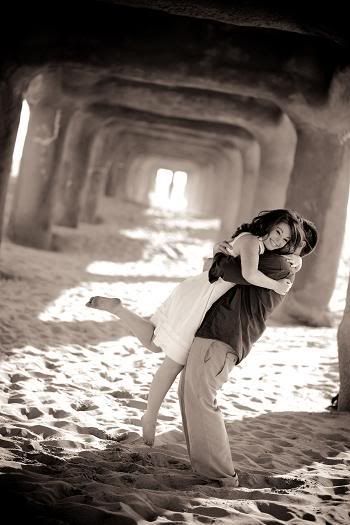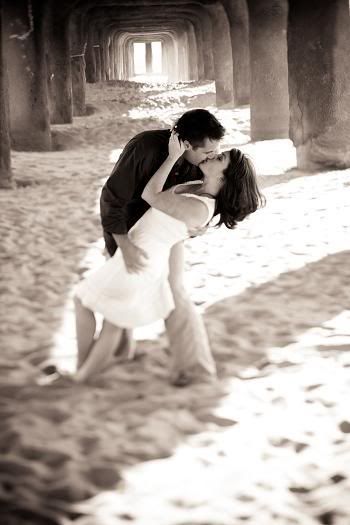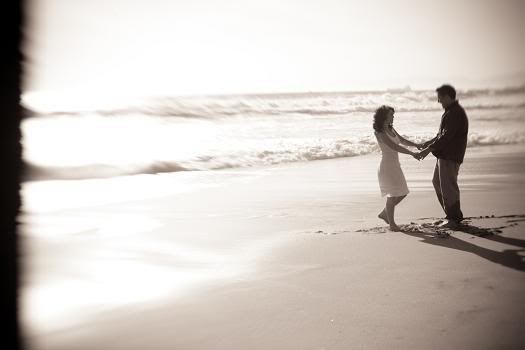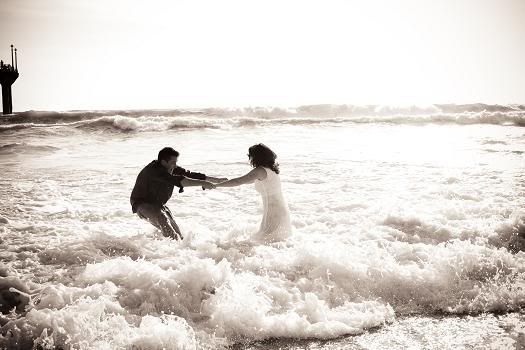 Logo
Chris and I collaborated on our logo... It's a J for me, a C for him and an H for our new last name! This was trial run number 87...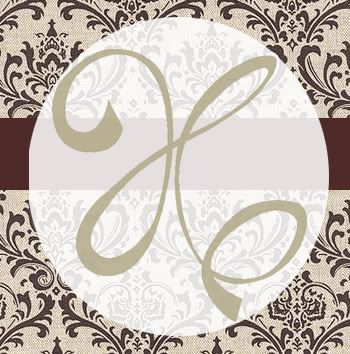 Putting it to use! I will have these printed as stickers and used for stuff. 
Save The Dates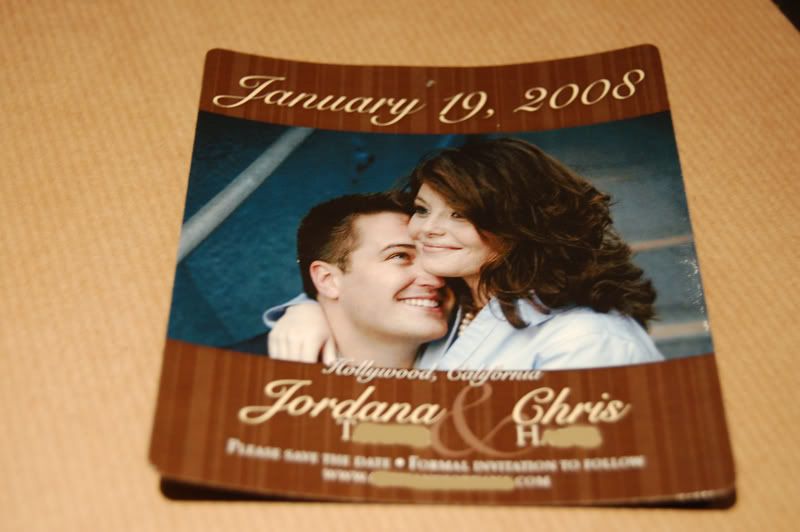 Bought from MagnetStreet Weddings (it's a magnet!).  I was very happy with their service.  They continuously followed up with me as I didn't have the photo from our photographer yet.  They were very flexible in allowing me to change/move/remove their original design so it fit my needs.  It's a quality magnet and only $0.89 when you buy 200.  All of our guests love it!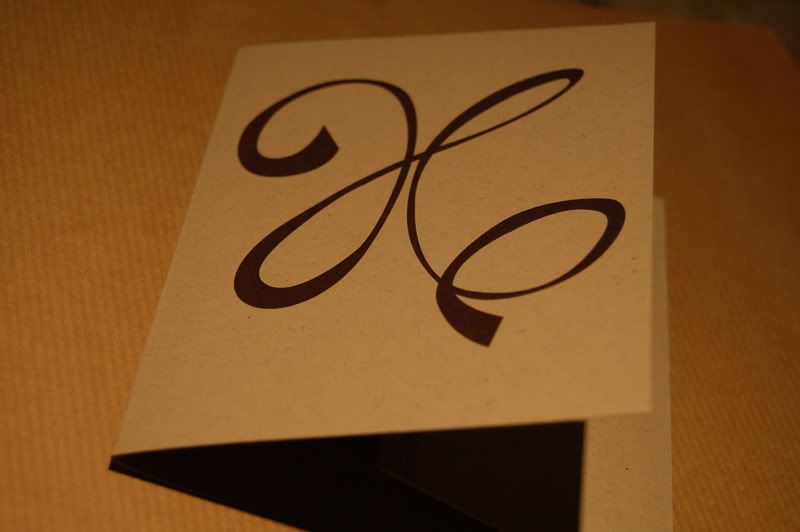 The magnet was stuck to the inside of this tri-fold card with a photo adhesive.  I had them printed and cut at ColorImages in Burbank.  I folded them.
Envelopes are A6 from PaperSource.  They're chocolate brown, but look slightly black in this photo.   Paper is Karen Foster Wedding Lace bought from 3 different vendors because no one seems to carry more than 8 pieces of paper at a time.  I used the paper liner kit from PaperSource.
I used these stickers instead of closing the envelope.  It did triple duty!  Closed the envelope, introduced our logo and showed the return address!
What to Wear?
I flew home to NC to go dress shopping with my mother (who was uberexcited!).  I found this at a a little place in Raleigh.  They offered 20% off plus an additional 10% if I bought the sample that was brand new and fit perfectly! And if you ship outside of NC, you save on the sales tax.  Well, it fit perfectly when I had been eating Southern fried food for two days straight.  Damn I love some Bojangles though!  So, it will now need some serious alterations, but I love her!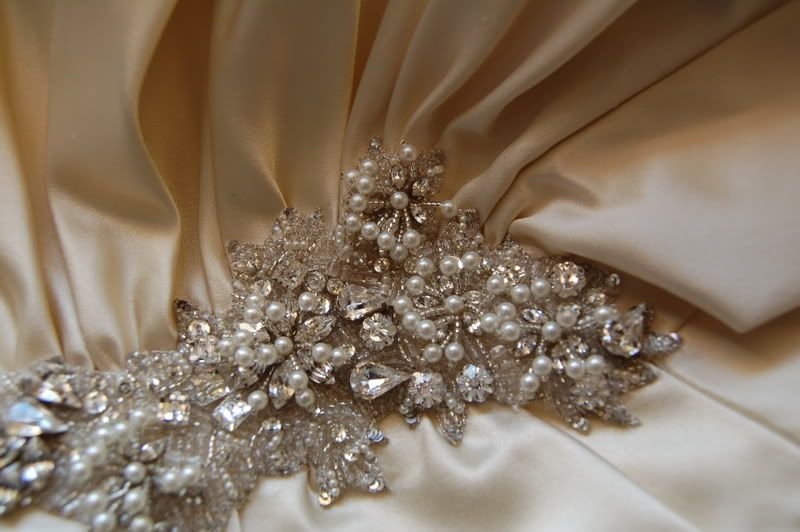 Dress Detail!  My mother really wanted to make the dress, but me being 3000 miles away from her just wasn't going to work for me.  So, she will be making the veils.  I couldn't decide between a sleek birdcage and a poufy fingertip... so I'm having both!  Poufy fingertip for ceremony, birdcage for photos.
My Shoes!  My very first E-bay purchase ever!  Bought from BE Luxe. I'm THRILLED with their service.  They were fast, efficient and shoes arrived in fabulous condition!  ( Kitty Jack loves to have his photo taken!)
I'm not an enormous jewlery person... most of the time I forget to even put the stuff on!  However, I knew I wanted to be blingtastic for the wedding.  When else can you run around in sparklies, giant dresses and tulle shooting from your head?
The earrings and the bracelet are from Haute Bride.  I bought the bracelet at a sample sale at As You Wish Bridal in Orange County.  I bought the earrings at the Haute Bride 30% off Sample Sale.  Two days after I bought the bracelet I broke one of the strands because I'm an idiot and wore it around the house (I love it that much) while I was doing some chores.  When I called in to buy the earrings I asked what they suggest I do with the bracelet.  She told me to send it in now, they will fix it for me and send it back with the earrings. Woop!  Stunning work and fabulous service!
I had only one hair trial and it was with Natalie Buketov.  I loved her work and her prices are just as fabulous.  I like the trial, but I think I want it to be a bit poufier with less curl in the back, more looping.
I also only did one make up trial.  I'm not a huge make up person... I don't buy a lot of it, and I don't really know what I like about it.  I didn't want to look like a pirate hooker and I didn't want to look too natural.  I want to be 1940's glamorous, but I don't want to look like I"m in costume.  Alexia was awesome!   My left eye does have more make up, I wanted to be able to compare.  I was also exhausted and my left eye gets really tired and sleepy too  :-) 
Jim Hjelm Style #5682. Simple, clean and beautiful!  It's floor length.   I will order them from Pearls Place.
 The boys tuxedos are from After Hours.  I don't so much appreciate them, but with guys all over the country, it will have to work.  My mom will be making their ties from a chocolate/mocha damask or cream/champagne damask.  After Hours had nothing by way of accessories that I didn't find repulsive. 
Ceremony
Orb from Scarlett Alley (www.scarlettalley.com).  I love it!  It will be my something blue.  The inside says "to have" and "to hold".  We will use them after the wedding for ring storage!
Venue
We're hosting the event at the Hollywood Roosevelt.  I knew even before we got engaged that I loved the hotel and would love to get married there.  When we got engaged we tossed around going home to NC, going to Boston where his family lives and staying here.  We decided to be selfish because I am enamoured with this hotel.  The service, ehh... They're tough to get a hold of and I've found that the more times I ask a question, the lower the price seems to go.  I can work that!
Invitations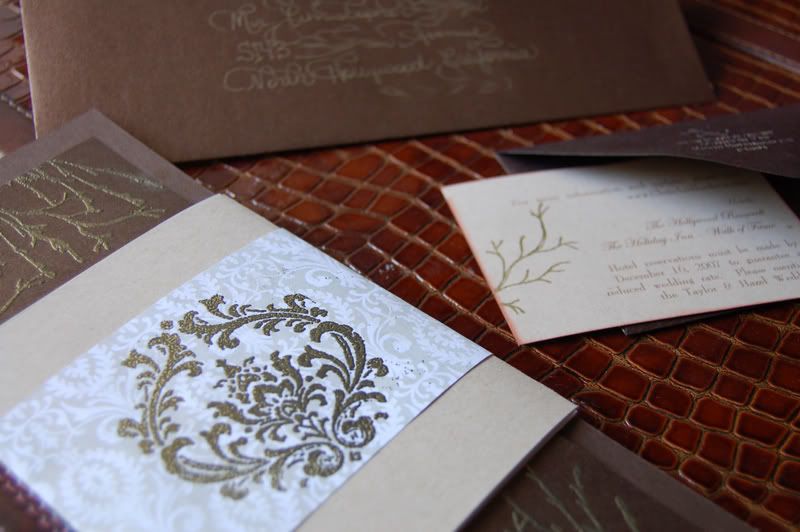 Apparently I think I can be a DIY girl. What?  I'm trying.  This is the final product for our invitation.  I spent many hours that turned into many months and wouldn't take back a minute.  I bought the envelopes for the invitation and for the RSVP cards at envelopemall.com.  The first backing is from Paper Source, the shiny brown backing is from Kelly Paper.  The monogram is left-over from our STD (from Kelly Paper).  The vellum is from envelopmall.com.  The wire is floral wire from Micheals.
For the belly band, the beige paper is also leftover from our STD... the monogram is actually covered on the inside! (Can we say "overpurchased"?).  The damask print is from a few online vendors and leftover from the STD.  I embossed the damask.  
For the RSVP and the website card, I printed on my home computer, stamped and then ran the edges through an ink pad to give it a little more depth.  I don't think you can see that in the photos though.
I bought the embosser from wgpress.com.  It is probably my absolute most favorite wedding/real life purchase so far.  The service from wgpress was impeccable.  I asked if I could pick it up and save on the $10 shipping.  They don't have a store front, so I couldn't pick it up, but they did offer to reduce the shipping to $5.  It arrived before it was supposed to and makes a stunning image.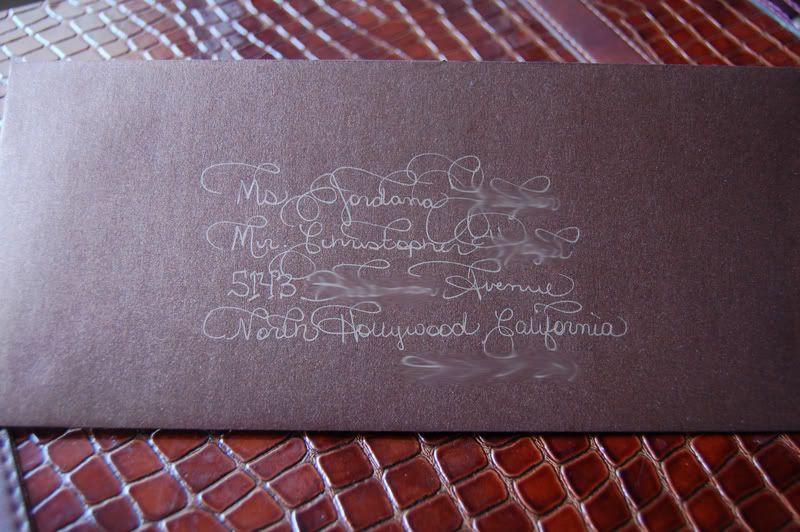 I did all of the calligraphy myself.  I figured, I've gotten pretty nice handwriting and I can add some flourish and some swirl.  I'm really happy with how it turned out!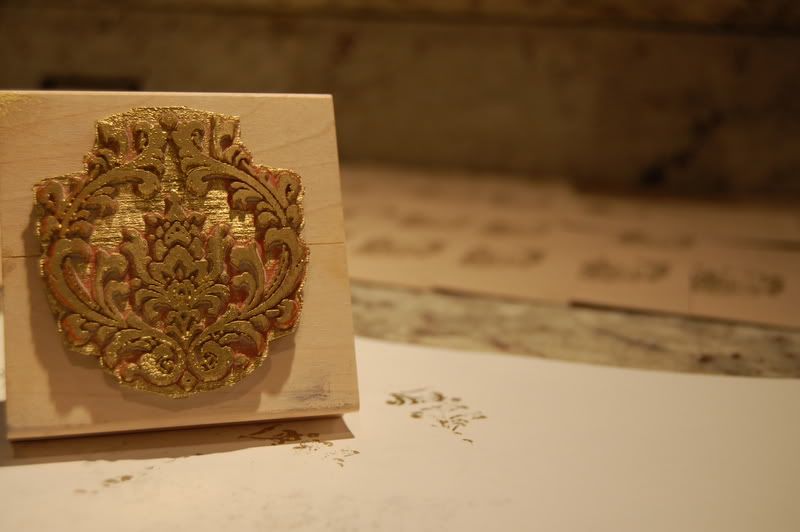 Because I'm crazy, my damasks much match.  rubberstamps.com was able to make a custom stamp that matched my table runners (below).  I cut out the image in photoshop, turned it into a black and white photo and emailed it in.  I fully expected a call saying that it wasn't possible (it was a shady attempt at what they needed).  They did it!  And in just a few days!  I ordered on Friday evening and had it in my hands on Thursday.  Also, it has a handle on the top to make stamping SUPER easy.  Thrilled.
DIY getting to be too much?  Get your fiance invovled! 
1. Must have beer, preferably very very cold and easily accessible.
2. Must have football on television on the background.
3. Must be so easy a monkey could do it!
Thank You Notes
I kind of ran out of energy.  After all the time and energy on the invitations, I wanted something simple and easy for the Thank You Notes.  I bought some thick textured paper at Kelly Paper and cut it down.  The corners were done with one of those  corner things from Micheals.  I bought the stamp and MIcheals and embosessed the "Thank You".  I wrote a few on the front side and decided that I hated them.  So, I'm writing the actual note on the back and having the "Thank You" on the front when they are opened.  They're doing the trick!  I bought brown envelopes at www.envelopemall.com.
Tables
Linen and runner.  I will be renting the chocolate linen from Elegant Designs, but I bought the runner fabric from www.buyfabrics.com.  Getting Mom involved here too as she will be making them.  Me, not so good with a needle and thread.
Flowers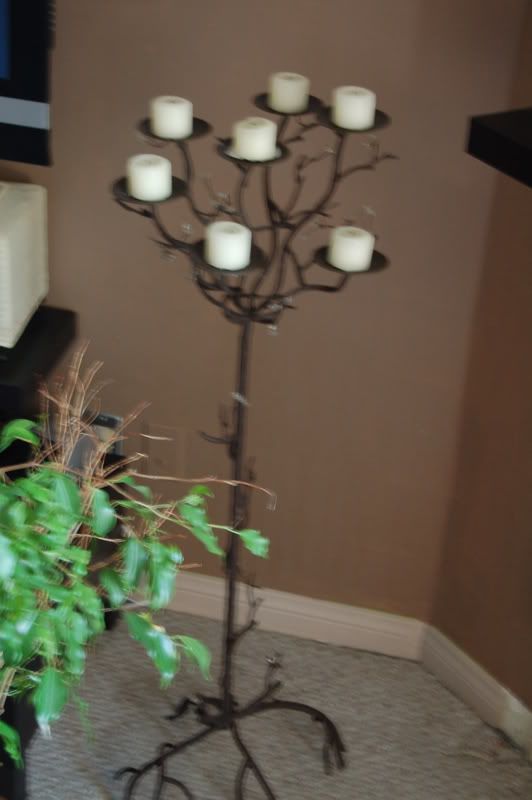 We choose Flora by Fauna, Michelle Brue as our florist.  She really captures our vision and is willing to work with us to the ends of flexibility!  I love her.  We will be putting these candelabras from Z Gallerie on the tables.  Z Gallerie has been a NIGHTMARE in ordering these discontinued pieces.  The last of them should be arriving by the end of July!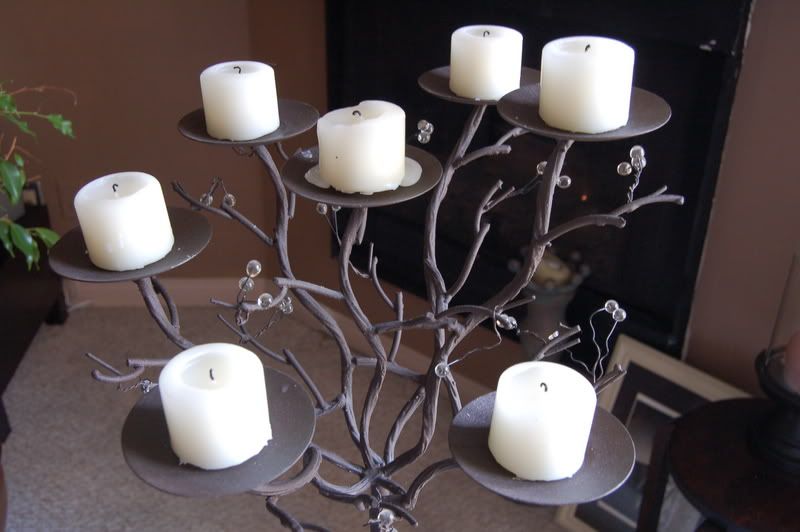 The top will have 30+ white orchids shooting out.  The bottom will have stargazer lilies, hydrangea and tulips placed around candles of differing heights and widths.  I haven't decided if we will use white, ivory or brown candles yet.
Trial Centerpiece
It blew me away!  It was everything that we had discussed!  It's an awful picture, but the top is whie orchid and white hydrangea.  The bottom is casablanca lily, white hydrangea, and mini tulips. 
Michele found the garland and beads downtown.  I adore that little bit of sparkle.
Cakes
                                         just the branches                                        the height
Rosebud Cakes - http://rosebudcakes.com/
 We booked during their 15% off July Sale.  We walked in to do a simple tasting and ending up booking!  They were willing to do whatever I told them I wanted.  The cake will be three TALL tiers. (picture #2)  Because I hate how little cakes look (I really like cake) each layer will be half foam and half cake.  I have yet to figure out how we cut this cake, but I'm assured it will be fine.  It will be chocolate cake with banana filing and chocolate ganache for one layer and vanilla cake with caramel filling for the other two layers.   The branches will be made of chocolate (similar to picture #1, but more haphazardly) and the monogram on the top will be made of chocolate.  I heart our cake. 
Favors
If there is one thing that I've learned from this board it is that favors must be edible to be good.  And I couldn't agree more!  FI's family name comes from the hazelnut, so chocolate covered hazelnuts were the obvious choice!  I'm from the south, where Mason Jars are a staple for homemade jam and moonshine and I definitely wanted to include my southern heritage in some form. 
I will order the nuts from www.nutsonline.com because they are so incredibly yummy.   I ordered the pint sized mason jars from www.bittercreeksouth.com.   I got the jars in November and they came in perfect condition!   I plan on filing the jars, wrapping a ribbon around and securing it with a monogram sticker.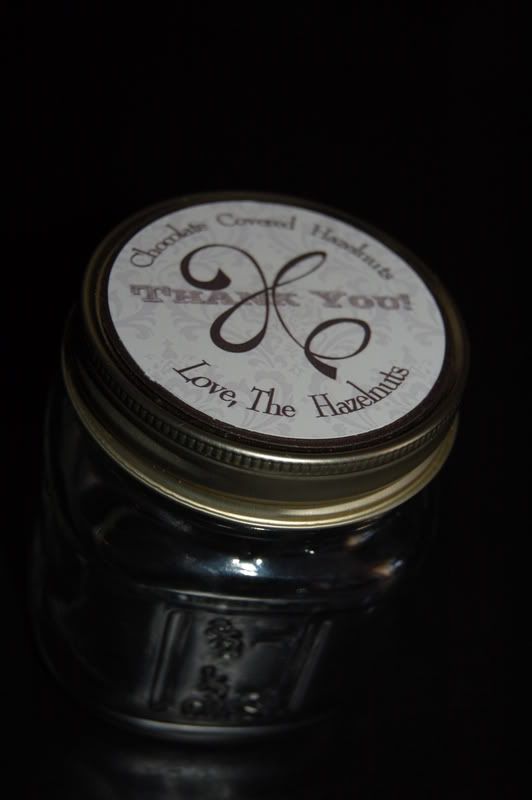 Update: The jars are done!  Woop.  I printed the top on a thick white carstock.  I copied  the design of our table runner for the background and designed it in PhotoShop.  I cut it out with one of those scrapbooking circles/razor kits.  The brown circle I cut out with a punch.  Double stick tape was my hero and hopefully it will hold it all together!
Rehearsal "Dinner"
We will be renting out the private room at Lucky Strike.  It's just across the street from the Roosevelt at Hollywood & Highland, so we won't have to worry about getting the bridal party and the OOT guests there.  We really wanted something unique and wanted to avoid the sit-down-dinner especially because most of our guests won't know each other and we want lots of mingling.   Heave appetizers, lots of drinks and perhaps a Red Sox Groom's Cake... sounds like perfection!
Per ssinca's recommendation, I hired Jonilyn to photograph and do a photobooth.  She seems super sweet.
Gifts
The Groomsmen
Cufflinks
                                                       The Outdoorsman     The Poker Player
                                              The Tatooed Skull Lover            The Musician
The Sports Fanatic
Random Things...
Guest Book
We made a MyPublisher album of our engagment photos to double as a guest book.  We used a 50% coupon and got a great deal!  I think it will be a great keepsake.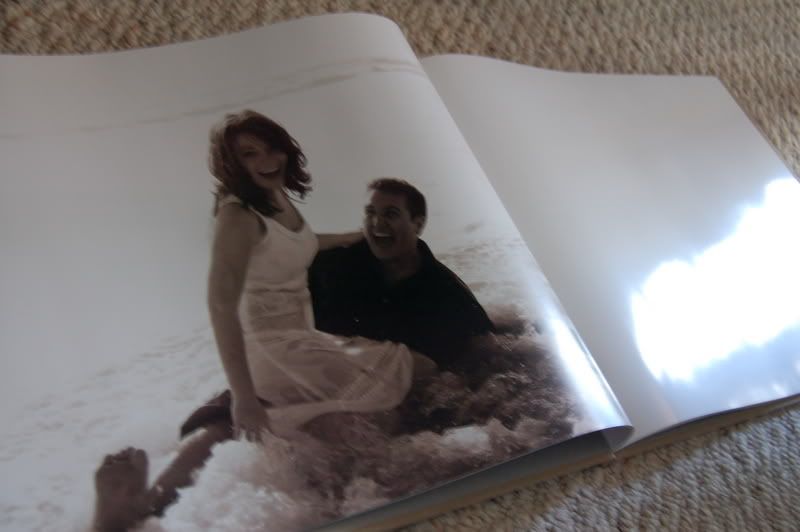 Rehearsal Dinner Cake Topper
In a fit of madness I thought I would DIY a Rehearsal Dinner Cake Topper.  Inspired by Daschie84 I made 6 attempts.  Count 'em... 6.  It wasn't pretty.  I probably spent nearly as much in clay as I would have if I'd just purchased them from a professional.  But, my personal stamp is on them and I love them in an "only a mother could love them" kind of way!
 Door Decor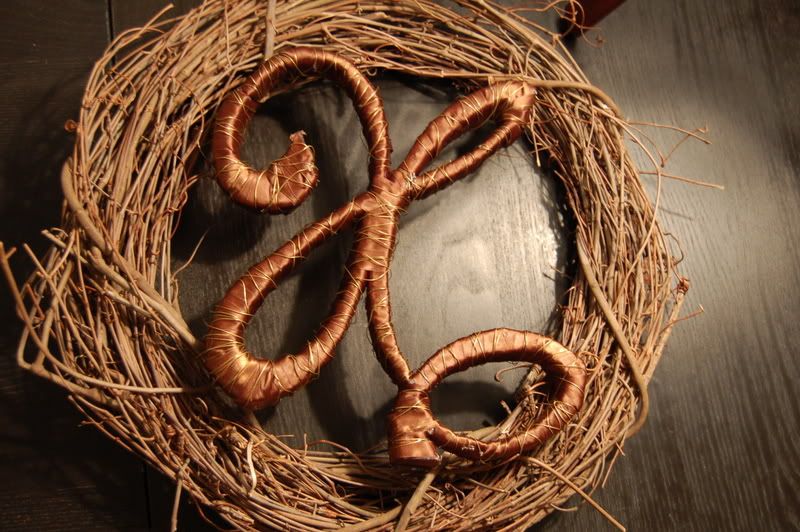 I made our "H" out of styrofoam, wrapped it in ribbon and then with some floral wire.  I attached it to the grapevine wreath with the same wire.  There are two of them and I'll hang them from the reception room double doors with a thick brown ribbon.   I think I'll also add a casablanca lilly or a white orchid.
Table Numbers
I couldn't just do a simple number, could I?  These weren't as much as a pain in the ass as I thought they were going to be.  I bought the wooden numbers at Micheals and painted them with brown paint left over from our living room.  I screwed an eye hook in the back for a ribbon.  Then it was just hot glue, dip, repeat, until they were covered.   They're quite sparkly and catch the light.  I think they'll be beautiful with the candles.
Out of Town Boxes
We have so many Out-Of-Towners that I really wanted to welcome them from beginning to end.  The boxes will be fairly basic... water bottles, information, snacks, etc.
Chandelier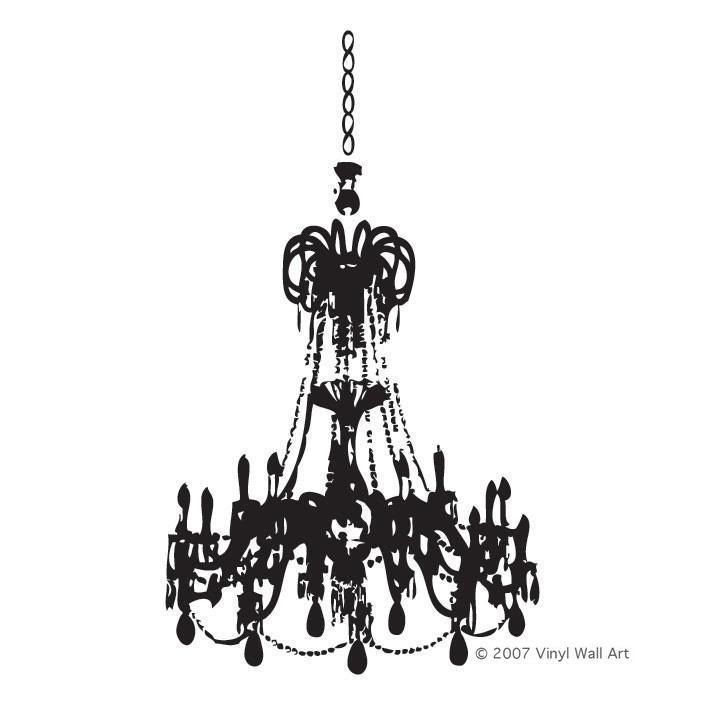 The Academy room has four big archway windows that overlook Hollywood Blvd.   I wanted to dress the one behind our head table up a little bit.   It's 36" by 22" and I bough it from vinylwallart.com.   Ours is brown. 
Honeymooning in Thailand
The wedding is going to be awesome.  Superexcited for the marriage.  But the honeymoon... I can't even describe how freakin' excited I am!  We will be hitting Bangkok, Chiang Mai and Koh Samui.  
I did an immense amount of research.  It's overwhelming because there are so many places to go and so many thing to see... especially in the islands.  Tripadvisor.com and frommers.com were, by far, the most helpful.  I also bought the Frommers guide to Thailand which is WONDERFUL. 
We're flying Thai Air to Bangkok.  Thai Air was slightly more expensive, but it is a direct flight (woo), is part of the Star Alliance so the miles we earn will be usuable with USAir (woo) and they have a late night flight leaving LA (double woo).  I waited FOREVER to book tickets, hoping that they would come down slightly in price.  They never did.  boo.  I booked about 4 months prior. 
***Update: Three months prior they went down in price about $30 each.  In the grand scheme, not too much of a difference, more of just a pain in my rear.***
The wedding is on Saturday, but we aren't leaving until late on Monday night.  I'm looking forward to having a few days to get life back to normal, clean up the disaster and say goodbye to all of our out-of-town guests. 
In Bangkok we are staying at Dream in a Classic Room for two days.
We will take the overnight train from Bangkok to Chiang Mai.  I'm looking forward to taking the train and getting a private sleeper car.  I've never done anything like it before!  And plus, we'll save some cash on hotel rooms for the evening.  :-)
We will spend three nights in Chiang Mai at the Tamarind Village in a Lanna Deluxe room.
Probably the most fabulous part of this entire trip is the Elephant Training Camp that we will be attending.  None of this ride-on-an-elephant-and-buckle-your-seatbelt kind of thing.  No.  You spend time with the elephants, learn their language, how to care for them and be with them.  I am beyond excited!
After three days in the jungle we are flying from Chiang Mai to Koh Samui to spend a few days on the beach.  My only requirement was that we go to a secluded space with a private outdoor bathtub/pool/jacquzzi.   We settled on Pavilion Samui.  So far, the staff has been very helpful with questions and is always quick to return an email.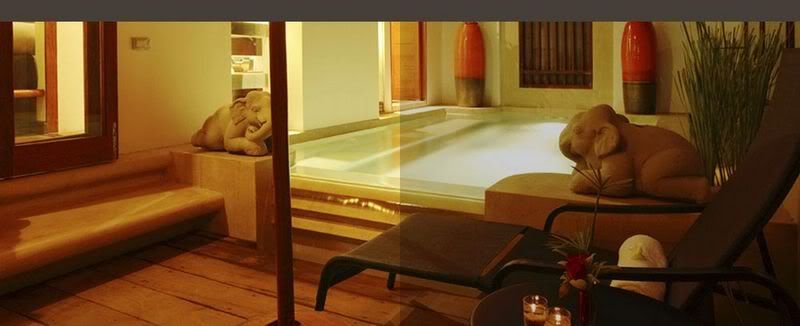 We considered Phucket, but I really didn't want anything touristy.  Koh Samui is a much smaller island on the eastern coast of Thailand.
Vendors
Ceremony & Reception Location - The Hollywood Roosevelt
We will be getting married in the lobby.  It's dark with big leather furniture, lots of candles, etc.  We're going to leave all of the furniture as is, open the bar 30 minutes before the ceremony and let our guests relax and enjoy the ceremony!  Afterwards, there will be tray passed appetizers and more cocktails.  The reception is upstairs in the Academy Room overlooking Hollywood Blvd. 
Officiant - Tom Morin
Tom is Chris' youth pastor from way back when.  They've remained close since their days in Boston and he's going to perform the ceremony.  He's only done a few, so I'm excited to take some liberties in writing our ceremony.
Photographer - Rob Holley
He is WONDERFUL!  We only met with one photographer and we loved Rob.  We took our engagement photos in May and he made us feel completely comfortable.  So comfortable that we were OK with running into the ocean in white linen.  It was quite the spectacle for beach-goers, but we'll never see them again.  So, I guess that's OK.
UPDATE: Rob is getting married!  And unfortunately moving to Virginia.  He won't be taking on anymore weddings in Southern California.  I'm surprising feeling of calm regarding the situation and trust that he will make it back in January.  Fingers crossed for an unseasonally warm winter on the east coast and no snow/sleet/rain that may prevent westward flights.
Musicians - The Dwight Kennedy Le Jazz Hot Band
They are fabulous!  I love the CD he sent and he was super professional.  We met with a few other bands and knew that for his cost and professionalism, he was the one to go with.  A few months after we signed contracts we went through a downsizing situation and Dwight was more than willing to work with us on creating a new package that would work with our new event. 
Cake - Rosebuds
We walked in during their July cake sale and booked on the spot.  They were generous with the cake (I love cake like nobody's business), creative, willing to go completely overboard for us and had some amazing prices.  They look at cake as art and their work speaks for itself.  Will it be completely wrong to continue to visit cake vendors simply for the tastings?  Probably.  However, they encouraged us to stop by on occassions just to continue tasting. 
Bridesmaid Dresses - Pearls Place & Jim Hjelm
I fell in love with the Jim Hjelm dress when shopping for my wedding dress in NC.  As my MOH was 7 months pregnant at the time, I tried on tons of dresses then let the bridesmaids choose between two. Very democratic of us.  At the salon in NC (a considerably lower priced market as compared to LA) I was quoted $289 per dress.  Pearls Place quoted me $179.  Pearls Place, while not huge on the customer service, was wonderful to work with.  I faxed my order over.  I was sure to be very clear on everything, even included a photo of the dress, full measurements, sizes, addresses, phone numbers, etc.  so there would be no problems.  Each dress was charged to a different credit card and shipping charges were bought on a seperate credit card.  Everything was smooth!  I was quoted three months for arrival, but got a call three weeks after my order was faxed that they were at the store!  Dresses arrived to each bridesmaid in perfect shape!  I'm thrilled!
Day of Coordinator - Style & Grace Events
Wendy55 recomended Stephanie and Jill to me.  Fi and I met with them and we clicked immediately.  This is Stephanie's full time job and she is my main contact.  She seem readily available, responds quickly and is full of ideas.  We are thrilled to be working with them!
Videography - Today's the Day Wedding
They are a knottie favorite so I have full confidence in Joe... we didn't even meet him, but I know that he will capture the day beautifully!  My FI is really picky about the footage and as long as he feels comfortable that Joe will deliver what he wants, I'm good. 
Boudoir Photos - Crissy Farah
 I ADORE Crissy.  I met her at a Starbucks in September on recommendation from The Knot.  We spent 2 hours chatting about everything under the sun.  We did the shoot at El Matador State Beach in Malibu in November.  I felt totally comfortable running around the beach nearly naked with her.  She showed me a few preivews on the camera and I was completely stunned by how amazing she made me look!  I should have all of the photos back in December and am currently sitting on the edge of my chair in excitement!  I plan on making a book of them with MyPublisher and giving them to FI a few days before the wedding.
FI's Wedding Band - Icing on the Ring
Another Knottie favorite.  Pre-wedding planning I was COMPLETELY unaware of the joys of downtown shopping.  We only went to Icing on the Ring after many many raves from The Knot.  We caught their 20% sale and FI got a beautiful ring.  They engraved our monogram inside with the mirror image of the date (why FI needed the mirror image, I have no clue.  But now he does.)  Anyway, we wrote down the mirror image wrong!  Rafi caught it before it went to the engraver and called to make sure I was the wrong one.  Unfortunately the engraver used the wrong one and we were getting married on 10.19.08 instead of 01.19.08.  Icing on the Ring took care of everything without us even asking!  I recommend them through and through.  Also, have a few $50 coupons if anyone is interested! email me at jord.taylor @ gmail.com.
Linens & Chairs - Elegant Designs
My company works with them on a regular basis.  They have chocoalte brown linens and mahogany chivari chairs.  Works for me!
Hair - Natalie Buketov
Natalie did a great job at the trial, is wonderfully sweet and has a great price.  I hired her for myself and the six bridesmaids.  I jumped around, took a nap and intentionally tried to destory my hair as the day progressed... it went nowhere.   The style was glamorous, vintage and modern all at the same time.  I know it will be just as stunning on the big day!
Make Up - Alexia Culton 
Alexia worked on a movie with one of my groomsman and he recommended her to me.  She just moved here from Kansas City, has a background of wedding make up there and is hoping to get into the business here.   She really listend to what I wanted at the trial and delivered a fabulous look.  I'm excited to be working with her on the wedding day! 
Alterations - Janice Zeller
I was really weird about alterations.  I would make appoinments with the Knottie regulars, then think "why am I driving so freakin' far away?!", then I would cancel them.  I still had a dress that didn't quite fit!  Then I found Janice and she lives so close to my office that I can walk over during my lunch break for a fitting.  She's fast, skilled and a joy to chat with.  As of fitting #2 she's doing an awesome job!  janicezeller@mac.com