[Index] [Page 1] [Page 2] [Page 3] [Page 4] [Page 5] [Page 6] [Page 7]

A Knit For Her Cure--Dieta Scarf
Pattern:"Dieta." Sally Melville. Kit from: A Knit For Her Cure. 4611 Bedford Court, Rocklin, CA, 95677, USA.
Yarn: 3 (50g/65m) balls GGH Almeria (91% wool/16% nylon/3% polyester) in color #004
Needles: 6mm (US 10)
Gauge: 4 sts x 8 rows = 1" over garter stitch
Knitting Time and Date Completed: 3 days, completed 03/06
Notes: Normally I shy away from the Fuzzy Scarf, but I wanted to contribute to this cause and picked this scarf because a) I liked the colors and b) it was pretty much the only kit I could afford. I actually enjoyed working with the GGH yarn provided. It was very soft and the pattern was fun enough to keep me interested over the relatively short knitting time. This is actually a picture taken pre-blocking, and I regret not taking one after it was washed, since the wormy loops wound up into much softer and more attractive coils, and the scarf stretched out a bit as well.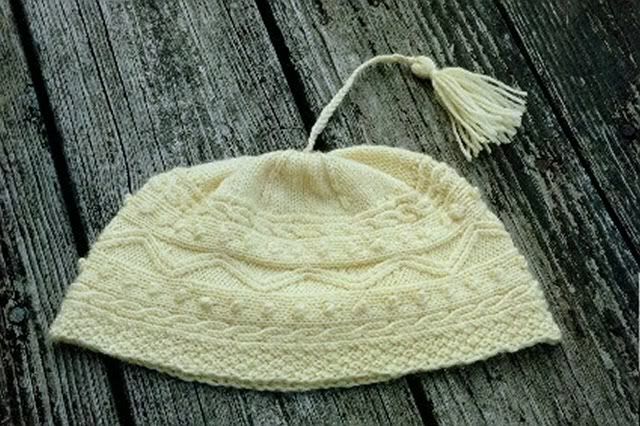 Galway Hat
Pattern:"Galway." Alice Starmore. Aran Knitting. Loveland, CO: Interweave Press, 1997. 144-49.
Yarn: 1 (50g/165m) skein Dale of Norway Baby Ull (100% wool) in Buttercup
Needles: 3.0mm (US 2)
Gauge: 6 sts = 1" over st st
Knitting Time and Date Completed: several months of spare-time knitting, completed 03/06
Notes: This was more or less an impulse project, cast on when I ran out of fish and needed something portable to lug around in my purse. I had made a red version years ago for my mother, and thought I would make a nice yellow one for Boo out of some Dale Baby Ull I had.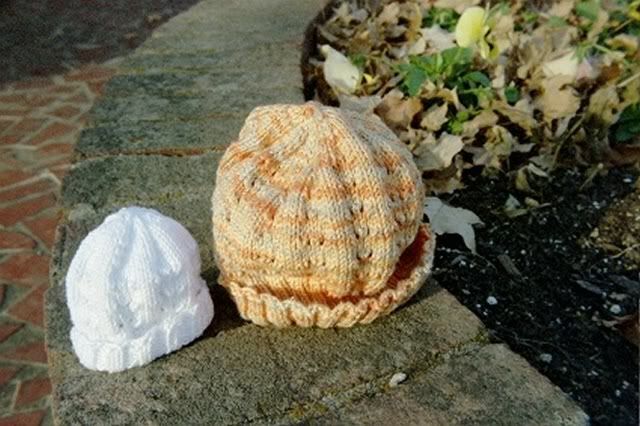 Preemie Hats
Pattern: "Ploughed Furrow" lace pattern
Yarn: 1 (50g/136m) skein Patons Grace (100% mercerized cotton) in Tangelo for hat on right, 1 skein White for hat on left
Needles: 2.5mm (US 1)
Gauge: 7 sts x 10 rows = 1"
Knitting Time and Date Completed: 2 days, completed 11/05
Notes: A couple of hats I made for my sister, to give to a friend of hers whose daughter had had a premature baby. The white one was far too small for the baby in question, but the multicolored one turned out quite nice. I used Patons Grace for both hats, and made up a very simple pattern based on the Ploughed Furrow stitch.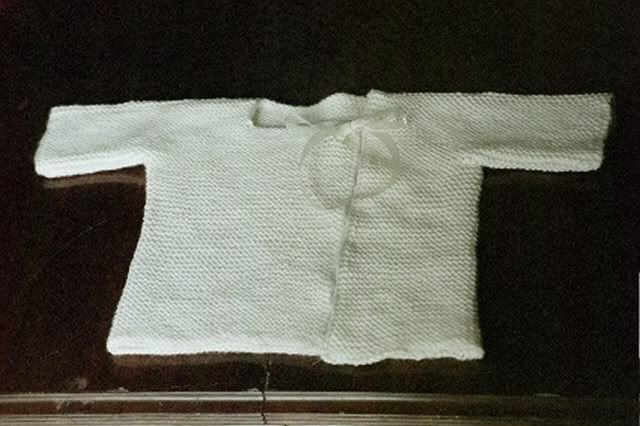 Baby Kimono
Pattern:"Baby Kimono." Kristin Spurkland. Interweave Knits Summer 2005: 99.
Yarn: 2 skeins Patons La Laine (100% wool) in White
Needles: 3.25mm (US 3)
Gauge:
Knitting Time and Date Completed: 4 days, completed 03/06
Notes: This was another unfinished project that I picked up after several months and polished off. I used some old skeins of Patons La Laine, which was one of the first 100% wool yarns I ever bought, and which I wish was still in production. It made a beautifully soft garment, and I was very pleased with the look of the finished jacket.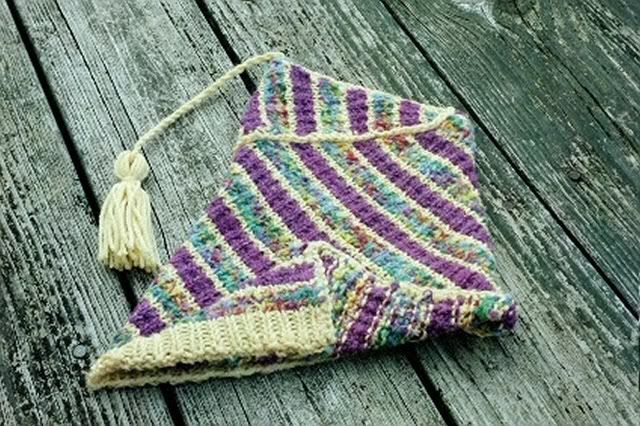 Triangle Hat
Pattern:"Triangle Hat." Annie Modesitt. Knitter's 69 (Winter 2002): 72.
Yarn: 2 (50g/137yd) balls Filatura Di Crosa 501 (100% wool) in color #176 [Yellow]; 1 (2.5oz) hank Patchwork Fibers Cormo Wool; 1 (2oz) hank Patchwork Fibers Jacob Wool and Nylon in Purple. 501 and Cormo Wool were worked with 2 strands held together throughout.
Needles: 3.75mm (US 5)
Gauge:
Knitting Time and Date Completed: 3 days + 1 year. Completed for real 01/06
Notes: I actually finished this hat over a year ago, but had chalked it up in the Botched Projects column. The yarn had been a gift from my nieces, and I'd thought this a fun project on which to use it, especially since it more or less matched the color scheme of the original pattern. The colors looked as I'd hoped they would, but when it was done, the shape was an unattractive mess. My sister, while visiting me, looked at it for about a minute, then picked it up and folded it a couple more times to, voila, make it exactly like the hat in the pattern photo. It still doesn't look as good as I would like because the yarn I used was too soft to really hold the needed shape, but at least now I can wear it in public.
[Index] [Page 1] [Page 2] [Page 3] [Page 4] [Page 5] [Page 6] [Page 7]