[Index] [Page 1] [Page 2] [Page 3] [Page 4] [Page 5] [Page 6] [Page 7]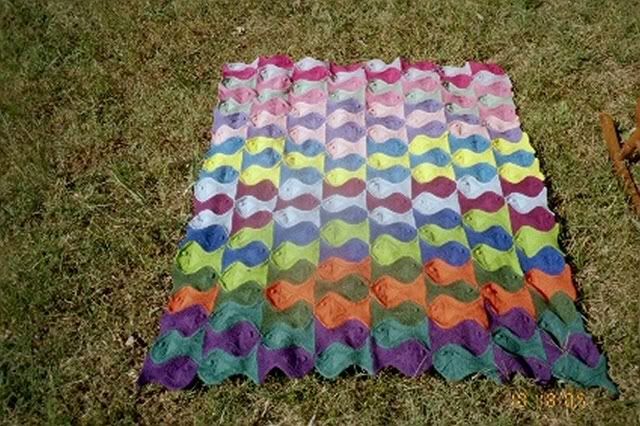 Festive Fish Afghan
Pattern: "Festive Fish Afghan." Paula Levy. Knitter's Magazine. Issue 51 (Summer 1998): 66-67.
Yarn: 16 (50g/222yd) skeins Brown Sheep Cotton Fine (75% cotton/25% wool), 1 skein each of the following colors (listed in order from top to bottom on the pictured blanket): Lilac Haze, Cherry Moon, Sage, Tea Rose (discontinued), Lupine, Coral Sunset, Blue Paradise (discontinued), Sunburst (discontinued), Nymph, Wine, Lapiz, Lime Light (discontinued), Jungle Green, Wild Orange (discontinued), Prosperous Plum, Oriential Jade. Each skein (except the Wild Orange for some reason) made at least 10 fish and some colors made 11.
Needles: 2.5mm (US 1)
Gauge: 7 stitches x 14 rows = 1" over garter stitch
Knitting Time and Date Completed: 1 year total, completed 10/05
Notes: This is the second Festive Fish Afghan I've made. The pattern calls for worsted weight wool, but since I intended to give this to my baby girl I decided to use Brown Sheep's Cotton Fine to make a lighter cotton version. Of course, the lighter weight meant smaller fish, and therefore more fish. This finished blanket is 8 fish wide and 20 fish long, 160 fish in total. The original pattern calls for two contrasting colors, but I was inspired by the designer's suggestion of using different tropical colors (and by the Cotton Fine palette) to make this 16-color version. Sadly, several of the colors are no longer available, but I'm very pleased to have had them for my blanket.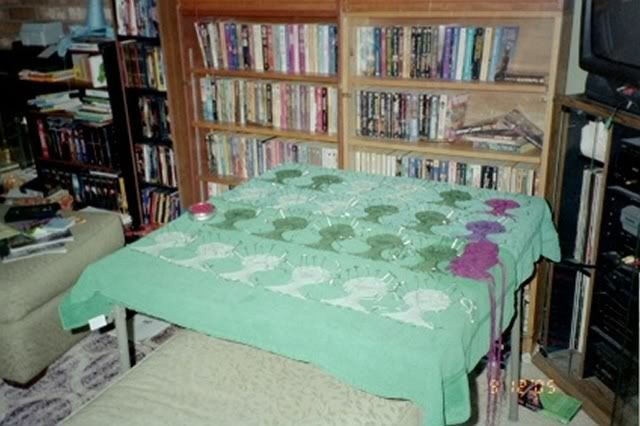 Fish Blocking
Because of the fit of the individual pieces, I knew that blocking would be important. I cut a rectangular frame of plastic from a folder and marked along the edges where the midpoints of the widest parts of the fish would be, and also where the noses and tails should be pinned. I used 16 pins for each fish, and as my blocking sessions grew bigger, so did my collection of pins. I have three Altoid tins full now, and twice bought out my local JoAnn's supply of T-pins. Hopefully it will a long time before I find a project that will make me run out of pins again.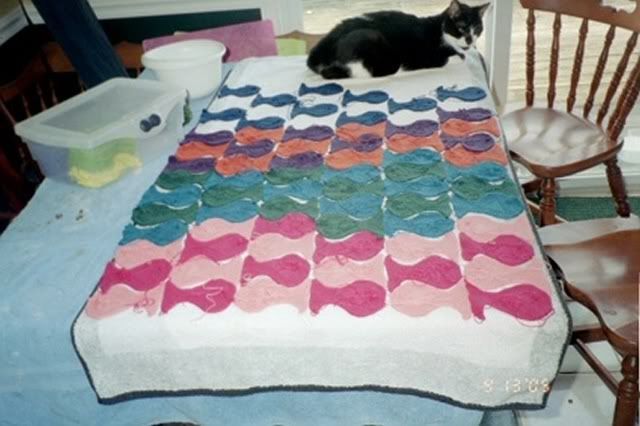 More Fish Blocking
As I continued to work with the various colors, I read an article about swatching, and how one designer had narrowly averted a disaster when he discovered that his colors bled onto one another even after the initial swatch washing. I took one look at all the beautiful and contrasting colors, and started washing. Some of the dark colors didn't quit bleeding until they'd been washed four or five times, and for several days my kitchen sported half a dozen bowls with brightly dyed water as I soaked and washed in an attempt to get the extra dye out. (My cats attended each stage as if there were real fish laid out on the table.)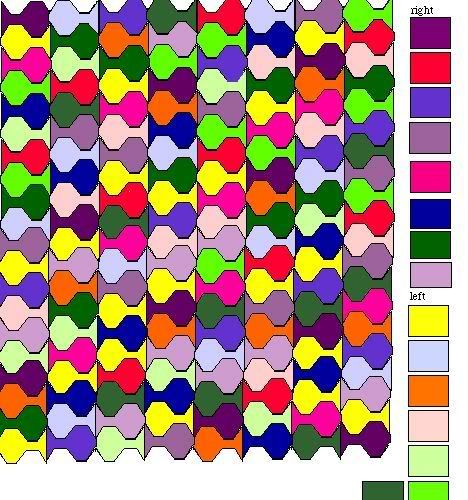 First Computer Color Model
As I began to accumulate colors, I realized that playing around with the arrangement of all 120 (yes, 120, read on...) finished fish would be very difficult. So, I opened AppleWorks and made a little model fish, then cut and pasted until I had my planned 8 by 15 fish. The payoff was immediate, as I noticed that the blanket in the model was a bit...short. Going back to my calculations, I realized that I had multiplied each row by the widest part of the fish, failing to take into account that the width of each two rows would be the widest part of one fish plus the narrowest part of its neighbor. I calculated that about 5 more rows, or 40 more fish, would be needed. Back to the catalog for more yarn....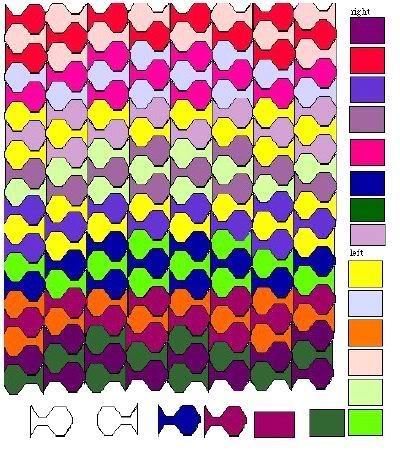 Second Computer Color Model
Once I started playing with the colors, I quickly realized that my initial notion of randomizing, while attractive in its own way, wasn't nearly as striking as keeping the same contrasting colors together. As you can see, I did play around even with this model once I began to lay out the real fish, but the model saved me many hours of shifting little knitted fishies around.
[Index] [Page 1] [Page 2] [Page 3] [Page 4] [Page 5] [Page 6] [Page 7]