[Index] [Page 1] [Page 2] [Page 3] [Page 4] [Page 5] [Page 6] [Page 7]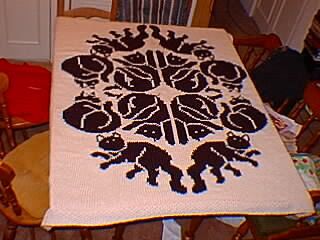 Tumbling Cats Afghan
Pattern: "Tumbling Cats." Catherine Cartwright-Jones and Roy Jones. The Tap-Dancing Lizard. Loveland, CO: Interweave Press, 1992. 104-05.
Yarn: 3 (1lb) cones Peaches and Cream (100% cotton) in Ecru; 10 (5oz/236yd) balls Lion Brand Kitchen Cotton (100% cotton) in Black. Both yarns are worked with two strands held together.
Needles: 6mm (US 10)
Gauge: 3 sts = 1"
Knitting Time and Date Completed: 5 months, finished 12/whatever year Phantom Menace came out
Notes: This was a Christmas present for my sister. It suffered a hideous lawn-chair accident while I was camping out for Phantom Menace tickets, but I eventually got over the trauma and finished it. I made it from double strands of worsted weight cotton because she was, at the time, living in Wisconsin. I wanted something heavy enough to be cozy, but also wanted to give her something that wouldn't pick up static electricity every time she tried to take a nap. This pattern, designed for machine knitting, turned out to be quite the exercise in bobbin use when I knitted it by hand, and at any given time I had about ten full bobbins dangling around the thing.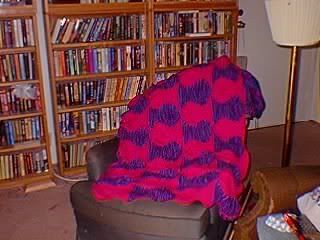 Festive Fish Afghan
Pattern: "Festive Fish Afghan." Paula Levy. Knitter's Magazine. Issue 51 (Summer 1998): 66-67.
Yarn: 4 (6oz) skeins Coats and Clark Red Heart (100% acrylic), 2 in Fuchsia, 2 in Gemstone
Needles: Fuchsia--4.0mm (US 6); Gemstone--5.0mm (US 8)
Gauge: 4 sts = 1" over garter stitch
Knitting Time and Date Completed: 6 months, completed 02/99
Notes: I can't believe I actually made something this cute, but it was fun, and I liked the optical illusion of the design. It was also a challenge because I wanted to use two yarns I already had, and (still being inexperienced yet determined at the time) had to knit each color on a different size needle to get the proper gauge. I've just finished a second fish afghan with a somewhat different look.
Black and Green Stocking Cap
Pattern: "Sassy Stocking Cap." Where Did You Get That Hat? Toronto: Coats Patons -- Coats Canada, 1995. 21.
Yarn: 3 (100g) skeins Brown Sheep Nature Spun (100% wool), 2 skeins in Pepper, 1 skein in Evergreen
Needles: 3.75mm (US 5)
Gauge: 5 sts x 6 rows = 1"
Knitting Time and Date Completed: 3 days, completed 1999
Notes: I made one of these stocking caps for each of my friends (all in different colors, of course). A nice round thirteen in all. I used several different kinds of worsted weight yarn according to the colors each person wanted, and several of them, like this one, used Nature Spun. It took me about 2-3 days of steady knitting to make one hat, depending on how many colors were involved. I did make two in all four Nashville Predators colors, but the rest I tried to limit to two colors to avoid Bobbin Hell. It was a wonderful and fun project, and I still see many of those hats every winter.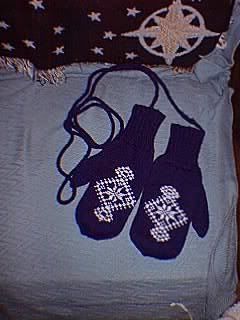 Blue Snowflake Mittens
Pattern: "Mittens from the Island of Runo." Marcia Lewandowski. Folk Mittens: Techniques and Patterns for Handknitted Mittens. Loveland, CO: Interweave Press, 1997. 61-63.
Yarn: 1 (100g) skein Lion Brand Wool-Ease (80% acrylic/20% wool) in Navy. Small amount of Wool-Ease in White.
Needles: 3.0mm (US 2)
Gauge: 7 sts = 1"
Knitting Time and Date Completed: 2 days, completed 12/98
Notes: These were a Yule gift to a friend, and turned out to be some of my personal faves. I remember wanting to make a different pair, one with travelling stitches, but at the time couldn't make head or tail of the chart (and in fact I still can't, despite having mastered the travelling stitch years ago). This pattern, though, turned out quite nicely. I especially liked the contrast of the bright white against the dark blue, an effect achieved with stitching after the main body of the mitten was knitted.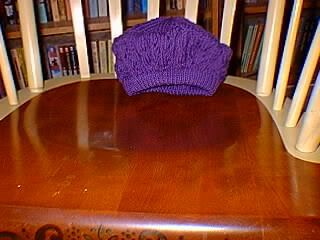 Eyelets and Cables Beret
Pattern: "Eyelets and Cables." Mary Rich Goodwin. Knitter's Magazine. Issue 51 (Summer 1998): 62, 87.
Yarn: 1 (100g) skein Brown Sheep Nature Spun (100% wool) in Royal Purple
Needles: 3.25mm (US 3) and 5.0mm (US 8)
Gauge: 16 sts = 4" over st st using larger needles
Knitting Time and Date Completed: 1 week, completed Fall 1998
Notes: I knitted this hat intending it for a friend, but there was a slight, shall we say, miscalcuation in adapting the pattern for an adult head. It ended up being given to another friend's young niece, and I made an actual adult-size one for the original recipient. At the time I made it, it was quite a complex pattern to me, and I remember it being another of those "Wow, I can actually do this!" projects, even if I did mess up the size.
[Index] [Page 1] [Page 2] [Page 3] [Page 4] [Page 5] [Page 6] [Page 7]