We are so excited and blessed to be expecting a baby boy! Estimated due date is November 21, 2008.
We got a BFP (big fat positive) on 3/20/08. Here's the proof! It's a little blurry- I was shaky and had to take a few tests before I realized what it meant.
Bump Pictures!
11 weeks 4 days
16 weeks- abs are no more. =(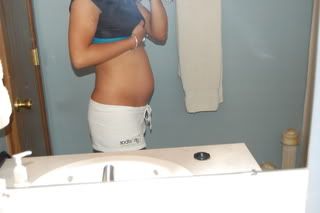 19 weeks, 6 days... not much more than 16 weeks!
25 weeks, 5 days. Feeling rather large. And feeling like baby is using my ribs as monkey bars.
About 29 weeks
32 weeks- definitely something growing in there! Only 8 weeks to go!
It's a BOY! I'm aiming for something classic like this (with a few more "pops" of color) -
I LOVE how clean and simple it is.
Update 8/13/08: The nursery has been painted! But, I will be repainting the top portion to a more "subtle" green color. It's a little to "celery-y" for what I was shooting for. Our crib has also arrived, so we will be putting it together this weekend!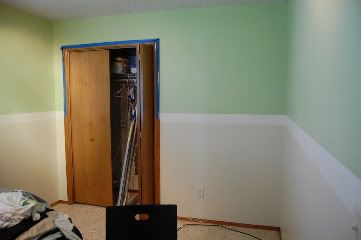 (Excuse the mess in the foreground!!)
Update 11/05/08: The Nursery is 99% complete! I still have a few finishing touches, but you get the idea.
Basket for toy storage
DIY nursery wall art
DH stripped and re-stained this dresser so we could use it for a changing table. We changed 
the hardware too, and it looks brand new and matches the crib perfectly! 
I still need some items for the ledges. I'm thinking a picture frame and a few books.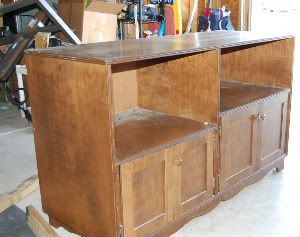 Here was the dresser "before."

Changing area. Basket for diapers, lotions, washcloths, etc. 
I love this rocker! It's super comfy and was a great price!
Side table to hold bottles or books. This picture also best shows the paint treatment.
I wanted something very subtle- the top is a spring green, the bottom is a creamy beige,
divided by a white strip in the middle! The colors are a little brighter in person. 
DIY nursery artwork. Sidenote: the one on the right is alligator, and I don't like him! =( I'm still 
thinking about drawing a lion instead. 
I love these cute little closet dividers! They go all the way up to toddler sizing.