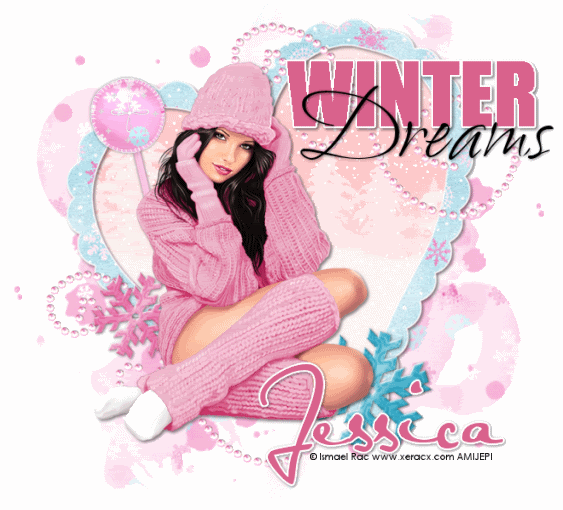 Supplies Needed
I am using the gorgeous artwork of Ismael Rac. To use his work you must have a license with AMI. Free scrapkit Winterlicious by Missy HERE  and Winter wordart template by Missy HERE. Mask411 by Vix. Vanderlee Snowflakes Plugin. Winter background in my Supplies.
Lets get started!
Open a transparent canvas 650x600 and floodfill white.
Copy and paste Frame 2 as a new layer. Resize and dropshadow.
Click inside of the frame with your magic wand. Go up to Selections - Modify - Expand by 6.
Copy and waste the winter background. Resize the image to your liking then go back up to Selections - Invert - Delete. Place background under your frame layer.
Colorize background to your liking. I used Hue 255 Saturation 255.
Copy and paste Paper5 as a new layer and drag under frame layer.
Open Vix mask and go up to Layers - New Mask Layer - From Image. Select the mask and make sure invert mask data is unchecked. Merge Group.
I pulled the mask out a bit so you can see it, then duplicated the mask.
Go up to Image - Mirror - Image - Flip.
Copy and paste your tube of choice. Resize how you like and put in place.
Copy and paste the Winter world art. I colorized it with the hue at 239 and saturation at 138.
I added a thin white gradient to the word winter and dropshadow.
Copy and paste doodle bling1 as a new layer and resize to 50%.
Tilt how you like with the deform tool and duplicate. I arranged mine behind the word art and behind the tube.
Copy and paste staple element 1 as a new layer and resize to 50%.
Copy and paste Snowflakes 1 and 2 as new layers.
I resized the blue snowflake to 30% and the pink to 25%. Arrange how you like.
Dropshadow your elements and tube.
Add your name and copyright.
Crop and resize to your liking.
Animation
Highlight your frame layer and click inside of it with the magic wand.
Go up to Effects - Plugins - Vanderlee Snowflakes with the following settings:
78
0
15
100
0
Basic Snow
ok
(For some reason by Print Screen isn't working, lol)
Selections - Select None.
Edit Copy Merged.
Open Animation Shop and go up to edit - paste as a New Animation.
Back to PSP.
Edit undo Vanderlee.
Go back into the plugin with the same settings except this time change the random seed.
Selections - Select None.
Edit Copy Merged.
Back to AS and paste after current frame.
Repeat these steps for a total of 3 frames in AS.
I went up to Animation - Frame Properties and changed the speed of the snowflakes to 15.
Run your Animation. Save as a gif and your done!
Hope you enjoyed my tutorial!! :)
Hugs, Jess <3