Self-taught 100%,
Thanks to all those who make it possible.
Thanks to their restless spirit, and their condition altruistic, I am more convinced every day,
that a new breed invade us.
They are the product of new technologies.
They are strange creatures, bent on sharing knowledge without conditions, and last but not least,
they are convinced that culture and knowledge, is for everyone.
Blessed race, I hope it never becomes extinct.
elChele
.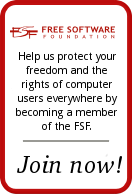 IpCheck
web site created by
elChele
is licensed under a,
Creative Commons Reconocimiento-No comercial 3.0 España License
.