W.A.A.C. 5 Band 
(since Jan. 2017)
                                             Rule
The new W.A.A.C. Award it is a coloured plate engraved on plexi (size 16cm). It can be requested by OM/SWL that have confirmation at least of 40 Countries worked/heared on 5 different Bands from 6 to 160 meters. Award it is available on " SSB – CW- DIGI-( rtty-ft8-psk-) or MIXED" mode,                     WARC bands allowed, "crossmode or crossband" not.                                                                            The fee it is of 40€ or 42USD plus shipping. Send LOG (in alphabetically order) with full QSO's details and, a declaration that all contacts have been made by your own QTH in full respect of your license,with the signature at least of 2 OMs or your Award Manager. QSL's not needed to sent,          but in possession by the applicant, the W.A.A.C. Award Manager can request it for verification.        For further informations and more, send an e-mail to:            giuseppeik7nxm@libero.it    
                                                          REGOLAMENTO
Targa a colori Incisa su Plexi (dim. 16cm), puo' essere richiesto da OM/SWL che diano conferma di almeno 40  Paesi facente parte del Continente Africano su 5 Bande diverse, dai 6 ai 160Mt. Il diploma e' disponibile nei Modi "SSB-CW-RTTY-MISTO-DIGI-(rtty-ft8-psk)",  incluse le bande WARC  (collegamenti CrossMode o CrossBand non saranno tenuti in considerazione).                                         La Targa ha un costo di 40 EURO o 42 USD $ , e' necessario inviare l'estratto Log   (in ordine alfabetico)  con tutte le informazioni dei QSO,   e una dichiarazione che tutti i  collegamenti sono stati effettuati dalla propria stazione,e nel pieno rispetto  della propria licenza, accompagnata dalla firma di  almeno 2 OM o dell'Award Manager di sezione .Non e' richiesto l'invio delle QSL,che pero' dovranno essere in possesso del richiedente ed inviarle all'Award Manager qualora fosse necessaria una verifica. Informazioni ed altro,si possono avere inviando una Mail a:                                         giuseppeik7nxm@libero.it                                                                               
 W.A.A.C. Base    (since Jan 1992) 
  Worked all African Continent
REGOLAMENTO 
Targa serigrafata (dim.15X21), puo' essere richiesto da OM/SWL che diano conferma di almeno 40  paesi per le Hf,e di soli 30 per i 6 Metri  facente parte del continente Africano ( rif.lista DXCC edito dalla ARRL),  a partire dal 1 Gennaio 1980.  Il Diploma e' disponibile nei Modi "SSB-CW-RTTY-PSK-MISTO",su tutte le Bande  dai 6 ai 160 metri (sticher per i 6 Metri) ,incluse le bande WARC  (collegamenti CrossMode  o CrossBand non saranno tenuti in considerazione).La Targa BASE ha un costo di 40 EURO o 42 USD $ , e' necessario inviare l'estratto Log   (in ordine alfabetico)  con tutte le informazioni dei QSO e una dichiarazione che tutti i  collegamenti sono stati effettuati dalla propria stazione,e nel pieno rispetto  della propria licenza,accompagnata dalla firma di  almeno 2 OM o dell'Award Manager di sezione .  A fronte di molte richieste,sono previsti sticker per la versione Monobanda per un minimo di 40 Paesi,che si potranno richiedere inviando un contributo di 7.00 Euro o di 10 dollari, per la richiesta di avanzamenti invece ,bisogna aggiungere 3€ o 4 u.s.$ ,il documento aggiornato verra' inviato via Mail,INOLTRE, per un minimo di 70 Paesi  nei modi *MISTO-SSB-CW-RTTY All Band*  e' prevista la  Plaque of Excellence,(Targa  a colori),il costo e' pari a:    55.00 Euro, o 60 u.s. $ . 
                                  Per la PLACCA di ECCELLENZA occorre  un minimo di 70 Paesi nei modi -SSB-CW-RTTY-MISTO,                                       
                                            richiesto l'invio delle QSL e/o fotocopie (ambo i lati) oppure un estratto  LOTW dei QSO/QSL cnfermati.                                                                Periodicamente verranno inviate e pubblicate su RadioRivista ,le classifiche degli OM che hanno ottenuto il Diploma.                                                                    L' Award Manager,nel caso di dubbi o irregolarita',si riserva il diritto di richiedere alcune QSL per la verifica.
                                                                 Tutto il Necessario per la  Richiesta e / o avanzamenti (debitamente compilata e Firmata),                                                                                                                                                                                                                   la si puo' inviare anche via mail a   giuseppeik7nxm@libero.it   
                                                                                                                                                     oppure tramite Contatto  Skype    a  IK7NXM   

      Se non si vuole procedere con il sistema PayPal , nessun problema,
                                                              inviate una Mal, vi saranno indicate altre  soluzioni.
                        :                                               

                                                                                       W.A.A.C.   (since Jan 1992) 
 Plaque of Excellence
RULE 
THE W.A.A.C AWARD MADE BY A PLAQUE(serigraph tablet Dim.15X21cm.)  THAT SHOW  AFRICAN    CONTINENT.IS AWARDED TO OM and S.W.L. WHO SUBMIT CONFIRMATIONS FOR CONTACT WITH MINIMUM 40 COUNTRIES HF  (Only 30 for 6 Meters Band) BELONGING TO THE CONTINENT ABOVE MENTIONED (ref.DXCC list),MADE FROM 1st JANUARY 1980.THE AWARD IS AVAILABLE IN THE FOLLOWING MODE
 "SSB-CW-RTTY-PSK-MIXED",ON FREQUENCY BAND FROM 6 to 160 METERS INCLUDING  WARC BANDS. WE LET YOU KNOW IT WON'T BE HELD IM ANY CONSIDERATION THE  Radio-links MADE BY CROSSBAND,OR BY OTHER DIFFERENT OPERATIVE WAYS. 
 TO OBTAIN IT-  LOGS SHOULD INDICATE(in the alphabetical order)  THE EXCHANGE INFORMATION,WITH A DECLARATION (signed from 2 OM/OR QSL AWARD MANAGER) THAT ALL QSO's HAVE BEEN MADE FROM OWN QTH,AND FOLLOWING HIS OR HER LICENSING AUTHORITY.MOROVER THE PHOTOCOPYES (on both sides) or LOTW EXTRACT confirmed QSO ,NEED FOR PLAQUE OF EXCELLENCE  (they am pleasant also Mail attached) OF THE CONFIRMATIONS QSLs,
                                                                         THE AWARD MANAGER RESERVES THE RIGHT
(in case of doubts)SOME QSLs CONCENRING THAT. FURTHEMORE A CLASSIFICATION WITH UPDATINGS WILL BE MADE KNOW TO - A.R.I.(Associazione Radioamatori Italiani),TO BE PUBLISHED THROUGH   THE -Radio Rivista- MAGAZINE,TO DO THE ABOVE MENTIONED REQUEST.   "WAAC AWARD" APPLICATION SHEET FORM Are Available on  next Page,  or send a   s.a.s.e. or via Mail "
                                   PLAQUE OF EXCELLENCE : are available with at least 70  Countries on Mode (MIX-SSB-CW-RTTY-MIXED)
                                                                everything needed  / or advances (duly completed and signed)
                                                       you can send also via email to giuseppeik7nxm@libero.it 
                                                                 Advancements : Fee 3€ or 4 u.s.$   (  It will be 'sent via Mail ) 
                                               Endorsement :sticker for 40  Countries on each single Band :10 USD $,  or 7.00 Euro    

giuseppeik7nxm@libero.it
                                                                            Send log to:    "IK7NXM" GIUSEPPE ACQUAVIVA    
                                                                                               Via AGLI Avelli 86                                        
                                                                                        76012  Canosa di P. (BT) 
                                                                                                                                           I T A L Y  -EU-  
                                             Skype  
  a 
 IK7NXM 

                              giuseppeik7nxm@libero.it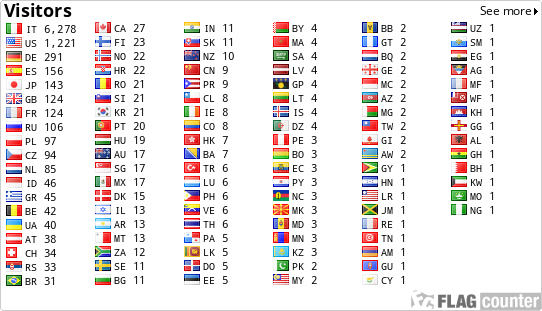 If you don't work with PayPal or WebMoney system, it doesn't problem, 
         Write to us, And We together with you will specify possibility of other options .         
Edited By IK7NXM (since Jan. 1992)   
The following site are protect copyright. 
All right reserved