Custom Avatar Pics

(Stickers, Images & Backgrounds)
Background image pages:
http://avatars.imvu.com/PrettiPenny
http://avatars.imvu.com/LoopyLaurenXXX

How to get a background:
From the internet --> Make a striped image anytime at www.StripeGenerator.com (more below)

Make a screenshot --> StupidGyrl's tutorial: http://www.crowgyrls.com/tutorial/tutorial1.htm

From me -->
1. Save your favorite outfit in your outfits section and name it "Background"
2. Choose a pose from the catalog and write it down. Choose your loading pages' wording.
3. E-mail me at iAmXenina@gmail.com with your avatar name and what you want in your BG

4. Receive your background code and test it out (every purchase also includes coding for the loading image and other cool customizations for your page).

5. Pay by purchasing my 900 credit stamp (with promos) OR send me 350 credits.


Default images and cutout stickers are just 300 credits or 700 support sticker. You choose what kind of animation will be on it (if any. Remember that image quality goes down when animation is added).


- Scroll down for more avis -
- Click here for FREE backgrounds -

font: Scriptina
Image number two
Click here to see the
               animated version.
                                Font used:
                                Lord Fontleroy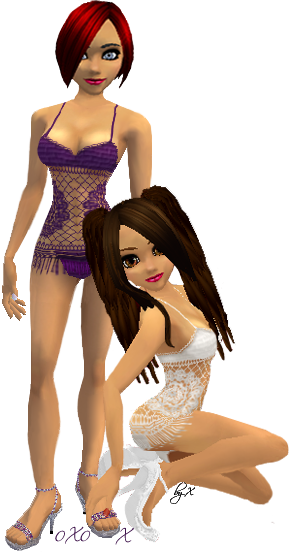 <-- At left
A pic of me posing at left. Notice the editing on the hair to make it look more natural and not stick straight.
At right -->
These photos were taken separately and then placed together in Photoshop. The brunette's hand was placed on the redhead's foot.

Want a customized homepage? Want your own avi background or a more custom look? E-mail me and tell me what you need.
I'll try and make it happen.
~ Xenina