Every June Long Weekend around 40 Hot Bricks members head to Hay in NSW to meet up with Mini enthusiasts from all over Australia for a great Mini weekend!

Hay Mini Nationals 2012 (WG review)

I decided to drive my Moke to the Hay Mini Nationals 2012 back about 2 months ago. 
I knew the weather wouldn't be ideal (being in the first few weeks of winter), but I told myself if there was no rain, I would do it. 
The realization of having to drive my Moke 1500+kms came up very quickly; about a week or so before leaving. This was when the 7-day forecast was available for Hay and the many towns along the way. 
Getting auxiliary gauges and 12v accessory sockets fitted and wired were the main things to do, which I never really got around to, before the trip was started. These were really easy jobs, but ones I seemed to always put off. At least they are done now! Other general prep included nothing, and nothing. Looking back on it, I really should have at least checked my oil and water levels, but I guess I didn't need to! 
Our convoy departed at after 9. So much for an 8:30am 'sharp' departure! 
This was ok, as with every counting minute, the temperature was increasing. Having said that, the temperature really wasn't a problem. 
The Moke cruised happily at 110km/hr. We worked out quickly that 90km/hr was 3000rpm, so 3700rpm was 110. I used an iPhone app (there's an app for bloody everything!) to get my GPS speed. Far more accurate than the speedometer with no speedo cable connected. 
From the full journey, I calculated that the Moke returns quite good kilometres per litre. It's somewhere in the vicinity of 9L/100km. 
With its little fuel tank, however, stops were required every 200km or so. This was no problem though, as it gave Hutto and I a chance to stretch our legs. 
Lunch stop in Mildura fed our hungry stomachs and we decided we needed earplugs, from being almost deafened by the buffeting, which was the worst part about the whole trip… We didn't end up getting earplugs until Balranald as none of the fuel stops had stock of earplugs. Once they were fitted (and for the final 150km to Hay), it was much much more pleasant. That is, of course, until the sun started setting! 
We rolled into Hay about half an hour after sunset, and trawling through first gear along the main street with the exhaust popping and farting (overfuelling Weber) sure got a few people looking. 
Friday night at the Royal was as every other Friday night in Hay is… bloody awesome. I was bought beers by a few people who stuck true to their word about buying me a beer if I drove to Hay. This made for a cheap night, especially when rounds of 'Jagerbombs' were being bought and drunk. Thankfully, no hangover was suffered on Saturday morning. 
Stuwey prepared a wash of the Moke on Saturday morning, and Tegan supplied coffees for myself and Stu while he washed away the hundreds of km of bugs (there really weren't that many). 4 people loaded into the Moke, and the exhaust was literally 10mm off the ground, and we were on our way to the parade. A lap of the main street was done, and it was ready to park for the Show n Shine where Ben Afford, Nathan Koch and a few others (not sure who!) magically cleaned my pride and joy. There were plenty of awesome Minis up for judging, and a few good Mokes! I judged two categories which kept me busy for the morning/afternoon. 
Saturday night we visited the Services Club for a quiz night and a few beverages, after a BBQ for dinner. 
On Sunday, I had a good sleep in. It was a chance for my aging and frail body to recover from the trip over. 
I made my way out to the (very foggy) motorkhana grounds by around 11. 
Once the fog had settled, the dust kicked in. Luckily for me I left my Moke in the garage back at the house we stayed at, and brought Beanie's ute. 
The highlight of Sunday was definitely Hay's Heroes. Each club forms their grouping, and cheers on the drivers from it. I'm not biased, much!, but I think Hotbricks had the loudest cheer squad! 
Stuart Cotton missed out on winning Hay's Heroes, to Rod Shaw, by only hitting a flag; his times meant that he would have won it, were it not for the flag penalty. Better luck next year! 
Sunday night saw the presentation night. This was especially awesome for me, where I was able to take home two trophies. I must thank Stuart, Ben and Nathan (and all others involved!) for getting my Moke to a level to see it win. 
Their quality of detailing with getting it clean for judging saw me able to take home #1 in Best Presented Mini Derivative. AWESOME!!! Even more awesome was winning the second trophy for the weekend, which was People's Choice. Double awesome. 
I had a few beers to celebrate my wins, and the wins of everyone else in Hotbricks, especially to Gary Kotzur who won first outright. 
Congratulations also to Mini Club of NSW for winning the GBS. Hopefully Hotbricks gets their turn next year! 
Monday morning and it was time to go home. 
I was able to better prepare myself, and this time put on two pairs of jeans, three tops, and the ski gear. I sure as hell wasn't cold on the way back! Oh, and earplugs right from the start, too! 
The trip wasn't completely flawless. About 30km out of Gawler, I suffered a broken windscreen. Where the windscreen frame was welded when it was shortened, this had failed. With the massive amount of buffering, this would have weakened the weld and it gave up. With the pressure against the glass from the wind resistance, and the glass being unsupported where the weld broke, the glass too gave way. Not to worry; just means I can make it stronger for its next trip! 
Over the weekened I was asked by many people: "Would you do it again?" ABSOLUTELY I would. What good fun!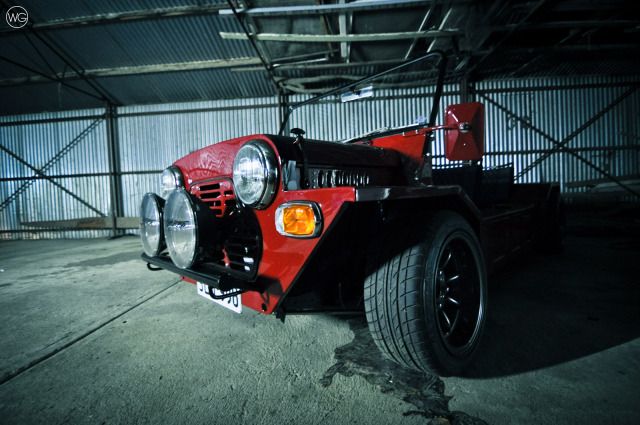 W. Gormly's Moke (SLO998) Hay, NSW. 2012.