Great Book by Jonathan Friedrich
FRAUD AT RANCHO BEL AIR T
Tells a true 6 year story between a homeowner, Jonathan Friedrich and an association, Rancho Bel Air that tried to falsely foreclose on his home.
The association was found guilty of Fraud by Misrepresentation which went on for over 30 years. The false documents were issued at the closing of a home in Las Vegas which had been illegally issued for many years. The book follows the legal battle that dragged through the District Court all the way up to the Nevada Supreme Court.
The book names names exposing those who broke the law or did not do their jobs.
Attorney Joel Hansen took this case from trial through the appeal process and enjoyed beating the "BIG LIARS".


The book is available for the sum of $12.50 plus $3.00 mailing. Payment is by check or cash only. Please contact Jonathan at 702 822 4555.
---
HOA RANCHO BEL AIR in LAS VEGAS  PAYS BIG TIME TO  Jonathan Friedrich
The big question is do the OWNERS CARE that their Board of Directors was found guilty?
Las vegas TV   KTNV  Watch Jonathan's story here.
---
---
This bill needs to pass in California.
QUESTION
: I read SB 1265. What prompted such a complex bill? HOAs as "quasi-governmental entities?" Retaining signed envelopes of voter ballots? Seems like overkill to me. Our association has had annual elections without difficulty, mishaps or problems. It is hard enough to get people to run for the board without telling them they will be operating in a "quasi-governmental" atmosphere. What do you think of the bill?
---
Las Vegas HOA  M
om says
HOA has 'no playing' rule on the books
Also see   
by deborahgoonan
---
AZ R.E. dept. removes CAI and AACM from its list of resources
https://pvtgov.wordpress.com/2017/09/27/az-r-e-dept-removes-cai-and-aacm-from-its-list-of-resources/
We all must realize that the CAI and AACM are looking out to make money.
Arizona Department of Real Estate still has the following on their OFFICIAL WEBSITE as of September 28, 2017.
ASSOCIATION AND PRIVATE SECTOR RESOURCES Arizona Association of Community Managers· (AACM)
www.aacm.
com Community Associations Institute (CAI)·
www.caionline.org
http://www.azre.gov/hoa/documents/HOA_Dispute_Process_Bro_9_2016.pdf
Code of Fed. Reg. §100.7(a)(1)(iii)
HUD issues new regulations on HARRASSMENT.
New Law. Effective October 14, 2016, boards of directors are required to address members' claims of harassment on the basis of race, color, religion, national origin, sex, familial status, and disability. This includes harassment by other residents, board members, managers, and vendors. The law requires that boards take prompt steps to investigate and end harassment. (Code of Fed. Reg. §100.7(a)(1)(iii).)

September 2, 2016 Channel 13  HALL OF SHAME
RANCHO BEL AIR PAYS NON-UNIT OWNER JONATHAN FRIEDRICH.
---
Jonathan Friedrich is the creator of HOACorruption.com. A former Commissioner appointed by Gov. Sandoval to the Common Interest Commisson.. 



Jonathan contacts:

emmcor1@aol.com or (702) 822-4555
Bob Robey is the administrator of HOACorruption.com and may be contacted at:
BobRobey@cox.net or (702) 360-3691
So you received a letter from a Debt Collector. Be sure to do the following. We are not lawyers and do not give legal advice but sending Certified/Return Receipt requested letters is a good way to protect yourself.
 Did you respond to the WARNING in the LETTER?
It should have said something like this.
 "This has been sent to you by a collection agency, and any information obtained from you may be used for the purpose of collecting a debt. All portions of this claim shall be assumed valid unless disputed in writing."
 This warning  gives you the opportunity to dispute the balance.
 How would the Collection Agency  know about the true amount owed? They have to take the creditors ledger as true. And then the homeowner has 30 days to dispute the debt and show that payments were made.
 Please, Please contact the Collection Agency in WRITING.
 Bob Robey, HOACorruption.com
COURT RULES JONATHAN FRIEDRICH VICTIM OF RANCHO BEL AIR FRAUD
https://drive.google.com/open?id=0B3sFt3woIXPsSEhrbWhwWmFQSnc
---
Jonathan Friedrich files fraud suit against Rancho Bel Air in Las Vegas.
---
NEVADA SUPREME COURT RULES AGAINST HOA INDUSTRY ON SUPER PRIORITY LIENS
---
SUPREME COURT DECISION IN FULL..  SEE HOW THE COMMUNITY ASSOCIATION INSTITUTE LOST.
---
THE NRED OPINION THAT THE SUPREME COURT FOUND COMPELLING.
---
HOA PROVEN EMBEZZLEMENT CASES 
 .
HOA Hall of Shame
Commissioner Friedrich claims his fellow Commissioners are unduly influenced by the HOA Industry.  Read Las Review Journal article by Sean Whaley.. Attorney General agrees with Commissioner Friedrich.  See next article.
---
Attorney General takes following Collection Companies to court. 
I do have the case number and charges.  Contact me at BobRobey@cox.net and I will send you the filing by the AG.
Defendants: ATC Assessement Collection, LLC, Nevada Association Services,LLC, Silver State Trustee Services, LLC and Terra West Collections Group, LLC. plus Does 1 -10.
---
PROVEN PARTIAL LIST OF HOA EMBEZZER'S in NV INFORMATION FURNISHED BY NRED.
https://docs.google.com/file/d/0B3sFt3woIXPsSGNSY2sxa2ZIdlk/edit
Rosemere Estates Property Owners Association Loses Battle to screw a homeowner big time. Please read the Lytle legal battle at this web site page.... COURT DECISIONS AND LEGAL FILINGS.
https://sites.google.com/site/hoacorruption/legal
---
---
---
From TEXAS: 
Homeowner says HOA sued him $200,000 over 'ridiculous' violations
IF YOU HAVE NOT ORDERED "NEIGHBORS AT WAR" by Ward Lucas you don't understand how one election can ruin you.....Bob Robey
---
Why we are here!! 
---
---
---
---
Darcy Spears REPORTS alleged stealing of HOA by former President by Bitsky
http://www.ktnv.com/contact13/hoahallofshame
---
Bob Robey on Camera:  Channel 13 report on Garbage Cans. 
---
NEW HALL OF SHAME BY Darcy Spears... Thousands lost by HOA to PRESIDENT.
---


---
NEW: Dr. Solomon presents lectures on HOA's.  Each chapter is very short but the insights are amazing. Please visit: 
http://www.hoaacademy.com
---
---
Diane Wild, Owner, Castle Management FOUND GUILTY BY COMMISSION
---
This web site is DEDICATED to restoring Civil and Constitutional rights to all individuals living in Common Interest Communities in Nevada and elsewhere as provided under the United States Constitution and Federal Laws, to change State Statutes through the legislative process, to stop intrusive and punitive actions, stop misuse of and to protect homeowners funds, limit the powers of abusive Board of Directors in Associations and expose abuses to homeowners.
Jonathan Friedrich
This site is a work in progress. It is meant to educate those seeking truth and justice in the HOA world.   It already contains a tremendous amount of information.  More will be added as it becomes available.
 Bob Robey is the new administrator of HOACorruption.com and may be contacted at:
BobRobey@cox.net or (702) 875-3294
---
Please visit the ARCHIVES SECTION to view /read about previous HOA Abuses, Law Suits & Corruption Stories.  There is a "site" search engine in the upper right hand corner.
NEW AND URGENT TOPICS
---
SUPER PRIORITY LIEN DOES NOT INCLUDE COLLECTION COSTS. http://www.red.state.nv.us/CIC/Publications/13-01-116.pdf
---
---
---
---
Colonel Robert Frank and Tim Stebbins HOA OWNERS FIGHT BACK AFTER BEING ARRESTED FOR CARING ABOUT THEIR HOA.
---
---
New Book just out and it features Las Vegas,Nevada
---
N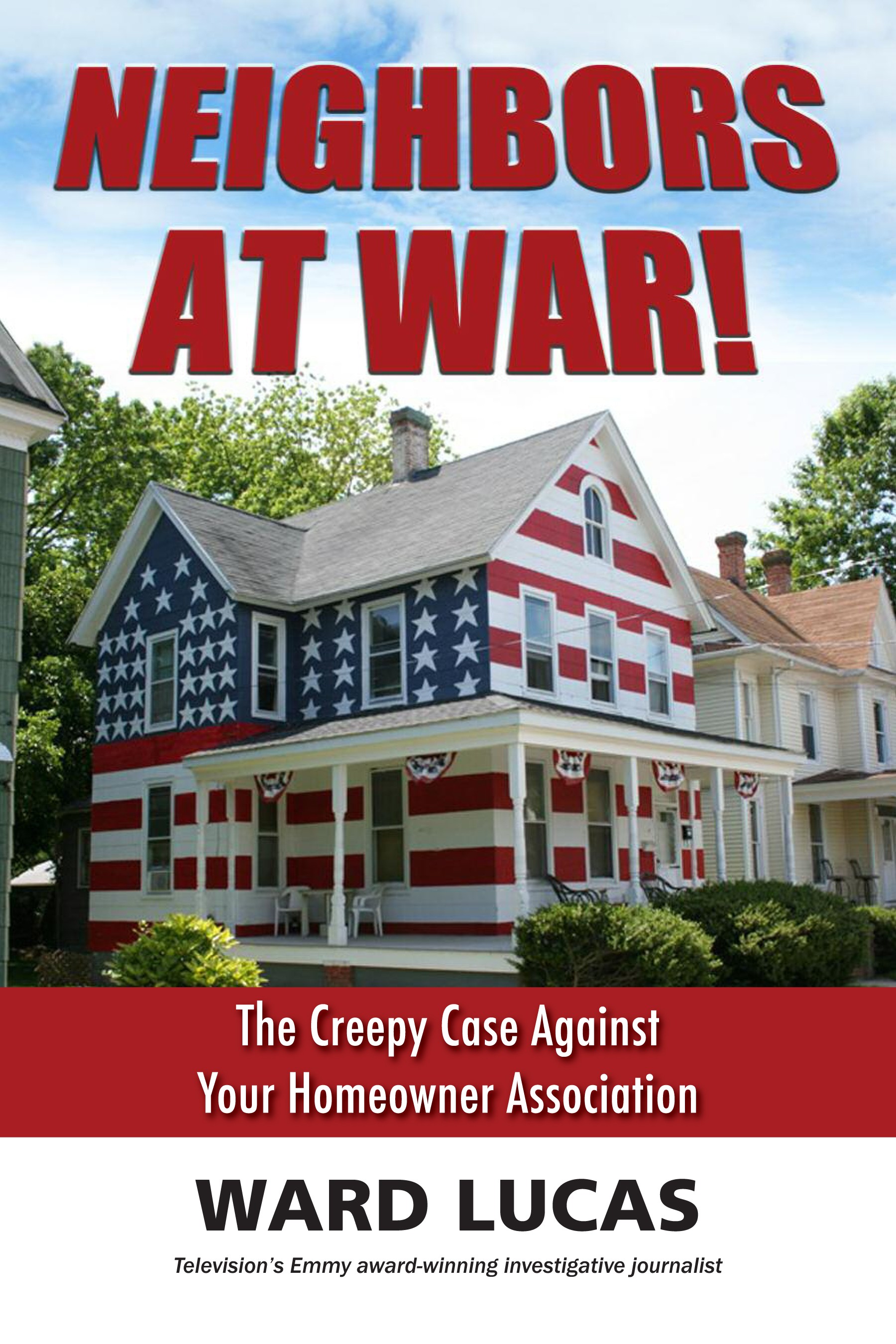 Ward Lucas

The Creepy Case Against Your Homeowners Association

Neighbors At War is a critical examination of the modern Homeowners Association movement, and how it has robbed 62 million Americans of their civil rights as outlined in the U.S. Constitution. Homeowners often move into these planned communities and unwittingly sign documents that control their behavior in a multitude of ways. Failing to abide by these 'personality and private behavior' controls has cost thousands of homeowners their homes, their life savings and their peace of mind. While HOAs were theoretically created to protect property values, there is incredible incentive for HOA board officers to "go rogue" and unnecessarily abuse fellow homeowners. When that happens, neighborhoods are torn apart, property values plummet and lives are ruined. Another national scandal is the amount of financial corruption of HOA board members. In one American city, federal indictments of dozens of well-known public figures show what happens when HOAs go out of control.

Price: $25.00
Follow the LINK below!!!
http://www.pbscart.com/cgi-bin/cp-app.pl?&pg=prod&ref=9780985697808&cat=hog&lnkbak=http://


---
HOA smackdown: 27 guilty pleas entered so far
---
Del Webb Community Association Shooting Death 
"the police insist such assaults and threats of violence are an association matter not of interest to law enforcement."
---
The Complaint as filed:
Bank of America, N.A. (BANA) complains and alleges against the above-captioned
---
Lawsuit Over Pink Playhouse Dropped:
:

The power of the 4th Estate 
(The Fourth Estate is the NEWS MEDIA.  Historically, the three Estates are KING, CLERGY, MILITARY.)
Thank you Anderson Cooper.
---
State panel removes Homeowners Association executive board for violations
---
Jonathan Friedrich has been appointed to the 
Commission for
Common
-
Interest
 Communities and Condominium Hotels 
 and will no longer be the Administrator of this WEBSITE called HOA Corruption.  Mr. Robey is not an attorney but only a facilitator for the exchange of information to bring the problems of HOA Ownership into the Open.
---
Jonathan Friedrich's appointment.
---
---
VICTORY FOR THE PEOPLE IS CLOSE.  THANKS TO THE FBI.
HOA CORRUPTION IN NEVADA IS EXPOSED by Plea Deals, Suicides, House fires, Beatings and the hard work of the 4th Estate.  It has taken the F.B.I. years to get to the point where the 4th Estate can tell the story.  Today, We, the Owners of HOACorruption.com proudly present the well written articles of STEVE GREEN reporter for the Las Vegas Sun.  PLEASE read the following 2 articles. Read how attorneys intimidated unit owners.  Ask yourself, why didn't the Nevada Real Estate Division act when homeowners first complained.   Here are the articles by Steve Green.
---
HOA PRESIDENT accused of Harrasing OWNERS....Darcy Spears shows it again.
---
Letter to J. Friedrich from NRED on Advisory Opinion being issued. Including the Opinion that took two years to obtain.  
 OPNION 12- 01-116.pdf
---
HOA corruption in Las Vegas makes the Bloomberg press.
---
Complaints rejected by NRED (Nevada Real Estate Division)?
Excessive response time for resolution of your complaint by NRED?
---
National Web Sites Exposing HOA Abuses:
---
https://meadowparkcommunityblog.wordpress.com/
Based in Novato California...