Turn on any Gospel station and hear over and over again the message of redeeming power in the blood of Jesus shed at Calvary's hill. Messengers will quote often from Paul's Epistle to the Romans. Believe. Confess. Receive. Trust for a lifetime. Expect Glory. https://justhappeneduponthis.wordpress.com/2014/08/02/the-choice-2/
But this site will emphasize how approachable Jesus is today, how compassionate and alive with adventure to be shared with us. A dying on a Hill is one thing, but let us go on to a living again in the hearts of believers world-wide. They minister rescue, truth, hope and healing in His glorious Name. They draw daily from Jesus' comfort, shepherding and counsel. Others take notice. The Family grows.
Best wishes...Doug Blair, Waterloo, Ontario...blaredub@gmail.com 
---
Hearing
He called me from the crowd, He did
A quiet shaded place
And kindly grabbed my shoulders
And got into my face
And thought it not improper
To stoop down to my plight
And smiled a knowing smile that said
'Your ears will soon be right'.
For I had never, ever heard
The children's laugh at play
The happy din of market-place
The lark at break of day
And silenced, never learned to speak
Or utter heart's desire.
"Quite dumb" they said
The shame of it
Inside would burn like fire.
But Jesus stopped and smiled and sighed
(I read those lips, you know)
A sigh that seemed to grasp all pain
And feel the anguish so.
Then heaven-ward He cast a glimpse
His hands addressed my ears
And precious words gained access
Rang true, amidst my tears.
"Be opened"; what a manly voice 
He spoke those words for me
And loosed my tongue
For cries of joy and thanks
Astoundingly.
Mark 7: 32-37
---
Down From the Mountain
You see him, Lord?
You see him?
For years this awful mess.
He scarcely can express himself
Can't even wash or dress.
His antics get folks going
They fear what might come next.
He roars in hot frustration
Sore lonely and sore vexed.
The doctors see no answer.
Sedation and restraints.
The seizures come so quickly
He thrashes, then he faints.
And I the father helpless
Must stand and watch again
As fear and doubts disable
Your followers, Lord, your men!
Oh won't you intervene, Sir
And make the darkness flee
And cause the sun to re-appear
For one poor lad, for me?
Mark 9: 17-29
---
They Left It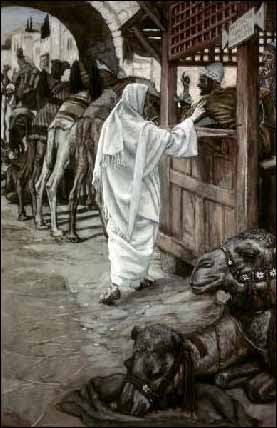 She left her water-pot at the well. Went to tell the neighbours about the amazing prophet in town. The One with the nice face.
He left his beggar's cloak behind at the roadside. Foolish thing for a blind man to do. Discard his insignia for begging. But they had said that the Master wanted to see him. And He had healed others in such a dignified way.
He left his tax-collector's table. And all that money. The stash going to the Romans. And that other portion going to…Oh well, forget about it.
The two brothers had left their father's fishing boat and all the nets. Seemed as if that's all they knew how to do well. Getting out on that water that they loved so. With all her moods, and bounty for the crafty.
She left her men. That little network of devilish play that she had coquettishly woven in the alleys. Rabbis had meant to stone her for the foolishness. And they had the Law behind them. But the Prophet had not allowed it. And she had never encountered One like Him.
He left his books of study. All of those rules and reg's that had caused so many headaches, arguments and impossible situations. He went under cover of darkness to the Prophet hoping for some answers of substance; and certainly not expecting those answers. A child-like petition and a New Birth posed as the remedy of all remedies.
He had left the secret enclaves of resistance. Weapons and plots under cover. Just waiting for the right moment to set the Romans running. But this Master Strategist had spoken of another battle plan with the strangest of weapons. Peaceful ones. Forgiving ones.
She had left it. The doting Mother's pre-disposition to worry about a daughter's plight and to make extra provision. Hers had married the Big Fisherman, and now he seemed to have signed on for the strangest commission with that healing Story Teller. Traveling, inviting with nothing made certain in advance.
All of these people had abandoned something previously thought to be unquestionably theirs.
Why?
("I that speak unto thee am he")
(painting by james tissot)
---
---
He Is Faithful
There is One
Oh can it be?
Who knows every
Part of me
All my deepest hopes
And fears
All my stumbling
Through the years.
All the times
With rescue armed
Saved my thankless neck
From harm.
Wooed me in
The thick of night
Brought me strength
To stand and fight.
While I hunted
Tinsel charms.
Fled from His
Outreaching arms.
Doubted e'er
A Love so great
One that would not
Leave, forsake.
But in silence
Of a time
I have seen
His paths sublime.
Marveled that
This wayward boy
Still to Him
Is constant joy.
Ever changeless
He will be
Hope and peace
And life for me.
(Hebrews 13: 5,6)
https://www.biblegateway.com/audio/dramatized/niv/Heb.13
---
Faithful Little Dog
the children's bread
I'll not be shaken off, not I
My daughter writhes at home
And I have heard
Your healing power
The greatest ever known
Disciples bar me from your touch
No Jewish blood to show
But Son of David
Lord of life
I will not let you go.
A hopeful "dog"
That's what you said
The household pet I'm sure
And crumbs that fall
From sacred feast
Will more than prove the cure.
So come now Jesus
Speak the word
And healing now translate
And end this Mother's heaviness
My daughter's sorry state.
Matthew 15: 22-28
---
In Appreciation
---
That You Might Be Healed
James 5:
16 Confess your faults one to another, and pray one for another, that ye may be healed. The effectual fervent prayer of a righteous man availeth much.
We are going to foul up. Let us not forget the stuff of which we are made. Perhaps there has been a salvation experience. We are still a work in progress. I am not here issuing a licence  to sin and give excuses. I am just stating a fact. Temper, lust, hypocrisy, foul language, convenient variations from truth – the list goes on.
It is of God's grace that we suffer conviction for the stumbling. A poet has said:
I know not if that sin
Had meant a dropping of salvation.
I only know your smile removed
Was hellish condemnation.
But remember there is confession. To the aggrieved party. To a supportive friend. To God. It need not take a specific format; only that it is sincere and represents a quality decision to do otherwise in the future. Then comes tremendous release. Look at David in Psalms 51 and 32. Then comes renewal in prayer and sweet sleep at day's end. Virtually a healing has taken place. The waters are settled. Functions flow again without ennui.
Does this healing extend to the body? Of course it does. Doctors everywhere confirm that stress is the greatest enemy to sound health. Pastors would confirm that unforgiveness and duplicity rank a close second and third. This passage also suggests an input of supernatural healing in the sovereign designs of God.
It is interesting to consider the second half of the above verse and the connection. The man who has gone through the wringer of confession and forgiveness stands a righteous man, effectual in prayer and in testimony. According to God there are no nagging and debilitating "yeah buts". Additionally the individual will have empathy for the stumblings of others. Not judgment.
I must not forget the admonition to "pray for one another". In the selfless offering of intercession; in the powerful agreement of determined believers on a mission there are often hidden surprises and personal needs met.
I remember a comment in the story of the reunion of brothers Jacob and Esau. The younger had cheated the older out of his birthright, but the time had finally come for an encounter and apology.
Genesis 33:
9 And Esau said, I have enough, my brother; keep that thou hast unto thyself.
10 And Jacob said, Nay, I pray thee, if now I have found grace in thy sight, then receive my present at my hand: for therefore I have seen thy face, as though I had seen the face of God, and thou wast pleased with me.
(Note: A wonderful book has been written by Andrew Murray entitled Confession and Forgiveness)
---
Jairus, Running, Hoping  (Mark 5: 21-43)
Our little girl was almost gone.
The fever gripped her like a vise.
The eyes attending elsewhere, wan,
The fragile hands as cold as ice.
And I as useless as a child.
Her mother stroking soft the brow.
And something hidden, wanton, wild
Was pressing, choking sweetness now.
I fled the room, a flick'ring thought
Arrested mind and sinking heart.
The Nazarene whom many sought
Could he be called, and life impart?
The doors rushed by as I made haste.
This rabbi now a racing steed.
A father with no time to waste.
Would Jesus rally to our need?
He hears my plea, yet looks so calm,
And joins me in the homeward trek.
Has he the skill? Has he the balm?
To save our lives from total wreck?
But friends advise with words I dread,
To trouble not the Master more.
My little flower, already dead.
My wife distraught upon the floor.
Yet still he comes, quite undeterred,
And takes her hand, and softly sighs
Her little spirit hears the word.
The call of life, "Sweet maid arise."
---
Sycamore
Still standing.
Beside the main street.
Feeling the pulse
Of spring rains,
The crown of summer,
The testing pull
Of autumn storms.
Children explore
My limbs and shelter.
Adventurers pass,
Out to new possibilities.
Some, retracing steps
In homeward reunion
Or retreat.
Presently a strange din;
One stalwart man
And His entourage.
Onlookers press in,
Curious and hopeful.
What's this?
Someone scrambles up,
Tugs my extremities,
Scrapes my bark,
Settles,
Balancing to watch.
Much like the children.
(Generations of them.)
I serve their purpose.
I serve his purpose.
Giving the better view.
And the Master looks up,
My Maker.
Issuing the call:
"Zacchaeus, come down.
I will come to your house."
(Painting by Tissot)
Luke 19: 1-10
---
Thirty-three Words
The shortest chapter in the Bible is Psalm 117. (Interestingly enough the longest is two doors over, Psalm 119. Both are included in the Grand Hallel recited at the Jewish Passover.)
Does this little contribution do justice in describing God and the fundamental plan of redemption? It says that he is available, merciful, kind, true and everlasting. This is very much like the self-description which the Lord gave to Moses when asked to show the glory of His person (Exodus 34).
And Psalm 117 (KJV) contains 33 words.
Jesus, the Living Word and best revelation of the nature of the Heavenly Father, lived and walked as man for 33 years.
A poem would be appropriate:
Show Us the Father
Have I been so long time with you,
Yet you still misunderstand?
In the simple walks
When I listened
And you went on so.
In the gazing reverently
Together at sunset.
In the common meal
Which went down so well
'Midst laughter and poking.
In the common cup.
The washings of hand
And conscience.
Have you not seen me
Bless the wayfaring man,
The ailing child,
The fretful mother
With her last farthing?
Chastise the hypocrite?
Warn the self-assured?
Heard me glean wisdom
From the fields, the flocks,
The fishnets, the pearl merchant?
In all, I have heard from my Father;
Seen my Father's pointing hand;
Represented my Father.
It is just that simple,
That fresh, daily.
I can be, I can say
None other.
Come unto me.
Come unto Him.
Brothers. (33 lines)
Jesus bids the children come (Tissot)
---
Waves Get Nasty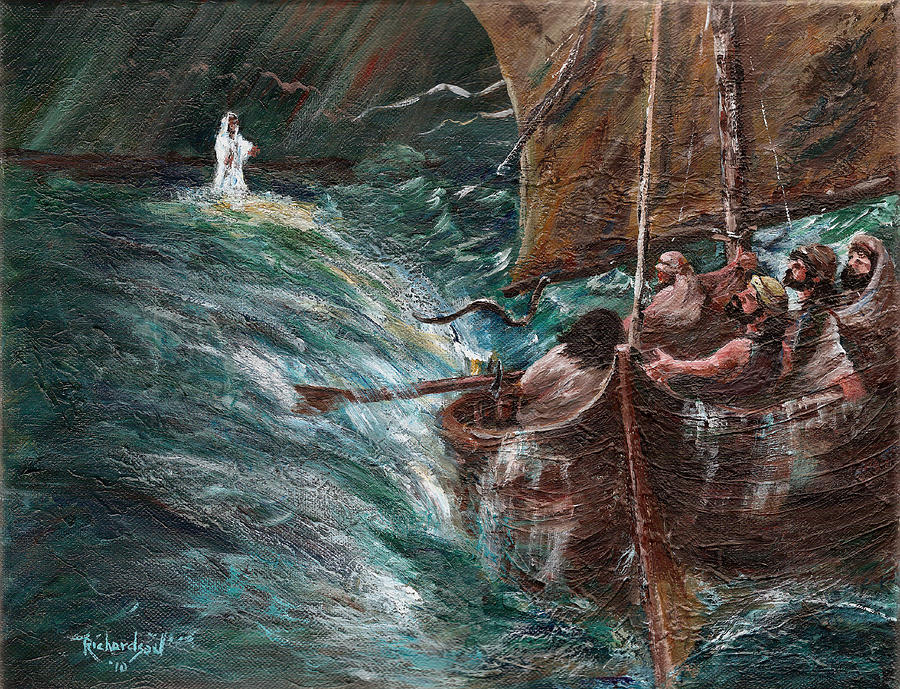 Image by George Richardson
Is it that rough for you, Christian?
Can't keep your feet on the ground?
Waves pound and noise seems horrific
Dreading the spray and the sound.
Yes now your sea is all boisterous
Can't hear the call of the Lord
What's that He said through the darkness?
Chilling the bone with one word:
"Come" you may walk o'er these waters.
"Come" just as you see me do
"Come" they're all noise and commotion
Trust in my word and pass through.
I will be there on the billows
Waiting to meet you. Rejoice.
Nothing can foil my agenda
If you will just heed my voice.
And you know surely you heard it
Right before waves brought the fear
Trust in my word, don't desert it
Miracle ground is found here.
---
Serving, Resting
(I am thankful for a prayer entry in

Knocking at God's Door

by Oswald Chambers)

"Lord, I thank Thee

for the counsel in the text this morning ("And let it be ...that thou shalt do as occasion serves thee; for God is with thee") not to fret myself into conscious usefulness, but just do as the occasion Thou hast engineered shall serve."

Was this not the method of Jesus? There always seemed to be a relaxed manner in the way the Master traveled about and made Himself available to those in need. Many nights were given to prayer and He was able to say that He did and said only as instructed by the Father. But did those prayer times result in specific instruction to be at a certain place at a certain time to work the Father's will? Or, rather, were they simply times to get close to the Father's heart. To hear Him pour in the comfort and encouragement and re-assurance that He was present and His power available.

Such intimacy energized a daily walk in which the Holy Spirit would urge unmistakably, "yes, that one over there is in need, or is ready, or not today but simply a word of direction...". Jesus said that He operated by the "finger of God" (ie. the Holy Spirit)

He was able to go about with the confidence that He was called, clean, covered, committed and capable through God. So may we. 
---
Two Days at Sychar
She ran to tell them
Of the man who met her at the well
In mid-day's heat
As if for her alone
He came to tell
That she was through with daily thirst
And shameful gossip-thrust
How did He know
Those desperate years of
License and of lust?
A prophet, true
And one who spoke
Of waters to impart
No mocker He
Serenity
Contentment for her heart.
So off she ran
"Come see the man
Who knows my every deed
Forgives it all,
The big, the small
And leaves my conscience freed.
Yes drink of Him
The fresh supply of
Spirit without end."
They came, they heard.
They took His word
And hailed Him as their friend.
John 4: 1-43
Oh brother men, have ye received this blessed gift, with its fresh spontaneousness, its inner hidden blessedness, its eternal timeless essence, its power of entire satisfaction? If not, why not seek forthwith from Him by faith a boon so inexpressibly precious, to have which were to make wildernesses flower and deserts sing? (F. B. Meyer, 1847-1929, The Life of Love: John's Gospel)
Treasured
Oh to walk by Galilee
See the crowds and what they see
Hear their laughter; feel their thrill
Learning of the Father's will.
Hearing tales from where they live
Learning how to pray, forgive
How to walk the second mile
How to make the outcast smile.
Watching sickness turn and flee
Watching sinners saved and free.
This a pilgrim's frequent wish
Camp with Him, and share His fish.
Then there was that other phase
Shadows came in threatening days
Cold religion sought to snare
Empire muscle everywhere
Politics and schemes of men
Shutting down the love again
Making plans to catch the Son
See His following over-run
See Him shackled, whipped, defamed
Brought to bar with no just claim.
Bring Him to a horrid Hill
All to serve His Father's will.
Treasured fare to feast upon
Matthew, Mark
And Luke and John.
Take it to my quiet place
Learn His love
And seek His face.
Take to heart the Gospel's peace
Tell a friend of faith's release.
Christ is risen
Death's great loss
Christ within me
Through the Cross.
---
---
Not So Macho
I'm oh so afraid to be broken
All teary-eyed, cringing and spent
And troubles arrive by the bus-load
I know now just what a friend meant
He told me how pain proves a blessing
And shows "self-sufficient" a lie
I've yanked and I've pulled at these problems
It's time to give prayer a try.
I don't really know what is proper
Except that I pour out my heart
And God if you're really that caring
You'll bear with this faltering start.
But something has clicked deep inside me
And words seem to flow like a spring
And somehow I know you are present
And willing to bear everything.
As if no one else were sufficient
Or knew what exactly I meant
You counsel to think upon Jesus
And doors open as I repent.
---
Do You Know?
Do you know what you possess? Do you really get it?
Has the concept and power of blood covenant gotten deep into your consciousness? You share the bread and the wine. You reflect on the tears of Gethsemane and the shame and anguish of Golgotha.
Had you seen the blood flowing and mingling with the earth. Had you smelled it. Had you heard the moans of the sympathizers. The janglings of Roman contraption. The mockings of the callous. You would be incapable of forgetting a single detail.

This was the definitive blood covenant. My precious Son and I agreeing, one with the other, that all of our power, resources, blessing and protection would accrue to those in the family line, now and forever.You have simply stepped forward to respond to the call of my Son; His Good News; to seek out His family; to grow in family likeness. His genes, if you will, have been deposited in you.
I am constrained to bless. I will honour my word.
When I see you, I see Jesus, and I can only love. I remember that blood.

You may truly sing along with the saints:

"Oh, the blood that gives me strength From day to day; It will never lose its power."
http://www.dunedin.elim.org.nz/uploads/1/2/7/8/12786940/abide_in_christ_-_andrew_murray.pdf
https://sites.google.com/site/conversationabove/conversation-spare
---
Disciple's Distress
How can I help
When your guts are a-seething
When every which way
Holds disaster at end
And all thinking hampered
By urgent needs pressing
And no clear decision
Of consulting a friend
So you hold inside
Sensing faith has the answers
Perhaps this a trial
To assess your core worth
But God has not authored
These knotholes of menace
The panic or put-downs
Or larders of dearth
Look for a life- buoy
Or signal of promise
Some friend with connection
Or prayer's honest yield
And stay not alone
Lest an imbalance threaten
But reach out for people
And hope's sunny field.
---
You have been a church member for as long as you can remember. Parents before you.
Attendance may have waivered from time to time, but you still see the process as valuable. You have read a couple of the Gospels. Frequently in Psalms and Proverbs. Perhaps Pastor's sermon has provoked a little additional study. You try your best to live a good life.
But all this talk about "salvation" that you hear coming from the evangelicals just leaves you cold. Didn't you get baptized? Didn't you attend confirmation; take the pledge? What is all this panic?
Jesus said in John 9 that He had come into the world that they that see not might see. He bestows spiritual vision. Gives glimpses of the holiness of God and the inadequacy of self-righteousness. You must pray for this vision while you are still breathing. You must give yourself over more to considerations of the Eternal.
A good help will be found in the reading of Romans 10. At first reading you might hear yourself asking, "Is that all there is to this?" Pray for illumination. Read it again. The Gospel words of promise are timeless. Believe. Submit. Confess. Be done with men's foolish efforts for righteousness sake.
The threshold of entrance has been made surprisingly simple. Simple to you, but enormously costly to Jesus and the Father. But with the transformation of new birth comes new comprehension, new loyalty, new purpose, new zeal for the things of Christ. In short order you will acknowledge your blindness of bygone days. You will have become a citizen of Heaven.
---
---






Hang On, It's Brief
There's a mess
Of mean misfortune
And you bear it.
And you tell yourself
The devil has his day
And you cite the
Holy promises at prayer-time
Saying patience will
Dispel the gloom away.
But the years
They come and go
And still the hurting
And you're tempted
To besmirch the Father's grace.
"Surely, faith had brought
The blessing, had you used it."
And the pitty-party puddle
Bears your face.
But the stamina He gave
You, wins another
Who has faced the bitter test
This Life's not fair.
And he's just passed over
Singing of a Brother
Both, in Heaven now,
Rejoicing for God's care.
Yes that care may use
The suffering for a ransom
And Friend, Jesus knew
Such suffering for a night.
And He waits with open arms
And endless blessing.
Oh yes, eternity's
A long time to be right.
(Colossians 1: 24 and 2 Corinthians 1: 6 and Philippians 3: 10-12)
Faithful ones, you can preach, you can serve, you can spend, you can work, you can pray, you can uplift…you can suffer. They are all currencies, if used in the Spirit of Christ. (Doug)
---
Two Kinds of Lost
Imagine a sinking ship in the darkness. Life-boats have been dispatched onto the cruel waves. Survivors huddle together in the cold, and the noise of the ship's creaking death-descent drowns out all voices. A man has been tardy in the evacuation response and he remains on deck alone. His cries cannot be heard. He has missed the opportunity of rescue. He is lost to his associates and he is lost to any hope. A most tragic wrap-up to life's journey.
This seems a fitting metaphor for the one who dies without hope in Christ.
Over the years I have often come across an arresting piece of scripture in the first chapter of Ephesians:
        6. To the praise of the glory of his grace, wherein he hath made us accepted in the beloved.
In whom we have redemption through his blood, the forgiveness of sins, according to the riches of his grace.
It would appear here that the individual has been "lost" in the collective. A process of grace worked out entirely by God has caused the believer to be accepted in the beloved. All sin-debt has been paid. The holiest of blood-lettings has accomplished the transaction.
And that word "beloved" is a tender reference to Christ, who took obedience to the will of His Father all the way to a self-offered death by crucifixion. We have been incorporated into the beloved, osmosed if you will. God never looks upon the believers without seeing the finished work of His delightful Son. The favour that He extends toward Jesus, He now extends toward us. We call upon His name, His authority, His mercy, help, wisdom and guidance. We are told in Romans 8 that we are joint heirs with Jesus.
The challenge in the whole picture is to eradicate, to "lose" self and the desire to have one's own way. Think of all the unfortunate references to self: self-righteousness, self-vindication, self-absorption, self-seeking, self-serving, self-important, self-indulgent, self-opinionated, self-reliant, self-satisfied.
Jesus in His earth-walk for us showed the path to victory and contentment:
For I came down from heaven, not to do mine own will, but the will of him that sent me. (John 6: 38)
A wonderful book has been written by Roy Hession entitled The Calvary Road (1950). In it he explores this process of self-emptying as the threshold to revival, both personal and corporate. He explores Paul's words "Not I but Christ". He gives the image of the proud, erect, stubborn "I". This is contrasted to a submitted, stooped, attentive "I" turned into a "C". Indeed our glorious Saviour condescended, stooped and submitted all the way to His Cross. And how glorious were the results. And how amazing the out-flow of resurrection power.
---
Storyteller
Just give you some stories
Let pictures run wild
Appeal to the hopeful
Appeal to the child
With something original
A puzzle or song
To keep up the interest
To coax you along.
My Father is awesome
Beyond all men's ken 
And I use these mysteries
To draw you again.
Some must have the answer
Some shrug off and whine
A test in the challenge
Faith's hunger to find.
And hungry go further
Til full Kingdom comes
And God makes His dwelling
In satisfied homes.
---
Come
Jesus did not say come unto a group or a program or a rule book or a meditative posture. He said come unto Him, and volunteer to take on His yoke and learn of Him. In so doing we would find rest for our souls. (Matthew 11)
Come – Get into the vicinity of His story, His prayer agenda and His record of service. Read those Gospels. Talk about them enthusiastically with friends of the faith. Have nothing in your hands to trust as a safety net. Be reverent and expectant. Ask for the part that you are to play.
Take – It is being offered freely. There are no pre-requisites.
My Yoke – It is a loving discipline and a mind-set that Jesus accepted without qualification or wavering. His yoke (the ethic of the Sermon on the Mount). One becomes visibly bonded to a fellow labourer, and cannot stray away without a conscious removal of the bond. And oh what a strong and capable partner is shouldering the load with us!
Rest – The Letter to the Hebrews tells us that this is the objective of faith, the high plateau of trusting and obeying, the immovable rock of security and belonging. Nothing to fear. No path followed with clear conscience ends in disaster.
Souls – The real struggles occur in the soul realm of the will, intellect and emotions. Have you ever had a sleepless night where you can't seem to shut off the brain from wandering, silly and troublesome thoughts? Focus on Jesus in prayer and simple conversation. Equilibrium is restored and hope for tomorrow.
Burden Light – This is the part that baffles the un-churched. They see the Gospel as restrictive and as robbing liberty. No fun they say. Made to be pawns of priest-craft and blind trust. Antiquated concepts of sin and self-control. Oh but let them discover the comfort and wisdom of "jumping" when the King of all the Ages says "jump", or of standing still and waiting at His command, while things get sorted out. This is a lesson that He will take into His own hands. No exposition by a third party can cut it.
And to whom has all of this been addressed by the Master? The labouring and heavy-laden. Are you a candidate?
---
Sons of Thunder
He doesn't seem to hurry. Yet He has told us that many villages must be visited during his allotted time. Allotted? Does that mean that he foresees some abrupt end to this marvelous circuit?
He leaves us most nights, from  hospitable quaint home or makeshift roadside camp. It would seem that prayer is so very much more important to him than sleep. But the following day no signs of lagging or fatigue. The crowds never let up. They press in smiling; straining to hear or watch. Becoming almost rude in their eagerness
At the most unpredictable times he will step off to the side, seat himself upon a wagon or boulder and tell one of his stories. Straight out of where they live. Challenging them to forgive, to share, to seek no haughty posture, to approach the Almighty as a father, involved and merciful and in the commonplace.
He knows the prophets, but does not swing such knowledge around as a hammer of condemnation or of authority. The bunch of us try to clear the way for him, village to village. To organize the people into manageable audiences. To keep the children's noise at a distance. But he will not countenance the splitting off of the little ones; neither does he have any reservation that his messages are beyond them. They scramble for place in his lap, at his feet, within reach of those hands of comfort and healing, under that gaze so approving and hopeful.
There have been times when we have felt the need to apply a firm hand. He is worthy of great respect, but so often he demonstrates that it is the farthest thing from his mind. Not like any of the other rabbis. Strangely, in such a posture, he tells all that the Kingdom of God has come. Not like a thunderstorm; rather like the early morning dew.
Thunder. I had my day on that one. I can hardly understand what came over me and my brother. Something ignorant, imperious and indignant. Back there, one of the villages of the Samaritans. Completely rejected our offer to visit. Imagine! Making light of the Master, the God-sent mission , the Good News! At that moment, seemed like time for the rod. Like time for vindication and reprisal. Like time for fire from heaven upon the contemptuous.
A short while earlier, three of us had been up on the Mount, dazed by the visit of holy men of old, hearing in our stupor the voice of God Himself, "My beloved Son. Hear him". I still don't know what it all meant.
Jesus had called James and me the Sons of Thunder. He had said that our outburst was of a spirit completely different from His. We felt His disappointment. What can be done? What are our chances? He is so far beyond us.
---
Explore the Mysteries
Oh how we should love the mysteries unlocked in the Gospels! The condescending love and self-revealing of the Godhead. But only when we are ready and in the right attitude of heart.
The mystery of the Kingdom of GodThe mystery of the reconciliation of Jew and Gentile

 

The mystery of the indwelling ChristThe mystery of godlinessThe mystery of the rapture of the Church
I would like to say a little on the third one above. For so many years I was into religious exercise, seasons and the 'imitation" of Christ. Fat chance in that! But then I was told by an obedient messenger about the possibility of having the Spirit of Christ come to dwell inside me for the asking. This was perhaps the most exciting prospect arising out of the New Birth. And I for a time balked at the idea of "born again" experience. The educators were against it; the media; the trend-setters; the liberal church.
But I reached the bottom of my barrel, and through sad experience, gave up on the systems of the world and of self-important men.
Imagine! The Christian life was to be a matter of impartation rather than imitation. The shutters were pulled back. The windows were opened. The enormous capability, cleansing and compassion of Jesus allowed inside. Take a moment and read the third chapter of Paul's letter to the Colossians. There we see the supernatural transition from old man to new; the change of raiment and of disposition.
Go for it. Explore the mystery.
---
Babe's Skin
All I could do
When others departed
Stop and consider
What just had been done
Look at my skin
Once ravaged and pitted
Look at my fingers
(I'd lost more than one)
"Leper" they called me
And fled from my presence
"Leper" the stigma
Of sad weeping shell
Lonely the life
Deemed God's hot displeasure
Friendless and homeless
My own private hell
Jesus had seen us
All ten in our sad plight
Sent to the priests
To declare all things healed
Cleansed just like babes
From a dreadful contagion
Nine still in darkness
To one Grace revealed
How could I not thank
The calm Galilean
Sharing a kindness
That opened my soul
Joyful in transport
I cling to His next words:
"Happy for you friend
Now every whit whole."
Luke 17: 12-19
---
The "To-Do List"
In so many places in the New Covenant we are shown what to believe; the pegs upon which to hang resolutely our deepest hopes. Romans 10 says much about this.
But what to do?
The other day I was impressed with the commands of Matthew 25. Jesus is approaching His departure. Quite naturally He would want His last words to  His friends to have significant lasting impact. The setting is the Mount of Olives and all the disciples are present.
He gives three images:
1. A group of ten virgins await the night-time arrival of the bridegroom for a great celebration.
2. A departing King dispenses resources to three of His servants that they might occupy in His absence.
3. A King has returned to a throne of judgment to separate with grave finality those who have lived to please Him (sheep) from those who have not (goats).
We are still in that period of waiting for the Glorious Return. We are told here never to allow our sense of expectancy and readiness (lamp-oil) to run low. There have been talents invested in us that we are to put to profitable use in the agenda of the Kingdom. He knows our capabilities. It is the quality not quantity of our response that matters. There will be an accounting that will disclose the real leanings of the heart toward our Great Employer. Jesus reminds us of His "brethren" in need – the hungry, the thirsty, the poorly clothed, the awkward lonely stranger, the sick and the imprisoned. That is the list of mercy targets, just as in the days of His earth walk. That is where His family is to be found, ourselves included.
The list is clear. The opportunities come forth surprisingly. The Spirit of Christ within responds as in the age-old Gospel way.
(above image – the widow's mite)
---
Not a Time for Lessons
Search the scriptures; for in them you think ye have eternal life: and they are they which testify of me.
And ye will not come to me, that ye might have life. (John 5: 39, 40)
They do it all over the continent every Sunday morning. Open their Bibles or  gaze upon the overhead screen. Try to glean the import of magic words. These are the words of God and they contain pathways to victory, purpose and satisfaction. Let us look at the original languages. Let us compare parallel passages. Let us look for the promise here and the fulfillment over yonder.  Isn't it all wonderfully convincing and cohesive? Didn't Pastor put an interesting spin on his life illustrations?
But where is Jesus in all of this learning? Where is the sense of His loyalty, compassion and coaching? Are we simply receiving knowledge when that which our Lord yearns to impart is life itself. His Life. His Authority. His Understanding. His closeness to the Heavenly Father.
It can all be missed, although the supposed worshipper has memorized a boatload of Bible verses, and sounds ever so sanctified.
Better for the entire gathering to quiet themselves and meditate upon a single vignette from the Gospel tales of Jesus' kindness and care. Sing a song in worship of that Great Heart. Utter a corporate prayer crying out for His visitation and input. Repent of the scores of shortcomings cluttering the record of the past week. In short it is time to get real and to live in Him. We must not opt out for a comfortable grasp of "Christian living" when the target is intended to be Christ Himself.
Come.
Leave behind all the gadgets and intellectual pride. Stop seeing Bible knowledge as the objective. Our commission is clearly laid out in 2 Corinthians 5 and 6, and it takes supernatural input. Ambassadors of reconciliation. Different from this world.
The KIng has seats close to His throne and available for those who are broken, hungry, expectant and humble. His life will be actualized in them and in their yielding. Other lives will be changed as a consequence, and other dark places lightened.
Not simply another lesson.
---
Wedding Feast (matthew 22: 1-15)
His tales have become even stranger.
His parables more probing yet.
His instruments wooing and cutting.
His imagery hard to forget.
And now in the City he meets them;
Those rabbis of learning and law,
Who seek to portray him as rebel,
Who seek to uncover some flaw.
Just where will this dialogue take him?
Oh where will this sparring match lead?
Pray not that a jail cell awaits him.
Pray not that he suffer and bleed.
But Jesus has set an agenda,
And now is the time for the test.
To see if the Jews will accept him
And his kingdom-call as the best.
Today's tale was set at a wedding.
A King was to marry his son.
And friends of the family invited
To share in the joy, every one.
But all of them made their excuses.
Yes all of them had other plans.
The guest list was proving pathetic.
Their love for their Lord but a sham.
The King was aggrieved by their rebuff,
His messengers battered and slain.
His army dispatched to wreak vengeance
On those who had caused him such pain.
Then servants were sent to the country,
(The highway and byway and field.)
To call for the good, bad and ugly;
The King's wedding feast MUST be filled!
Now here's where the parable leaves us.
The ugly invited to dine?
To feast at a sumptuous table?
To sample the finest of wine?
And doubtless the rabbis are rabid.
A King sitting next to unclean!
Some beggars who jumped at the invite!
Some wasted and wandering and lean!
Yes, what kind of King seeks the lowly
And calls them to witness his child
In marriage, the best of life's pleasures,
And makes them his friends? This is wild!
It must be a strange kind of kingdom,
Where Court and the plain-folk are one.
Where Royalty waits on the ragged.
And both find delight in the Son.
---
Immeasurable
Do you dare measure
The limits of Jerusalem
Scope of her reaching
Or gleaming of her light?
You with the rod
Of heartless feet
And inches
Tallies and tokens
To gauge her worth aright?
Pointless this plan
To weigh the sum of mercy
Sobs of relief
Or joy of family found
Words of Messiah
That promise constant keeping
Purpose and plenty
To all on Holy Ground.
Better you view
A single act of kindness
Savour the smell
Of Jesus drawing near.
Tend to the marvel
Of widows' love rekindled.
Delight in laughter
Of children freed from fear.
(Zechariah 2: 1-5)
---
Mission Song
Strange it seems
And back with every morning
The song, the plumes
Like none I've ever seen
It takes my breath
Blue flashing from the jungle
And shines with joy
Like something from a dream.
Though days seem long
And men out to the forest
To harvest teak for ships so far away
And women cook
And tend their little babies
While I a wandering pup
Face one more pointless day.
That bird comes back
With all its eastern mystery
And says to me:
"I spend most days alone
But you affirm and seek me
In the morning
Just as you wish
They'd come and seek
God's throne.
I have been placed here
With exquisite purpose
And so have you
Dear preacher, doctor Friend
So shine and sing
And brighten up this forest
And realize Christ works you
To His brilliant end."
---
Readiness 
But sanctify the Lord God in your heart and be ready always to give an answer to the man who asks the reason for the hope that is within you with meekness and fear.
The apostle Peter said that, and certainly he was filled with the passion for seeing people enter into the Kingdom of Heaven.
But wait until they ask. Until then it will be your "being" that has effect and not your "answering". Many will say that the passing on of scripture will not come back void.
But Jesus said that His disciples were becoming "fishers of men". The fisherman looks for many signs in the water, the wind and sun and structure. He knows the characteristics of the fish likely to be around. He doesn't just throw the net indiscriminately.
And then when the question gets asked and the Spirit within says to you 'Yes this is the green light', you must proceed humbly and respectfully. This is the birthing of another Brother or Sister in the faith.
---
Released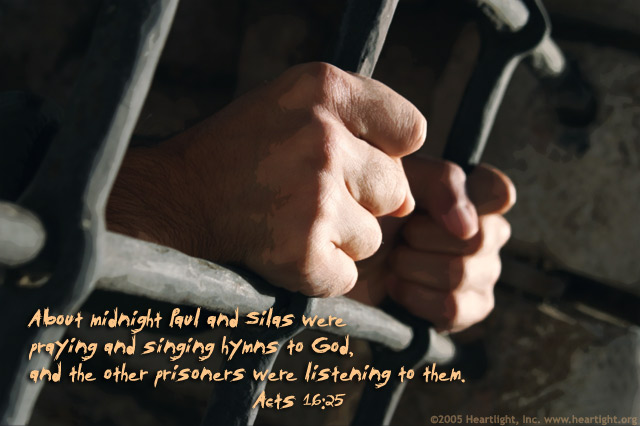 ---
More Than My Necessary Food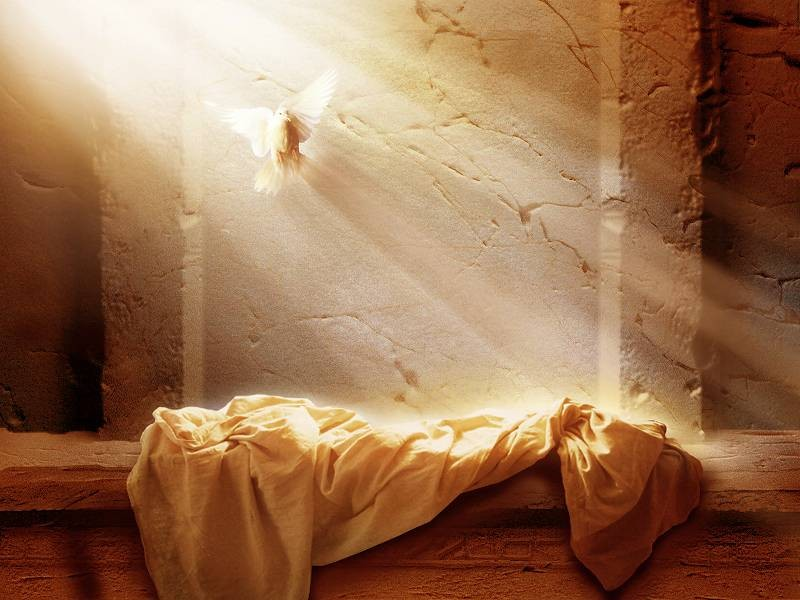 What will you show me today
Where will you take me
Which promise or warning?
Only for my good, of course.
Tough bargains sometimes
But eventually off comes
The hard casing, that
The heart of love might show.
You have birthed me, earthed me
Mirthed me and worthed me.
Such a God, such a Father
Such a Word of confidence and hope.
I eat it up gladly.
Following the footsteps of
My Elder Brother.
He too would read and meditate
Before the coming of
The happy crowds
The needy crowds
The curious crowds.
Before the harsh inquisition
The Via Dolorosa
The bloodied perch
Between two malefactors.
But He knew the end of your Book
And so do I.
And I feast with saints.
Gift, and gifts happily received.
---
Thief
So glad that I could do it
In fleeting gasps of pain
With arms outstretched
On Roman beams
And clouds begun to rain.
The One beside me
Shows no hate
His Mother down below
And eye meets eye
As oft before
They held each other so.
But this is not a common crowd
The holy men preside
And urge the rabble's
Thirst for blood
Most likely they had lied.
"A King", they mock,
"And is your Court
A bloodied perch and crown?"
Oh Saviour, time to save yourself
Display your power
Come down!
But death is part
And parcel yet
You have your Father's word
And you beseeched the darkening sky
And He most surely heard.
And I with scarce the breath to spare
And justly here for crime
Turn to you King
And gladly sing
Your pardon, Kingdom mine.
Luke 23: 43
---
 http://issuu.com/dewane/docs/that_spot__that_one_spot_9c229cfa7c6ee6
---
A Son to His Father
Yes, Father.
I have sought your face.
I have heard your voice.
I have found your will.
I have delighted in following.
As a youngster at home.
In the carpenter's shop.
As the Romans came to town and went.
At the Jordan with John.
Stretched in the wilderness.
In the teeming curious crowds.
Alone, and seeking in night hours.
With the sick.
With the cynical.
When challenged as to my service.
When challenged as to the Kingdom.
When disappointed by friends.
When weary of their ambition.
In Gethsemane.
Troubled and sore amazed.
Telling the Governor the truth.
Enduring the pain,
As one wretched thief
Acknowledged our plan,
And you seemed removed.
But the plan was sovereign.
I sit again at your side.
We have glorious fellowship.
We hear from the family.
We delight to bless.
And oh, dear Father,
They are coming.
Your sons, daughters to the feast.
---
The One Thief's Confession: a paraphrase
I am finished and I know it. Done violence to the peace, order and truth of this place. Getting my just deserts.
But the Fellow beside me looks nothing like a bad actor. Doesn't even register hate as they nail and jeer. Takes it all manfully.
Some buzz has been spread that He is a king. I believe it. These Romans are bullies and frauds. The priests and ritualists nothing better, except they use scrolls instead of swords.
I spoke up for him over the taunts of the other guy; said that if He was ushering in a Kingdom, I wanted to go. If only He could be mightily merciful on that account…on my account.
He said that it was a done deal. Before I could reckon the time I would be with Him in Paradise.
He appeared relieved that only one, even the likes of me, would speak favourably of Him at this horrible time.*

(* salvation in a nutshell, and you thought that you had to swim the widest sea…)
---
Your Heart
---
Ark
(Image: Jesus is the Ark for our journey.)
He built an ark
And others thought him crazy
They mocked the task
Of mallet, bit and plane.
The family chose
To honour Noah's wishes
And life for them
Would never be the same.
He had that look
Of one who had touched Glory
He grieved at lust
And wickedness around.
The laughter and
The night-times filled with excess
No thought of God
Or deluge
Obliterating ground.
He heard a Voice
That grieved at the creation
A landscape raped
By men without restraint
Though words had come
For reverent moderation
There was but one
Devoted, tuned-in saint.
And his the charge
To gather all the creatures
To ply in peace
The fearful waves forewarned.
And come they did
By rank to fill
The sturdy vessel
Days before the dreaded storm.
The family shut.
The Ark complete.
But still no moisture.
And camps of revelry
All burning fires of hate.
For seven days
A simple trust
Would judge the nations
Ere God released
Disaster's dreadful weight.
Now was the Ark
Sufficient for the purpose
And did it bear
The weeks with no "land-ho"?
What God says stands
A certain fount of rescue.
And mercy
Every child of faith will know.
(Luke 17: 26, 27 and Hebrews 11: 7)
---
The Simplest Letter (In his senior years administering some churches in Asia Minor, John the Beloved wrote a glorious letter of assurance.)
'I have handled Light and Love
Basked in His perfect instruction
Saw Him put flesh on
Righteousness and brotherly kindness
Felt a fortunate, thankful heart bursting.
And I have His nature; His Spirit.
By this I have escaped the world
Its lusts, striving and fear.
It lies in wickedness
But that wickedness
Bows before the anointing
His anointing, liberally shared
Overcoming
Tweaking the nose of anti-Christ
Of denial and darkness.
And all of the other idols
Lose their pull.
Friends you may have
All of this as well
Directly from Him.
His Story (Word).
His identification (Water)
His cleansing (Blood).
The Son of God sent
Unreservedly
As Saviour of the world.'
---
Kaleidoscopic
It's a Living Word we're given
And it lives in each one's sphere
And it shows its rule in happenings
And in friendships held most dear.
Though it speaks of ancient Abraham
And of Joseph behind bars
It will grab the timeless human hope
And offer it the stars.
It will sing in David's loneliness
And soothe in Job's dread pain
And will walk our Christ up Calvary
Till the grave gives up the slain.
It is one more blessed circle
Like the sun or seasons round
First a Garden's shameful folly
Last a Garden's Grace re-found.
As a child holds up the eye-glass
And its colours mix and move
So the scriptures' application
Always love and mercy prove.
And the fragments' vivid colours
Share a multitude of views
Though each piece of glass is constant
Ever true to our Good News.
There's an orange for flesh and folly
There's a blue for Heaven's call
There's a red for sin's blood ransom
And a black for Eden's Fall.
There's a green for new life budding
And a violet regal throne
And a golden treasured harvest
Made by Jesus' pain His own.  
---
Let's Understand This...
The Lord was having dinner
His departure close at hand
And the format echoed Moses'
Tortured trek to Promised Land
And the blood that worked Passover
Now was in a cup Christ raised
His a Life of selfless giving
Coming ages thanked and praised.
And a promise now so strangely
To dear friends who scarcely knew
That the Spirit's help was coming
More than meet to see life through.
His a power of conviction
Touching both the good and grim
Citing sin and righteous victory
Filling judgment to the brim.
Yes to judge the Prince of Darkness
Who has held sway o'er this place
Jesus came and Jesus conquered
Though it seemed all sad disgrace.
Wicked men would raise Him cross-wise
And would jeer at all He said
But an empty tomb endorsed Life
And brought ceaseless joy instead.
Can you hear this?
"Prince of Darkness."
And you thought this World was kind
But it blinks at so much suffering
That Love's Gospel brings to mind.
John 16: 8-11
---
Mythology
There's a myth going round
That with teaching
You will grow
(Once you know)
Into Christ.
And the lectures pile
Higher and deeper
To inspect and dissect
Mercy's price.
But the head
Can be led
By strange fashion
And the head
Can be fed
Nasty pride.
If you want
To delve into His Passion
You must venture
Much deeper inside.
You must soak
In those Gospels
In reverence.
You must pray
For His purpose
Each day.
And the Christ like the dew
Comes to visit.
And the Christ
Becomes you
And will stay.
It is all about
Being His prisoner
One in bonds to
The Love that He'll share.
And He feeds
And He feeds
By His Spirit.
You become Christendom
In His care.
---
Romans 8: Just a Fraction
Can't be done
Save in the Spirit
Works that bless a Holy God.
Strains to strive
In mortal measure
Miss the Way that Jesus trod.
Pumped in prayer
From last night's waiting
Waiting for the Season's Word
Cleared the slate
Of pointless fretting
That the One Voice might be heard.
Heard, and then
The surge of power
Fresh with Throne Room's vital force
Makes the day
And heals the heartache
All the Spirit's work, of course.
In such power
The Great Commission
And the ethic of our Christ
Heals the wan
And saves the sorrowful
Freely, without coin or price.
---
Settling
10 But the God of all grace, who hath called us unto his eternal glory by Christ Jesus, after that ye have suffered a while, make you perfect, stablish, strengthen, settle you. (1 Peter 5: 10)
I get the first two points. Our faith puts us on solid footing, a trustworthy rock of revelation. We are stablished in God's constancy and sovereign will. (Psalm 40)
Then all the means of grace strengthen us in our faith childhood and adolescence (Bible study, prayer, meditation, worship, exchange with fellow believers, chastening trials and temptations, suffering, giving of our means and service, the Lord's Supper).
But this third one, being settled? Think of a stormy lake surface being made calm. Gone are the doubts, fears and cross-purposes. A condition of rest prevails. Assignments are accomplished with greater efficiency. Onlookers are attracted by this strange resource of calm and confidence. The work of the Kingdom goes on with surprising efficiency.
This was always something about Jesus' earth walk that amazed and attracted me; His obvious calm, moderation and control, every day, every waking hour.
Is this achievable? Not in my own power or resolve. But then, that is not the entire story for the child of God.
And that calm, settled lake surface reflects then Son.
---
Power in Peter's Estimation
image by Ron DiCianni
They
 have lived ordeals
Mostly in quiet corners
Un-noticed
Stumped by the harshness
Of a world for winners
Trim, muscular, popular
Monstrously self-absorbed
Winners.
They
 have found rescue
On knees of broken supplication
Have heard words from the Risen One
Have stood up again
Assured of protection, counsel
From the Highest
And a promised abode
In righteousness and peace.
They 
are no longer
Terrified by public opinion
Peculiar people Peter said
Out on a limb
Of adventure and loving it
Persecuted because clean
Begotten again through
Words of power
And not by any natural means
They
 are called out of darkness
Into marvelous light
Peter said.
Strangely transformed to
A royal priesthood
A holy nation.
Yet now 
they
go about
The simple jobs and households
Helping where prepared
By unlikely instruments
Kept by the power of God
Unto salvation
Ready to be revealed 
In the last time
Wherein 
they
 rule and reign
With every conceivable virtue
For equity, harmony and joy.
Christ
their's
without end.
(Note: One of my favourite journeys passes right through Peter's First Epistle.)
---
Living Ready
He was standing near me at the counter. Checking me out periodically. Familiar face? Yeah, an acquaintance from a storefront church downtown years ago. He joined me for coffee, and we got up to date, mutual acquaintances, new developments.
He remembered that I had preached occasionally at that place, and he found it necessary to present his religious hardware. Why, I wondered. Out came the plastic wrapped bundle of tracts.
What are those, I asked.
Oh, I give them out on the Main Street sometimes.
Oh so you're into scattershot tract distribution?
He chuckled at my choice of words.
We then went on to have a discussion about how and when to use such materials.
I suggested that all of our mentors give the impression that we are to be great combine harvesters for Jesus in the Salvation Crop. The truth is we are more like little Ruth gleaning over in some small corner of the field, quietly as legitimate opportunity arises. This was an image instilled in me years ago back in Chatham by Laura, a friend of the family and mighty intercessor. She put the convincing dance of Pentecost into our lives.
http://momentsmidstream.blogspot.ca/2010/08/beautiful-woman-of-faith.html
Let us get a realistic hold on the part for us to play in Christian service:
Live clean. Culture a compassionate ear and an un-aroused temper. Honour the Lord with the most hallowed and kingly place in your inner man. Be ready always to give a gentle answer to the one who asks for the reason for the hope that is in you by Jesus Christ. Do not waiver from the non-negotiables in the Good News.
If more people would simply do this, as united brothers and sisters in Christ, how great would be the yield in our neighbourhoods, workplaces, schools and markets?
---
Steel
Many's the thing that steels a man
Brings to the higher plain
Some of it breathing loveliness
Some of it washed in pain
Things that were not commendable
Things he would have erased
But they are each a messenger
Drawing to Jesus' face.
Such is the man by Grace renewed
Such is God's "normal" heart
Deaf to the words of fashion's craze
Set from the world apart.
And he will wonder of a time
Which is the wiser track
'Til in some prayerful niche sublime
Jesus will call him back.
Back to embrace the One True Friend
Pearl of great price revealed
Pathways beneath His noble gaze
Leave the saint strong and "steeled".
(Matthew 13: 44-46)
---
Consumer Christians
They see dividends. Get out of hell free. Get relief from guilt. Get a healing. Get relationships back in shape. Get a family friendly environment to raise the kids. Get the satisfaction of doing one's duty. Get a prophetic fix on the future. Get abundant life.
But listen to the faith giants. Paul said that he was constrained (as if in a vise) on account of the love of Christ. Peter when challenged about his fidelity responded, "Lord where else would I go? You hold the keys." They had met unadulterated courage, compassion, honesty and righteousness in the Master, and had made a quality decision never again to look elsewhere for the lodestar in life. They spoke of being bondservants. They delighted in passing on the Good News.
In Paul's Second Letter to the Corinthians, there had been a challenge to his ministry credentials. He responded with an odd sort of "bragging" in the eleventh chapter. He would glory in his infirmities, deprivations and persecutions. Inferentially he was saying that his Elder Brother was so attractive as a man's man and leader that the setbacks seemed of little account. With every challenge he felt himself growing in the fellowship of His sufferings and in the compassion and spiritual power of Jesus. No other life-purpose could measure up.
So forget about the "getting" of this or that. Simply get Christ in increasing measure.
---
Dialogue Through the Clouds
I don't feel much like praying right now Sir.
Fred that is precisely when you must pray. Breakthrough comes no other way to a child of Mine.
Things are such a mess. I just need some time to myself Sir. You know, to work through this.
Fred, my Spirit works it through, not you.
Sir, I have made some really bad decisions lately, particularly with things as tough as they are.
Fred I know all about that. I was there…and yes sometimes shaking my head. But I cut my kids slack when needed. And never let go.
Sir I am afraid to let it out; to let You or any other know the full picture right now. It would be too confusing and mortifying. I might really lose it.
Fred I watched my Son hang before the mockers, naked and vulnerable. He did this so that one day you could dispense His honest love, Our honest love without reserve or concern for self. And experience the joy. Capice?
OK Dad we've been here before haven't we. Thanks for that. I love You. I must love You.
---
 Intimate Knowledge?
Still the Age of Christ's humiliation
Still the kiss of betrayal
From those who mouth "Master, Master".
Vain repetition for prayer
In spite of His warnings.
Broken sufferers
Passed by on the other side.
Supposed warriors, builders
Side-tracked by "business is business"
By "this will never sell"
By "don't get carried away with it all"
And He deserves so much more
His touch renews
His smile is sunrise
His visit awakens
His words the only platform
Of honest hope.
The Way, the Truth, the Life
Singularly
And the Agenda moves forward
Quietly, humbly
Compassionately
Forgivingly
To the parting of the skies
The arrival of the King triumphant
The filling of the earth
With the knowledge of
The glory of the Lord
As waters cover the sea.
Habakkuk 2: 14
---
---
You Will Notice...
You will notice that this site contains nothing about so-called Christian lifestyle, prosperity, healing of relationships, healthy parenting, strategies for forgiveness or control of troublesome thoughts. Such topics occupy so many pulpits and bear little life-changing effect.
I will always say, "Get Jesus in increasing measure into your consciousness and you will make the right decisions and go in the right directions. His Spirit is infectious. His life enters into you and manifests itself in blessing."
---
Jes' Talkin


I's here agin
An ah have so few woids
But it's the gittin togetha
Most mattas
Ah believe.
And You has the time
Fatha
Always has the time
Lookin down from
Brilliance an Glory
Settin aside those angels' songs
Jes to consider ma squallin
Or ma pleadin
Ma thankin or my
Plain ole wonda.
Dis ole man
Done had many a hard job
Often cruel or stupid orders
From tha Man.
A spell in the joint
An keen ears an
A much sharpened shiv
Afta dark
Jes ta raise up the odds.
An a wife and two chillen
Hardly knew me afta
The twelve year stint.
But you knows me
You stick in dere fo me.
And you brought 
Some good folks
Crosst ma path
Prayin and heppin
An smilin folks.
Ah can almose smell
Yo Spirit on em.
Second chances and singin.
Clean woik now.
Ah sketches a little as well
Scenes of pain, hope or joy
Two of em sittin
Up now on the library wall
Folks considerin
Provin dis ole man
Sees an thinks
Feels an releases
Fatha you have ma devotion
Such as tis.
An ma good repote.
I love Ya
Gwine stop now ta
Read Psalm one-oh-seven.

Name-a-Jesus...Ayymannn.
---
Observations
Many remember the disgraceful parade
The Hill and the thieves
The strange cry at departure
And they called it done
And they called it weak
And they called it misguided.
But I arose
King David's words
Rejoiced in me
The angels collected with welcome
The Father's embrace
Warmed these Cross-stretched arms
Finished…accomplished…no loose ends
And I am seated
In Heavenly places
With full realization of
Conditions of my flock
They bleat and I see
They struggle with the everyday
And I relate
Commiserate, compassionate
Congratulate
Lights that shine
In a darkening world
A declining world
Father and I work out
The response, the reward,
The rescue, the recompense
And yes, there is the return.
Another procession
Another parade
But this one all victory
All vitalizing, vindicating
Just as promised.
In unfailing Word.
(Doug has dreamed of both parades with equal respect and longing.)
---








Ripped by the Passion
Has it ripped you?
That look on His face
As the mother caught
A glimpse
And they yanked Him away.
The momentum
Of prosecution
Sweeps over Goodness;
The chains, the sweat,
The martial pace.
A rude woodwork
Lades His shoulders.
Streets once rejoicing
At the message
Now curse and scrape.
But has it ripped you?
Seeing many falls
And lashings.
The Peacemaker
Inciting matchless hate.
And friends stare mutely
But dare not step up.
Even the governor
Flinches at this task.
God's will be done.
It ripped Him…God
To see a Son so
Badly shamed, pained,
Rebuked and drained,
As per Plan.
That target hill on
Which salvation stands.
The spikes that butcher
Feet and hands.
The ridiculous crown.
But show me, Man.
It rips and rocks you.
Or else REMOVE!
Another broken reed,
Christ's worth to prove.
---
Reality
And I awoke
And saw a crowd of singers
Loudly rehearsing
The victories of their King.
Crutches and prosthetics
Discarded
New skin formed over
Past troubles
Vision twenty-twenty
And hearing right on key.
The celebration embodying
My journey's hope
Of family and forgiveness
Of danger's dwindling snarl.
The inner Spring given voice
Now free from any reticence
From past stumblings
Shame or confusion.
This was the real
Behind the screen of struggle
Inequity and clamour.
This was Heaven.
And Jesus arrived…
---
---
Come Into the Ark (Jesus)
Powerful sermon by Robert Murray M'Cheyne
http://img.sermonindex.net/modules/articles/article_pdf.php?aid=462
---
Some Gospel ebooks by Doug
Jesus and the Women
http://issuu.com/dewane/docs/jesus_and_the_women
Men with Men
http://issuu.com/dewane/docs/men_with_men
Dusty Old Prophets
http://issuu.com/deedub51/docs/dusty_old_prophets
Many Prodigals, Many Returns
http://issuu.com/dewane/docs/many_prodigals
 Second Crop
http://issuu.com/dewane/docs/second_crop
Down Through the Conduit
http://issuu.com/dewane/docs/down_through_the_conduit
 Back to the Well
http://issuu.com/dewane/docs/back_to_the_well
 From the Bursting Heart
https://issuu.com/dewane/docs/from_the_bursting_heart_a3bddc642940bd
---
The Thomas in Us
I am afraid to risk
I am afraid to die
Afraid to love and serve
Afraid to trust
To dream.
But you might show me the proofs
Give me a way full of rules
Help me to stand apart from my "twin"
And his worldly bent.
I can't have it all
Not really
The spiritual and the relational
The daily pointing
Of God's "finger".
Hearing His thoughts
Doing His works.
But you tried Rabbi
And they killed you.
Convention, common sense
Could never bow down
Before your carpenter trappings
And claim "My Lord and my God".
Could I?
Hebrews 2:14 Forasmuch then as the children are partakers of flesh and blood, he also himself likewise took part of the same; that through death he might destroy him that had the power of death, that is, the devil;
15 And deliver them who through fear of death were all their lifetime subject to bondage.
http://momentsmidstream.blogspot.ca/2009/06/thomas-gets-it-right.html
---
---
Acts 10: 38 
There is a huge victory cry in this passage. God anointed Jesus Christ with power and the Holy Ghost, and He went around doing good and healing all who were oppressed of the Devil, for God was with Him.
Here is a wonderful illustration of Trinity in perfect accord. Here is a frank statement on the limitations accepted by Jesus in the incarnation. He was not some freakish hybrid demi-god as in other myths. He was "us" for 33 years, and the anointing and the welcome place for the presence of God made all the difference.
Paul's first letter to the Corinthians tells us much about the operation of the Spirit and about His sovereignty. One day He empowers. The next day He does something differently. Indeed no individual should presume to enjoy a life-long gifting of the Spirit in a particular manner of service. It is as the Spirit wills in order to best complement the complete operation of the Body of Christ.
In Acts 10 the New Life, the forgiveness, the water baptism, the baptism in the Holy Ghost, the anointing of the Spirit had all come to the Gentiles in Cornelius' house.
The Spirit still comes to us with similar enabling, comfort, illumination and guidance. If He did it for and with Jesus, will we not see similar moves of compassion and power, if yielded in all humility and hope?
Audio message...
 https://soundcloud.com/user811359694/the-anointing-acts-10-38
---
---






In the Spirit of Malachi
The crickets have stopped
The chill has come on
The night sky it sparkles
Will be a clear dawn
And sleep has escaped me
The people, their pain
The scores at the River
Repenting again
So long they have waited
For Israel's King
In shame and oppression
Oh let freedom ring
And maybe tomorrow
His light will appear
As Heaven comes closer
Relieving all fear
Oh Lord God, Jehovah
I pray for the peace
For hearts tired of wandering
Forgiveness, release
And is it your purpose
This wilderness man
Who cries in the desert
Proclaiming your Plan
To ready the people
For full and free Grace
Oh come now Messiah
Traverse time and space.
https://issuu.com/dewane/docs/looking_for_norm
A little help offered here in assessing the common strains of the Christian life. But even that term is misleading. We are not talking characteristics, ethics or codes. We are really in search of the impartation of the very life and love of Jesus into our inmost being, for the asking in beggarly fashion.
Unity of Heart
The believer desires to live a life entirely pleasing to his Lord and Saviour. But isn't perfection an unattainable goal? Remember that you have been adopted by an all-loving Father. He expects that there will be stages of growth and certain possible attainments with each. Even the inadvertent stumbling of His child brings on the smiles. So what is this unity of heart, this un-compromised, unmixed dedication?
https://issuu.com/dewane/docs/unity_of_heart
---
Yes
Yes Lord
Oh yes Lord
You comfort and feed us
You heal as you lead us
You strengthen and steel us
In time you reveal us
As vessels of mercy
Oh Lord let the world see
As judgment comes nearer
And Jesus' truth clearer
May we be your envoys
Distributing faith's joys.
Amen.
---
Thanks for the visit. Make contact through my email if you wish.   (blaredub@gmail.com)
Doug and Hilary Blair
https://sites.google.com/site/stuffthatrhymes/follow-me/blog/aworldjustwithinreach
Stunning Invitation
Took me by surprise
The realization
You really did care
Didn't just send me on my way.
The tests no longer lonely
Though they still come.
The road no longer pointless
The future without fear.
So what has happened
Changing it all?
Took a long look
At a kind man on a Cross
In the jeering crowd
My face appeared.
But on the other side
Of an empty tomb
He came to me
He really did.
Said that He and the Father
Had known me
Had loved me
From before ever I was.
I took Him up
On the stunning invitation.