How Does the Design Process Work?

The first step in any design process is the on-site garden consultation and report.

 

The garden "wish list" you provide on the questionnaire, combined with the information I gather on-site about the sun, wind, soil, water, and other existing resources in your garden, will create a strong foundation for a sustainable design.  During the on-site consultation, we'll also spend much of our time envisioning design ideas that come to mind.
The subsequent steps depend on whether your goal is to remodel an existing garden, or to create a brand new garden from scratch. If the locations of your landscape beds, paths, and seating areas already work well for you or just need minor changes, step #2 below can be modified to fit your needs, or skipped altogether. 
Step #2: When designing a new garden, the next step in the design process is usually the creation of two or three different "layout alternative" drawings.  Each alternative contains different styles and/or locations for the landscape beds, paths, focal points, seating areas and structures, and

is based on sustainable design philosophy principals. Each layout drawing also contains general notes on the purposes of each of the planted areas - such as screening or framing a view - and approximate size of the plants to be used to achieve that purpose.

 

Some specific plants may be identified, but the main purpose of the layout drawings is to provide you with a variety of alternatives to choose from in deciding which ideas your prefer to include in your master plan.

 



Step #3: The last step in the design process is the creation of a master plan.

 

It incorporates your favorite elements from the layout alternatives into a final drawing, which also includes the specific planting plan and construction notes for all areas of the garden.

 

The plant palette is also guided by my design philosophy, as well as by plants that have special meaning for you.

 

If your garden is to be installed in phases, the steps for each are also identified in the master plan documents. 

All plants in the design are identified on the final drawing, and a plant list is also provided in a separate document, which contains quantity and size to be purchased.  It also contains detailed information on mature height and width, flowering time and color, special features, and wildlife value of all the plants.

 

The plant list is divided into sections for each garden area, to make it easy for you or your landscape installer to shop for plants in phases if desired.
Whether you are planning to create a brand new garden or renovating an existing garden, I believe that a step-by-step approach to the design process is the key to creating a sustainable garden that significantly adds to the joy in your life.
Once I have completed the initial on-site consultation and report, I can provide you with an estimate of the cost for your garden design.
What is the Best Time to Install New Plants?

The best months to plant or transplant in the Puget Sound area are generally early Fall and early Spring.  However, many of the preparations that are needed for best success with new plantings can be done during the summer and winter months.  Tasks that may be needed before implementing the planting plan include soil improvement, correction of drainage problems, pruning, and building paths or structures.   In the Puget Sound area, almost any time of year is a good time for gardening!
During your garden installation process, I can also assist in on-site marking of beds, paths, and plant locations if you wish.  If you are "DIY-inclined" but would like some coaching on soil-building, planting, or other tasks in order to get started off well, I'll be glad to provide that also.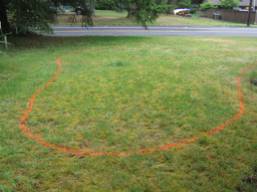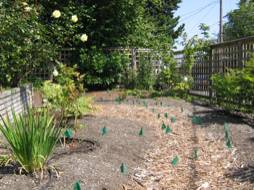 Important note: Due to the volume of educational workshops, classes, and camps that I have already committed to in 2014, and my commitment to remaining available to existing clients for garden consultations, I am not taking on any new design or consultation clients until fall 2014 at the earliest.
I truly wish I could be in two places at once but alas.... however, if you are interested in being on my wait list, please email me at greenlightgardening@gmail.com