My philosophy is that every garden provides a unique opportunity to create unity between the everyday lives of humans and the everyday life cycles of the natural world.  I believe that low-impact, sustainable design is possible on any garden site, and that it is the key to being able to maintain landscapes with low-water-use, low-maintenance, and maximum enjoyment!

Even though I no longer design and consult on private gardens and landscapes, I continue to dedicate time and energy to public education on sustainable garden practices. In the classes and workshops I do for municipalities, garden clubs, and other community groups, I encourage gardeners to use the following principals and features:

Why Focus on Wildlife and Children?
Landscapes that are designed to attract and nurture beneficial insects, native songbirds, and other wildlife have much in common with landscapes designed to nurture children.   Both are filled with plants that delight the senses, provide year-round beauty, and are sustainable with low maintenance.  Both contain a little bit of mystery around each corner, and other elements that stimulate the imagination, while still remaining a tranquil oasis.  In my experience, all the features that you may need or want in your landscape, such as a food garden, lawn, shrub and perennial garden, meditation area, patio, storage building, dining area, and/or play structure can be incorporated into a design plan that also nurtures wildlife and children (and the child in all of us).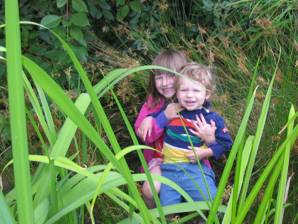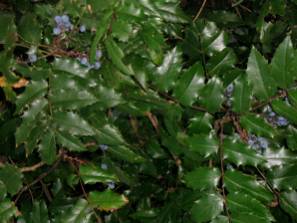 Why use Native Plants?
Plants that are native to the Pacific Northwest provide the most reliable food source for our native birds and beneficial insects, which in turn reduce pest insects in your garden and improve the health of your soil and plants.

  

When native birds and beneficial insects live in your garden, the result is a more complete and sustainable ecosystem within it.

 

The presence of beneficial wildlife within a garden also brings a form of year-round beauty into it that plants alone cannot achieve.

In addition, many of our NW native plants are very ornamental with year-round interest, and will thrive in a wide variety of sun and soil conditions without large amounts of water, pruning, or fussing.

  

Their versatility of form and color also means that they blend well with existing landscape plants, or can be used as the primary plants in a brand new garden.
     
What about Non-Native Plants?
My love of native plants does not lead me to exclude non-native plants from my garden designs!  Many species of non-native plants have been successfully grown in our local landscapes for decades, and have therefore become familiar to our native birds and insects as a good source of food and shelter.  Many non-natives are also fast-growing, low-water -use, and provide us with lovely sights, sounds, and fragrance.  In addition, those of us who have come to the NW from different parts of this country or other parts of the world (myself included) may have vivid memories of "hometown" plants that have special meaning to us.  I believe these are all very good reasons to include sustainable varieties of non-native plants in your surroundings. In 30+ years of building, editing, and maintaining my Seattle garden, it has always been a mix of native and non-native trees, shrubs, grasses, and perennial plants. 



Why focus on Edibles?
Over the past 10 years or so, there has been a big surge in interest about growing edible gardens. It has been such fun to participate in encouraging this interest, because I was fortunate to have learned about (and tasted the difference in) homegrown food, beginning at a very early age. I am a firm believer that food-growing can be incorporated into any landscape design, and successfully done by children and adults, regardless of their prior gardening knowledge and experience. Whether you add a small berry patch, an herb garden, plant salad greens in your ornamental beds, or transform your yard into an "urban farm", growing food is fun, sustainable, and oh so delicious!