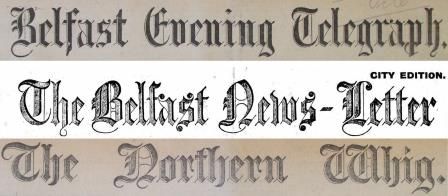 This website contains
lists
of pictures that I have gleaned from local newspapers - Belfast Evening Telegraph, Newtownards Chronicle, Lisburn Standard, Lisburn Herald, Ballymena Weekly Telegraph and Larne Time & Weekly Telegraph - from the Great War period 
- the items listed cannot be opened on the internet.
In addition to the clippings listed on this site, I also have images of the
"Ulster & The War"
columns (November 1914 to August 1919) from the Belfast News-Letter.
If you are interested in receiving copies of any of the articles or pictures, please contact me using the email below.
Please note that this is an image and
does not
open a "new message" in your email program - the email address must be typed into the
To:
cell when you open a new message.

Whilst I do not charge for providing any of the clippings listed, if you wish, you can make a PayPal donation to the above email address.

---