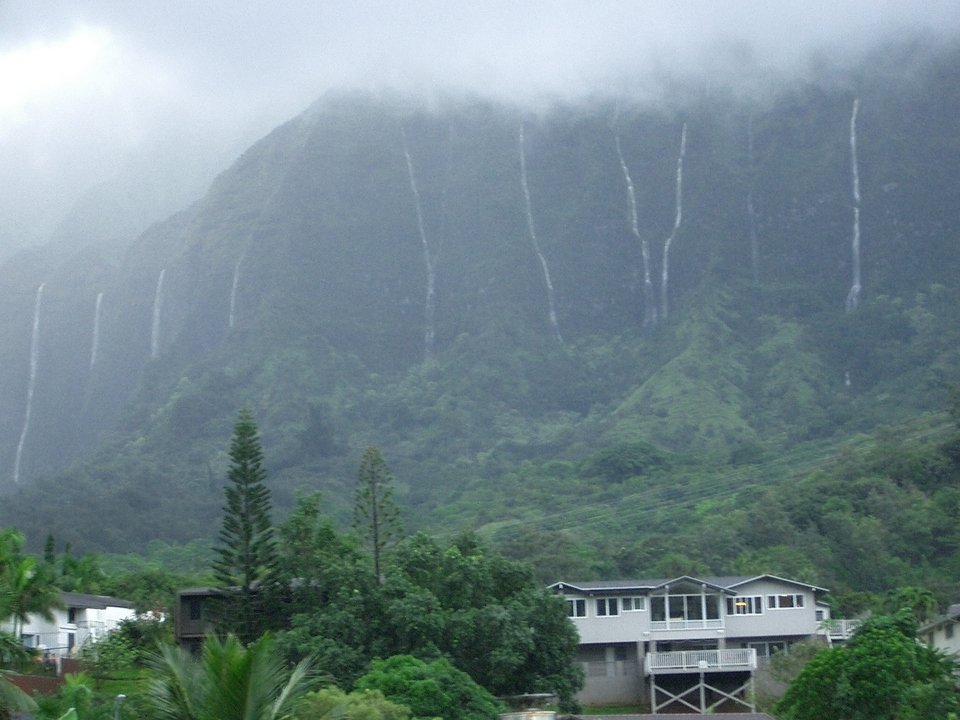 This is a mess adding to more mess before this mess came !!! ???
According to a March
2004
Salon.com article by
Scott Turow
, Obama in Jakarta spent "two years in a Muslim school, then two more in a Catholic school." He was then sent back to Honolulu to live with his
maternal grandmother
and attend the private secular
Punahou School
from grade five through high school graduation.
Growing up without a father in the house is not Obama's only
Clinton
common denominator. There's
drug abuse
too. In Dreams from My Father, Obama writes about smoking marijuana and snorting cocaine during his teenage years.
Obama studied for two years at
California's Occidental College
then continuing at
Columbia University
, where he majored in political science with a specialization in international relations. He also studied for three years at
Harvard Law School
.
Occidental, Columbia and Harvard are all places where conservative students and faculty are denied academic freedom.
Obama's life:
Raised in Muslim lands and educated in Muslim schools
, then sent to a secular high school serving the children of
Hawaii's Democrat-controlled political and business elite
. Graduating to secular US colleges run by academic leftists. Not a pretty picture, as Obama himself explains in a June 28,
2006
speech:
"I was not raised in a particularly religious household, as undoubtedly many in the audience were. My father, who returned to Kenya when I was just two, was born Muslim but as an adult became an
atheist
. My mother,
whose parents were non-practicing Baptists and Methodists
, was probably one of the most spiritual and kindest people I've ever known, but grew up with a healthy skepticism of organized religion herself. As a consequence, so did I."
Beyond
corrupt Hawaii Democrats
, leftist academia and cultural secularism, Obama has another
Clinton
characteristic:
shady land deals
. A standard method for bankrolling the lifestyle of up-and-coming Democrat politicians, in Obama's case his associate in the deal is already indicted by a federal grand jury. The December 24
Chicago Tribune
documents Obama's relationship with political fundraiser
Antoin 'Tony' Rezko
and Illinois businessman
Joseph Aramanda
—both of whom are named in a federal investigation of
bribery
of
Illinois state officials
. Rezko was indicted by a federal grand jury in October and Aramanda is named as an un-indicted
co-conspirator
.
Obama's corrupt backers in Illinois' seamy and fetid political swamps are matched only by the
unsavory gaggle of politically-connected supporters
assembling to back his candidacy in Hawaii. Obama's Hawaii support comes from a group of Democrat politicos around former
Governor John Waihee
—
considered by some the dirtiest figure in
Hawaii's very dirty politics
.
Waihee and his cronies were also early money backers of
Bill Clinton's
successful
1992
bid for the White House.
The little-known story of Clinton's Waihee 'early money' Hawaii connection is told in the
1997 PBS Frontline special "The Fixers" ,
a story which begins with poor Hawaii farmers being driven off their land in a
mid-1980s
deal to build
Maunawili Valley Oahu golf course deal
with Japanese investors flush from the Japanese market and real estate bubble. "Fixers" (and Waihee associates)
Gene and Nora Lum
go from buying the entire
Hawaii State legislature
for $50,000 in order to pass a bill allowing golf courses on agricultural land to becoming 'early money'
Clinton financial backers
. They engage in a series of transactions mixing Oklahoma gas leases, Democrat connections with Asian money and the sale of political influence to facilitate other
Hawaii land deals
.
The story continues into the Clintons' better-known
mid-1990s
Asian money scandals
involving
John Huang, Charlie Trie, Johnny Chung
, the
Lippo Bank of Indonesia
, Clinton's Commerce Secretary
Ron Brown
,
Hillary Clinton
, and 938 documented visits to the
Lincoln Bedroom
by hundreds of people who paid thousands for the privilege. "The Fixers" ends with then-President Clinton, ten days after winning his second Presidential term, on his way to Asia stopping in Honolulu and
playing golf with Waihee
in the pouring rain on the
Maunawili Valley
O`ahu course where it all started.
The 'early money' backing of Clinton paid off handsomely for Waihee and his cronies.
Clinton in 1993 signed the so-called "Apology Resolution" in essence apologizing for the 1893 overthrow of the Hawaiian Kingdom and 1898 US annexation of Hawaii and implicitly placing Hawaii Statehood in question
.
The Apology Resolution
quickly became a politically correct 'guilt' justification for
corrupt Hawaii political operators
to rake in millions operating lucrative state and federally funded programs
and even private companies pretending to benefit Native Hawaiians. One deal alone,
Sandwich Isles Communications
,
got $500 million in federal funds to provide nearly useless fiber optic connections to Hawaiian Homelands residential lots--most of which are undeveloped
. Costs are estimated at $278,000 per utilized connection.
Today Hawaii's political class is focused on passage of the so-called "
Akaka Bill
" a political descendant of the "Apology Resolution" which would create a sovereign native Hawaiian "tribal" government—a guaranteed source of billions for Hawaii's venal elites, possibly making them able to drain all of Native Hawaiians' patrimony without legal oversight. Obama has been such a strong Senatorial advocate for the Akaka Bill, he is often called "Hawaii's third Senator."
In addition to the Hawaii Democrat dirty money machine Obama is tied in with
Goldman Sachs
, investment houses specializing in highly regulated industries and many Clinton administration figures as described in the December 6 Harper's Magazine article, "Barack Obama, Inc.":
"He (Obama) quickly established a political machine funded and run by a standard Beltway group of lobbyists, P.R. consultants, and hangers-on. For the staff post of policy director he hired
Karen Kornbluh
,
a senior aide to
Robert Rubin
when the latter, as head of the
Treasury Department
under
Bill Clinton
,
was a chief advocate for
NAFTA
and other free-trade policies that decimated the nation's manufacturing sector
(and the organized labor wing of the Democratic Party).
Obama's top contributors are
corporate law and lobbying firms
(
Kirkland & Ellis and Skadden, Arps
, where four attorneys are fund-raisers for Obama as well as donors), Wall Street financial houses (
Goldman Sachs
and
JPMorgan Chase
), and big
Chicago
interests (
Henry Crown and Company
, an investment firm that has stakes in industries ranging from telecommunications to defense). Obama immediately established a "
leadership PAC
," a vehicle through which a member of Congress can contribute to other politicians' campaigns—and one that political reform groups generally view as a slush fund through which congressional leaders can
evade campaign-finance rules
while raising their own political profiles."
Goldman Sachs
had substantial dealings with ex-Governor Waihee and the 
corrupt trustees
 of the $6 billion
Bishop Estate
exposed finally in the late
1990s
and documented in the current Hawaii best-selling book, "
Broken Trust
".
Is "Broken Trust" a thing of the past?
Obama's Hawaii steering committee taps into both Bishop Estate and the Waihee administration.
As the December 13
Honolulu Advertiser
explains, "
Chuck Freedman
, a retired vice president of corporate relations for
Hawaiian Electric Co.
(HECO) and former communications director for former
Gov. John Waihee
, said the committee has contacted Obama's aides and has received a positive response."
Currently three of the five
Bishop Estate trustees
are also board members of Hawaiian Electric.
HECO
monopolizes power generation and distribution
in Hawaii and through double-taxation (tax on fuel for generation, and on the electricity produced) under the General Excise Tax, supplies a large part of the State General Fund. HECO also provides many thousands of dollars of political 'donations' to legislative incumbents.
Bishop Estate is Hawaii's largest private landowner
.
Voters rarely got the truth from Bill Clinton; will they get the straight story from Obama? Not judging by his December 6 comments to Harper's: "
Progressive candidates
generally have a harder time raising money, he said, and at times some of them will 'trim their sails' on behalf of the people who are financing them."
Hawaii may not amount to much in the Electoral College, but to the National Democrat Party money machine, these islands are a fountainhead of cash. If Waihee and his cronies could parlay their dirty land deals into the Presidency for their selected candidate in 1992, they could do it again. Barack Hussein Obama will keep his Islamic past under wraps and his radical secularist sails trimmed. He will say whatever it takes to bring in the cash and win election. His candidacy, record and corrupt connections deserve close scrutiny now, before it is too late.
# # #
for
---
---
* * *
 ~ o ~