During this Memorial Day weekend, the movie Moonrise Kingdom was released.  GAFBO, unfortunately did not have access to see this movie, as we don't live in one of the 5 cities designated cool enough to have movies premiere a month before they premiere everywhere else.  However, we enjoy not paying $20 a ticket for a movie, so suck it other cities.  But I digress.

Wes Anderson is, in the opinion of the vast majority of GAFBO, one of the best directors of the past 16 years (since his first movie, Bottle Rocket, was released and shut up about it being a short film that was originally released in 1994), and one of the greatest auteurs of our lifetime.  To honor him, we've compiled a list of the the 15 greatest works of facial hair in his movies (main characters only, and not short films).  Please to enjoy.


#15 - Walter Boggis (Fantastic Mr. Fox)
Walter Boggis, while sporting a killer moustache, falls to the bottom of the list simply for the fact that he is an animated character.  This chicken farmer has a great lip sweater, which he must use to catch food particles for snacks during the day, as he is known to eat three whole chickens for breakfast, lunch, and dinner.  Hence why he weighs about as much as a baby rhinoceros, but unfortunately he is nowhere as cute as a baby rhinoceros (Examples:
#1 "Nom nom nom nom nom"
,
#2 "Yay! Things!"
,
and
#3 "Hey ladies. How you doin?"
)
#14 - Ned Plimpton (Life Aquatic with Steve Zissou)
If you look, you'll see that there is indeed a moustache.  It's not much, but it's there.  He gets ranked above Boggis by default, as he is a real person.  Well, he's an actor playing a person, and is not animated.  STOP YELLING AT ME ABOUT SEMANTICS, MOM!
#13 - Cousin Ben (Moonrise Kingdom)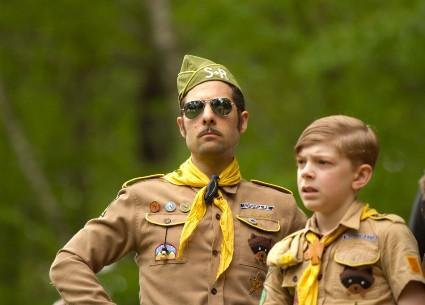 Jason Schwartzman is clearly capable of growing better facial hair than this (stay tuned to this list for proof).  We can only assume that this moustache fits in perfectly with his character in Wes Anderson's newest film.
#12 - Herman Blume (Rushmore)
Herman Blume is a sad, lonely, disillusioned man, who is fighting with a teenage boy for the love of a teacher.  The moustache reflects that perfectly. 
#11 - Narrator (Moonrise Kingdom)
Bob Balaban is one of "those guys."  Those guys you see in a bunch of movies, and never really remember their name.  However, you should.  As a proud wearer of a beard most of the time (he shaves for movie roles), he is truly one of us.  Also, Bob Balaban gave us
this scene from A Mighty Wind
. 
#10 - Henry Sherman (Royal Tenenbaums)
Why Danny Glover isn't in more Wes Anderson films, we'll never know.  Perhaps he's getting too old for this shit (get it? huh? get it? wink...wink...)  As Henry Sherman, the love interest of Angelica Houston's Etheline, she has clearly fallen for the man due to his kind demeanor, steadfast nature, and excellent goatee/moustache combo.
#9 - Raleigh St. Clair (Royal Tenenbaums)
Raleigh St. Clair, the brilliant neurologist, constantly accompanied by the astoundingly stupid Dudley, clearly draws his wisdom from his beard.  Just like the truly amazing, and real life inspiration for St. Clair,
Oliver Sacks
.  Unlike Oliver Sacks, Raleigh St. Clair used his beard to win (at least somewhat) the love of the beautiful Margot Tenenbaum (Gwyneth Paltrow).
#8 - Vikram Ray (Life Aquatic with Steve Zissou) and  #7 - The Chief Steward (The Darjeeling Limited)
We thought it only fair that Waris Aluwhalia as both Vikram Ray and The Chief Steward be ranked next to one another.  Waris is not much of an actor, and actually is a jewelry designer.  However, he is good friends with Wes Anderson, and fits perfectly into many small roles in Anderson's films, as well as commercials.  The Sikh designer/actor clearly draws his strength, skill, and awesomeness from his beard.  
#6 - Jack (The Darjeeling Limited)
Jason Schwartzman went back in time and redeemed himself for his upcoming 'stache in
Moonrise Kingdom
by appearing as Jack in
The Darjeeling Limited
, an underrated gem from Wes Anderson. Say what you will about it's pacing, or story, or whatever.  Just know that all your arguments are invalidated by the fight scene between the brothers and Jack's epic line (for whatever reason, the embedding code won't work with the time stamp, so fast forward to the 5:00 minute mark.  The best line in movie history is at 5:31).
#5 - Royal Tenenbaum (The Royal Tenenbaums)
Gene Hackman, in one of his final roles before retiring from acting, perfectly encapsulates what it means to sport a glorious moustache, by which we mean that we believe people with glorious moustaches are terrible fathers who only redeem themselves late in life (not really Dad).  It seems absurd that Gene Hackman, who regularly sports a moustache in his day to day life, initially turned down the role of Royal Tenenbaum, and only took the job after Wes Anderson's other choice of Gene Wilder turned it down due to his retirement from acting.  Gene Hackman grabs the role by it's balls, puts a moustache on it, and kills it as Royal.
#4 - Vladamir Wolodarsky (Life Aquatic with Steve Zissou)
This is the most perfectly groomed facial hair on the list.  The slight curls are immaculate, and Noah Taylor looks glorious.  That is all.
#3 - Steve Zissou (The Life Aquatic with Steve Zissou)
Seriously GAFBO? Steve Zissou as #3?  It's not even the best facial hair that Bill Murray has rocked in a Wes Anderson movie!
  You may be right, anonymous reader, but here is what we think.  No other character in a Wes Anderson movie is as closely associated with their facial hair, as Steve Zissou is with his beard.  That, and while Bill Murray rocked a better beard in
The Royal Tenenbaums
, the character of Steve Zissou is way better than the character of Raleigh St. Clair.
Side note: Only 4 of Bill Murrays's movies feature him with Facial hair. Three are Wes Anderson movies, with the only outlier being Get Low (where he plays a character named Frank Quinn).  It was directed by Aaron Schneider, who has directed a short film in 2003 called Two Soldiers and one episode of the short lived TV show Popular.  Get Low was written by Chris Provenzano (who has written a few episodes each of Archer, Justified, and Mad Men), C. Gaby Mitchell (who wrote the story for Blood Diamond but not the screenplay), and Scott Seeke (only credit is Get Low).  Robert Duvall is in Get Low, and has an amazing beard.  Why do you need to know all this?  You don't.  But I find it odd that Bill Murray is clearly capable of growing some fantastic facial hair, and almost nobody has him do it.  Other than Wes Anderson, it's only been for a Get Low, wherein Robert Duvall is the man who gets to rock a sweet beard, and Bill Murray is stuck with a wispy moustache. 
#2 - Pagoda (The Royal Tenenbaums)
If you are sitting there (or walking slowly at your fancy treadmill desk) and nodding your head, then you are a Wes Anderson fan.  If you are saying "WTF, GAFBO?" then you just don't get it.  Kumar Pallana warmed our hearts as Mr. LittleJeans in
Rushmore
, but stole them as Pagoda in
The Royal Tenenbaums
.  His character is the eyes and ears of the Tenenbaum family, and the only one with the cajones to do what is right the very first time, everytime.  Need an example?  He stabs Gene Hackman's character, Royal, for being a dick.  However, he then carries him to the hospital.  Do you get it now?  Pagoda is the man.  And that man has a moustache.
#1 - Richie Tenenbaum (The Royal Tenenbaums)
When anybody mentions
The Royal Tenenbaums
, this is the first image to pop into GAFBO's collective hive-mind.  (Oops, you weren't suppose to now about that).  The beard is synonymous with the character, and the character a staple of the Halloween season.  Sure, he shaves it off during the movie, and he could have lost points for that, but he didn't, because it's our list, and we didn't want that to happen.  So chill, okay.  Luke Wilson as Richie Tenenbaum has the best facial hair of any character featured in a Wes Anderson movie.  So deal with it.