This page features some comments and recommendations on the broad subject of food and drink ~ things that sustain Radio Hams when not simply prattling-on on the radio . . .  maybe . . .


Cheese
'Ironstone'
From the
Belvoir Ridge Creamery
at Eastwell, Leicestershire. This a dry, hard full fat cheese made with milk from the Ironstone herd of rare breeds and native cattle. It is well matured with a thin crust/rind and has a nutty flavour. Goes well with onion marmalade.
Highly recommended
.
www.belvoirridge.co.uk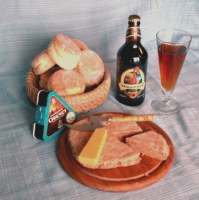 Wheat, oats and barley are well known British cereal grains, but bere is less well known. It is a form of barley now almost exclusively grown in the Orkney Islands. As with the other cereals, bere can be used for baking and in beer-making.
Bere is becoming increasingly popular in wholefood shops and is worth looking out for. Bannocks - a griddle cake or pancake - made from beremeal are more interesting than plain pancakes, and have lower gluten content.


Beremeal makes great pancakes with a wholemeal taste. The low gluten makes them a bit 'fragile' but they are excellent.


A good pancake mix is:


1 egg
100-125g beremeal (30g of plain wheat flour can be used in place of the bere to give a more 'stretchy texture'
275-300ml of milk
Touch of salt
Teeny bit of baking powder (half a level teaspoon max.)

50g of melted butter (added to the mixture just before cooking), or
High temperature cooking oil. (Rice bran oil is good). Don't use the butter and oil.
 
Mix eggs and flour and slowly nad beat in the milk until it's an even consistency - like single cream. Leave it to stand for a while before cooking. Add the baking powder and meleted butter just before cooking. Use a truly non-stick pan. Cook for 1 minute until the edges start to crisp, then turn over and cook for 30 sec. Turning them over by tossing 'em in the air is fun, but scraping them off the floor isn't. 


Good with any filling.