An Explosion of Joy at SF City Hall
Sed Arnoldus, ille homo musculus, non est invitatus
No, der Arnold, that mousy man, ille homo musculus, is definitely not invited to attend the wedding of Phyllis and Del, for he spinelessly vetoed gender neutral marriage legislation passed in Sacramento,  not just once, but twice--when he could have had the courage, humanity and common decency to simply let it be, let it be...
I guess he'd just not been listening to any words of wisdom, like we were in my time, in the sixties, that time of the new awakening--and if you want to relive those early days of the new enlightenment, you 'll find the following video's enjoyable:  
Best Simon and Garfunkel Videos « Krishnan Palaniappan
But no! Not der Arnold--he didn't have the guts to just let it be. He used to call our legislators in Sacramento economic girlie men!  Well excuse me, Arnold, but aren't you a kind of  political  girlie man? Just kidding Arnold--please don't beat me up!
Remind me to send him a bouquet of flowers, a dress and some make-up. He'll need it--esta terminadora.
Of course he already got pregnant once, out of wedlock, in Junior (1994)--maybe Danny De Vito will  finally make an honest woman out him?
Lest you think my low opinion of der Arnold in this matter is unfair or unusual, think again. One of the prominent Libertarian candidates for the nomination, Dr. George Philles, a physicist, had this to say in  http://phillies2008.org/CaliforniaMarriage:
The California Supreme Court, ruling on In re Marriage Cases, today found that the California Constitution made clear: If gays and lesbians are allowed a status that was substantially the same as marriage, it may not be given a different name.

"The people of California could have avoided this long and expensive trial," Phillies said, "but their spineless governor, loyal to the conservative philosophy of bigotry, vetoed bills establishing that marriage is for gay as well as straight adults."

"Voters should remember that conservative bigotry can be bipartisan," Phillies continued. "The depraved Defense of Marriage Act was authored by a Republican and passed with bipartisan support. The trail from the terrorist Ku Klux Klan through White Citizens Council to its most recent successor, the Conservative Citizens Council, winds from the Democratic over to the Republican party.
But let's just leave the KKK, the CCC, und der Arnold alone for now.
For today, at last, Phyllis Lyon, Del Martin: Gay couple plan to become the first to ...  actually tie the knot on the steps of San Francisco City Hall today, at 5 PM--and I hope to witness this historic event taking place just three blocks from where I live--amidst explosions of joy where once there were explosions of anger at the time of the White Night Riot. 
Yep, he sure was right, that good old boy,  Bob Dylan: The Times They Are A-Changin' and to make the point even more clear, Bob Dylan: Mr. Tambourine Man has come out in support of  Barack Obama!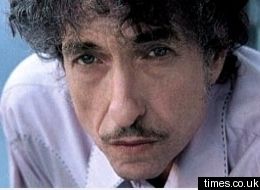 Bob Dylan says Barack Obama is 'changin' America - Times Online
Bob Dylan Backs Obama - The Huffington Post His 1964 track 'The Times They are a-Changin' became the anthem for his generation, symbolising the era-defining social struggle against the establishment.  Now Bob Dylan - who could justifiably claim to be the architect of Barack Obama's 'change' catchphrase - has backed the Illinois senator to do for modern America what the generation before did in the 1960s.
San Francisco Mayor Gavin Newsom plans to officiate at the private ceremony in his City Hall office before 50 invited guests. He picked Martin, 87, and Lyon, 84, for the front of the line in recognition of their long relationship and their status as pioneers of the gay rights movement--and for that our country needs to honor them, not malign them. So here they are:
They have been an item for 53 years--they may be getting grey, but aren't they still looking great and gay?
The loving couple get married! Brava Phyllis and Del--you are true heroes!
And bravo Mayor Gavin Newsome--you too are awesome and courageous!
As I walk around town, still in a daze this morning, amazed at all the things that are happening in this annus mirabilis (make sure you spell that with two n's, editors) I reflect that it is all so very strange--are we getting close to the rapture? 
A black man will be elected President of this country. Gay folks may marry each other. Bush and Cheney will go to jail.
Will pigs fly as well?  Oink--it just might happen!
But I am used to strange things happening around here anyway, for  I live in a strange place. Here in San Francisco, you can watch the Dutch Oranje ploeg demolish the French soccer team, les Blues while being served kick-ass champaign in the auditorium of the Alliance Francaise, amidst a crowd of mostly Chinese soccer fans. And tomorrow I will get to root for the Italians again like a few years back at Uccello's Ristorante: Grand Rapids when they had such an upset in the world cup. Oooh that nasty head butt!  Remember that? Zidane  should just have flipped gli Italiani the old Ucello, the bird--for les Bleus would have won except for ce malin coup de boule and that match winning penalty kick awarded the Italian team.
In case you missed it, or want to relive the moment, you can watch it here on: YouTube - Zidane headbutt. 
In any event, tomorrow I hope to see the French-Italian rematch at  Lycée Français La Pérouse, San Francisco.
Come to think of it, with all those foot fan lycéens maybe I should be on the safe side and switch over to les Bleus.  Hmm. Don't wanna have some kid give me a head butt or a penalty kick.  Anyway let's continue with some more strange things: 
I live across from a Presbyterian home for the aged,Northern California Presbyterian Homes & Services: Eastern Park ..., where all the residents seem to be Russian Jews. As I walk downtown through little Saigon, I see a small van of Jewish Family and Children's Services of San Francisco unload a dozen or so Chinese passengers at On Lok Senior Health Services The liquor stores all appear to be owned by Moslems. All the bars on Polk Street, once the old gay  epikentron, now seem to be catering to straight single swingers. And gays are opening a wedding chapel in the Castro district victorian building that I believe formerly housed a small local  bath house. What is this world coming to? But wait...
Be aware: there's money to be made conservatives! Gay weddings may bring in many millions in extra revenue to the state, according to 2 Boys in Love  and I am sure the savviest lawyers are wasting no time either to get ready for yet another strange unslaught: gay divorce--sure to become another great source of extra revenue.
A recent study (.pdf) conducted by the Congressional Budget Office found that if all 50 states and the federal government extended the rights and obligations of marriage to same-sex couples, gay weddings would generate almost $1 billion in revenue each year. According to other estimates, same-sex marriages could tack on more than $16 billion annually to the $70 billion wedding industry.
That's great news for San Francisco especially, since we are the place most people would want to loose their heart--and leave it  in the safe custody of a loving partner--regardless of their or their partner's  gender.
All right, you are probably odeeing by now on gay good news and you want me to shut the heck up already. OK, I will. But just give us this day our daily gloat just a tiny bit, after all these millennia or repression. Deal?
Besides, one swallow does not a summer make--and two states don't us over the hump yet get. But I have to admit, it is almost enough to make you nostalgic: what happened to all that bad old gay news of yesteryear?
Ah, les neiges d'antan, the snows of yesteryear, de sneeuwen van eerjaar...where have they gone?
But the cool thing about California is that unlike Massachusetts, we allow couples from other places to get married here--and New York has already said that they will recognize such same sex California marriages--even though they are still not legal to perform in New York under New York law itself. That's huge, because the gay population of New York is huge--I mean, humongous! And now all they have to do is come over here for a weekend of wedded bliss and take it right back home--until death or divorce do them part and make the undertakers and attorneys rich. So who could possibly object?
That New York situation is interesting, by the way, because it is the reverse of what California went through:
Gothamist: Per Governor Paterson, NY State Will Recognize Out-of ...
In our state, the people voted in a proposition that would make it illegal for California to recognize same sex marriages performed in jurisdictions where such marriages are legal. Now of course the California Supremes have thrown that provision out because they found it was unconstitutional. In New York, on the other hand where same sex marriage can not be legally performed in the state itself, Governor Paterson issued a memo telling all state agencies to recognize legally performed, out-of-state same-sex marriages as valid marriages. This memo was based on the February Appellate Court ruling, which said gay marriages "should be afforded the same recognition as any other legally performed union." 
Since Patterson replaced  that overly straight Governor Spitzer, who rather commonly spent $4000 an hour on a prostitute, something good came out of that. At least Senator Larry Craig was more frugal in going to the toilet--and Patterson honest when he 'fessed up he had also had extra-marital affairs: Gothamist: Paterson, Wife Each Admit Extramarital Affairs
Speaking of strangeness, two nights ago I was doing my evening walking tour, mijn avondommegang, and found myself hearing a heavenly choir of Chinese voices singing Danny Boy in the Union Square plaza--here are the haunting lyrics:
Danny Boy - Irish Song Lyrics and Music Midi
Oh Danny boy, the pipes, the pipes are calling
From glen to glen, and down the mountain side
The summer's gone, and all the flowers are dying
'Tis you, 'tis you must go and I must bide.
But come ye back when summer's in the meadow
Or when the valley's hushed and white with snow
'Tis I'll be here in sunshine or in shadow
Oh Danny boy, oh Danny boy, I love you so.

And if you come, when all the flowers are dying
And I am dead, as dead I well may be
You'll come and find the place where I am lying
And kneel and say an "Ave" there for me.

And I shall hear, tho' soft you tread above me
And all my dreams will warm and sweeter be
If you'll not fail to tell me that you love me
I'll simply sleep in peace until you come to me.

I'll simply sleep in peace until you come to me. 
It turns out that the occasion had to do with a memorial service for the victims of the earth quake in Szechuan province. There was a small crowd of a few hundred mostly Chinese people of all ages holding candles and I found it 
very moving to hear them sing--not just Irish songs of course, but also some very melodious Chinese songs, including 
one called May Heaven Protect our Home. Something the Tibetan demonstrators might well have been singing just 
the night before, on the same plaza: May heaven or someone, please, protect our home. We all want our homes 
protected, after all. Chinese from earth quakes, Tibetans from the Chinese, Americans from Bush, etc., enzovoort.
and I don't mean to cast aspersions on the sincerity or humanity of any demonstrators gathering out of compassion on 
Union Square, where there is a monument in the form of a pillar with a lady perched on top--a monument to the U.S. 
conquest of Manilla during the Spanish American War. People have no idea what it is doing there, but it looks nice.
It was a slightly foggy evening last night, at dusk, and on the mostly empty plaza around the group of candle holding 
people a few small Chines toddlers were enjoying themselves running around, jumping, skipping and doing things 
toddlers do when they are allowed, oblivious of the sadness and solemnity of the occasion--and I find myself reflecting:
Youth represents spes patriae humanitatis--the hope of the homeland of humanity, the world itself.
When the ceremony came to an end I took myself over to Border's across Powell Street from Union Square and did 
some reading and note taking in various books and magazines. Let me give you a link to an interesting book:
The View from the Center of the Universe - Joel R. Primack ...

And here are a few quotes from the book I jotted down:

The universe of modern cosmology is not just a container--it is a dynamic evolving being. All times are within it. The universe as understood by any given civilization, however, is actually a social concensus on how  to think about whatever is out there. This concensus is a mask fitted on the face of the unknown universe.

Well now then there--as an old friend of mine used to say when he was about to come to some significant conclusion: well now then there, a mask, that is a persona in Latin, a person, or personality we place over the 'face' of the unknown universe, that dynamically evolving being--which, dare I say this--is awareness itself.

This is not just me speaking--I am quoting two top notch scientists. Primack and Abrams are married, by the way, but each highly respected in their fields. I recently saw them interviewed on The McLaughlin Group : One on One program. True, they didn't mention awareness in the quotes I gathered, but modern science has already come to the conclusion that one cannot conceive of the universe without taking consciousness or awareness into account.See e.g.: String Cosmology And Consciousness - an Astronomy Net Bigbang ...

And that social concensus about the cosmos--well, that is what conventional religion and conventional science are all about--to establish some kind of functional concensus. As long as the concensus is up to date and functional for our time and place and day and age, well then, who can quarrel with that mask? In fact, it seems to me that any number of masks may be functional--even if they appear to be incompatible at first glance.

See the glory of my countenance--it says in the Bible--and Avatar Adi Da said: See the brightness of my face. Same thing. That glory or brightness of the face or countenance of the Universal Being cannot be seen if you place a mask over it, if you cover it up with a persona. What you see then is a social concensus, the agreed upon conventions of conventional religion or conventional science. Nothing wrong with conventions, but conventions, masks, persons or personalities are not the unknown living evolving being and awareness of 'what's there'--of which the cosmos itself and all it contains is a manifestation. 

And to speak with Gertude Stein when she spoke about Oakland from her San Francisco perch: there's no there there. What she actually said is: What was the use of my having come from Oakland it was not natural to have come from there yes write about it if I like or anything if I like but not there, there is no there there. 

Nor is there a here here. All those kinds of references are ultimately misplaced. Masks are misplaced. Conventional notions of time and place are misplaced. In fact, I am beginning to feel misplaced myself!

Don't you, sometimes, when you really think about it? I mean do you really know who or what you are?

Greek philosophers would admonish us: gnothi seauton, know thyself--but that is very a long quest indeed.

Let me end with a description of Primack and Abrams' visual representation of the cosmos, which is like that pyramid you see on dollar bills, with the all seeing eye on top: the base of the pyramid (70%) consists of dark energy. The next 25% is made up of cold dark matter. Then comes 4% made up of of invisable atoms. That leaves just 1 % of the cosmos that is made out of visible atoms, most of which are hydrogen and helium, while the heavier elements, which is what we are made up ourselves constitiutes the remainder, about 0.01%--a most insignificant fraction of all there is.

Human beings are essentially bags of water  (H2O) containing heavier elements, which as I mentioned, are an insignificant fraction of the totality of the universe. I wouldn't go so far as to call Earthlings: Ugly Bags of Mostly Water (2004), for some can be awfully pretty and attractive--as this picture of one such bag will show you:

But we are bags of water, nevertheless. That kind of puts things in perspective, doesn't it? On the other hand, that insignificant fraction is really where all the interesting and complicated things appear to be taking place.

At least as far as we know.

But then what do we know? What can we know? And who or what are We? Only You can tell you.

But here is an interesting link to Cosmology and Culture and a quote from that website to assist us all:

From the Planck scale to the cosmic horizon, the visible universe encompasses about 60 orders of magnitude. The size scales of the universe can thus be arrayed around the serpent like minutes around the face of a clock. Sheldon Glashow originally suggested this symbol, with the swallowing of the tail expressing his hope for a unification of the theories governing the largest and smallest scales [8]. I noticed [9] that there are many connections across the diagram: electromagnetism dominates the bottom; the strong and weak interactions not only dominate on nuclear scales but also describe energy generation in stars and deermine the composition of planetary systems; and dark matter, which is gravitationally dominant on galactic and larger scales, may be associated with the physics of still smaller scales.


The Cosmic Uroboros represents the universe as a continuity of vastly different size scales, of which the largest and smallest may be linked by gravity. Sixty orders of magnitude separate the very smallest from the very largest. Traveling around the serpent from head to tail, we move from the scale of the cosmic horizon to that of a galaxy supercluster, a single galaxy, the solar system, the sun, the moon, a mountain, a human, a single-celled creature, a strand of DNA, an atom, a nucleus, the scale of the weak interactions, and approaching the tail the extremely small size scales on which physicists hope to find evidence for Supersymmetry (SUSY), dark matter particles such as the axion, and a Grand Unified Theory. There are other connections between large and small: electromagnetic forces are most important from the scale of atoms to that of mountains; strong and weak forces govern both atomic nuclei and stars; cosmic inflation may have created the large-scale of the universe out of quantum-scale fluctuations.

And finally, here is a picture, and some more about Joel R. Primack Nancy Ellen Abrams 

 

A final postscriptural addendum: CERN Large Hadron Collider (LHC) near Geneva was reported to be safe in today's NYT--which I read this morning on my very early morning walk (around 6AM!--for I just had to escape the heat in my place.)Concerns had been raised that this large ringlike contraption might create a black hole and destroy the neighborhood in our nick of the galactic woods: Querida, liefste, darling: A Black Hole Ate My Laboratory

But now they say the risk is minimal--go back to sleep muizekens, nothing to worry about.