Fo Guang Dictionary of Buddhism (FGDB) commenced in 1978 to create a concise, practical, and complete dictionary for research on Buddhist Studies. The 
project lasted over ten years and finally published in 1998. The FGDB
is the first Buddhist dictionary written in vernacular Chinese, marking a milestone in the 
history of Chinese Buddhism. With over 31,000 entries and total of more than two millio
n words, the latest revised edition of the FGDB covers subjects across a vast range of categories such as Buddhist terminology, people, monasteries, schools, artifacts, rituals, 
gongans
, literature, art, history, and proverbs from regions including India, China, Tibet, Mongolia, Korea, Japan, Ceylon, Myanmar, and other Southeast Asian countries, as well as Europe, the Americas, and other places related to Buddhist studies or activities. Major modern Buddhist figures, events, developments, and scholarship are also included in the FGDB.
---
SAT Taishō Shinshū Daizōkyō Text Database 大正新脩大蔵経(SAT版)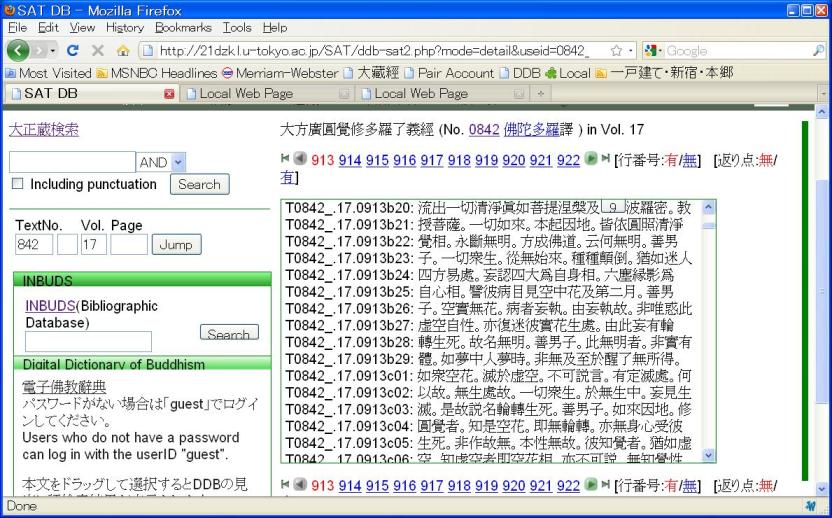 The 2012 edition of the SAT Daizōkyō text database (SAT 2012) aims at enhancing the usability of the online Taishō Shinshū Daizōkyō. It reflects the results of our latest research regarding the methods of accurate gathering and confirmation of academic information.
Website:
http://21dzk.l.u-tokyo.ac.jp/SAT/ddb-bdk-sat2.php?lang=en
---
Google Ngram Viewer
Google Ngram Viewer is an online search engine that charts the frequencies of any set of comma-delimited search strings using a yearly count of n-grams found in sources printed between 1500 and 2008. It can help us identify the commonly used words at different period of time.
Website:
https://books.google.com/ngrams
---
CBETA 中華電子佛典協會
The Digital Database of Buddhist Tripitaka Catalogs is dedicated to collected and constructed multi-lingual Tripitaka catalogs. In our database, there are 22 editions and about 33,700 catalogs from Chinese Buddhist Tripitaka, including the stone carved "Fangshan Shijing". The Tibetan Buddhist Tripitaka has about 4,569 catalogs, the Pali Tripitaka has 7,003 catalogs of Nikaya and Agama suttas, and there are also Sanskrit catalogs, deriving mainly from the manuscripts found in Central Asia. Our goal is not only digitizing these documents but also setting up a search facility on the web for public use. Through the keywords searching, users will conveniently acquire comprehensive information from different sources of various editions and versions of Tripitaka catalogs, and link to the corresponding full text.
Website: 
http://tripitaka.cbeta.org
---



DDB Access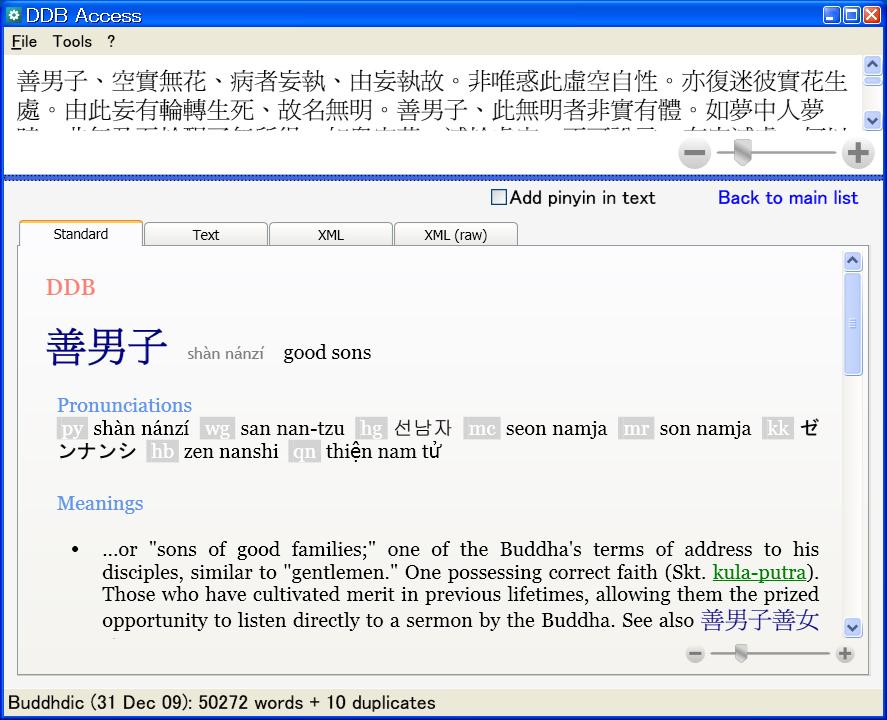 DDB Access provides the DDB content for words found in a Chinese text. It relies for parsing on monthly DDB and CJKVE extracts provided by Charles Muller, and for content on XML pages from the DDB and CJKVE websites.
Download DDB Access: 
http://download.smarthanzi.net/ddbaccess
---
Digital Dictionary of Buddhism 電子佛教辭典
The Digital Dictionary of Buddhism [DDB] is a compilation of Chinese ideograph-based terms, texts, temple, schools, persons, etc. found in Buddhist canonical sources. The Chinese-Japanese-Korean-Vietnamese/English Dictionary [CJKV-E] is a compilation of Chinese ideographs, as well as ideograph-comprised compound words, text names, person names, etc., found primarily in the Confucian and Daoist classics. It also includes vocabulary from Neo-Confucian texts, as well as other philosophical and historical sources. Its information on individual ideographs is intended to be comprehensive, containing pronunciations and meanings from ancient and modern sources from the Sinitic cultural sphere including China, Korea, Japan, and Vietnam. Modern-day compound words are included incidentally, but the coverage of modern materials is not intended to be comprehensive.
---
Sanzang Translation Webtool