Le Boeing E-4 est une variante militaire du Boeing 747-200 civil développée pour l'US Air Force et aménagée en poste volant de commandement avancé réservée à l'usage du Président des Etats-Unis et de son Etat-Major en cas de crise grave comme une attaque nucléaire des USA, par exemple (1).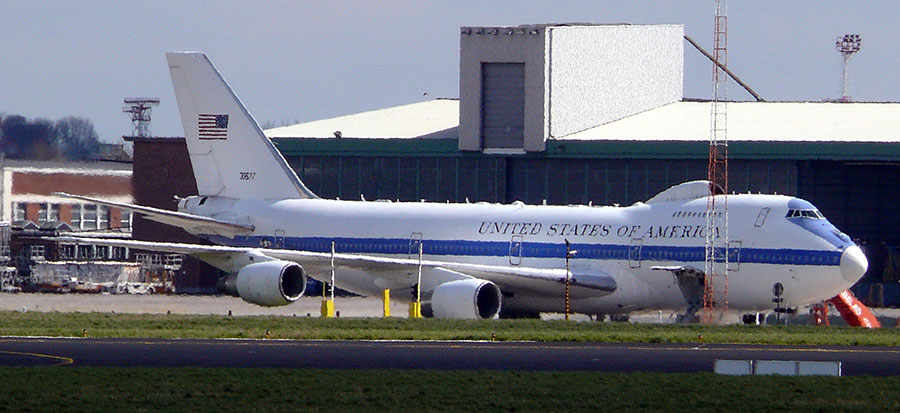 Boeing E-4B à Brucargo ce 31 mars 2008 (Photo © Jan Wybouw)
Deux versions ont été développées : le E-4A, dont le premier des trois exemplaires commandés, effectua son premier vol en juin 1973. Son équipement électronique était analogue à celui du EC 135 (Boeing 707 militaire employé dans le même type de mission) ; Le E-4B , qui effectua son premier vol en août 1975, est lui pourvu de douze systèmes de télécommunications utra-modernes dont un équipement de radio SHF à très hautes fréquences relié à des satellites via les antennes installées dans un carénage dorsal à l'arrière de la bosse principale de l'avion. Les quatre Boeing E-4B dépendent du 1st ACCS (Air Command and Control System), 55th Wing du Strategic Air Command basé à Offutt (Nebraska). Le fuselage de cet appareil a été conçu de manière à ce  que ces 94 hommes d'équipage dont 30 constituant l'Etat-Major de guerre soient à l'abri de radiations résultant d'explosions thermo-nucléaires. En outre, la cabine de l'appareil se partage en cinq compartiments dont vous pouvez vous faire une idée en cliquant ici 
Boeing E-4B à Brucargo ce 31 mars 2008 (Photo © Jan Wybouw) 
Le Boeing E-4B est propulsé par 4 turbo-réacteurs à double flux General Electric F103-GE-100 développant chacun 23815 kg de poussée. Sa vitesse maximale à haute altitude est de 978 km/h ; sa distance franchissable sans ravitaillement en vol de 10460 km ; son autonomie de 12 h en mission normale et jusqu'à 72 h avec ravitaillements en vol). Son poids est de 172 400 kg à vide et de 352 900 kg maximum au décollage. Son envergure de 59,64 m ; sa longueur de 70,51 m ; sa hauteur de 19,33 m et sa surface alaire de 511 m2 en font l'avion le plus gros de l'USAF devancé seulement par le Lockheed C-5A Galaxy
Boeing E-4B à Brucargo ce 31 mars 2008 (Photo © Jan Wybouw)
Pour appartenir à l'USAF et dépendre du Strategic Air Command, ces appareils n'en sont pas moins réservés à l'usage exclusif du NCA (National Command Autority) et plus particulièrement du POTUS (President of the United States) et de son SECDEF (Secretary of Defense). C'est que mine de rien, le NCA constitue l'instance militaire la plus haute du pays, responsable de la sécurité nationale, mais aussi de la gestion des actions militaires menées dans le monde à partir des USA. Autant dire que le NCA tourne 24h sur 24 sans interruption durant toute l'année afin de maintenir le Président en liaison permanente avec ses collaborateurs civils ou militaires (Etat-major).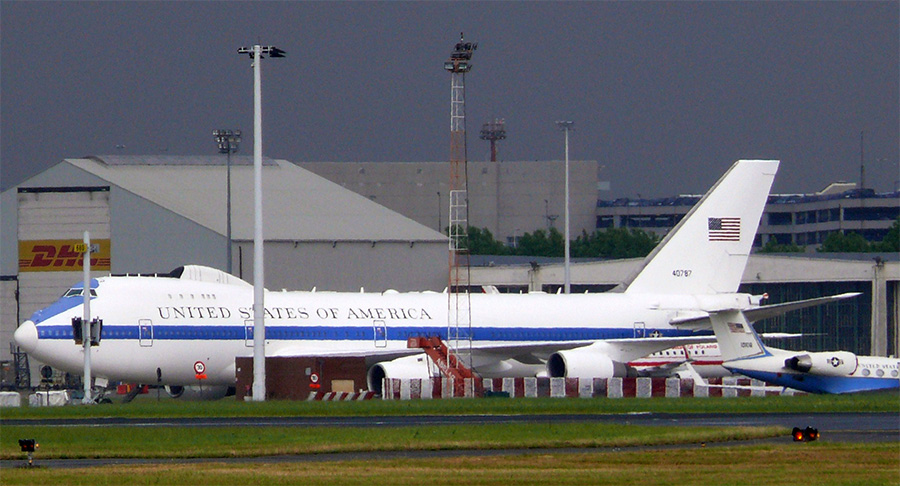 Boeing E-4 à Bruxelles National, ce mardi 3 juin 2014 dans l'après-midi. (© Jan Wybouw)
Aux quatre Boeing E-4B que possèdent le NCA, s'ajoutent d'autres appareils tels que les deux Boeing VC-25A  plus connus sous le nom de  «Air Force One» (serial numbers 28000 et 29000 ; un hélicoptère VH-60N et  trois Gulfstream III C-20C (ces derniers étant prévus comme «escape jet» au cas où le POTUS devrait quitter quelque endroit au plus vite suite à une menace sur sa personne.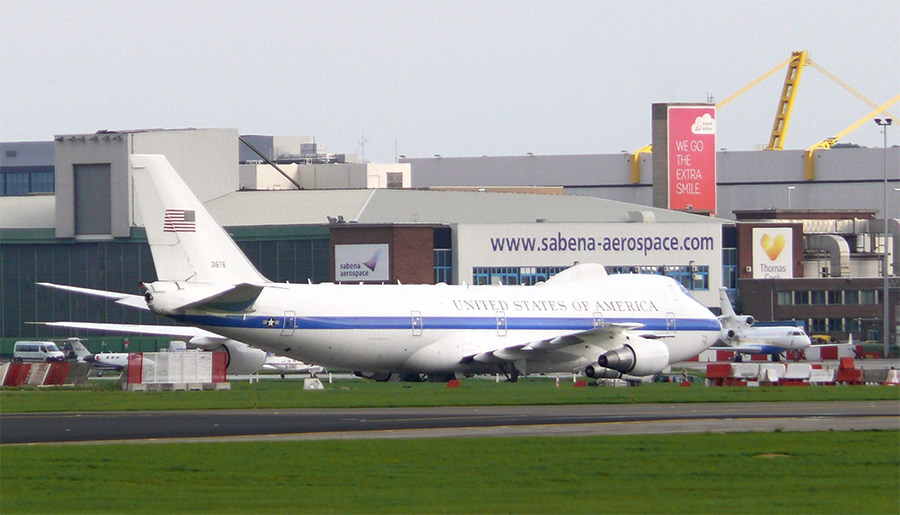 Boeing E-4, à Bruxelles-National, ce jeudi 8 octobre 2015 (Photo © Jan Wybouw)
Enfin Bruxelles ; Francfort ainsi que Mildenhall et Ramstein sont des bases étrangères fréquemment utilisées par les avions du NAC. Ces informations sur le NAC m'ont été grandement inspirées de cet article en néerlandais très bien documenté et qui vous fournira plus de détails sur les immatriculations des avions du NCA.
Boeing E-4, à Bruxelles-National, ce mercredi 10 février 2016 en fin d'après-midi (Photo © Jan Wybouw)
xxx
(1) C'est d'ailleurs pour cette raison que le Boeing E-4B dit NAOC (National Airborne Operations Center) a été surnommé ironiquement le «Doomsday plane» où «l'avion du jour de l'Apocalypse»!