La conception de ce bombardier tactique à moyen rayon d'action remonte à septembre 1939 et sa mise en service eut lieu en 1941 tant au sein de l'US Army Air Force que de l'US Navy.
North American B-25 Mitchell sur le tarmac de Melsbroek le 14 septembre 2008, à l'occasion de l'anniversaire du 15e Wing 
Plusieurs verisons verront le jour le B-25 A (produit à 40 exemplaires) ; le B-25B (119 exemplaires) sans tourelle de queue ; le B-25C avec des râteliers de bombes sous les ailes ; le B-25D (2290 exemplaires) ; le B-25G (405 exemplaires) équipé d'un canon de 75 mm à l'avant du fuselage; le B-25H (1000 exemplaires) ; et le B-25J (4318 exemplaires) plus puissant et armé de huit mitrailleuses.
North American B-25 Mitchell sur le tarmac de Melsbroek le 14 septembre 2008, à l'occasion de l'anniversaire du 15e Wing 
Il faut souligner que 862 exemplaires des versions B-25B ; B-25D ; B-25G et B-25J furent livrés aux forces aériennes soviétiques qui les engagèrent dans la bataille de Stalingrad et dans celle de Berlin.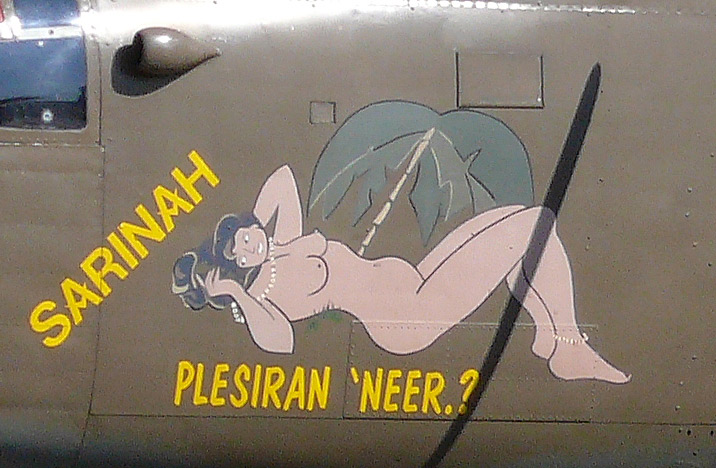 On peut traduire "plesiran `neer. ?" par "avez-vous éprouvé du plaisir, monsieur ?" qui est une question que Sarinah,  la coquine de donzelle dénudée adresse à chacun des membres de l'équipage de l'avion ! 
Concernant cet avion, les russes apprécièrent particulièrement la robustesse du train d'atterrissage tricycle de même que l'armement défensif (mitrailleuses lourdes latérales montées dans des carénages situés à l'avant du fuselage et qui permettaient au Russes de pratiquer une de leurs tactiques préférées, mitrailler l'objectif avant de le bombarder !)
Quant à l'appareil ici présenté  en voici une présentation glanée sur un site, mais qui depuis a disparu :
" Ce North American B-25J Mitchell est la propriété de la «Duke of Brabant Air Force» qui n'est nullement belge, comme son nom pourrait tendre à le faire croire, mais bien hollandaise et d'ailleurs basée à Eindhoven aux Pays-Bas.Ce bombardier léger, qui est pour ainsi dire le vaisseau amiral de leur flotte, est du type B-25J-20-NC et a été construit en 1944 dans l'usine North American Aviation de Kansas City. Son numéro de série de l'USAAF est le 44-29507.
Son surnom de « Mitchell » fait référence au célèbre général américain William Billy Mitchell (1879 – 1936) qui voulut faire progresser la tactique en matière d' aviation militaire aux USA mais se heurta aux conceptions bornées dans ce domaine de l'Etat-Major au point que le général Mitchell fut discrédité par ses pairs. Le B-25 répondait à une demande de l'US air Corps, le prototype effectua son premier vol en août 1939 et le premier exemplaire de série décolla le 19 août 1940. Plusieurs versions (voir plus haut dans mon article) ont été développées pour être adaptées aux besoins de chaque squadron appelé à utiliser ce type d'appareil. Et ce ne seront pas moins de 9889 appareils qui seront construits pour l'USAAF, sauf qu'en août 1945, les 72 commandes de B-25J restant à livrer sont annulées.
Cet appareil s'est rendu célèbre lors du raid de bombardement sur Tokyo le 18 avril 1942 placé sous le commandement du général Doolittle. Beaucoup de pays manifestèrent alors de l'intérêt pour ce type d'avion, dont le gouvernement des Pays-Bas qui passa commande de plusieurs exemplaires auprès de l'USAAF. Les B-25J Mitchell hollandais furent engagés sur deux fronts, d'une part au sein du RAAF (Royal Australian Air Force) 18 Squadron et d'autre part au sein du Nederlandse RAF (Royal Air Force) 320 Squadron. Les versions embarquées délivrées à la US Navy (entre autres celles du fameux raid sur Tokyo de 1942) et opérant à partir du Porte-Avions USS Hornet exigèrent de porter la longueur du pont à 152 m pour permettre le décollage.
Pour en revenir à ce B-25 Mitchell, il a été acquis par la "Duke of Brabant Air Force" alors qu'il était en attente d'un avenir pour le moins incertain à Baton Rouge (Floride) depuis le 6 juin 1981. Il fut alors immatriculé N320SQ en référence au Nederlandse RAF 320 Squadron qui l'avait engagé sur le théâtre européen durant la Deuxième Guerre mondiale. Du 22 au 25 mai 1990, l'appareil a été acheminé depuis les Etats-Unis, via le Canada ; le Groenland et l'Islande jusqu'à Eindhoven sa base où il a été patiemment restauré et repeint aux couleurs qu'il portait au sein du Nederlandse RAF 320 Squadron « Lotys II » HD346 ".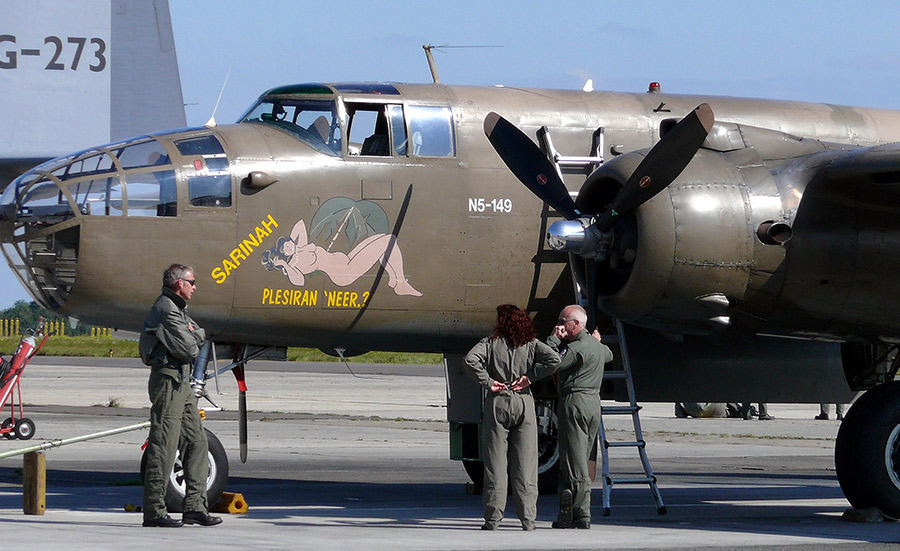 North American B-25 Mitchell sur le tarmac de Melsbroek le 14 septembre 2008, à l'occasion de l'anniversaire du 15e Wing 
xxx
Ce B-25 J Mitchell III a été construit à Kansas City, début 1945, et n'a jamais connu l'épreuve du feu, mais a été employé comme appareil de transport civil durant 25 ans… puis il a été abandonné à l'aéroport de Wilmington (Delaware).
De passage par là un jour et de le voir  ainsi délaissé de tous,  quelques membres du « Canadian Warplane Heritage Museum » s'en émurent et recueillirent le malheureux, le remirent en état de vol et l'habillèrent aux couleurs du Squadron 98 (ou s'illustrèrent de nombreux pilotes canadiens et qui se battit dans le ciel du nord ouest de l'Europe en 1944-1945) de la Royal Air Force.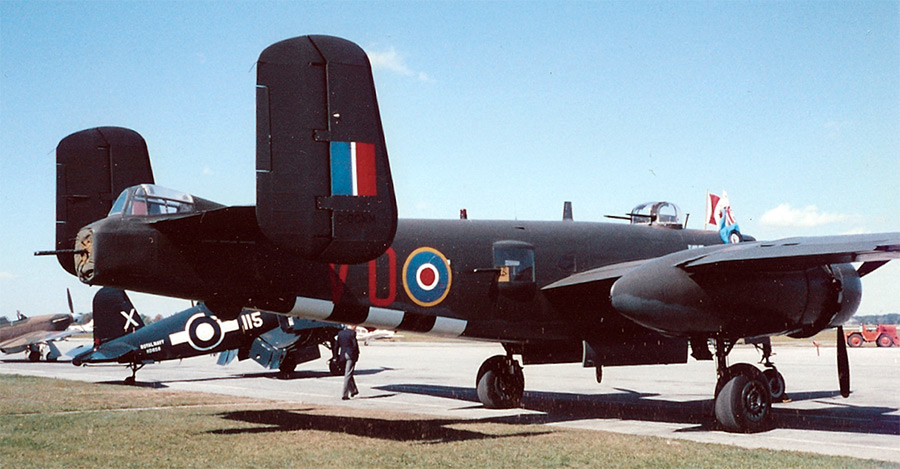 xxx