This is to follow the path of a user and to use props to experience what other may be experiencing and feeling.
Called 
Simulation 
Participatory Observation
Empathy Gagets
(effort called "tele-empathy": using technology to improve insight into the patient experience. 
Types
Ageing simulation 
Black Like Me - John Howard Griffin   
Lived as a tramp to chronicle poverty. George Orwel in Down and Out in Paris and London
Going Blindfolded
VR Eye Problems
Fat Suite
Empathy Belly
Dementia Tour
Melanoma tato

"Rather than asking non-patients to imagine what it's like to have Parkinson's disease, Klick Labs' SymPulse tele-empathy device wirelessly transmits patient tremors to another individual so that person can try to clutch a coffee cup with trembling hansd" SARAH MAHONEY

Diabetic nerve disease.
Dephasing - experience of disordered thinking in psychiatric illness
Migraine Experience

, - 

GlaxoSmithKline's Excedrin  
'Age Play Kits' help future caregivers understand empathy
Doctors in Southwest Florida said our future caregivers could do shoddy work at taking care of seniors. 
"Empathy and compassion can make a [big] difference in a patient's life," Registered Nurse Karen Snyder said.
MIT, the world's leading academic institution for technology, has developed an empathy tool called AGNES (Age Gain Now Empathy System). AGNES is a suit that has been made to mimic the motor skills, eyesight, flexibility, dexterity and strength that an older person may experience.
Used previously by groups such as designers in Boston, aspiring doctors at Harvard Medical School, her trip to Motionspot was her first overseas
.
Empathy Tools
Needs of users with special physical limitations are simulated through the use of different tools.
Virtual Dimentia tour creates empathy for growing problem
By Michael Kelley  
March 29, 2018
"Using blackout goggles, specialized shoe inserts, bulky gloves and noise-canceling headphones, the Virtual Dementia Tour attempts to alter an individual's physical and sensory skills while they are being asked to complete simple tasks such as setting a table, counting out coins, getting dressed or taking medication in a darkened room."




Eye Simulation. needs of the people, more feeling for evaluating good design in architecture.




Aging




Others
Articles
Living with 'melanoma' … for a day: a phenomenological analysis of medical students' simulated experiences.
Corr M
"Despite the rising incidence of melanoma, medical students have progressively fewer opportunities to encounter patients with this important condition. Curricula tend to attach the greatest value to intellectual forms of learning. However, compared with intellectual learning, experiential learning affords students deep insights about a condition. Doctors who experience ill health are more empathic towards patients. However, opportunities to learn about cancer experientially are limited. Temporary transfer tattoos can simulate the ill health associated with melanoma.
We reasoned that if doctors who have been sick are more empathic temporarily 'having' melanoma might have a similar effect."
Shaun Qureshi
Introduction
"Elderly patients have complex health needs and are vulnerable to inadequate or undignified treatment.1 Fostering professional and altruistic attitudes in medical education is necessary in order to prepare medical students for care of older patients.  This paper describes a low-fidelity simulation session designed to increase empathy towards elderly patients among University of Edinburgh medical students. 
The session aims to enhance understanding of effects of age-related physical impairments on activities of daily living; how these impairments may challenge good clinical care and stimulate discussion about how these challenges may be mitigated. The session has been integrated into the Medicine of the Elderly teaching programme and here we describe it as delivered in NHS Fife, where the session has expanded to include a commercial age simulation suit3 to further enhance the learning experience."
Identical twin brothers Pat and Jim Smerdon shared many life experiences until Jim was diagnosed with Parkinson's 10 years ago
By
Natalie Rahhal For Dailymail.com
"Ever since, Pat has wondered what it feels like to live with his brother's tremors
A new device transmits the symptoms of Jim's disease to Pat, who literally felt his brother's pain for the first time in a moving demonstration of 'tele-empathy' 
Tele-empathy is an emerging field that uses technology to relate a better understanding of disease symptoms from a patient to a caregiver "
How Excedrin brought VR to drug marketing with The Migraine Experience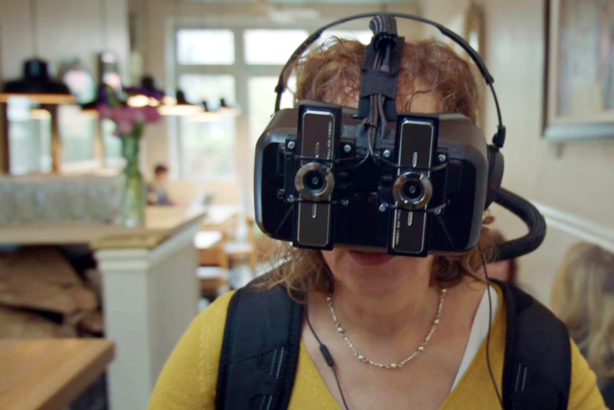 "We were using the technology to enable the experience, so people could use virtual reality to experience what their partner feels [when they get a migraine.... The headset replicated some of the effects of a migraine, including blind spots, auras, sensitivity to light, thumping headache, and disorientation. GSK worked with migraine experts and technology VR experts on the campaign." "It was definitely grounded in making sure we empathize with migraine sufferers," he adds. "Using virtual reality helped non-sufferers truly show empathy and experience it by putting it on."
Drugmakers turn to tech to better demonstrate empathy
SARAH MAHONEY
JULY 31, 2017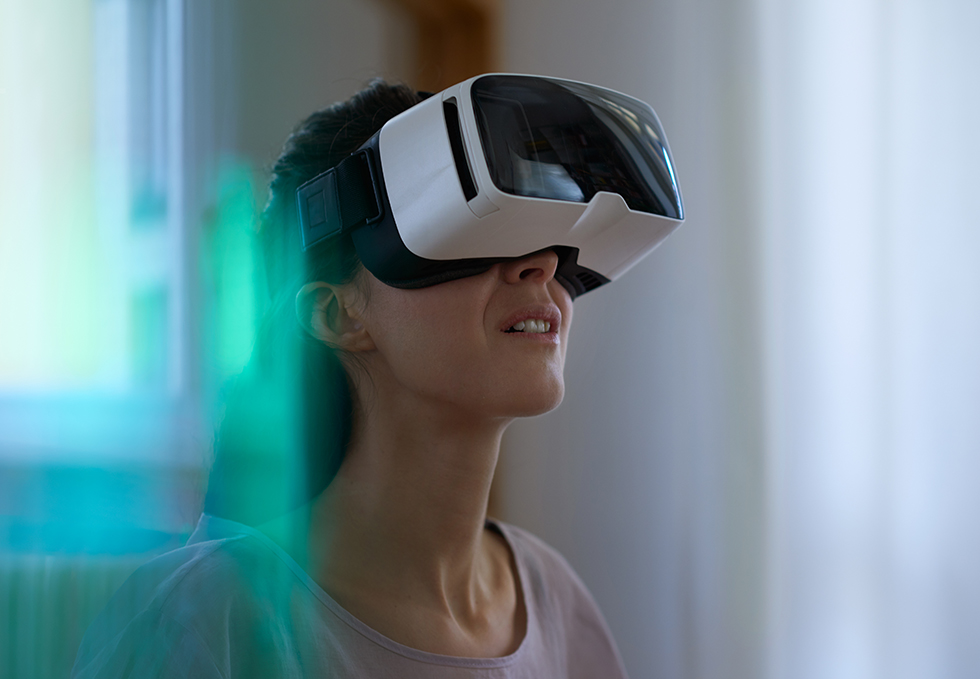 "Of course, the whole "walk a mile in their moccasins" approach is hardly new:
"George Orwell lived as a tramp to chronicle poverty in Down and Out in Paris and London way back in 1933, while
John Howard Griffin medically darkened his skin to write Black Like Me in 1961.
And healthcare has long had a soft spot for empathy gimmicks, with childbirth instructors strapping cumbersome "empathy bellies" onto expectant dads and
hospitals encouraging physicians to don fat suits to better relate to the obese.

 "
Empathy Gadgets
Sandeep Jauhar
JULY 29, 2017 NY Times
"Computers are often considered a barrier to the doctor-patient relationship, a depersonalizing force. Doctors are criticized, for example, for turning their backs to patients in the exam room to type data into the electronic medical record. But in tele-empathy, it is machines that foster understanding and compassion."
The Perils of Playing Blind: Problems with Blindness Simulation and a Better Way to Teach about Blindness
By Arielle Michal Silverman
Simulation Promotes Empathy
"Disability simulations are often intended to promote empathic concern and a desire to help and accommodate people with disabilities. There is evidence that simulating disability can indeed increase empathy and helping. In an early experiment (Clore & Jeffery, 1972), college students were randomly assigned (by a coin flip) to navigate their campus either on foot or in a wheelchair for 25 minutes. 
 ... Finally, rehabilitation professionals expressed more empathy in qualitative comments after participating in a multi-impairment simulation (Wilson et al., 2009). These simulations not only prompt a desire to help, but also promote student enjoyment and positive assessment of them, making them attractive to instructors."
DADS wearing 33lb 'empathy bellies
By
NAOMI GREENAWAY
"DADS wearing 33lb 'empathy bellies' to experience what pregnancy feels like for women reveal they are starting to feel the pain... and it's only day 10!"
"The Empathy Lungs"  COPD Simulator
"Smoking causes up to 90% of COPD. Although it is largely preventable, this debilitating disease is projected to increase from currently being the 4th leading cause of death to the 3rd by 2020!"
Empathy matters: Klick Labs device simulates Parkinson's tremors, directly
by Beth Snyder Bulik 
Apr 24, 2017
"Klick's digital innovation unit Klick Labs created a device to transmit tremors from a Parkinson's patient to someone who doesn't suffer from the disease, to dramatically illustrate its effects. That's empathy-creation in action, and the basis for a planned clinical study about the ways empathy can improve patients' health."
Virtual dementia tour a "very intense" lesson in empathy (photos)
By Chuck Crow
March 30, 2017
"Suburban Pavilion Nursing Home hosted a virtual dementia tour Wednesday for staff, local officials and family members who wanted to experience how a patient with dementia sees, hears and feels in their world. Crossroads Hospice ran the virtual dementia tour, an active empathy exercise, where participants learn what it is like to have dementia as they tried to perform everyday tasks. Each participant was fitted with sensory-numbing apparatus, such as two layers of gloves, headphones creating sounds and background noises, darkened glasses to give the feeling of macular degeneration and spike shoe inserts to create sensitivity issues for the feet. "
Patricia Moore: How an industrial designer discovered the elderly
Roman Krznaric
Designer Dressing as an older person
"So she decided to conduct an empathy experiment and discover the realities of life as an eighty-year-old woman. She put on makeup so she looked old and wrinkly, wore glasses that blurred her vision, clipped on a brace and wrapped bandages around her torso so she was hunched over, plugged up her ears so she couldn't hear well, and put on awkward, uneven shoes so she was forced to walk with a stick."
Empathysuit - The Obesity Suit

"In many cases, it is difficult for healthcare professionals who have never been overweight, to truly relate to the experience of what it is like to be an obese person. Though they are well aware of the health risks relating to this condition they are largely unaware of the day to day discomfort and inconvenience that their patients might experience. In an effort to raise awareness whilst providing an innovative teaching tool we have developed the Two-Part Obesity Empathy Suit."