The Empathy Tent Team 
will offer empathy, listening, constructive dialog, and empathy training for 
all parties at these rallies: 
BerkeleySide
: Organizer Amber Cummings is having a debate about communism, facilitated by the Empathy Tent, with a protester
BerkeleySide
: Amber Cummings and a counter-protester debate the merits or dangers of communism, facilitated by an "Empathy Tent" representative. Photo: Natalie Orenstein
"We've had minimal violence today and that's always our goal," she said. "We said our side and they said theirs. They openly say they support communism." At one point, she had an extended, measured debate with an anti-fascist protester, facilitated by the "Empathy Tent," wherein they argued for and against Medicare and whether the LGBTQ community was more protected by or put in danger by communism.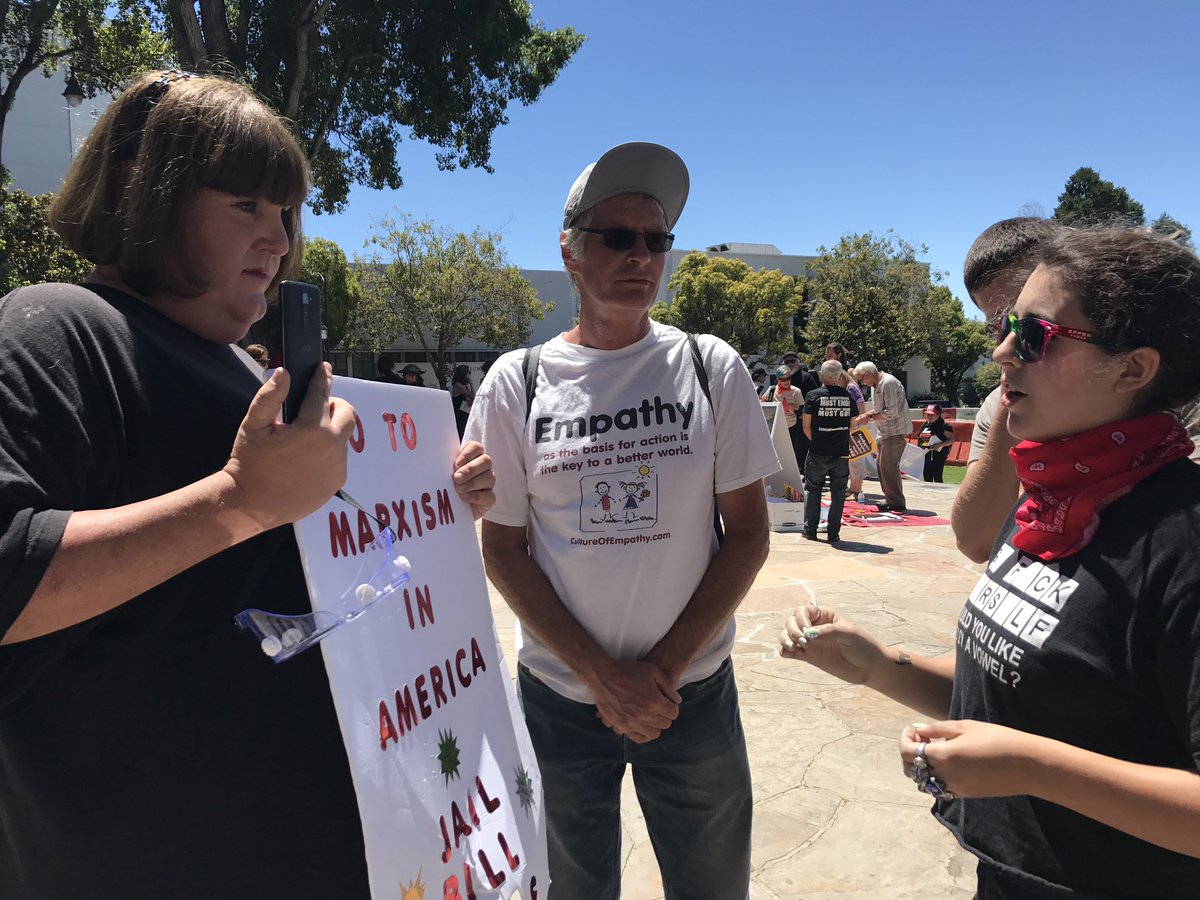 No to Marxism in America 2 Rally
Organized by 
Amber Gwen Cummings
 and 
Lindsay Grathwohl
Sunday, August 5, 2018,  4pm to 7pm
Martin Luther King Jr, Civic Center Park
2151 Martin Luther King Jr. Way,  Berkeley,
A Prayer for STOP The Violence
by 
Will Johnson
Sunday at 12 PM - 2 PM
Berkeley
Counter Rally 


Sweep Out the Fascists: A Festival of Resilience
Sunday, August 5 at 2 PM - 7 PM
Hosted by
Alex Garcias
short url http://j.mp/2Lziqrl 
SURJ S.F.

East Bay Democratic Socialists of America

The Degenderettes, NorCal chapter 
Movement Generation
John Brown Anti-Klan Committee
FB:
Sweep Out the Fascists: 8/5 Socialist Contingent
A few Photos
VIDEO OF RALLIES
Last Video Ever Uploaded To The Alex Jones Channel:
Owen Shroyer - short discussion with Edwin.
Berkeley Rally Anti Marxists vs Anti Fascism Part 1
Berkeley rally anti Marxism vs anti fascism Part 2
Related Links
Empathy Circles
If would would like to take part, and support this effort email EdwinRutsch@gmail.com


Pre Event Empathy Circles

The Empathy Tent team will host online and in person empathy circles between the different communities that want to be heard and want to take part in constructive dialogs. These will happen now up until the Aug 5 rally. 




Event Empathy Circles

During the event we plan to hold empathy circles in and around the Empathy Tent.




Post Event Empathy Circles

We will hold empathy circles after the event.
Willing To Take part in an Empathy Circle
To Invite Left - open invitation
Invited: Kate Harrison: Berkeley City Council - declined
Invited: Mayor Jesse Arreguín - declined
Invited:  Alex Garcias
To Invite Right - open invitation
Pre - Circles

Listening to David Carson, Right Wing supporter before Berkeley Aug 5, Anti Communist Rally. Empathy Tent offers listening and Empathy Circle facilitation to all sides. We invite you from the: left, right, center, or anywhere to take part. You talk and we will listen. 


Empathy Circle with Reverend Aaron - Punks for Progress
Sample Empathy Circles
Empathy Circles from Sproul Plaza rally Sep 14, 2017
Sample of Empathy Circle with Amber Cummings and a Leftist
Amber is the organizer of this event.
"I wanna give a shout out to the Empathy tent guys. Great group and really enjoyed my chat tonight. I really do like this idea and the people who run it. Great people and great idea...  Again Edwin, I want you to know I love this empathy tent Idea. I see much progress being made through a program like this that was a genius idea" Amber Cummings
"Amber Cummings, the self-designated (but no-show at least in this female persona) organizer of the August 27 right-wing non-rally at Berkeley's MLK Park, engages in dialogue with (presumably) a protester against Ben Shapiro's appearance on the UC Berkeley campus. The Empathy tent,a fixture at recent contentious demonstrations, is maintained by volunteers who offer to listen to everyone."
Samples of Empathy Circles with Joey Gibson,
one of the Rally Organizers
Conservative "Based Stickman" enters "The Empathy Tent."
By rodwebber
Sep 29, 2017
http://j.mp/2fNsQpq 
"My left-leaning friends may banish me to the far reaches of the earth for this... That said-- I think there is something to be learned from sitting down with people you disagree with and speaking to them in a civil manner. Obviously, in recent months, tensions at UC Berkeley have lead to anger, hostility, violence and riots. This passed week, former Breitbart editor, Milo Yiannopoulis scheduled a "Free Speech Week," evidently intent on inflaming tensions once again. In response, David Gottfried & Edwin Rutsch have been putting up an "Empathy Tent." Their hope for the tent is that it would be a place for dialogue between left and right leaning activists"