The Empathy Tent Pop Up at the UC Berkeley Ben Shapiro Demonstration. A passerby talks about why she is grateful for us being there. Many people come by and tell us how grateful they are that we are at these events and hold a space for empathy, care, listening and dialogue. They often feel deeply upset by the polarization, violence and lack of dialog. 



An "empathy tent" has been set up at Bancroft & Telegraph next to Cal campus, via Sheraz Sadiq/KQED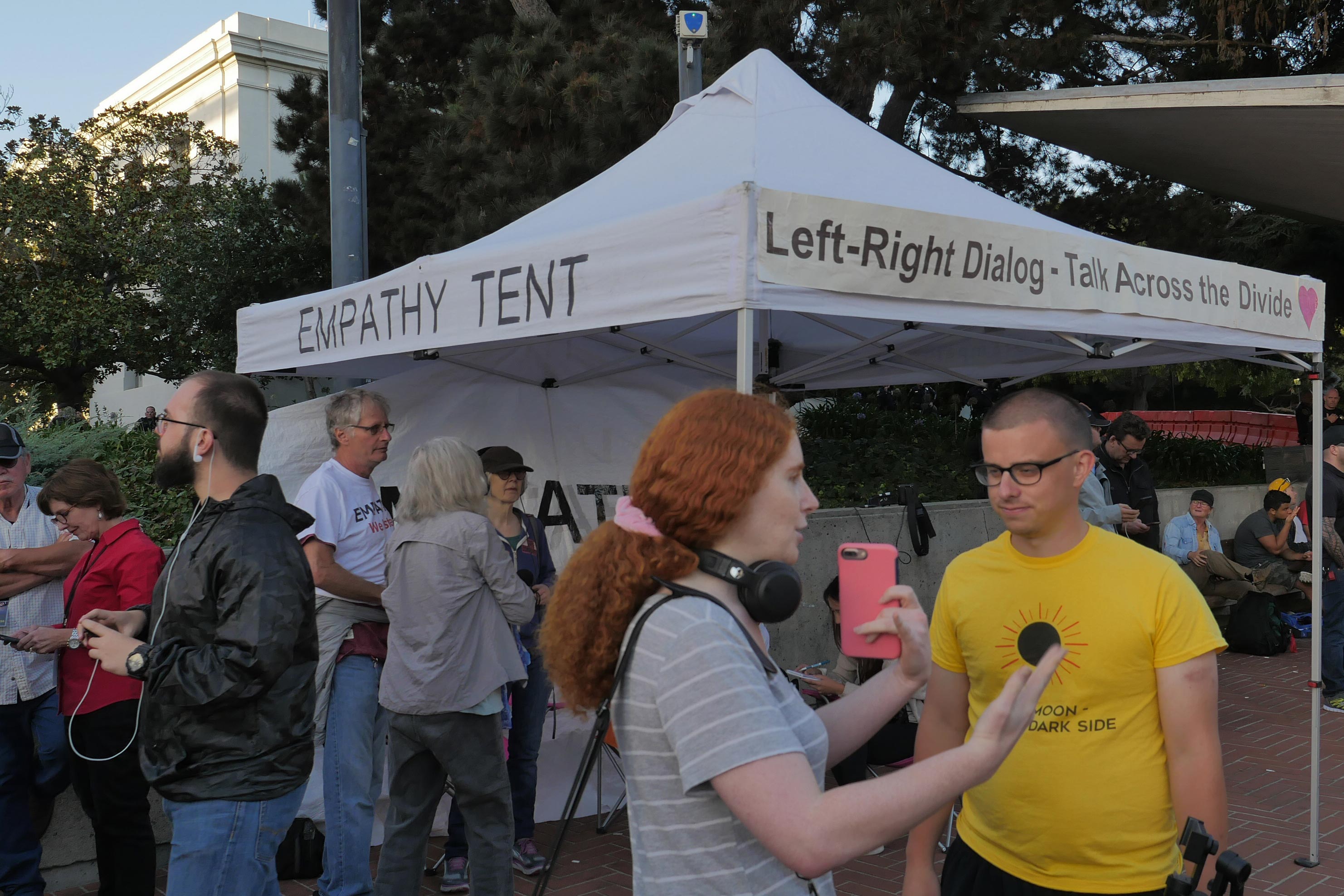 Video on YouTube   (Video on Facebook)

At this event we also held an empathy circle with Amber Cummings, the organizer of the Berkeley right wing rally against Marxism that drew thousands of counter protesters.
"I wanna give a shout out to the Empathy tent guys. Great group and really enjoyed my chat tonight. I really do like this idea and the people who run it. Great people and great idea...  Again Edwin, I want you to know I love this empathy tent Idea. I see much progress being made through a program like this that was a genius idea" Amber Cummings

Scott Morris (BCN)and Planet
Friday September 15, 2017 
"Amber Cummings, the self-designated (but no-show at least in this female persona) organizer of the August 27 right-wing non-rally at Berkeley's MLK Park, engages in dialogue with (presumably) a protester against Ben Shapiro's appearance on the UC Berkeley campus. The Empathy tent,a fixture at recent contentious demonstrations, is maintained by volunteers who offer to listen to everyone."

On September 14th, 2017, the Berkeley College Republicans in conjunction with Young America's Foundation will be presenting Ben Shapiro. Ben Shapiro has written 9 books, is the editor-in-chief of the Daily Wire, and host of the Ben Shaprio Show. Mr. Shapiro will be speaking about leftist political violence, a topic that has engulfed the city of Berkeley and the University of California recently.
Ben Shapiro at UC Berkeley: What you need to