We took the empathy tent to this conservative event in the Sacramento - State Capital of CA. We offered listening, dialogue and empathic mediation for everyone.
Empathy Tent Team
John Brewer 
Stephanie Thomas  
David Gottfried   
Marlena Willis 
Terry  Macclure 
Edwin Rutsch  
Unite America First Peace Rally
Saturday, July 8 at 12 PM - 3 PM 
Sacramento - State Capital of CA.
An event to show support for men and women in blue, our U.S. Military and veterans. To celebrate our independence and unity as Americans. To bring all people together that love America.  
Sacramento Bee: 
Protesters keep their cool at pro-Trump, anti-Trump rallies. 'Empathy tent' helps
BY SAM STANTON AND NASHELLY CHAVEZ
"Instead of bloodshed, Saturday's right-wing rally featured booths supporting gun rights and protesting gas taxes. There were no counter-protesters, just people listening to a country band and speakers who included political candidates and activists.
The event also sported an "empathy tent," where organizers promised "10 minutes of deep listening" without judgment, advice or interruption.
Edwin Rutsch, head of the Center for Building a Culture of Empathy, spent the afternoon sitting face to face in folding chairs with people who stopped by to talk politics, religion or whatever else struck them.
Rutsch said his group has been operating for 10 years and goes to areas of conflict to offer people a safe zone to talk. In recent months, he was at protests in Berkeley and at a pro-impeachment rally in Los Angeles, he said.
"We like the conflict zones," said Rutsch, a 61-year-old El Cerrito resident.
"We came here, and people recognized us from Berkeley and welcomed us with hugs."
Breitbart.com
by
JOEL B. POLLAK
9 Jul 2017
The 
Sacramento Bee
reported
 that as police worked to keep about 150 pro-Trump demonstrators and a smaller group of anti-Trump protesters from coming to blows, peace activists used an "empathy tent" to defuse tensions:
The "empathy tent" has been deployed elsewhere, most recently at demonstrations in downtown Los Angeles:
...
For the past several months, the two sides have clashed at various sites across California, most notably at the University of California Berkeley, where efforts to shut down pro-Trump speakers on campus have made the city a flash-point for protest."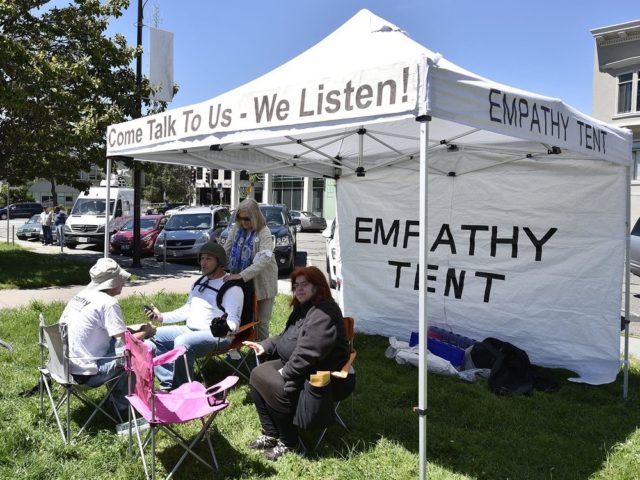 MORE PHOTOS
Team Member feedback
"Overall, an encouraging experience in line with my hope for finding common ground and promoting the mutual humanity of all. 
Difficult/challenging 
 The messaging from the event speakers 
The mindset of the young white separatists. I was encouraged that they made an attempt to actively listen to Dave and at least repeat back what they heard. That was a big positive. 
I appreciate you leadership and ability to refocus participants on the process.