Empathy Tent at Left v Right Rallies in Los Angeles
July 2, 2017
The Empathy Tent team went to Los Angeles to offer empathic mediation at the impeach trump and counter rallies. We were mentioned in the LA Times. So we are getting the word out about listening and dialogue. We invite you to join the Empathy Tent team and help bring the messages of mutual empathy, listening, dialogue, and shared action to solve our social problems to a wider audience. We made many connections with people who want to work with us. We were also filmed for the Trumphobia documentary.
Empathy Tent at Left v Right Rallies in Los Angeles
Impeachment March - and counter rallies in Los Angeles - Pershing Square to City Hall.  We will offer listening, empathy and mediation to all sides. We will hold empathy circles with both sides and they will be recorded for a documentary.
We will be there with the documentary film maker Carolina Sosa filming for her documentary 
Trumphobia
.
On Sunday, July 2nd, we march to demand Congress DO THEIR JOB and remove the President from The White House.
Counter Protest a huge Anti trump protest. When the liberals are going to acknowledge, Trump won the election. Enough is enough. Stop blocking the streets, stop dividing the country, we must unite because divided we fall..
"As demonstrators left the rally, they passed a modest white tent on the lawn of City Hall, with a sign reading "Empathy Tent."
Inside, Edwin Rutsch of Berkeley sat on an orange camping chair, mediating a discussion between a Trump supporter and an impeachment marcher. They sparred over whether Trump had ever lied or committed any impeachable offenses, their voices sometimes rising.
Neither participant seemed to like it much, and the discussion ended without any agreement.
Still, said mediator Dave Gottfried, who watched from the sidelines, that doesn't mean the discussion wasn't a success. All the group wanted, he said, was "just to get people to stop yelling at each other and start talking.""
Breitbart'Empathy Tent' Deployed at Pro- and Anti-Trump Protests in California  

Joel B. Pollak is Senior Editor-at-Large at Breitbart News.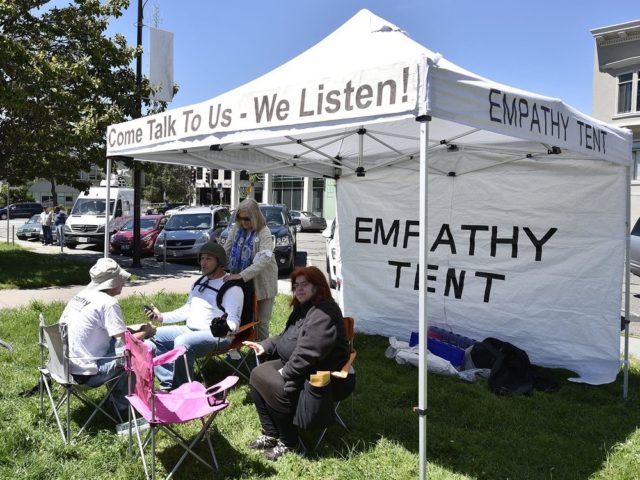 "The Sacramento Bee 
reported
 that as police worked to keep about 150 pro-Trump demonstrators and a smaller group of anti-Trump protesters from coming to blows, peace activists used an "empathy tent" to defuse tensions: ...The "empathy tent" has been deployed elsewhere, most recently at demonstrations in downtown Los Angeles:"
Our Weekly Voices from the sidelines: ordinary people weigh in on impeachment debate

Gregg Reese
7/6/2017
"Hours after the Impeachment March on July 2, a sizable group loitered around a tent set up on the grassy area south of City Hall known as Fletcher Bowron Square. The center of this activity was a contingent of activists from the Center for Building a Culture of Empathy based in the Bay Area. On this day, they were staging a series of dialogues between opposing members representing the ongoing debate nationwide about the legitimacy/viability of the presidency of Donald J. Trump.
These proceedings were in turn being filmed by a video crew headed up by Uruguay native Carolina Sosa, a student filmmaker at the local campus of the New York Film Academy. During her two-year stint in the United States, Sosa became intrigued with the fervor over the Trump candidacy, and after encountering the Culture of Empathy members at a pro-Trump march in Berkeley, Calif. this past April 15, she invited these proponents of "conflict resolution" to Los Angeles for this latest political rally. Led by Edwin Rutsch, these "empathy tents" were used as sanctuaries, wherein antagonists might air their concerns and foster compassion, and nonviolent solutions."
Trumphobia
Documentary
The video was used  in the documentary call 
Trumphobia
.
Directed by Carolina Sosa 
See the Trailer on Facebook
More Photos
Other Videos of the Rallies