---
---
Set in Kawaguchi, just north of Tokyo in the early 60s, this simple story chronicles the lives of poor foundry workers and their families, and one girl's dreams of self-improvement through going on to higher education. It also portrays the discrimination to Zainichi Koreans living with the Japanese in Kawaguchi. One of the core portions of the film is about the Zainichi Koreans being sent to DPRK. The main actress is Sayuri Yoshinaga.
---
異邦人の河 (Ihojin no Kawa) - 
Narrative 
1975
---
---
---
伽耶子のために (Kayako no Tameni)
---
---
---
---
---
キムの十字架 (Kim's crucifix) - Animation 1990
---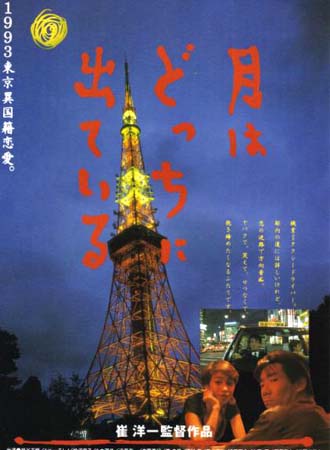 Laid-back Korean-Japanese taxi driver Chung Nam (Kishitani Goro) takes the everyday racism of his colleagues and customers in his stride; the one thing that animates him is his passion for Filipina bar-girl Connie (Rita Moreno), who works in his mother's 'hostess pub'. But Connie has ambitions of her own, Mum disapproves of Chung dating a non-Korean, and then Chung's social-climbing Korean boss goes bankrupt.… 
---
---
青〜chong〜 - Narrative 2001
---
---
---
---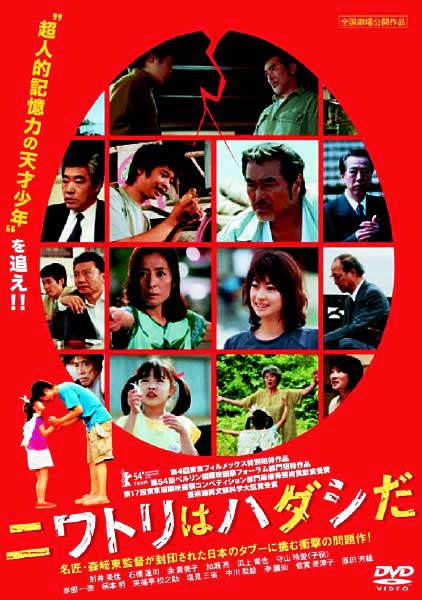 ---
---
---
---
---
Suzuki's (Shinichi Tsutsumi) world is shattered when his teenage daughter is brutally attacked. The assailant, Ishihara (Genki Sudo), son of a politician, brazenly mocks Suzuki as he throws him cover-up money. Angry, Suzuki finds he has no answer to Ishihara and in venting his anger, loses his daughter's trust too. A sleep-deprived, crazed Suzuki goes to Ishihara's school wielding a knife. He does not find Ishihara, but instead forms an alliance with an odd group of school misfits called the Zombies. The group's elusive leader, Pak Sun Shin (Junichi Okada), decides to train Suzuki, who quits his job and embarks on a punishing programme to win back freedom for his daughter.
---
---
---
---
ヒョンジェ (Hyongje) - Narrative 2007
---
---
---
---
---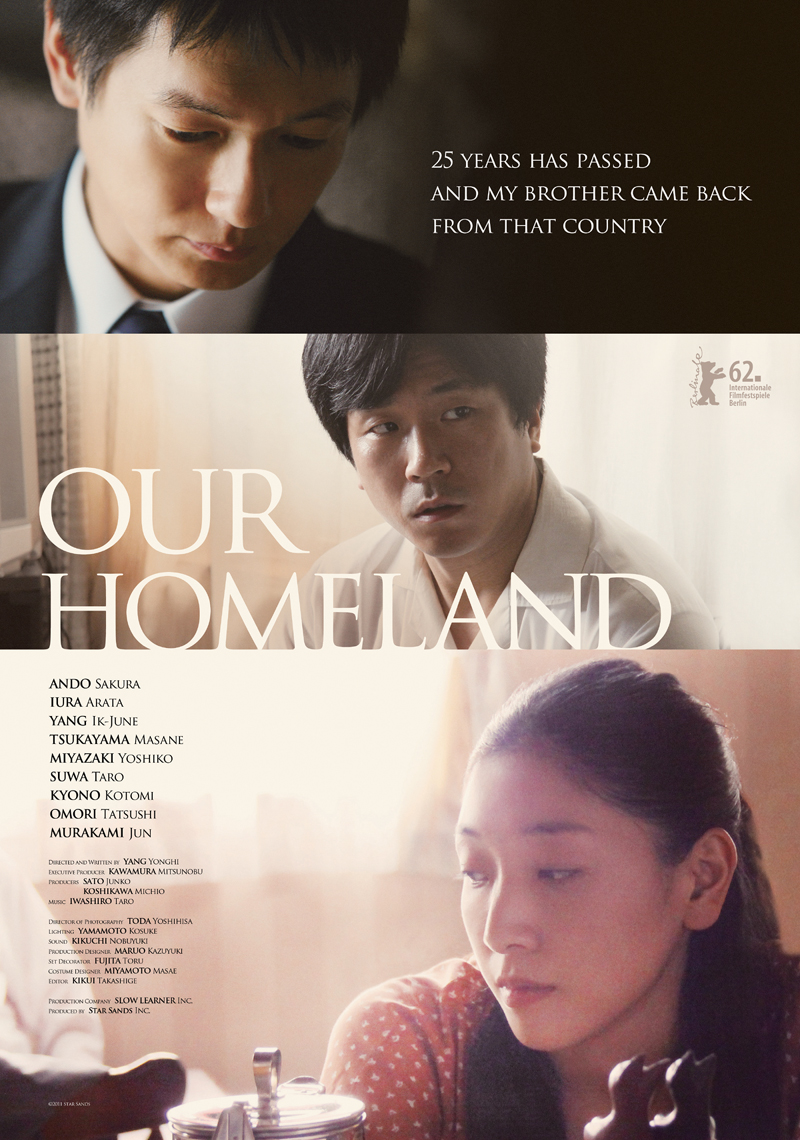 Based on the director's own experience, the film follows a Korean family living in Japan. In 1997, Sonho (Arata Iura), the son of the family who was sent to North Korea under a "repatriation program" with the promise of a "paradise" free of discrimination, returns to Japan for the first time in 25 years to seek treatment for his brain tumor due to the difference in medical technology between the two countries. Allowed to stay for only three months and closely monitored by a North Korean officer (Yang Ik-Joon), Sonho is welcomed and embraced by his family and old friends but his father, who is still sticking to the belief but also feeling guilty about sending his son to North Korea at the same time, while Sonho's younger sister Rie (Sakura Andô) develops the aversion to North Korea and its political ideas.
---
As One is the cinematic retelling of the first ever post-war Unified Korea sports team, hastily formed to participate in the 41st World Table Tennis Championships in 1991. Following the North Korean mid-air bombing of Korean Air Flight 858 in 1987, a Summit was held between North and South Korea to defuse the extreme tension on the peninsula. The summit ended with the agreement to form a unified Korean sports team; and table tennis, being highly visible and world-class in both countries, was chosen as the symbolic unifier. Summarily, the first-ever unified North-South team under the simple aegis "KOREA" was formed to compete in the 1991 World Table Tennis Championships in Chiba, Japan
.
---
---
HARUKO - Documentary 2004
---
海女のリャンさん - 
Documentary
 2004
---
---
---
---
---
---
---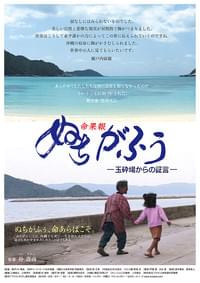 ---
_______________________________________________________________________________________________________________________