GREED IS GOOD!
---
July 18, 2013
A federal judge in Boston has ruled that a lawsuit alleging collusion between The Carlyle Group 

and seven other major private equity players can move ahead. 
Bryant Ruiz Switzky

Senior Staff Reporter-Washington Business Journal
A federal judge has ruled to advance a lawsuit alleging collusion between District-based Carlyle Group LP, Goldman Sachs Group Inc., KKR & Co., Blackstone Group LP and other major private equity players, Reuters is reporting.
The lawsuit, filed in U.S. District Court in Boston, accuses the private equity companies of conspiring to drive down prices on companies they sought to buy, according to Reuters.
While the judge dismissed defendants Apollo Global Management LLC and Providence Equity Partners Inc. Thursday, the court ruled there were still significant questions as to whether the other defendants were part of a scheme to drive down prices on some $250 billion in takeovers, Reuters reported.
The case was brought by owners of formerly publicly traded companies acquired between 2003 and 2007 by the private equity companies....
CONTINUED AT:  https://sites.google.com/site/dirtygoldingoldmansachs/home/2013-07-18---collusion-lawsuit
---
April 12, 2012
WASHINGTON —
Goldman Sachs Group Inc.
has agreed to pay $22 million to settle regulatory charges that its analysts shared confidential research with favored clients.
The regulators alleged that Goldman analysts had weekly "huddles" from
2006
to 2011 where they discussed confidential research on stocks with the firm's traders. The analysts then passed on the ideas to a select group of top clients, the regulators said. They said that created the risk of research being passed to special clients before it was published.
The settlement was announced Thursday by the
Securities and Exchange Commission
and the
Financial Industry Regulatory Authority
, the securities industry's self-policing organization. Under the accord, $11 million of the penalty that Goldman is paying will go to the SEC and the other $11 million to FINRA.
In addition, the
SEC censured Goldman
. Censure brings the possibility that a firm or individual could face a stiffer sanction if the alleged violation is repeated.
Goldman neither admitted nor denied the allegations.
"We are pleased to have resolved this matter," said Goldman spokesman Michael DuVally in New York. He declined to comment further.
The Wall Street giant's relationships with clients also figured in its record
$550-million settlement
in July
2010
of the SEC's civil fraud charges that it misled buyers of mortgage-related investments. The SEC said Goldman sold mortgage investments without telling buyers that the securities had been crafted with input from client
Paulson & Co.,
which was betting on them to fail.

The securities cost investors close to $1 billion in losses while helping the Paulson investment firm capitalize on the housing market bust, the regulators said. Goldman itself reaped hundreds of millions of dollars from its own bets against housing, they said....

---
February 15, 2012
Walter Pavlo, Contributor
Insider Trading Probe Turns Toward Goldman Sachs Analyst
The Wall Street Journal has reported that federal criminal authorities are investigating Goldman Sachs analyst Henry King who they believe leaked inside information to hedge funds. King, a respected analyst at Goldman, covered high-tech supply chains in Taiwan. One of King's clients that he supported was Galleon Group.
Galleon Group, co-founded by Raj Rajaratnam, has closed its operations and Raj is now serving an 11 year prison sentence after being found guilty of charges related to insider trading. Rajat Gupta, a former friend of Rajaratnam and a former member of Goldman Sach's board, has also been charged with insider trading and his trial begins in April. This investigation into King represents a new direction in the insider trading investigation in New York that has already led to convictions of 56 people.
According to Bloomberg, Henry King is based in Hong Kong and took a leave of absence from his position after traveling to the United States in January. There, King was co-head of Asia technology research and New York-based Goldman Sachs's Taiwan research....
CONTINUED AT:  https://sites.google.com/site/dirtygoldingoldmansachs/home/insider-trading-probe-turns-toward-goldman-sachs-analyst
---
October 18, 2011
NEW YORK (AP) — Goldman Sachs, the banking industry's perpetual winner, was this quarter's loser.
The storied investment bank lost $428 million in the third quarter, driven by sharp drops in underwriting and trading revenue brought on by the wild swings in markets this summer. Goldman also had losses from souring investments in stocks, bonds and other holdings.
The loss announced Tuesday, which was worse than analysts expected, marked just the second time that Goldman has posted a quarterly loss since going public in 1999. Other Wall Street banks also had trouble in their investment banking divisions, but Goldman fared worse....
CONTINUED AT: 
https://sites.google.com/site/dirtygoldingoldmansachs/home/goldman-sachs-loses-428-million-in-third-quarter
---
October 25, 2011
FACEBOOK
Great video by investigative reporter, Greg Palast, about Goldman Sachs vs. a small community bank in New York City!
www.youtube.com
www.democracynow.org
- Democracy Now! talks to investigative reporter Greg Palast about a controversy in the banking community around the Occupy Wall Street ...
---
September 23, 2011
FACEBOOK
Hey, Catbird Friends, here's more news about Dirty Gold in Goldman Sachs!
We thought exchange-traded funds were dull as dishwater, but the last week has convinced us ETFs are the nexus of criminal enterprise....
---
September 21, 2011
First UBS, Now Goldman: ETF Desks Rife with Scandal
By Shira Ovide
---
FACEBOOK
Hail, Hail, the Gang's All Here! Check out all the Banksters!
The federal agency that oversees the mortgage giants Fannie Mae and Freddie Mac is set to file suits against more than a dozen big banks, accusing them of misrepresenting the quality of mortgage securities they assembled and sold at the height of the housing bubble, and seeking billions of dollars ...
---
Banks: Paulson Intimidating Us In Lehman Bankruptcy Fight
By HALAH TOURYALAI
Lehman Brothers bondholders including Paulson & Co.,
Goldman Sachs
and PIMCO are in the midst of an ongoing battle on how much they should be paid.
Has there ever been a more painful path to bankruptcy?
In the most recent filing with the U.S. Bankruptcy Court in Manhattan,
BofA
,
Citigroup
, Barclays
and others told a judge that they shouldn't have to disclose their Lehman debt positions.
On the other side of the ring is a group of creditors led by Paulson and includes Calpers and
Bill Gross
's
Pacific
Investment Management Co. This group of Lehman creditors was already ordered by a bankruptcy judge to reveal what it paid for Lehman debt....
---
May 31, 2011
Goldman Sachs lost 98% of
Gaddafi's $1.3bn investment
As compensation Goldman Sachs offered to turn Gaddafi into one of
its top investors, the Wall Street Journal reports
By Tom Bawden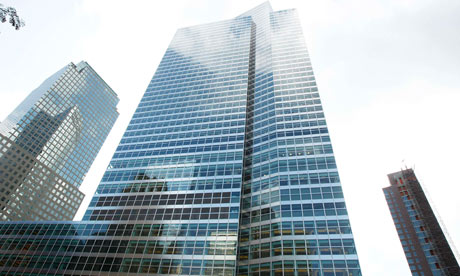 Goldman Sachs headquarters in New York. The bank invested Gadddafi's money to buy options in currencies and shares amid turmoil in the markets.
Photograph Lucas Jackson/Reuters
A bitter rift has opened up between the world's most powerful bank and one of its most fearsome dictators after Goldman Sachs invested $1.3bn (£790m) of Colonel Gaddafi's money – and lost virtually all of it.
According to an investigation by the Wall Street Journal, Goldman offered to make Gaddafi one of its biggest investors as compensation for losing 98% of the money the Wall Street firm invested on behalf of the Libyan Investment Authority (LIA). This left the $53bn Gaddifi-controlled sovereign wealth fund, which elsewhere has stakes in companies such as Financial Times-owner Pearson and BP, with just $25.1m of the money it entrusted to Goldman.
The fund, which has soared in value in recent years on the back of Libya's growing oil wealth, was frozen by the EU and United Nations in February because of its close links with the Gaddafi family.
Under the terms of the proposed compensation deal, which was never consummated, LIA would have received $5bn worth of preferred Goldman shares, in return for a $3.7bn investment, allowing the fund to recoup its $1.3bn of losses.
Goldman lost the money – which it invested between January and June of 2008 in a range of options to buy currencies and shares at a future date for a stipulated price – after the collapse of Lehman Brothers panicked the markets and caused the underlying securities to crash in value.
The investments, in a basket of currencies and the shares of six energy, utility and banking companies including Citigroup, amounted to a bet on a rise in the underlying value of the assets. However, since their values plummeted they became virtually worthless....
CONTINUED AT: https://sites.google.com/site/dirtygoldingoldmansachs/home/goldman-sachs-lost-98-of-gaddafi-s-1-3-billion-investment
---
* * *
May 12, 2011
INSIDER TRADING
Raj Gets Nailed.
The Ratings Agencies Beat the Rap
So the Feds got their big fish.
The takedown of Raj Rajaratnam for insider trading is going to give U.S. Attorney Preet Bharara plenty of momentum in using an old prosecutorial weapon to go after a new set of miscreants. Rajaratnam was fried by his own words, obtained by the kind of wiretap that the prosecutors use to go after Mafiosi, drug lords and other denizens of the underworld. Rajaratnam could be heard gaming the system, getting inside dope on Goldman Sachs from board member Rajat Gupta. "I heard yesterday from somebody who's on the board of Goldman Sachs that they are going to lose $2 per share. The Street has them making $2.50."
Knowing that information isn't illegal—and Gupta has not been criminally charged for giving Rajaratnam the scoop—but trading on it is the issue here.
All over Wall Street and in the high floor headquarters of hedge funds in Manhattan and waterside offices in Greenwich, Connecticut, the compliance officers and attorneys are poring over trading records, emails and phone logs looking for red flags. Relationships with "expert networks" that broker information between corporate insiders and traders, are being severed, although it all may be too late....
---
FLASHBACK - 1999
Sex and suicide shock
for Hawaiian charity
Andrew Gumbel charts how a foundation set up to educate the poor has been corrupted by riches
Andrew Gumbel
Sunday, 11 April 1999
IT IS, as more than one observer has pointed out, positively Clintonesque. Here we have an administration mired in scandal and the whiff of betrayal, a zealous prosecutor sniffing around suspicious land deals, an awkwardly timed suicide as embarrassing as it is tragic, and even an illicit sexual liaison between an older man and a younger woman employee.
That's quite a litany of troubles for what is, at least on the surface, a fat, contented charitable trust in the carefree tropical breezes of Hawaii. But, as the islanders are finding out with every shocking new twist, the shenanigans of the Bishop Estate are proving to be far murkier, far more corrupt and far more personally vindictive than anything the Clinton White House ever had to deal with.
One estate trustee has been indicted on charges of theft for his role in a property kickback scandal, and a second is fighting off indictment in the same affair. Two of the other trustees, meanwhile, have turned against a third, accusing her of gross mismanagement and intimidation of students and teachers at Kamehameha Schools, the estate's primary responsibility, which sits on a wooded hillside overlooking Honolulu and is among the richest educational establishments in the world.
Melodramatic enough, you might think, but the rumblings of corruption and political interference pale in comparison to the fall-out from an altogether more sordid episode: the discovery of trustee Gerard Jervis having sex in a men's toilet cubicle at Honolulu's Hawaii Prince Hotel last month with a married employee, estate lawyer Rene Ojiri Kitaoka.
The next day, Kitaoka was found dead in the garage of her home after she left her car engine running. A week later, as the illicit liaison was about to be made public, Mr Jervis took an overdose of sleeping pills. He has since recovered and apologised for his "mistakes".
All this could not be further from the intentions of the trust's founder, the 19th century Hawaiian princess, Bernice Pauahi Bishop, who left 378,000 acres of prime island real estate and other assets in a fund for the education of native Hawaiian children....
---
Goldman Sachs Reports $3.4 Billion in
"Reasonably Possible" Losses from Legal Claims
In its latest 10-K filing with the US Securities and Exchange Commission, Goldman Sachs Group Inc. says that its "reasonably possible" losses from legal claims may be as high as $3.4 billion. The investment bank's admission comes after the SEC told corporate finance chiefs that the should disclose losses "when there is at least a reasonable possibility" they may be incurred regardless of whether the risk is so low that reserves are not required.
Goldman admits that it hasn't put side a "significant" amount of funds against such possible losses and its estimate doesn't factor in possible losses for cases that are in their beginning stages. The $3.4 billion figure comes from a calculation of three categories of possible liability. Also factored in were the number of securities sold in cases where purchasers of a deal underwritten by Goldman Sachs are now suing the financial firm and cases involving parties calling for Goldman Sachs to repurchase securities.
Between 2009 and 2010, the financial firm reported a 38% decline in net income from $13.4 billion to $8.35 billion. Trading revenue dropped while non-compensation expenses, which were affected by regulatory proceedings and litigation, went up 14%. It was just last year that the investment bank paid $550 million to settle SEC charges that it misled investors when selling a mortgage-linked investment in 2007. Goldman Sachs is still contending with state and federal securities complaints alleging improper disclosure related to mortgage-related products. As of the end of 2010, estimated plaintiffs' aggregate cumulative losses in active cases against Goldman Sachs was at approximately $457 million.
Related Web Resources:
Goldman Sachs Puts 'Possible' Legal Losses at $3.4 Billion, Bloomberg Businessweek, March 1, 2011
Form 10-K, SEC
Worst-Case Scenario Losses for JP Morgan & Chase May Be As High as $4.5 Billion, Institutional Investors Securities Blog, February 28, 2011
Goldman Sachs Settles SEC Subprime Mortgage-CDO Related Charges for $550 Million, Stockbroker Fraud Blog, July 30, 2010
---
February 20, 2011
Mark Bruzonsky, a Jewish, American Scholar and Journalist, has been a key member behind the scenes of the Israeli Palestinian peace initiative in the 1980s, meeting with Former Egyptian President Anwar Sadat and with Palestinian officials.
Interview with Scholar and Journalist, Mark Bruzonsky
In this exclusive interview with Press TV's Autograph, Mr. Bruzonsky talks about the challenges and missed opportunities he witnessed first-hand, and how Zionist groups infiltrated American politics, US institutions and organizations.
He goes further to explain the specific time and day Obama sold out to the AIPAC (American- Israeli Public Affairs Committee) lobby, and how President Obama would never dare oppose the stronghold of the Zionist, Israeli Lobby in the US....
CONTINUED AT: https://sites.google.com/site/thecatbirdsnest8/home/how-zionists-infiltrated-the-u-s
---
November 22, 2010
Goldman Sachs shares fall
on trading probe report
AP, BOSTON
Shares of Goldman Sachs Group Inc. dropped more than 3 percent on Monday as a widening federal investigation into Wall Street insider trading dragged down shares of bank stocks. Fears about Europe's financial crisis and a bailout of Ireland also weighed on shares of Goldman Sachs and other investment banks.
THE SPARK: The Wall Street Journal reported on Saturday that authorities were examining whether insider-trading rings reaped illegal profits totaling tens of millions of dollars. The report, citing people familiar with the matter, said one angle of inquiry concerns whether Goldman Sachs bankers leaked information about transactions to the benefit of certain investors. Goldman Sachs declined to comment to the newspaper, and a spokeswoman declined to comment Monday to The Associated Press.
The probe heated up on Monday when the Federal Bureau of Investigation raided the offices of three hedge funds....
CONTINUED AT: https://sites.google.com/site/dirtygoldingoldmansachs/home/goldman-sachs-shares-fall-on-trading-probe-report
---
November 20, 2010 
U.S. in Vast Insider Trading Probe
By SUSAN PULLIAM, MICHAEL ROTHFELD, JENNY STRASBURG and GREGORY ZUCKERMAN, THE WALL STREET JOURNAL 
Federal authorities, capping a three-year investigation, are preparing insider-trading charges that could ensnare consultants, investment bankers, hedge-fund and mutual-fund traders and analysts across the nation, according to people familiar with the matter.
The criminal and civil probes, which authorities say could eclipse the impact on the financial industry of any previous such investigation, are examining whether multiple insider-trading rings reaped illegal profits totaling tens of millions of dollars, the people say. Some charges could be brought before year-end, they say.
The investigations, if they bear fruit, have the potential to expose a culture of pervasive insider trading in U.S. financial markets, including new ways non-public information is passed to traders through experts tied to specific industries or companies, federal authorities say.
One focus of the criminal investigation is examining whether nonpublic information was passed along by independent analysts and consultants who work for companies that provide "expert network" services to hedge funds and mutual funds. These companies set up meetings and calls with current and former managers from hundreds of companies for traders seeking an investing edge.
Among the expert networks whose consultants are being examined, the people say, is Primary Global Research LLC, a Mountain View, Calif., firm that connects experts with investors seeking information in the technology, health-care and other industries. "I have no comment on that," said Phani Kumar Saripella, Primary Global's chief operating officer. Primary's chief executive and chief operating officers previously worked at Intel Corp., according to its website.
In another aspect of the probes, prosecutors and regulators are examining whether Goldman Sachs Group Inc. bankers leaked information about transactions, including health-care mergers, in ways that benefited certain investors, the people say. Goldman declined to comment....
CONTINUED AT: https://sites.google.com/site/dirtygoldingoldmansachs/home/u-s-in-vast-insider-trading-probe
---
---
July 15, 2010
Goldman Sachs to Pay Record $550 Million to Settle
SEC Charges Related to Subprime Mortgage CDO
Firm Acknowledges CDO Marketing Materials Were Incomplete and Should Have Revealed Paulson's Role
FOR IMMEDIATE RELEASE
2010-123
"This settlement is a stark lesson to Wall Street firms that no product is too complex, and no investor too sophisticated, to avoid a heavy price if a firm violates the fundamental principles of honest treatment and fair dealing."

Robert Khuzami
Director
SEC Enforcement
Washington, D.C., July 15, 2010 — The Securities and Exchange Commission today announced that Goldman, Sachs & Co. will pay $550 million and reform its business practices to settle SEC charges that Goldman misled investors in a subprime mortgage product just as the U.S. housing market was starting to collapse.
In agreeing to the SEC's largest-ever penalty paid by a Wall Street firm, Goldman also acknowledged that its marketing materials for the subprime product contained incomplete information....
CONTINUED AT: http://sites.google.com/site/thecatbirdsnest2/home/goldman-sachs-to-pay-record-550-million-to-settle-sec-charges
---
< < <  FLASHBACK < < <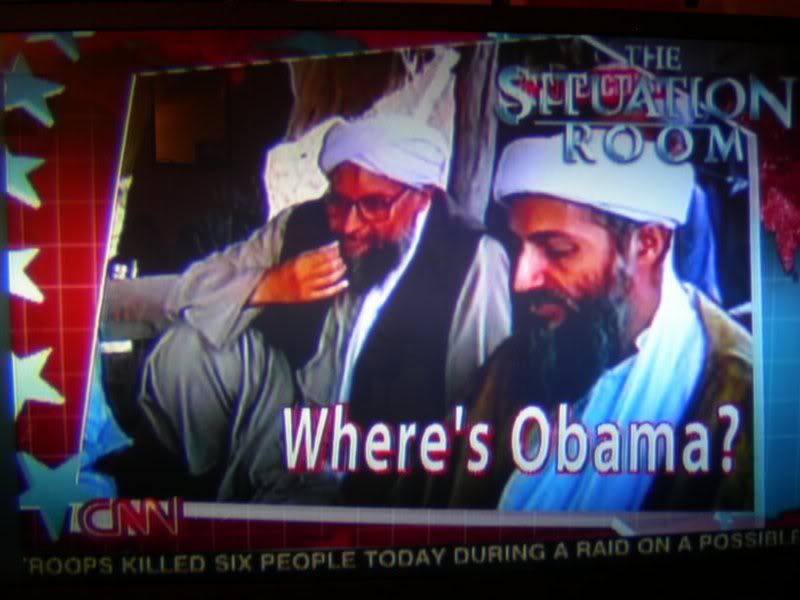 Obama's dirty-money Hawaii connection

Hawai`i Free Press | 01/02/07 | Andrew Walden

Barack Hussein Obama is the closest Democrats can come to electing a foreign Muslim President of the United States without actually violating the constitutional requirement that American Presidents be native-born.
Obama's nomination would follow in the footsteps of 2004 Democrat presidential candidate John Forbes Kerry, whose French-language Swiss boarding school education made him the closest thing to a European socialist able to run for President of the US without violating the constitution.
Not only does Obama's name sound like some kind of sick Islamist joke on America—a candidate whose moniker invokes both Saddam Hussein and Osama bin-Laden—but he would be the first madrassa-educated American President. Moreover Obama is subject to a standing order of death to any Muslim who abandons Islam as Obama formally did when he finally joined Chicago's Trinity United Church of Christ in the early 1990s just prior to his first political campaign.
While it is tempting to dismiss Obama as a lightweight who is peaking too early in the election season, comparisons with another Democrat presidential candidate—Bill Clinton—should give pause to any who might dismiss his candidacy as a fad. The Clinton parallels include early dirty-money backing from Hawaii Democrats.
Obama, born in Honolulu in 1961, has not only a Muslim father, the late Barack Hussein Obama Sr. of Kenya, but a Muslim step-father as well. His first father left when Obama was two. His mother divorced and soon remarried Lolo Soetoro, an Indonesian oil manager. Obama's first campaign book is titled, "Dreams from My Father: A story of race and inheritance."....
Obama's corrupt backers in Illinois' seamy and fetid political swamps are matched only by the unsavory gaggle of politically-connected supporters assembling to back his candidacy in Hawaii. Obama's Hawaii support comes from a group of Democrat politicos around former Governor John Waihee—considered by some the dirtiest figure in Hawaii's very dirty politics. Waihee and his cronies were also early money backers of Bill Clinton's successful 1992 bid for the White House.
The little-known story of Clinton's Waihee 'early money' Hawaii connection is told in the 1997 PBS Frontline special "The Fixers", a story which begins with poor Hawaii farmers being driven off their land in a mid-1980s deal to build Maunawili Valley Oahu golf course deal with Japanese investors flush from the Japanese market and real estate bubble. "Fixers" (and Waihee associates) Gene and Nora Lum go from buying the entire Hawaii State legislature for $50,000 in order to pass a bill allowing golf courses on agricultural land to becoming 'early money' Clinton financial backers. They engage in a series of transactions mixing Oklahoma gas leases, Democrat connections with Asian money and the sale of political influence to facilitate other Hawaii land deals.
The story continues into the Clintons' better-known mid-1990s Asian money scandals involving John Huang, Charlie Trie, Johnny Chung, the Lippo Bank of Indonesia, Clinton's Commerce Secretary Ron Brown, Hillary Clinton, and 938 documented visits to the Lincoln Bedroom by hundreds of people who paid thousands for the privilege. "The Fixers" ends with then-President Clinton, ten days after winning his second Presidential term, on his way to Asia stopping in Honolulu and playing golf with Waihee in the pouring rain on the Maunawili Valley O`ahu course where it all started.
The 'early money' backing of Clinton paid off handsomely for Waihee and his cronies. Clinton in 1993 signed the so-called "Apology Resolution" in essence apologizing for the 1893 overthrow of the Hawaiian Kingdom and 1898 US annexation of Hawaii and implicitly placing Hawaii Statehood in question.
The Apology Resolution quickly became a politically correct 'guilt' justification for corrupt Hawaii political operators to rake in millions operating lucrative state and federally funded programs and even private companies pretending to benefit Native Hawaiians. One deal alone, Sandwich Isles Communications, got $500 million in federal funds to provide nearly useless fiber optic connections to Hawaiian Homelands residential lots--most of which are undeveloped. Costs are estimated at $278,000 per utilized connection.
Today Hawaii's political class is focused on passage of the so-called "Akaka Bill" a political descendant of the "Apology Resolution" which would create a sovereign native Hawaiian "tribal" government—a guaranteed source of billions for Hawaii's venal elites, possibly making them able to drain all of Native Hawaiians' patrimony without legal oversight. Obama has been such a strong Senatorial advocate for the Akaka Bill, he is often called "Hawaii's third Senator."
In addition to the Hawaii Democrat dirty money machine Obama is tied in with Goldman Sachs, investment houses specializing in highly regulated industries and many Clinton administration figures as described in the December 6 Harper's Magazine article, "Barack Obama, Inc.":
CONTINUED AT...
http://sites.google.com/site/thecatbirdsnest2/home/obama-s-hawaii-dirty-money-connection
---
Barack Obama is tied in pretty tightly with Goldman Sachs
---
---
April 26, 2010
---
THE CATBIRD CHRONICLES
---
Letter: Lehman accounting tricks
possibly illegal
In letter, fired Lehman whistleblower calls bank's accounting tricks possibly 'unlawful'

S
tevenson Jacobs, AP Business Writer
NEW YORK (AP) -- A Lehman Brothers whistleblower warned his bosses that accounting gimmicks the bank used before its collapse may have been illegal, his lawyer said Friday.
Matthew Lee, a former Lehman senior vice president, was fired days after questioning the accounting tricks in a letter to his superiors, attorney Erwin Shustak said. Shustak gave a copy of the letter to The Associated Press.
Lehman Brothers Holdings Inc. imploded in September 2008, becoming the biggest corporate bankruptcy in U.S. history. The collapse sent financial markets across the globe into a free-fall and prompted a massive bailout of the U.S. banking system.
An examiner appointed by the bankruptcy court said in a 2,200-page report last week that Lehman hid its debt and perilous financial condition by using an accounting gimmick called Repo 105. The report revealed Lee's warnings to the bank, though his letter makes public the first internal assessment of the legality of Lehman's bookkeeping.
In a letter dated May 18, 2008, Lee wrote that he discovered that the bank had been underreporting its debt by about $5 billion at the end of each month. Lee, a 14-year Lehman veteran, wrote that he felt compelled to report the "discrepancies" under the firm's code of ethics, saying he believed they "possibly constitute unethical or unlawful conduct."
"I believe the manner in which the firm is reporting these assets is potentially misleading to the public and various governmental agencies," Lee wrote. "If so, I believe the firm may be in violation of the code."
Days after sending the letter, the firm told Lee he was being terminated as part of a general layoff, Shustak said. After his firing, Shustak wrote a letter to the bank saying that Lee "believes he has been the victim of retaliation for bringing what he believed, in good faith, to have been ethical and securities law violations by Lehman."
Lee, 56, later reached a severance agreement with Lehman, however, he stopped receiving payments after the firm's collapse, Shustak said. He has filed a claim with the bankruptcy court to recover the unpaid amount.
The bankruptcy examiner's report and Lee's letter could provide a framework for any future legal action against Lehman executives.
Senate Banking Committee Chairman Christopher Dodd on Friday called for Attorney General Eric Holder to investigate the circumstances that led to Lehman's collapse. A Justice Department spokeswoman said the department would review the request.
The examiner, Anton Valukas, discovered that Lehman put together complex transactions that allowed the firm to sell "toxic," mostly mortgage-backed, securities at the end of a quarter -- wiping them off its balance sheet when regulators and shareholders were examining it -- and then quickly buy them back.
His report doesn't conclude whether executives violated securities laws. It does say that the executives' decision not to disclose the effects of its business judgments appears to be sufficient evidence to support the awarding of civil damages in a trial.
The executives named by the report include former CEO Richard Fuld and three chief financial officers. Fuld has denied knowing what the transactions were or the accounting for them.
Securities and Exchange Commission Chairman Mary Schapiro said Wednesday that the agency is investigating several companies' actions in the run-up to the financial crisis of 2008. She said the SEC's review of the Lehman disaster "has taken us down a path where we're looking broadly" and that Valukas's report will be helpful to the agency in its investigation. She did not name other firms.
http://finance.yahoo.com/news/Letter-Lehman-accounting-apf-358417239.html?x=0
---

March 5, 2010
AIG AND GOLDMAN SACHS FED FRAUD
Straight from JUDGE NAPOLITANO & RON PAUL!
Listen to this JUDGE!
He puts it all out there as we know it…
who is going to argue with his points!
~ o ~
---
BILL MOYERS: Welcome to the JOURNAL.
I sat in a theater packed with passionate moviegoers, every one of them seemingly aghast at the Wall Street skullduggery exposed by Michael Moore in his latest film. It's called 'Capitalism: A Love Story.'
MICHAEL MOORE: We're here to get the money back for the American People. Do you think it's too harsh to call what has happened here a coup d'état? A financial coup d'état?
MARCY KAPTUR: That's, no. Because I think that's what's happened. Um, a financial coup d'état?
MICHAEL MOORE: Yeah.
MARCY KAPTUR: I could agree with that. I could agree with that. Because the people here really aren't in charge. Wall Street is in charge.
BILL MOYERS: That's the progressive Representative from Ohio, Marcy Kaptur, she's with me now. She has a Masters from the University of Michigan, did graduate study at M.I.T. and still lives in the same house in the Toledo working class neighborhood where she grew up.
She's in her 14th term in Congress, the longest-serving Democratic woman in the history of the House, and she's an outspoken financial watchdog on three important Committees: Appropriations, Budget and Oversight and Government Reform.
Also with me is a familiar face to viewers of this broadcast. Simon Johnson is the former Chief Economist at the International Monetary Fund. He now teaches Global Economics and Management at M.I.T.'s Sloan School of Management. He's one of the founders of the website Baselinescenario.com. I check it out daily for Simon's take on the economic and financial crisis.
It's been a year since the great collapse and both my guests are well equipped to assess what's happened since then. Welcome to you both.
MARCY KAPTUR: Thank you.
BILL MOYERS: Let's look at this story that I just read from the Associated Press this week about how Treasury Secretary Geithner is on the phone several times a day with a select group of very powerful Wall Street bankers, especially Citigroup, J.P. Morgan, Goldman Sachs. He will talk to them when Members of Congress have to leave a message on the answering machine. And these are the bankers who helped bring on this calamity and who are now benefiting from it. What does that say to you?
MARCY KAPTUR: That says to me that Wall Street and Washington is a circuit. And because Mr.Geithner headed the New York Fed that that historic relationship, unfortunately, continues. And it gives them special access and special power to influence policy.
SIMON JOHNSON: Well, I think it really tells you how the system works. The system is based on access and is based on what on Wall Street shaping Washington's view of what's important.
It's the people who are very close to Mr. Geithner before when he was the head of the New York Fed. Before he became Treasury Secretary. These people have unparalleled access. And in a crisis, when everything is up for grabs, you don't know what's going on, the people who will take your phone calls, right, in government and people who are going to be standing in the oval office, making the key decisions. That's the heart of the system. That's the heart of how you get your agenda through, by changing their worldview.
MARCY KAPTUR: And they also move people. In other words, Mr. Geithner came from the New York Fed, he came from Wall Street, and he becomes Secretary of the Treasury. His predecessor, Mr. Paulson, came from Goldman Sachs, and he becomes Secretary of Treasury. You can go back decades, and you will see that there's this revolving door between Wall Street and Washington.
And I recently asked Chairman Bernanke of the Federal Reserve, 'Let me ask you a question. Would you be willing to consider a reform where the Cleveland Fed would have equal power to the New York Fed, in terms of how the Fed is run?'
And his answer was, 'No.' ...
CONTINUED (WITH VIDEO) AT
---
CLICK HERE TO ENTER
MORE DIRTY GOLD TO BE DUG AT...
I hear the whispering voice of spring, 
the thrush's trill, the catbird's cry.
Oliver Wendell Holmes