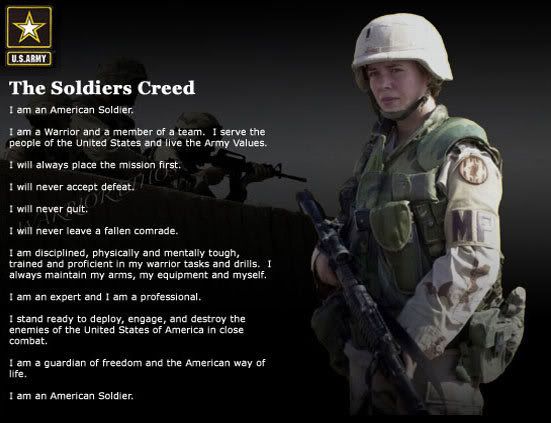 You "Support Our Troops", don't you?  Of course you do - that's one thing that EVERYBODY seems to agree on.  No matter what your politics are, or your philosophy or even your religion - we all agree that we have to support our men and women in the armed forces.  Not the wars, necessarily, but certainly the troops that we send into harm's way for whatever reason.  Right?
So here's my question - What have you done to support our troops lately?  And I don't mean that red, white and blue ribbon magnet that you may have on your car or truck.  I mean, what action have you taken?  If your answer is, "Nothing, really" then this web site is your resource to find ways you can do something.  There's lots of ways to show your support in meaningful terms, Write a letter, donate to the USO or a Service Organization, give blood, knit, bake, write cards, shake the hand of a soldier and say, "Thank you for your service" and mean it.  These are just a few examples - notice that the one thing that all of them require of you is caring.  And we all care.
So here are some links to sites that provide ways that you can REALLY support our troops, not just talk about it.  You'll find information and resources that will help you turn those "good intentions" into real support - the men and women serving in our armed forces deserve no less.  "War is Hell", as the saying goes; let's not pave the way there with good intentions when we can act.
Good News!  Our nation's First Lady, Michell Obama, has taken up the cause to close the "sacrifice gap" between military families and the rest of America.  She has launched a new nation-wide campaign that "is about all of us joining together, as Americans, to give back to the extraordinary military families who serve and sacrifice so much, every day, so that we can live in freedom and security."  As part of this initiative there is a new web site,
www.joiningforces.gov
  to provide ideas of ways to reach out to military families and local contact information for organizations that can help. 
A survey conducted in 2010 found that 92 percent of military families feel the "country doesn't care or isn't aware of their challenges."  Mrs. Obama said, "I'd love to see that number go down."  So would I.  But that still means that YOU have to get off your butt and do something!  I know you appreciate the sacrifice the military families make so you can be safe and free - now it's time to show them your appreciation by  doing something for them - the opportunities are all spelled out right here.  PIck one (or more) and do it!  I thank you, Mrs. Obama thanks you, and the men and women in our armed services and their families thank you.
Update for Veterans' Day, 11-11-11:  The Nov. 6 issue of Parade Magazine is a special issue devoted to veterans and active military service members in honor of "11.11.11".  The Intelligence Report  section of this issue lists "11 Ways to Help Veterans on 11.11.11" - please read this article at Parade.com to find a way that YOU can help.  Thank you, and God bless our veterans and active military personnel.
"You don't have to support the war to support the troops and their families."  (Jill Biden, as quoted in Parade Magazine April 24, 2011)
And to read some of that "wit and wisdom" that you were looking for, please click on the link to my blog - that's it over there to the left, right under my picture.