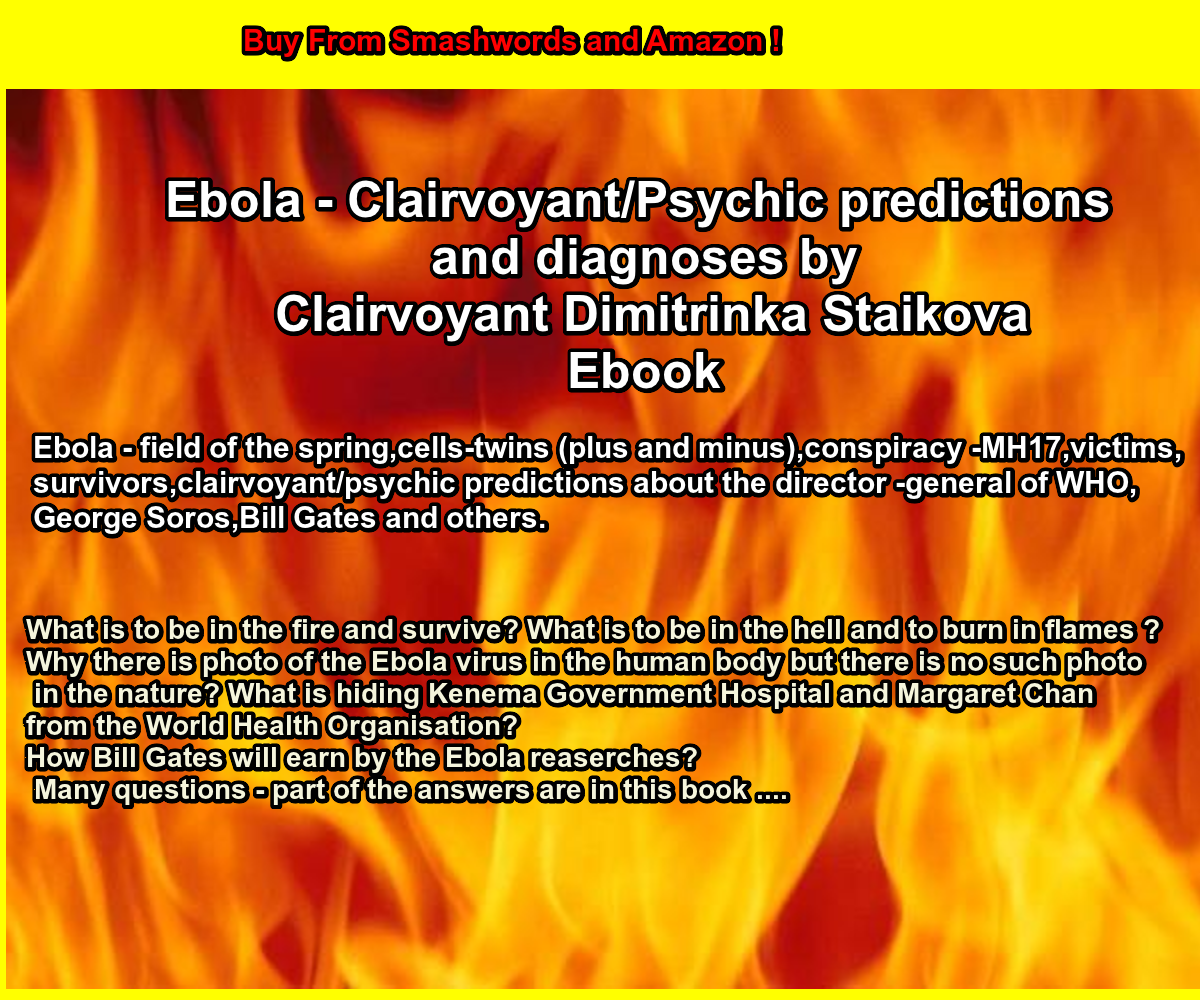 Ebola – Clairvoyant/Psychic predictions and diagnoses by Clairvoyant Dimitrinka Staikova 
Ebola – field of the spring,cells-twins (plus and minus),conspiracy -MH17,victims,survivors,clairv oyant/psychic predictions about the director -general of WHO,George Soros,Bill Gates and others. 
---
What is to be in the fire and survive? What is to be in the hell and to burn in flames ? Why there is photo of the Ebola virus in the human body but there is no such photo in the nature? What is hiding Kenema Government Hospital and Margaret Chan from the World Health Organisation?How Bill Gates will earn by the Ebola reaserches? Many questions – part of the answers are in this book ….
---
 Table of Contents: 
1.31.07.2014-World Predictions about Troubles,Diseases and Space Disasters 2.Ebola – diagnosis of man victim of Ebola – Clairvoyant/Psychic diagnosis 3.Glenn Thomas (British spokesman of the World Health Organisation) killed in Crash Malaysia airlines flight MH17-For the three circles of researches of WHO – Clairvoyant/Psychic predictions
 4.Ebola survivor from Southern Guinea-Saa Sabas(this man survived from strain of Ebola)-Clairvoyant/ Psychic diagnosis 
5.NBC cameraman tests positive for Ebola – Clairvoyant/Psychic diagnosis 6.Dr.Margaret Chan-Director – General of World Health Organisation – For the Clairvoyant/ psychic cell photo of Ebola and the two strains-death and healing -Clairvoyant/Psychic predictions 
7.Bill Gates – 13.10.2014,3pm – The application of Ebola – Creation of Robot with alive brain for work in the Space – Clairvoyant/Psychic Predictions and diagnosis 
8.Melinda Gates – 13.10.2014,4pm -She is saying with a hand "Thus far" -Clairvoyant/Psychic Predictions and diagnosis
 9.George Soros – Pyramid inside the ground-13.10.2014 , 4.30 pm -Clairvoyant/ Psychic Predictions and diagnosis
 10.Advices 
11.Marburg fever – Angola 2005 – Clairvoyant/ psychic diagnosis
 12.Marburg virus – photo by Wikipedia – Clairvoyant/Psychic diagnosis 13.Photo of Ebola virus – Clairvoyant/Psychic diagnosis
 14.Kenema Government Hospital Laboratory,Sierra Leone – Clairvoyant/Psychic Predictions 15.Dr.Kent Brantly –survivor from Ebola.Holder of the disease.Diagnosis after the photo is made – Clairvoyant/Psychic diagnosis Available formats: epub mobi pdf rtf lrf pdb txt html Price: $15.00 USD
 http://www.amazon.com/gp/aw/d/B00OKILTQ2/ref=mp_s_a_1_1?qid=1413538608&s r=8-1&pi=V192198896_AA75
---
 tags- Ebola,Ebola virus disease,Marburg fever,strain,Guinea,NBC,World Health Organisation,WH O,Glenn Thomas,treatment,MH17,hemorrhagic fever,Bill Gates,Sierra Leone,Nigeria,Melinda Gates,George Soros,pyramid,clairvoyant,psychic predictions Ebola,psychic readings Ebola,psychic diagnosis,health diagnosis,ebola diagnosis,Angola,virus,ebola healing,Margaret Chan,Kenema Government Hospital,vaccines,Vaccination,Ebola survivor,Ebola victim,Kent Brantly,EVD,EHF ,ebolavirus,blood