2017  Martha's Table 
(
http://marthastable.org/about/) 
$3,321 in voluntary contributions were raised!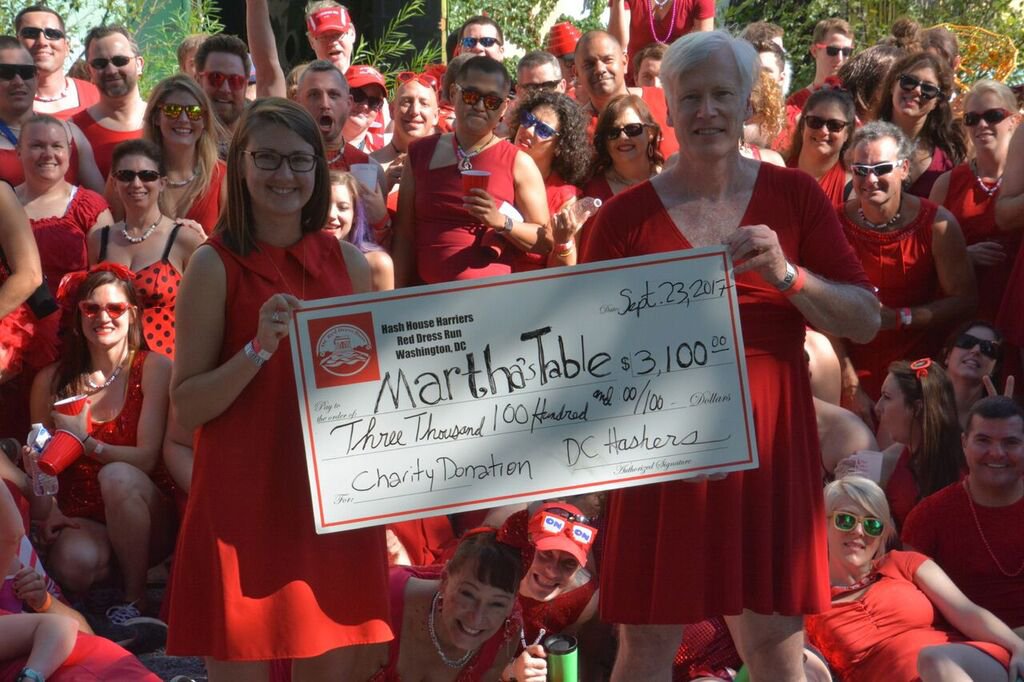 ---
---
DC area Hash House Harriers give back to the community in which we hash
Because not a dime of your registration fees goes toward charity, we must depend on you to click the option to make a voluntary donation. Additionally, please consider volunteering and participating in the various fundraising events to be held between now and the Red Dress Run. 
In 2011, the DC Red D
ress Run raised more than $10,300 for two charities: 
Fisher House Foundation and Food Friends. 
The 
Lady in Red
 (on right) was on hand to help present a check! 
In 2012, the DC Red Dress Run supported the Beer for Brains Foundation who is pictured at left receiving our donation in circle.
In 2013, the DC Red Dress Run supported the Gary Sinise Foundation.  From the time that registration opened on April 1st, 2013 until our 20th Anniversary on October 12, 2013, DC Red Dress attendees
 raised $5,600!
In 2014, the DC Red Dress Run supported the Gary Sinise Foundation and we exceeded all expectations when we raised and donated $9,150!


In 2015, we donated over $5200 to the Yellow Ribbon Fund, who provides support to veterans and their families while 
they're recovering in the Washington, DC, area at Walter Reed National Military Medical Center, or Fort Belvoir Community Hospital, or back in their home communities.  YRF provides real support for real heroes.
The Lady in Red, who accidentally started the first Red Dress Run in San Diego, asked that the tradition continue in different cities as an opportunity to give back to our own communities. For more information on the history and traditions of the Hash House Harriers Red Dress Run, see 
www.RedDressRuns.org
.
---
Charity Events
---
Stay tuned for details!