Statistics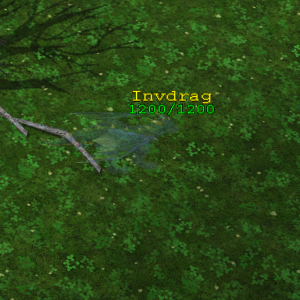 | | |
| --- | --- |
| Attack/Defense: | 157/157 |
| Health Points: | 1200 |
| Mana Points: | None |
| Ignore level: | N/A |
| Respawn Time: | estimated at 1 hour and 8 mins |
| Summonable: | No |
Introduced on April 10, 2015.
Invdrags are invisible and non-agressive (i.e. they will only counter-attack). You need 
true sight
 to find them. There are two invdrags running around Draia. Invdrags can be ranged and meleed. They at random can teleport to another map. Invdrag has missile protection, ranging with training arrows does no damage. You can also do damage with spells, Harm, but seems to have magic resistance like a Little Dragon Pink.
Locations
Found on c1 and c2 surface maps.
Drops
Possible Special Drops
In addition to gc, only one of the below will drop. A banana is the normal drop, though will on rare occasion be replaced with one of the others.