Our Home
Home is where your story begins...
When we first got married, we moved into a new apartment in the same building Jason and his roommate had been living for about five years. We debated on when to buy a house and where we wanted to buy for awhile. After about six months, we decided we couldn't ignore the buyer's market. We found the perfect house after only a couple weeks of looking! Our house was a new construction that had been on the market for about 18 months by the time we decided to buy. We love this neighborhood and love having friends and family just around the corner! It's an amazing first house for us and we hope to stay here for a really long time!
The Foyer
I want to add something above this table. I have a collage frame I'm thinking of using with black and white photos. Or there is a mirror that came w/ the table (it was a 3 piece set w/ the lamp) that I may put up. Or I might get a new table... I just haven't decided yet!
The Dining Room
My camera is kind of terrible but the colors are dark brown and green.
The Living Room
*Update*
We got a new rug this week for our living room! I've been wanting one basically since we've moved in, but haven't found the perfect rug until now. It's from Kohl's and was 50% off. Here it is:
(ignore the fall stuff and piled up pillows and throws!)
**Update** After Christmas I felt the need to switch up the fileplace a bit, so here's what it looks like now:
Close up of some new stuff :)
The "Man Cave"
My lucky husband gets a room all to himself for his sports stuff and video gaming.... until we have kids... then it will be a nursery LoL! :)
*Update 11/02* We finally got rid of the old hand-me-down loveseat and got the recliner that we really wanted. It was on clearance at a local furniture store and I think it looks great!
Spare Bathroom
This one deserves a before and after. When we were looking for a house, the spare bathroom literally turned me off from this house. It was just that bad in my opinion. But with a lot of help from my sister, a little wallpaper removal and neutral paint, all is well now!
The Before
The bathroom is pretty small and the dark colors of this wallpaper and border just closed it in even more. The border was a lake scene with a cabin... it just didn't make sense in this house!
The After
The Spare Bedroom
***Update 1/18/09***
It's actually a guest bedroom now!
Not complete just yet, I still have to paint the photo screen and a nightstand. I also have to figure out what I'm going to put on all the walls. But, it actually has a function and a real bed now! Yay!
From the doorway
The new bed :) I should have ironed the bedskirt...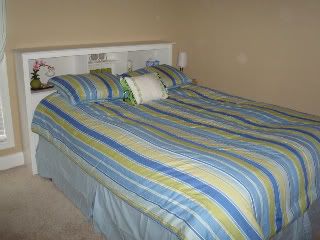 **Update 11/11/08**
I made an idea board for this room. I've kind of switched up my vision. Now, I want to paint and have white furniture!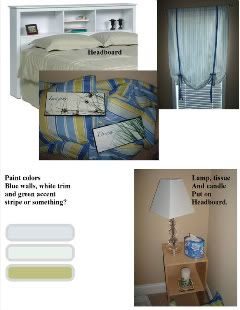 The Office
The prints on the wall are some pictures I took in NYC a few years ago. The pop of color comes from my silk wedding flowers. Our books and DVDs are all stored in this room. Oddly enough, the laptop is hardly every actually on the desk (it's not even there in the pic!) We tend to keep it in the living room.
The Kitchen
The Breakfast Area
I don't like the table we have in there at all. It's really a pretty table, I just think it's far too small. It's from our apartment, really cheap, and doesn't match a thing. Eventually I will decide on what kind of table I want in there... until then, this stays! I also need to lower the lighting!
The door you see to the right (above pic) is our amazing walk-in pantry. I love it :) I don't think the picture does it justice but here it is before we moved in and filled it up:
*Update 11/02* This wall when you first come in through the garage and laundry room has been blank since we moved in. I had no idea what to put there. Now, after living here awhile and noticing how much stuff gets piled up in the kitchen, this was the perfect fit! Two of the pieces were previously hung up in the office, so I'm going to have to get something to take their place in there!
Master Bedroom
I'm not sure what it is, I love our MB, but just can't decorate it right. I definitely want new wall decor above the bed. There was a second small picture, but it fell, and I just haven't taken the other one down yet. I'd also like some more wall shelves, but can't find anymore silver ones to match. Slowly but surely, I'm going to change things up in here. For now... here's what we've got...
Check out my Inspiration page for more info on what I'm trying to do in this room!
*****Update 1/19/09*****
Christmas Presents are great!!!
Before:
After:
New curtains, artwork, pillows, lamps and a throw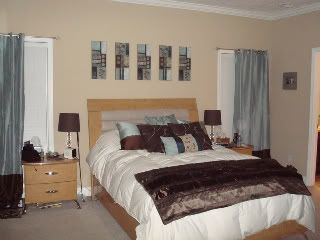 Before:
After:
Still need to paint round mirror silver so it can go up to replace clock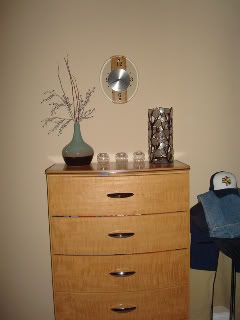 Target vase with some sticks I stuck in. Love how it turned out!
Planning to re arrange the picture frames seen below to the left... not quite sure how yet. I have a few different ideas in my head!
*Update 12/11/08 Rearranged some things in this corner. Getting better already!*
12/30/08 I've rearranged again since this pic. I'll get some pictures this weekend and post an update!
I Love the ceiling in here!
**Update 11/11/08**
I made an idea board for this room too. I'm hoping to get some of these things for Christmas so I can start bringing this board to life!
Master Bathroom