The most enjoyable Hashing event ever!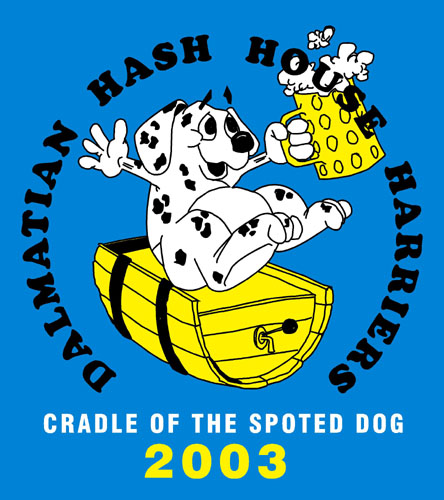 DH3 - Cradle of the Spoted Dog
Created by the same members of the Zagreb Hash who founded the Hash Cruises, this Hash covers all runs performed on the beautiful Dalmatian coast or islands. If you are a visiting hash planning to run in this area, get in touch and we will happily allocate you a run number!
The next DH3 Hash Cruise is 14th to 21st of June 2014 and Hashers only invited to register!
The Tale Of The Spoted Dog
When 3 Zagreb hashers sat around a few beers in 2001 they converted a dream of hashing on different islands into reality. In June 2002 the first real Hash Cruise occured, and it happened on Croatia's fantastic Dalmatian coast . No cruise ship holiday with the occasional hash run. No weekend off the Florida coast. This was 3 boats with 90+ spending a week visiting an island a day to hash. It was such a success that we decided to set up a new hash, and we finally settled upon naming it the 'Dalmatian Hash House Harriers'. Having done that, we decided to link it to the 'Spotted Dog' of the Mother Hash in Kuala Lumpar by using a Dalmatian dog in our logo. So far so good....
What happens when you get a Dutchie to organise your new Hash logo, he sub-contracts it to someone in another country who has never hashed before, and a Croatian printer performs a rush order?
The answer is 300 T-shirts with a logo saying 'Spoted Dog'! Did we Organisers of this noble venture care, well not a lot - this is a Hash, and we experienced hashers are used to such cock-ups!
Anyway, from henceforth we are the 'Dalmatian Hash House Harriers - Home of the Spoted Dog' and we are proud of it!
Antibiotics
Blimey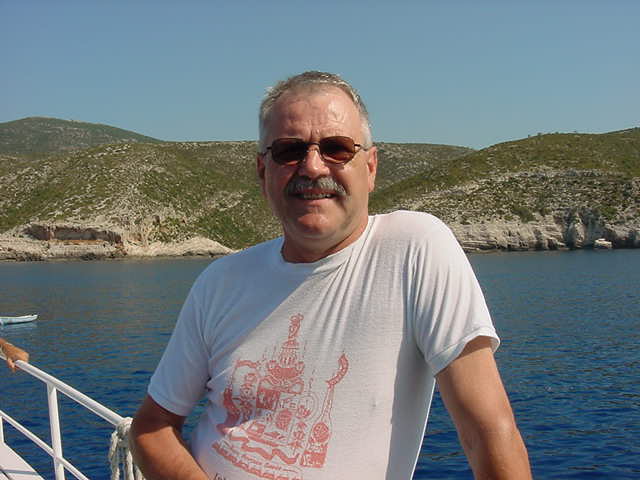 Kingfisher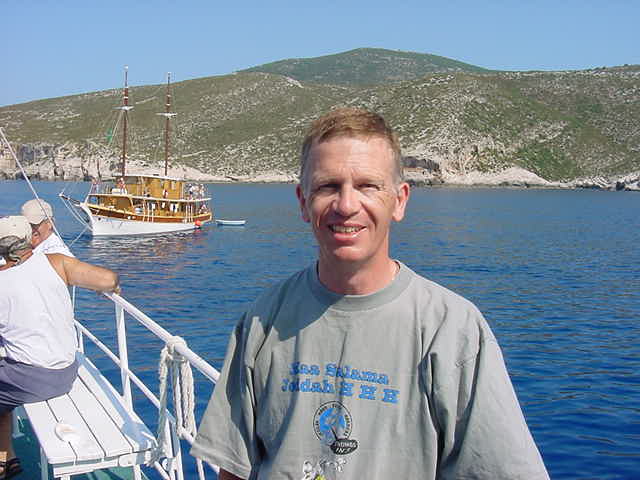 Hash Cruise organisers & Founders of DH3
INAUGUARAL RUN OF DALMATIAN H3:
On Friday 20th June 2003 there was hashing history in Arbanija, a small village on the Island Ciovo in front of Trogir. There we had our first run of Dalmatian Hash House Harriers, which has emerged from Zagreb Hash and the Hash Cruise. Antibiotics delighted Blimey and Kingfisher by presenting them with a founders waistcoat, that has so many pockets it is ideal for shoplifting (I imagine)! According to our records, 34 attended and those names are listed on the new website, as well as owning a special T-shirt. The hares set an A -> B run into Trogir itself along the ridge tops. Sadly only 2 found the real trail from one check and most resorted to using the coastal road to the On-After. Whatever, the snacks and beer at a bar by the quayside preceded a lively Hash Circle, and the drinking seemed to carry on late into the night.