Recent Announcements
Subscribe to posts
 Please join us for our spring semester open house on Thursday, February 5 from 7:00 PM until 8:00 PM with refreshments in the cafeteria following.  At the open house, parents will have an opportunity to meet all of their children's teachers, learn about course expectations and procedures, tour the facilities at Conrad Weiser High School, and initiate the very important teacher-parent relationship that is key to academic success.  Please 
arrive between 6:45 and 7:00 to pick up student schedules in the auditorium lobby. For additional information about open house, please visit the high school website at www.conradweiser.org. 
Obviously, reading speeds vary with the type and difficulty of the text, as well as the closeness of our attention to the text.  Still, this reading speed test is interesting because it then extrapolates its results to predict the total reading time for many well-known novels.  Give it a try and have fun!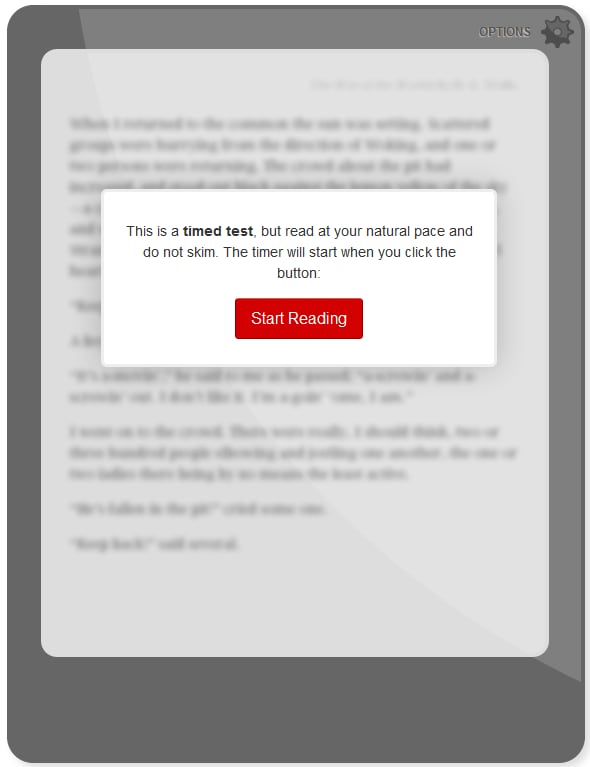 Source: Staples eReader Department
The results from this year's hardtack cook-off are in!  Sadly, this year's contest had to be greatly scaled back because our field trip lunch was forced onto the school bus because of rain, but we still had plenty of entries.  Hardtack was the standard biscuit ration issued to Union soldiers during the Civil War.  Sometimes called "teeth grinders" by those who subsisted on the unleavened bread, hardtack would sometimes be soaked in coffee or fried with "salt horse."  
Click this link
to see images of this year's entries.
Remember that our class will be going to Gettysburg on Tuesday, October 23.  Students must arrive at the office entrance to the high school at 6:45 a.m.  The bus will depart promptly at 7:00 a.m.  Both the permission slip and payment in the amount of $20.95 ($8.00 for the cyclorama and $12.95 for dinner) are due by Tuesday, October 16.  Please refer to the official itinerary for additional details of the trip, including presentation topics and times, as well as contact information for parents.
As the start of a new school year begins on August 27 (and the start of high school for our freshmen class), I want to take a moment to introduce myself, invite you to attend our fall 
Open House
 and share with you some of the resources that I have created to help you participate reaching in our mutual goal--the English language arts education of your child.
My name is Steve Heffner, and I will once again be the teacher of five of the ninth grade English classes this year.  I have been teaching English at Conrad Weiser since 1984 and have served as the head of the department since 1997.  I am a 1984 graduate of Penn State, earned a Masters of Secondary Education degree from Wilkes University in 1990, and a Certificate in Writing Instruction from West Chester University in 2002.  I have taught graduate level courses at West Chester University--where I also served for seven years as the Co-Director for Technology at the Pennsylvania Writing and Literacy Project--but teaching freshmen English at Conrad Weiser has always been my passion.  I take a great deal of pride in knowing that I have been entrusted with task of helping our students to make a successful transition from middle school to high school, as well as helping them to build a strong academic foundation upon which the remaining years of their education will rest.
One of the goals that I have again set for myself this year is to remain in close communication with you whenever your child and my class are concerned, and I would like to begin by inviting you to our fall semester Open Housewhen I will outline the goals of the course and share a strategic plan designed to help your child to achieve outstanding academic growth. This year's Open House will take place from 7:00 to 8:00 p.m. on Wednesday, September 5.
Unfortunately, the Open House doesn't allow much time for us to go into detail, and so I have also created an extensive online classroom support resource that you will find at www.YoungWriters.org.  On this site, you will find a calendar of planned class activities and assignments, links to study resources, classroom announcements, a link to Skyward (our online grade book where you can check your child's statistical progress), most of the forms and handouts for the course (often useful when something gets accidentally left behind at school), a link to our textbook resource site, and my complete lesson plans (the very plans that I use daily).  There is also a "Contact Me" page that will offer you many options should you need to or want to contact me by e-mail, voice mail, text message, or cell phone.  Please don't hesitate to call me about any concern you have, no matter how small it may seem.
Should you like to speak with me prior to our open house, feel free to leave a message on my school voice mail when classes are in session [(610) 693-8599, Ext. 6662] or my Google Voice number between the hours of 3:00 p.m. and 9:00 p.m. [(484) 525-0014].
I am very much looking forward to the start of a productive and enjoyable school year, and I look forward to meeting you soon.
Sincerely,
Steve Heffner,
Teacher/Communications Department Head
Conrad Weiser High School
JUST RELEASED!  
Gettysburg:  A Pennsylvania Crossroads, Vol. 3 & 4
!
Each year, students in the Honors English 9 class at Conrad Weiser High School visit the Gettysburg Battlefield to research and present stories inspired by their reading of Michael Shaara's The Killer Angels.  This publication represents the third in a series of those stories--two volumes in one--written by students in both the 2010 and 2011 classes.
Click the "
Student Publications
" link under "More Stuff" in the navigation bar to order your copy today.  And, if you haven't already read them, why not complete your collection by ordering volumes one and two at the same time?
Remember that our class will be going to Gettysburg on Monday, April 25.  You must arrive at the office entrance to the high school at 6:45 a.m.  The bus will depart promptly at 7:00 a.m.  Remember to bring yourself a lunch as well as some snacks because we will walk nearly six miles between lunch and dinner.  Check your itinerary and parent information letter for full details about the trip, including departure and return times, dinner costs, visitor center admission fee, and weather.  Parents may contact the teacher with any questions. 
Weather Forecast
-- As of Sunday, there is a predicted 30% chance of some showers before 9:00 a.m. in Gettysburg.  That chance drops off to 10% until mid-afternoon when the chance of isolated thunderstorms increases back to 30%.  This means that we have a good chance of completing our outside work (from 9:00 to 3:00) without any rain.  Bring a rain jacket or poncho just in case, though.  We should have some sun, bringing the high temperature near to 80% with high humidity.
Students have now worked through the Big6 research steps and should be working on the first full draft of the I-Search paper, which is due on Wednesday, March 16 in GoogleDocs.  To this point, here's what students should have already accomplished:
Research Question

Share and complete the annotated bibliography, note cards, and outline.

Prepare the first draft from online collaboration.
A due date for the final draft will be announced at a later time.
I would like to extend a big thanks to everyone who made it out to our January 31 open house.  I know it's not easy to leave a nice, warm home on a dark January night!  If you were not able to attend, feel free to look around this site to learn a little bit more about the class.  Give me a call, text, or e-mail if you have any questions.
Several students have contacted me to ask when the summer assignments will be returned.  The answer is that each assignment will be returned while we are working on the correlating unit.  I do not grade the assignments until the unit approaches so that each will be fresh in my memory as we work together.  I realize that summer to spring is a long time to wait for feedback, but doing so supports instruction far more effectively.  See you in class soon!