Belle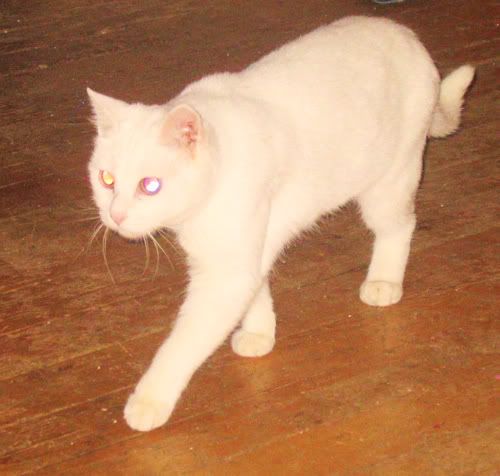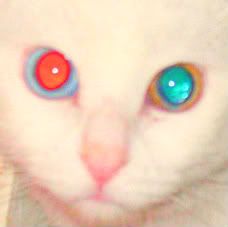 Belle is totally deaf, and adores people.  She has one blue eye and one golden eye with a splash of blue.  She prefers to be petted on her back or sides initially and will shy away from hands going directly to her head.  She is a couple years old and is a small cat.  She is curious and friendly, and her deafness does not pose any difficulty for her.  She is spayed and vaccinated and available for adoption.
Charlie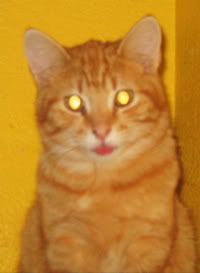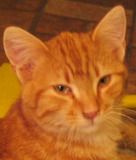 Charlie was born to her feral mother, and was mostly wild when he came to CROW.  Now he is still a bit skittish, but readily approaches friendly humans for head rubs and all-over petting.  He prefers not to be held.  He gets along well with children, cats, and dogs.  (And sometimes sticks out his tongue as you can see here.)  He is about 5 months old (as of 2/10), neutered and vaccinated and available for adoption. 
Owl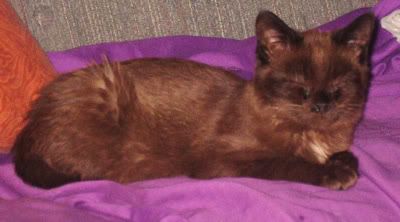 Owl had a massive infection in her eyes when she came to CROW, and was effectively blind for the first several months of her life.  She began using vision for the first time in July, and has not stopped playing since!  She enjoys children, dogs, other cats, and all adults.  She is vaccinated but still suffers from upper respiratory issues (not contagious).  Her eyes still tire and she rests them a lot, as in this photo. Owl is almost 6 months old and looks like she will be a very small cat.  Owl is available for adoption.
Twiggy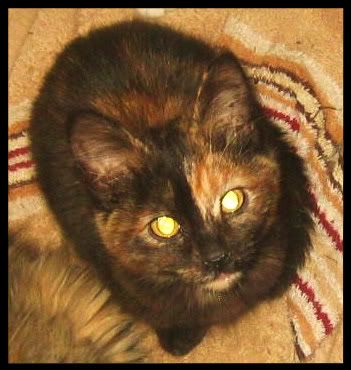 Twiggy is just over a year old and very small for her age.  She suffers from chronic upper respiratory issues, but is not contagious and responds well to preventative treatments.  She is energetic and playful, but also loves to slow down and snuggle with any willing human. 
She is vaccinated and spayed and available for adoption to the right home.
 JJ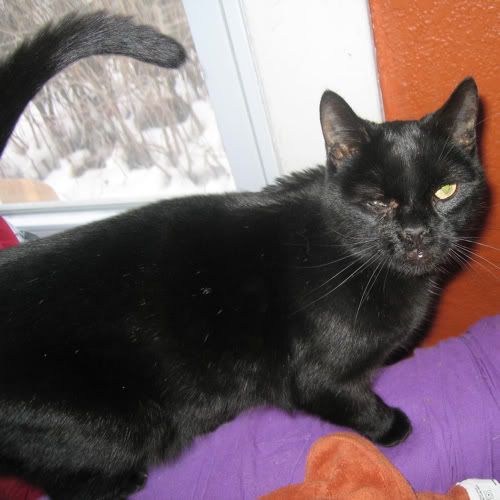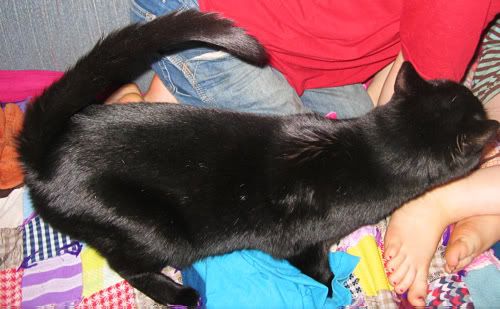 JJ was attacked by a dog earlier in her life, and has some facial disfigurement as a result.  One eye is set back and sometimes weepy and she is missing some teeth and has a misaligned jaw.  None of this negatively impacts her health or abilities and is purely cosmetic.  She was living with an old man who died, which is how she came to CROW.  She is incredibly affectionate, and loves to lay on a human chest and wrap her "arms" around his/her neck.  She has a shiny and sleek coat, and a tail that runs parallel to her back when she is happy.  She is a character.  She gets along well with kids, cats, and dogs.  She is vaccinated and spayed and available for adoption.
Gatsby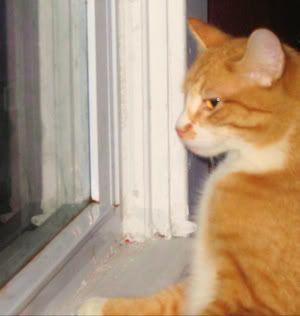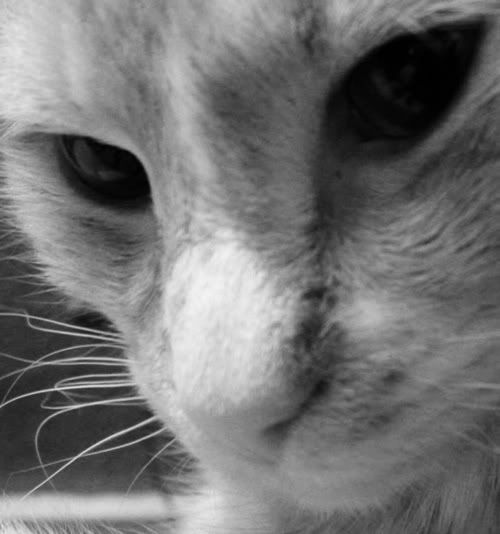 Gatsby was rescued from euthanasia at the local shelter by mere hours.   He is healthy, declawed, neutered, and vaccinated.  Gatsby is not currently available for adoption, but hopefully will be soon.  We are working on helping him with socialization. 
Baa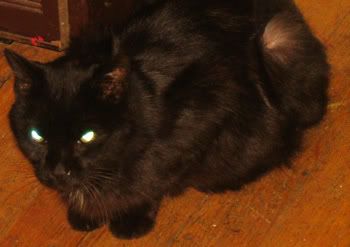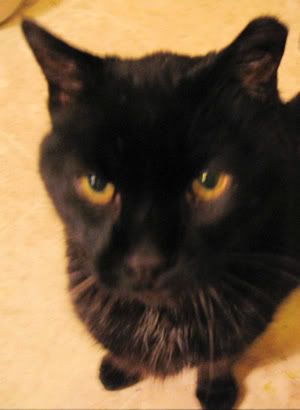 Baa (known to some as Mowgli) joined a feral colony in June '09 and steadily deteriorated.  His caregiver was concerned he wouldn't make it through the winter, so he joined CROW in September '09.  He had massive infections in several teeth, a widespread skin infection and ringworm, an upper respiratory infection, and was severely emaciated.  He has since received medical treatment for all his ails, and is now nearly toothless but finally gaining weight.  He is dignified and affectionate and never wants to go outdoors again.  Baa is a senior cat who is welcome to spend the rest of his life here at CROW, feasting on canned food and sleeping in a king-sized bed with his favorite human and feline companions.
Toby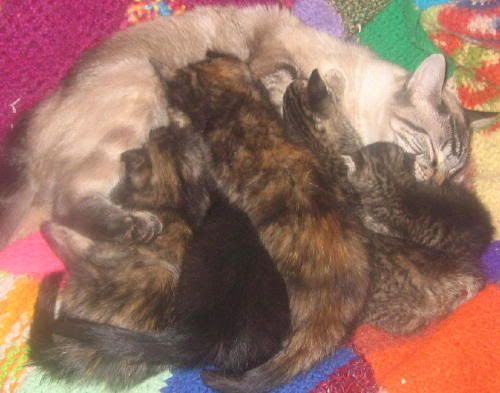 Toby came to CROW when he was only about a week old, and even then it was clear he had cerebellar hypoplasia.  He is awkward and clumsy, beautiful and affectionate, and perfect just the way he is.  Toby will live out his life in the CROW family, sharing the bed of his favorite child and mothering all the orphaned kittens that come his way.
Bubba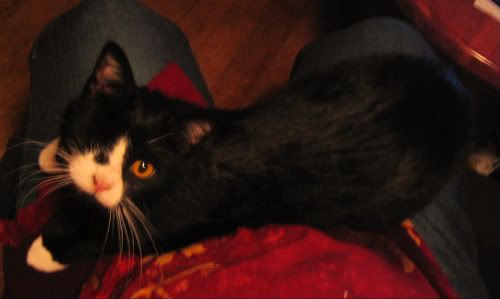 Bubba had a rough start to life, born as a feral and captured young.  He struggled with many issues, from ringworm to respiratory infections, and a broken tail to a damaged eye.  He has had his tail amputated and his eye removed, and is skittish around people he doesn't know.  He is balanced and happy in his CROW home and enjoys bedtime snuggles and lots of petting.  Bubba will spend the rest of his life with his CROW family.
Helen
Helen was facing euthanasia at the local shelter due to her blindness.  She is friendly and affectionate and has such a thick soft coat that she fels like a plush stuffed animal.  When she is happy, he tail curves so far it almost touches the back of her head.  She is very much loved and will spend the rest of her life with her CROW family.
Henry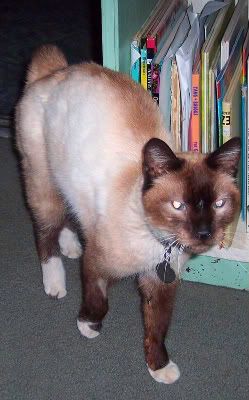 Henry is a senior cat who was rescued with a massively infected tail.  His tail did not heal, and the vets amputated it.  We suspect that the infection raged in his body for too long, and affected some of his other senses.  Henry is an old soul, has some unusual behaviors, and drools a lot.  He recently had many teeth extracted and does not have many left.  Henry is a beloved member of a CROW foster family and is welcome to live out the rest of his days at CROW.
This page is a work in progress.  Check back for more listings soon!