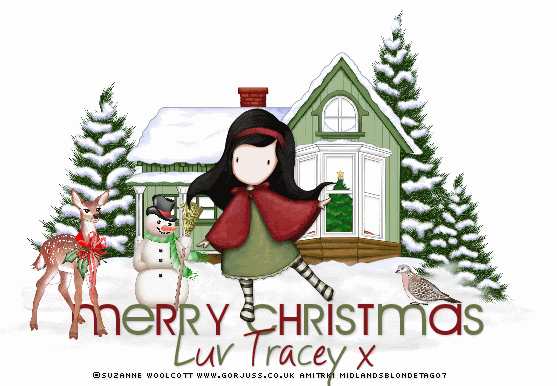 Tutorial registered at TWI

©Tutorial written by Tracey 07

Any tutorial similar is purely a coincidence

Do not print off this tutorial in anyway thank you.

Please read my TOU

 

Thank you again Rob for naming tut!!!!!

 

Supplies needed

Paint shop Pro

Tube of choice (I Used Suzanne Woolcott, Purchased from AMI http://www.artisticmindsinc.com/)

Font of choice

For all the other tubes I used are Rainbow Coffi which you can download from

here

 

Open a new canvas 500x600
Flood Fill white
Copy and paste the house as a new layer
Resize about 40%
Add a dropshadow of your choice
Open up your clouds and paste them at the bottom of the house move them until you happy with them.
Copy and paste your main tube as a new layer and place in the middle
Add a dropshadow of your choice.
Now add any extra tubes such as the snowman. Place them where you like and add the same dropshadow you used before.
Now with your fat font write Merry Christmas changing the background colour from red to green. I used Arrière Garde
and now add your name, I used the font Mayfield and again used red and green.
Add your copyright
Save!
Hope you enjoyed this easy tut!