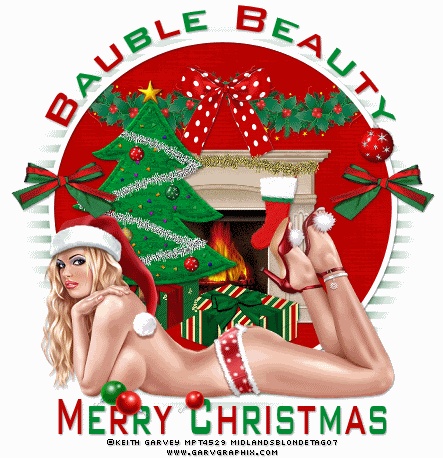 Supplies Needed for this tutorial are:
Paint shop pro
Tube Of choice (I used a tag by Keith Garvery, Purchased from MPT http://mypsptubes.com
Font (I used BankGothic)
Accents of choice
Fire ©Rainbow Coff and can be downloaded from
here
Open a 500x500 canvas
Flood fill white
Select the eclipse tool
Foreground White Width 6
Background no colour
Hide your white layer and draw a good sized circle
Duplicate and hide it (Make sure its still a Vector Image)
Convert the visible circle to raster layer then resize it by about 90%
Select your magic wand and click inside your circle
Selections, modify then expand by 1
Choose your paper (I used clarey_hollyjolly_paper1) and paste it as a new layer
Selections, Invert then delete
Invert again and add the fire. Resize and place in the middle of your circle.
Build up your Christmas scene, If anything over laps then Invert and delete.
When done Select none
Add a drop Shadow of choice.
Add your bows to the side of the circle and dropshadow
Paste your tube and move to the bottom of your circle and add the same dropshadow as you did
before.
Now Add a new raster layer and flood fill with a colour of choice
Go to Layers, New mask layer from image
Find the mask in the drop down box (make sure Invert Mask Data is checked)
Apply
Delete mask and click to merge group.
Move the mask to where your happy with it.
Now for the text that goes over the circle
Unhide the vector circle layer
Click on your text tool then position the cursor where you want the text to go.
You should see an angle 'A' (Make sure you are not on the circle layer
otherwise you wont be able to delete it without deleting your text)
Write a saying of choice
Convert to raster when happy
Delete the vector circle
Add the same Drop Shadow as before
Now add your name at the bottom
Covert to raster and add the same dropshadow
Position it slightly under your tube
Add all appropriate copyright
Save!!!
Hope you Enjoyed this Tutorial!!