This article written and copyright 2012 by Will Johnson,
wjhonson@aol.com
, Professional Genealogist
1 Dorothy McGuire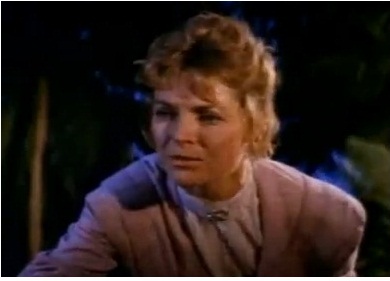 Dorothy Hackett McGuire, was born 14 June 1916 in Omaha, Nebraska, the only child of Thomas Johnston McGuire a lawyer and his wife Isabelle Trapp. ("
Dorothy McGuire
", Wikipedia)  She became an actress.  We glean some biographical tidbits from Life Magazine, 17 Nov 1941, "
Close Up: Dorothy McGuire
".  This article which calls her "24 years old" states that her parents divorced when she was 14, and her mother remarried. "A year later, Dorothy, who was living with her father, whom she adored, came home from school one afternoon and found him lying dead."  It goes on to say that her career started "eleven years ago" when she, at age 13, appeared in the play A Kiss for Cinderella at the Omaha Community Playhouse, opposite the then-obscure
Henry Fonda.
After her father who had been a successful lawyer died, her mother sent her to a convent school in Indianapolis.  She then went to Pine Manor Junior College, in Wellesley, Massachusetts, from where she graduated in 1937.
She got her first Broadway break from Jed Harris, who used her to replace Martha Scott in Thornton Wilder's play Our Town.  But her big break came with the play Claudia, in which she became a national sensation.  The play was written and directed by Rose Franken (great-aunt-by-marriage, of comedian Al Franken).  Dorothy's understudy in Claudia, at least part of the time, was Jocelyn Brando, sister of Marlon Brando.  Selznick brought her to Hollywood to co-star in the 1943 movie version opposite Robert Young.
In 1943, at the home of
Leland Hayward
in Brentwod, she married
John Swope
, close friend of Henry Fonda, and photographer for Life magazine.  Jimmy Stewart was their best man, and Frances Starr (who had played her mother in "Claudia") was the maid of honor.  Dorothy is arguably best-known today as the mother in the Disney film "Swiss Family Robinson", but she is also well-known from playing the mute girl in the classic "The Spiral Staircase", the female co-star in "The Enchanted Cottage", the mother in "Old Yeller" and the Virgin Mary in "The Greatest Story Ever Told".
John died in 1979.  They had two children: Mary "Topo" an actress (b 1948 Ossinging,  not New York City) and Mark a photographer (b 1953 Santa Monica).  Dorothy died 13 Sep 2001 in Santa Monica, California from arrhythmia after suffering from a broken leg.
Sources for 1
1915 Omaha Nebraska City Directory : "McGuire & More (Thos J McGuire, Walter T More), lawyers 609 State Bank Bldg"
"The Creighton Chronicle", 20 Oct 1918 (Omaha, Nebraska) : "T J McGuire, LL. B. 1914, formerly city prosecutor for the City of Omaha, has returned home from El Paso, Texas, where he was stationed for several months with border troops.  Mr McGuire enlisted in the army in June, 1918.  He will resume the practice of law in Omaha."

1920 US Federal Census, Douglas County, Nebraska; Omaha, 9 Jan 1920, Ward 8, Sheet 10B, 1122 South 35th Avenue: "A J Trapp, head, owns home, 42, married, b NE/MO/MO, Detective, Police Station; Mary, wife, 50, married, b IA/OH/NJ; G J McGuire, son-in-law, 38, married, b MO/US/US, Lawyer, Own Office; Isabell, daughter, 26, married, b NE/NE/IA, Stenographer, National Fur Co; Dorothy, granddaughter, 3 6/12, single, b NE/MO/NE; Nellie Lavell, sister-in-law, 36, single, b IA/OH/NJ, Teacher, Omaha School"
1928 Omaha Nebraska City Directory : "McGuire, Thomas Johnston (Brome, Thomas, Ramsay & McGuire), Lawyer, 824 Omaha National Bank Bldg, home 602 S 38th Ave"

1930 US Federal Census, Douglas County, Nebraska; Omaha, 14 Apr 1930, Ward 9, page 251B, 602 South 38th Avenue: 'Thomas J McGuire, Head, owns home worth $12000, white, 48, married at 35, b LA/US/US, Lawyer, General Practice; Isabelle, wife, white, 37, married at 22, b NE/PA/IA; Dorothy, daughter, 13, single, b NE/LA/NE"
SSDI, "Dorothy McG Swope, born 14 Jun 1916, died 13 Sep 2001, last residence Beverly Hills, SSN issued in New York"