"The greatest happiness is to vanquish your enemies, to chase them before you, to rob them of their wealth, to see those dear to them bathed in tears, to clasp to your bosom their wives and daughters."
Genghis Khan
***LATEST NEWS***
PLEASE GO OVER TO www.greatescapegames.co.uk for all of the latest Clash of Empires news and offers.  
May 25th: with warhammer historical announcing it has closed - http://www.warhammer-historical.com/ -  now is the time for you wab-ites to take a switch to coe.  
so get your gaming mates together, get your coe books and get playing ancients again!
may 9th:  the new website is up and we will be providing all new content there - www.greatescapegames.co.uk - as this site becomes redirected to the new one.  New army lists are up now and there are our new hobby blogs - for ancients and ww2 - to view on the site. these will be updated at least once a week with hobby and painting projects so we hope to see you there often.
May 8th:  we are at sheffield triples wargames show on the 19th and 20th of may and hope to see you there.  get your army together for the coe tournament taking place at the show. full details here: http://www.greatescapegames.co.uk/clash-of-empires/events
may 4th:  the new great escape games website goes live this weekend.  go to www.greatescapegames.co.uk 
the new site features a new shop with special offers and the latest releases.
April 26th:  updated anglo-danish, norman and viking lists in the dark ages section
April 23rd:  Age of ravens is released! Go to the products page http://www.clashofempires.co.uk/products to order.
April 17th:  the triples rules pack has had its timings adjusted. And at Salute we'll have some cracking Dark Age army deals.
April 16th:  new great escape games website coming soon!  the rebuilding is nearly complete and the new site will be up next week. In the meantime we will be at salute and look forward to seeing you there.
APRIL 15th:  rules pack for the clash of empires triples tournament in sheffield may 19th/20th is now uploaded.  see the upcoming events page of the website. 
March 30th:  age of ravens is released on april 23rd.  It is available to pre-order here: http://www.clashofempires.co.uk/products.  Your order may be picked up at salute on the 21st if you wish - pay for it now or on the day. A preview of the book may be seen in the Articles and Battle Reports section of the web site.
March 20th:  Age of Ravens contents preview page uploaded - see the articles & Battle reports page.
MARCH 18TH: the first 500 copies of age of ravens will come with a free (unpainted) dark age warlord figure.  Sculpted by steve saleh, the example below is painted by paul cubbin.
MARCH 11TH:  Work on the age of ravens source book is nearing completion. details of the release and some sneaky previews will follow over the next couple of weeks.
MARCH 9th:  Triples 2012, a 3000 pt tournament takes place on may 19th/20th in sheffield at the triples wargames show.  4 games using classical armies on 8' x 4' gaming tables.  tickets can be bought now from the upcoming events page priced £15.
February 18th:  Wallachian/Moldavian, Medieval Hungarian and Early Samurai added to medieval section, Italo-Lombard added to dark age section.
RULES PACK FOR APRIL 28TH TOURNAMENT IN CARDIFF, "ARMIES OF ANACHRONISM 2012" IS NOW UP IN THE UPCOMING EVENTS SECTION
The Rise and Fall of Persia: Cyrus to Alexander
Out Now!
Order here: Products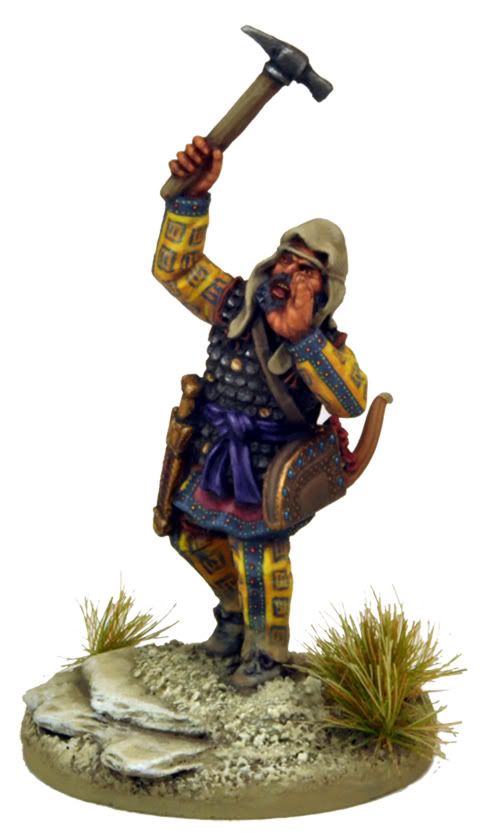 Preview in the articles and battle reports section

Clash of Empires is out now! 

Order your copy from the products page.

Please note that Brookhurst Hobbies http://brookhursthobbies.com/ in the USA and War & Peace Games http://www.warandpeacegames.com.au/war-peace-games/home.do in Australia will be stocking Clash of Empires in their respective territories.  
Thank you for all of the kind words of support and encouragement we have received from so many of you, it is much appreciated and the greatest of motivators.

This site is dedicated to "Clash of Empires", the tabletop rules for ancient wargaming.  CoE is produced by Great Escape Games, publisher of "Rules of Engagement", the World War II miniatures game. 
Use the sidebar to the left to navigate the site for free downloads, insights into the game and where to buy the rules.