If you want to record any of these events or conduct the interviews, contact Jesse: 
cjsfpa@sfu.ca
These are only a few ideas for events to record and interviews to conduct. BUT, you can always bring your own ideas to the station. Feel free to contact Public Affairs & Talk Coordinator Jesse with information about what you have recorded or would like to record, and he would be very happy to work out airtime with you. Reach him at cjsfpa@sfu.ca
VPL Aboriginal Storyteller in Residence
Vancouver Quidditch League

Women's Organization Hopeful with Legal Aid Increases to Family Law Services

Book to Review / Author Interview: Black Star by Maureen Medved

YWCA METRO VANCOUVER 2018 WOMEN OF DISTINCTION AWARDS
Business Council launches BC women in the workplace series
NCCM Welcomes Repatriation of Canadian Citizen Bashir Makhtal
Gitanyow Hereditary Chiefs Appeal Moose Case Decision, Broad Implications for Treaty Process in BC
BC Civil Liberties Association 2018 Liberty Awards

Canadian Centre for Gender & Sexual Diversity
Kinder Morgan Pipeline Expansion

Reel Causes: Fattitude (May 31)
Music Waste Festival (June 7-10)
Francophone Summer Festival of Vancouver (June 14 to 23)

Make Every Vote Count: Electoral Reform
Opioid Crisis
Site C Dam
Embark
The Peak
CJSF NEEDS A HOME!
VPL StoryCity
Special Programming
Reel Causes is proud to present Fattitude, in support of Fat Panic!, an alliance of people of all sizes who are committed to ending the oppression of fat people. Fattitude is a body positive documentary that amplifies the voices of a rapidly growing social justice movement.
The Film
Fattitude
Viridiana Lieberman and Lindsey Averill | 90 minutes
Fattitude examines how popular culture continues to perpetuate fat hatred and fat-shaming. The consequences of this are dire and result in very real cultural biases and civil rights issues for fat people. For example, did you know that fat people are paid $1.25 less an hour than their thin counterparts? Or that a fat person who excels can still legally lose a job just because they're fat? How about the reality that one in three doctors associates fat bodies with hostility, dishonesty and poor hygiene? Nine out of ten human resources professionals have said they would hire a thin person over a fat person with the same qualifications. Fat people have been barred from adopting children, are often denied access to IVF treatments, and are more likely to experience medical neglect such as having a surgical instrument left inside their body after an operation.
Informed by an intersectional framework, Fattitude is very conscious and attentive to the idea that fat hatred crosses the lines of race, class, sexuality and gender. The film features a range of voices: academic scholars, psychologists, popular culture icons, and fat activists — including the likes of Ricki Lake, Rebecca Phul, Jackson Katz, Marilyn Wann, Sonya Renee Taylor, Virgie Tovar, Jen Posner, Lindy West, Winne Holzman, Guy Branum, Tess Holliday, Andrew Walen and others.
Ultimately, Fattitude is changing the conversation about body image to one of self-acceptance, and encourages us to question and address systemic cultural prejudice.
Fat Panic! are an alliance of people of all sizes who are committed to ending the oppression of fat people, and to working towards a society in which no one is taught to hate their own or anyone else's body, for any reason. They are committed to:
Educating themselves and others about the causes and consequences of fat oppression, always keeping in mind that fat oppression shapes and is shaped by all other systemic forms of inequity.
Creating spaces and events in which fat people and allies can come together to socialize and engage in political activism – while we acknowledge that safety is an elusive and sometimes troublesome concept, it remains a goal worth striving for.
Challenging myths around fatness, thinness and health. This involves, at least, working to: raise public awareness about the abundant and high quality – yet strangely under-reported – research showing that the relationship between fat and health is not at all as commonly advertised; break down the mystique of anti-fat science by equipping people with essential science literacy skill; encourage health care professionals to adopt an approach that is capable of supporting people of all sizes as we make our own choices relating to health, while avoiding the notion that there is a moral obligation to strive for any particular conception of 'health.'
Music Waste is an independent music + art festival held annually in Vancouver, BC. Happening over four days at the beginning of June, Music Waste is entirely volunteer-run and organized, and showcases over 70 local bands across a variety of venues.
Interview some artists & organizers!

Lineup:
Kai Bravewood / Hope / Mamarudegyal MTHC / Pale Red / Coma Lily / Mr. Merlot / Hush Pup / Timing X / shitlord fuckerman / jock tears / Freak Dream / Pleasure Blimps / Brutal Poodle / BIRDO / Emma Goldman / charm / Bored Décor / Champion Lawnmower / YEP / Jerk Jails / Crystal Eyes / Snackland/ RINSE DREAM / Monsoon Moon / FÜ KON RIOTS / MOSFETT / Only A Visitor / Haley Blais / Ghost woman / Olivia's World / future star / 1000 Petal Lotus / My Wife / Fine / Duck! / club sofa / Scum Laude / Teak Physique / pukesword / Garbage Dreams / nice apple / muncho joe / The Plodes / Total Ed / Laverne : band/ Sigh / Kamikaze Nurse / The Trolls / Kjel / Wallgrin / Echuta / storc / Palm Oil / LeMaster / Prxncxss Aprntly / Rambone & The Wet Reality/ Energy Slime / Miss Mudd / Dadweed / Emma Lee Toyoda / andre denim / dream cast / Booty EP / Sexy Merlin / STRANGE BREED / Anybodys / Kellarissa / Devours / Ace Martens / Booker T. On Acid / fuzzy p / Be Afraid / GLUM / Pudding / Saturdays / Basic Instinct / Swamp Wolf
One of the most important francophone music events west of Quebec.
The Festival d'été francophone de Vancouver is back for its 29th edition with a summer program featuring some of the most high-profile musicians of the year! Join us in the celebration of local and national francophone talents from June 14th to 23rd.
LOIG MORIN + ÉTIENNE FLETCHER 
JEUDI - JUN 14 - THURSDAY - 8 PM
The release of a new album this year by British Columbian singer-songwriter-composer Loïg Morin has garnered a lot of attention and won over critics from East to West. Entitled La rivière, it is a soaring pop album marked by the themes of melancholy and nostalgia for the past. In 2012, Loïg self-produced and released his first solo album, entitled Lonsdale, inspired by the North Vancouver neighbourhood of the same name. As the years went by, the singer became increasingly interested in music production and decided to launch his own recording studio, Loig's Music Lab. Since then, he has produced albums for a number of local artists, including pop singer Alisa Blanc. Like Étienne Fletcher, he has just received a nomination for ''Francophone artist of the year'' at the Western Canadian Music Awards 2018.
Saskatchewan-born Étienne Fletcher is a "French Punk" musician who has the look of a rock star and the blasé manner of a free thinker, graced with a gift for melodic inventiveness. His irreverent electro-pop tunes hit home with refreshing energy and striking authenticity. He initiates us into the francophone music of the Prairies with this show that runs the gamut from rock to blues and from folk to pop music. A former member of the indie pop group Indigo Joseph, Étienne Fletcher launched his solo career in 2015, when the group took a break. That same year, after winning both the Gala Nouvelle Scène and the Chant'Ouest competitions, he performed at the Festival International de la Chanson de Granby, a mission he accomplished with aplomb, as a finalist and winner of the Critics' Award. Étienne also carried off the Hydro-Québec People's Choice Award at the 2017 Festival en Chanson de Petite-Vallée. He launched two mini albums in the fall, one in French entitled Face A and a second in English, Side A. At present, he is on a cross-Canada tour. He has just received a nomination for ''Francophone artist of the year'' at the Western Canadian Music Awards 2018.
ALISA BLANC + SOPHIE VILLENEUVE
VENDREDI - JUN 15 - FRIDAY - 8 PM
Alisa is a young singer-songwriter-composer from Vancouver. In 2016, during the "Jeux Francophones de la Colombie-Britannique" (BC francophone games), she was selected to participate in the "Pacifique en chanson" competition and won the youth segment of the contest. She was then invited to sing at the Festival International de la Chanson de Granby in Quebec in the category of "Jamais Trop Tôt" ("Never too soon"). Back in Vancouver, Alisa began recording two acoustic cuts at Loig's Music Lab. Impressed by Alisa's talent, discipline and passion, Vancouver music producer Loig Morin produced her first E.P. entitled Chapitre 1. Alisa also performed in March 2017 for Vancouver Fashion Week and she played at the Music Lab Festival in June 2017. She then took part in "Scène Vancouver", a showcase for francophone musicians organised by Le Centre with the support of the Host Committee of the 2018 JUNO awards' program "Let's Hear It BC". In June, she will perform on the Studio 16 stage with Concrete Vines, a group she met at the Crescendo concert, an event showcasing young talents in British Columbia.
Born in La Tuque, Quebec, Sophie Villeneuve is a folk singer-songwriter based in Whitehorse (Yukon) since 2013. Mixing storytelling and music, she transports her audience into her Yukon world inspired from nature and northern adventures. In 2016, Sophie wins the music competitions Pacifique en Chanson and Chant'Ouest in which she also obtains the Public's Choice Award. In 2017, Sophie performed in the prestigious Festival International de la Chanson de Granby music competition. Following her first EP Sophie Villeneuve,  she released her first full-length album, Le Chant du Hibou, in January 2018, an album inspired by her new Yukon life since she left Quebec. From dog sledding to skiing on avalanche terrain, to talking about her northern romances or living in a prospector tent in the winter, she allows her audience to travel with her. Characterized by her direct lyrics, Sophie switches back and forth between guitar and piano to share her songs. Addressing her audience as if they were around a campfire, she offers an authentic experience in a world North of the 60th parallel. Sophie is nominated this year for ''Francophone artist of the year'' at the Western Canadian Music Awards 2018.
SPECTACLE POUR ENFANTS / KIDS SHOW
WILL STROET: IMAGINE
SAMEDI - JUN 16 - SATURDAY
1 pm (0-5 ans) - 3 pm (5-10 ans) 
BILLETS / TICKETS
5$ / personne - 
$5 / person
WILL STROET
Will Stroet est la vedette de la série télé ''Will's Jams'' sur la chaîne CBC Kids. Nominé aux prix JUNO pour ses chansons éducatives en français et en anglais, Will rappelle aux jeunes l'importance de s'ouvrir sur le monde et de mener un mode de vie sain, actif et créatif. Au fil des ans, Will a lancé six albums bilingues et présenté plus de 1500 spectacles à travers le pays et à l'international. Il est aussi membre du conseil d'administration de ArtStarts in Schools visant à promouvoir l'art auprès des jeunes Britanno-Colombiens.
*Le spectacle sera également présenté le lundi 18 juin à 10 h au Norman Rothstein Theatre pour le réseau de la petite enfance francophone du Grand Vancouver (garderies, prématernelles, maternelles, etc.).
En savoir plus
JUNO nominee Will Stroet is the star of the TV series Will's Jams on CBC Kids. He inspires kids to be active, healthy, creative and engaged in the world through educational music in English and French. Over the years, Will has released six bilingual albums and performed more than 1,500 shows across Canada and internationally. He is also a board member with ArtStarts in Schools, which supports art in BC's young people.
*The show will also be presented on Monday June 18th at 10 a.m. at the Norman Rothstein Theatre for the whole francophone early childhood network of Greater Vancouver (day care centres, kindergardens, primary schools, etc).

PATRICE MICHAUD + DANIEL BÉLANGER
SAMEDI - JUN 16 - SATURDAY - 7 PM
SCÈNE EXTÉRIEURE - UNIS TV - OUTDOOR STAGE
West 7th Avenue (Fir St / Granville St)
Award winner at the Festival international de la chanson de Granby in 2009, Patrice Michaud released his first album entitled Le triangle des Bermudes (The Bermuda Triangle) in 2011. A tour of 125 concerts ensued, taking him to many places in the francophone world, and earning him numerous distinctions including two Félix awards at the 2012 Gala de l'ADISQ (Quebec Music Industry Awards). After winning the Félix award for folk album of the year for his second album, Le feu de chaque jour (The Fire of Each Day), Patrice ended his tour with a sheaf of honours: the 2014 SOCAN Prix de la chanson and nominations for Song of the Year at the 2015 Gala de l'ADISQ. The author of the hit songs ''Mécaniques générales'' and ''Je cours après Marie'' released a third album in the winter of 2017, Almanach. The first cut, ''Kamikaze'' (Song of the Year at the last Gala de l'ADISQ), was ranked at the top of the charts for several weeks.
Winner of the Félix award for best male singer of the year at the 2017 Gala de l'ADISQ, Patrice Michaud is back on stage to bring his fans the melodies that made him famous and his stories, both funny and moving, that have brought the artist so close to his audience, transforming every performance into an intimate experience.

Celebrating over 25 years of his musical career, singer-songwriter-composer Daniel Bélanger already holds a very special place in the hearts of francophone audiences. With the unbridled emotional quality of his songs, his intricate melodies and imaginative lyrics, Daniel Bélanger has brought us a stellar repertoire of hit recordings including "Sèche tes pleurs", "Les deux printemps", "Sortez-moi de moi", "Les Temps fous" and "Rêver mieux". As a performer he seduces his audience with his music peppered with humorous monologues.
In 2017, he has released Paloma, a travelling album, and one of the most celebrated recordings of the year. The new opus has since garnered awards, in particular the 2018 JUNO award for francophone album of the year, as well as prizes for show of the year and pop album of the year at the most recent Quebec Music Industry Awards. Accompanied by a team of seasoned musicians, the singer-songwriter-composer will bring us all the new songs from Paloma along with his greatest hits from the abundant discography of past years, for the sheer delight of this year's festivalgoers!
To learn more
This year again, the Festival d'été francophone de Vancouver will renew its artists in residence program. This project, which brings together artists from Quebec and British Columbia, has over the years become an incubator for musical and creative talent, and a must-see event in our summer program. This year, the group led by Vancouver's François Houle, with Itamar Erez and Hamin Honari, will merge their repertoire with the North-African and Middle Eastern rhythms of the Montreal band Ayrad, to create new and unique musical arrangements. The artists in residence program will take place on June 19th and 20th, and will be followed by

three free public performances

on June 20th, 21st and 23rd.
Ayrad's music is a fusion genre originally derived from many cultures, a unique amalgam of Andalusian and Berber rhythms and grooves inspired by reggae, Latin music, Moroccan chaabi and even occasional pop-rock strains. Songs that emerge from this exotic medley are delivered with energy and aplomb, attracting inquisitive listeners and dedicated world music enthusiasts.
Clarinetist François Houle has established himself as one of today's most inventive musicians in all of the diverse musical spheres he embraces. He has developed a unique improvisational language, virtuosic and rich with sonic embellishment and technical extensions. He has been listed on numerous occasions in Downbeat magazine's Readers and Critics' Polls as "Talent Deserving Wider Recognition" and "Rising Star". A prolific recording artist, he has released over twenty recordings as a leader, earning multiple JUNO Award and West Coast Music Award nominations. 
FESTIVAL D'ÉTÉ FRANCOPHONE DE VANCOUVER 
PATRICE MICHAUD - DANIEL BÉLANGER - 
ÉTIENNE FLETCHER - LOIG MORIN - 
SOPHIE VILLENEUVE - ALISA BLANC - WILL STROET - AYRAD - FRANÇOIS HOULE


Representative for Children and Youth Bernard Richard kicked off an 18-month #Rep4Rights outreach tour that will reach into communities across B.C. to educate children and youth about their fundamental rights. The focus of the tour will be on Indigenous children and youth, who are greatly over-represented in the provincial child welfare system.

"We have heard repeatedly from youth and young adults that they didn't know they had protected rights and that they wish they'd known at a much younger age," Richard said. "Their
experiences became the catalyst for this #Rep4Rights tour. We're aiming to reach as many children and youth as possible, with a focus on Indigenous children and youth in care."

The tour launched today at Shoreline Community Middle School in Victoria, and will make stops around the province at schools, Indigenous Friendship Centres, Delegated Aboriginal
Agencies and Ministry of Children and Family Development offices. Because many adults are unfamiliar with child rights, RCY staff will also give workshops for adults and caregivers who work with children and youth.

"The old adage that it takes a village to raise a child was never more true than in relation to the protection of child and youth rights," Richard said. "Upholding the rights of each child requires that all of us understand first what those rights are and then what our own individual roles are inprotecting them."

Led by the Representative's Advocacy and Indigenous Strategies and Partnerships teams, and working in partnership with Indigenous communities, the tour will educate children and youth ages five to 19 about their protected rights under the United Nations Convention on the Rights of the Child (UNCRC), the UN Declaration on the Rights of Indigenous Peoples (UNDRIP), and section 70 rights which specify the rights of children and youth in government care under B.C.'s Child, Family and Community Service Act. Canada ratified the UNCRC in 1991. B.C. embraced the UNDRIP in 2017.

The #Rep4Rights tour will provide workshops at communities around Vancouver Island between now and June 29 for the first leg of the tour. Additional tour stop details are in the planning stages.

Media Contact:
Jeff Rud
Executive Director, Strategy and Communications
250-216-4725
Email: Jeff.Rud@rcybc.ca
BC is currently in the process of examining our electoral system. With a referendum expected in the coming year, to decide between our current first-past-the-post system and a new system (an as-yet undecided variant of proportional representation), there are plenty questions to be asked, including:
Why change electoral systems?
What is the best system for BC?
What will the consequences of the change be?
Make Every Voter Count Submission to Government: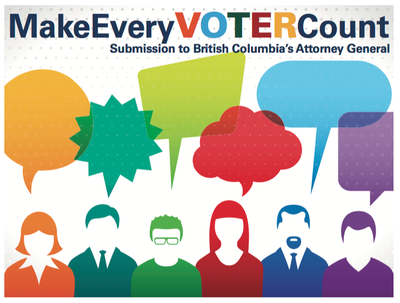 Following a process of consultation with over 20 organizations, Make Every Voter Count has prepared and submitted a set of recommendations to the provincial government regarding the upcoming referendum.  Our three key recommendations are on:
Ballot Question:  The ballot should include a specific question requesting a public mandate to adopt proportional voting that is linked to a transparent public process to choose a specific proportional system
Timing of Referendum:

  The referendum campaign should not overlap with the fall municipal election campaigns.

Campaign Finance and Third-Party Advertising Regulations:

  The referendum should be subject to regulations that limit the influence of big money.

Try talking to:
Political Parties (BC NDP, BC Liberals, BC Green Party, etc)
Non-Profit Organizations and other advocates for Electoral Reform
Political Science professors (from SFU, UBC, Langara, etc)
Artist and ethnobotanist T'uy't'tanat-Cease Wyss has been named the 2018 Indigenous storyteller in residence at the Vancouver Public Library, the library announced today.
Wyss brings to the role extensive experience producing various formats of media art for almost 30 years, and work as an ethnobotanist with traditional training by Indigenous elders. Strongly influenced by her diverse heritage – which includes Skwxwu7mesh, Sto:lo, Irish-Métis, Hawaiian and Swiss – Wyss combines culturally focused teaching with storytelling as a means to share knowledge.
Wyss recently co-authored Journey to Kaho'olawe, covering more than two centuries of the Kanaka family's migration to the Pacific Northwest coast, and was also a recipient of the City of Vancouver Mayor's Arts Award for film and new media in 2010.
Among her long list of artist residencies and presentations is the Stanley Park Environmental Art Project, where she helped create public artworks after a storm devastated Stanley Park in 2006.
Locally known for her popular 'plant walks' in Stanley Park, Wyss is currently working on projects that include Constellation of Remediation, a City of Vancouver public art collaboration to remediate former gas station sites using plants and Indigenous methods of sustainable agriculture. She is also working with her mother, Kultsia-Barbara Wyss, on a book about the stories of her family and its strong ties to Kanaka Ranch, a piece of Vancouver's rich and diverse history.
"There are many stories of migration that have brought together the diverse communities that now live in the city of Vancouver," says Wyss. "I feel that this residency can bring to light some of the most important stories that have occurred in these lands and water and shaped our city.
"By highlighting these stories together with Indigenous stories of migration, we can begin meaningful conversations about reconciliation and our future."
In recognition of the UN Declaration on the Rights of Indigenous Peoples, the library's program has been renamed the Indigenous storyteller in residence. Created in 2008, the VPL program promotes intercultural understanding and story sharing between Indigenous and non-Indigenous Peoples.
**********
Wyss leads an exciting launch event on

Thursday, March 29

(

7 p.m.

), at the central library's Alice MacKay room. Admission is free.
 Additional events at library branches throughout the city will run until the end of June. For more details, see vpl.ca/storyteller.

May 8 and 22 at Connaught Park in kits May 16 and 30 at Central Park in Burnaby

https://www.facebook.com/events/653132721702757??ti=ia

It's a drop-in quidditch rec league for adults. The basics of the rules are explained by a local college team here: https://m.youtube.com/watch?v=aTwklC8-Thc

FAQ Is it a real sport? I'd say so! Physical, strategic, intense, and 600+ teams worldwide. Why PVC pipes? It's similar to dribbling in basketball, and it evens the playing field. Who is the snitch? A wrestler or runner with a weighted flag football flag on his back. Can anyone play? Yup! Anyone over 16 plus. No knowledge or experience expected, and every level of quidditch welcomes all genders.


Vancouver, BC–Battered Women's Support Services (BWSS) is cautiously hopeful with Legal Services Society (LSS) announcement of increases to availability of family law services.
On Friday, April 20th 2018 LSS announced that through new funding from the provincial government they have reinstated family law coverage that was eliminated over a year ago. The funding will go to providing Family Exception Reviews, Discretionary Financial Eligibility, and very much needed Extended Family Services.
"Providing quality legal representation to women survivors of violence is essential not only to the disposition of their legal matter but also impacts their safety", says BWSS Executive Director Angela Marie MacDougall, "A woman who has been subjected to intimate partner violence also requires legal representation to address the challenges that exist due to power imbalances".
Under the Exception Review process, LSS will review the application of a financially eligible person whose legal problem does not meet their family coverage guidelines. For women survivors of violence often dealing with multiple areas of the law intersect with child support and financial matters.
Discretionary Financial Eligibility is important because income cut-offs are not realistic when it comes to the cost of living for women in BC. Discretionary financial coverage means LSS will review a woman's application further to determine if she is eligible for legal aid if they are slightly over financial eligibility guidelines.
Many abusive partners will use litigation as a form of ongoing control and harassment. The family court litigation process can become a tool for abusive partners to continue their abusive behaviour and can use up all the designated legal aid hours available to survivors. At which time the abusive partner has more power and control to affect outcomes in Family Court especially if he has greater financial means.
Extended Family Services means that lawyers working women who need more time will again be able to apply for extensions. This matters to women who have built trust with their lawyer preventing re-victimization by not asking her to continuously disclose violence she experienced. This also means her lawyer is familiar with all the ways in which her case intersects with the law.
"While this is a positive step in the right direction and will hopefully increase women's access to justice, these are not new or additional services but rather reinstating previous policies", says Harshada Deshpande Manager of Legal Services and Advocacy program at BWSS "Additionally, not all women have the support to request a review on any of the above mentioned processes and support services like the Legal Services and Advocacy Program (LSAP) at BWSS continue to fill in the gaps supporting women survivors of violence".
BWSS supports women in applying for reviews; support women who run out legal aid of hours; in collaboration with paralegal workshops and legal interns BWSS provides women with support drafting documents, affidavits, divorce applications, child-support/spousal support applications and financial statements. 
Organizations like BWSS support women to use their lawyers more effectively and efficiently by doing the work to help maximize their legal aid hours, like filling out paperwork in advance of their meeting with a lawyer.
In 2002, the province slashed 40% from the funding for the Legal Services Society. Over 80% of women accessing our services identify at least one legal issue where they require information. The funding cuts and policy changes had a strong negative impact on women survivors of violence. For decades BWSS has provided legal support to women who have experienced violence in intimate relationships, helping women navigate the Canadian legal system.
BWSS Legal Services and Advocacy Program provides a matrix of legal services for women experiencing violence and interfacing with the law. 
Media enquiries
Angela Marie MacDougall, Executive Director, Battered Women's Support Services
Tel. (604) 808 0507 E-mail: director@bwss.org
Anvil Press is pleased to announce the release of Maureen Medved's novel,
Black Star.

About Black Star:
Del Hanks is on the verge of academic tenure, but at forty, she's also perched on the precipice of either the beginning or the end of the rest of her life. 

Black Star
is a dark comedy, both bitingly funny and transgressive, an unflinching and unsentimental exploration of the female experience, academia, and the idea of power that burns in the mind as white as acid.
Medved's new novel is a searing critique of a world we all know too well – one of sexual exploitation, manipulation, and the subtle machinations of power that
Black Star
filters through the lens of academia. It is at once poetic, tragic, disturbing and funny.
Maureen Medved
is a novelist, screenwriter, and playwright as well as an Associate Professor in the Creative Writing Program at the University of British Columbia. Her debut novel,
The Tracey Fragments
, was published by House of Anansi Press, and Maureen's screen adaptation – directed by Bruce MacDonald and starring Ellen Page -- opened the Panorama program of the 57th annual Berlin International Film Festival and won the Manfred Salzgeber Prize. In 2009, Medved received the Artistic Achievement Award from Women in Film and Television, Vancouver. Maureen's plays have been produced across the country and her writing has been published in numerous literary journals and magazines. Medved lives in Vancouver and is currently completing a third novel.
http://www.anvilpress.com/
YWCA Metro Vancouver is pleased to announce 68 nominees for its 35th annual Women of Distinction Awards, presented by Scotiabank.

The YWCA Women of Distinction Awards honours individuals and organizations whose outstanding activities and achievements contribute to the well-being and future of our community. This year, we are proud to celebrate our 35 th year of the Women of Distinction Awards. Since 1984, YWCA Metro Vancouver has paid tribute to more than 300 award recipients and 1,750 nominees.

In addition to the 12 nomination categories, the individual nominees are eligible for the Connecting the Community Award. Individual nominees will select a YWCA program area in which they are interested and use social media channels such as Twitter and Facebook to promote votes. From April 4th to May 11th, the public can cast their votes online and the nominee with the most votes will receive the Connecting the Community Award. Scotiabank will donate $10,000 to the YWCA program area of her choice.
Award recipients will be announced on June 7th at the Awards at the JW Marriott Parq Vancouver.
This year's nominees are:

Arts, Culture & Design
Diane Brown - Co-Founder and Artistic Director, Ruby Slippers Theatre
Mary-Jo Dionne - Principal, Mary-Jo Dionne Productions
Nancy Lee - Artist, Nancy Lee Productions
Alison Meredith - Associate Director (Development), Audain Art Museum
Esther Rausenberg - Executive Director, Eastside Culture Crawl Society
Kim Spencer-Nairn - Executive Director, Capture Photography Festival Business & the Professions
Christine Bergeron - Executive Lead (SVP), Member Experience and Community Engagement, Vancity Credit Union
Leslie Collin - Director of People and Culture, Unbounce
Wendy King - Vice President, Legal, Risk and Governance, Capstone Mining Corp.
Carol Leong - Vice President and Investment Advisor, TD Bank
Kirsten Sutton - Vice President and Managing Director, SAP Labs Canada
Heidi Worthington - Senior Vice President and Chief Revenue Officer, Pacific Blue Cross


Community Champion
Narima Dela Cruz - Founding Director, Surrey Philippine Independence Day Society
Amy Fong - Founder and Circle Leader, Vancouver Diaper Circle
Amy M. George - Elder, Tsleil-Waututh Nation
Joanne Griffiths - Co-Founder, Backpack Buddies
Sarah Maitland - Co-Founder and Creative Director, The Writers' Exchange
Andrea Thomas Hill - Founder and Board Chair, Cause We Care Foundation
Joanne Wild - Inspector, Vancouver Police Department Education, Training & Development
Susan Hutchison - Director, Junior School, Crofton House School
Rosalind Poon - Teacher Consultant, Richmond School District #38
Leila Rahemtulla - Instructor, SFU and BCIT, Consultant, and Author
Mara St. Onge - Founder, Blingja Concepts
Colleen Vaughan - Vice-President, Academic, Justice Institute of BC


Entrepreneurship & Innovation
Noel Asmar - CEO, Noel Asmar Group Inc.
Becky Brauer - Co-Founder and Head of Culinary, Fresh Prep
Lauren Carbis - Founder and Creative Director, The Prevail Project
Bonnie Foley-Wong - Chief Investment Innovator, Pique Ventures
Mandy Gill - CEO, MGM Fitness Corporation
Melanie Greenough - Founder and CEO, Melaniegreenough.com
Debra Lykkemark - Chairman and Founder, Culinary Capers Catering and Special Events
Tea Nicola - Co-Founder and CEO, WealthBar Financial Services Inc.
Edoye O. Porbeni - CEO, Future Health Ventures Inc.
Carol Robinson - Principal/Owner and Executive Search Consultant, Harbour West Consulting Inc.

Environmental Sustainability
Maureen Jack-LaCroix - Founding Director and Program Designer, Be The Change Earth Alliance
Wilma Leung - Senior Manager, Technical Research and Education, BC Housing
Brianne Miller - Founder and CEO, Nada
Vanessa Timmer - Executive Director, One Earth
Christianne Wilhelmson - Executive Director, Georgia Strait Alliance Health & Wellness
Betty Calam - Associate Professor and Director, St. Paul's Site, UBC Family Practice Residency Program
Christine Loock - Developmental Pediatrician, Children's and Women's Health Centre of BC
Roanne Preston - Department Head, Anesthesiology, Pharmacology and Therapeutics, Faculty of Medicine, UBC
Tara Sedlak - Medical Director, Leslie Diamond Women's Heart Health Clinic, Vancouver General Hospital
Christy Sutherland - Medical Director, PHS Community Services Society
Elizabeth J. Watt - Physician Lead, Abbotsford Youth Health Centre

Non-Profit
Jennifer Breakspear - Executive Director, PHS Community Services Society
Sharon Gregson - Spokesperson, Coalition of Child Care Advocates of BC
Maria Hudspith - Executive Director, Pain BC
Teri Nicholas - President and CEO, BC Children's Hospital Foundation
Julia Staub-French - Executive Director, Family Services of the North Shore

Public Service
Cheney Cloke - Leader, Strategic Transformation, Fraser Health
Amanda Farrell - President and CEO, Partnerships BC
Satwinder Kaur Bains - Director, South Asian Studies Institute, University of the Fraser Valley
Linda Lupini - Executive Vice President, BC Emergency Health Services
Zulie Sachedina - Vice President, Human Resources and General Counsel, Providence Health Care
Lisa Spitale - Chief Administrative Officer, City of New Westminster

Research & the Sciences
Connie Eaves - Distinguished Scientist, Terry Fox Laboratory, BC Cancer Agency
Shanna Knights - Director of Research, Ballard Power Systems
Gina Ogilvie - Senior Advisor, Research, BC Women's Hospital and Health Centre

Young Woman of Distinction
Miranda Anderson - Founder, Enufsaid
Tara Bosch - Founder and CEO, SmartSweets
Veronika Bylicki - Co-Founder, CityHive
Jasmine Mander - Girls Prospects Head Coach, Vancouver Whitecaps UBC Academy
Cecilia Pang - Founder, Art2Heart and ajourney2success.com
Mary Zheng - Founder, When I Grow Young

Outstanding Workplace
BCAA
Purdys Chocolatier
United Way of the Lower Mainland



For media inquiries please contact:
Chantelle Krish
Director, Communications and Advocacy
YWCA Metro Vancouver
tel: 604 895 5767
cell: 778 938 9544
ckrish@ywcavan.org
ywcavan.org
Business Council of B.C. examines the place of British Columbian women in the workplace
In honour of International Women's Day, the Business Council of B.C. (BCBC) is releasing a series of blogs examining the place of British Columbian women in the workplace. The series offers a preview of a BCBC report on women and work in BC over the last four decades, to be released later this spring. 
"Women's labour force participation is not simply a women's issue. It is a complex topic with broad economic impacts," said Greg D'Avignon, President and CEO of the Business Council of British Columbia.  "Data shows that increasing women's labour force participation has a direct correlation to three desired policy outcomes: boosting economic growth, closing skills gaps, and reducing poverty."
The blog series outlines how women in BC today are better educated than at any other time in history, and yet the labour force participation rate gap has stayed essentially constant for nearly three decades. "This is a surprising outcome given that higher education levels are normally associated with increased workforce participation and steady attachment to the labour market," observed Denise Mullen, the Business Council's Director of Environment and Sustainability and author of the report.  
Why are women less likely than men to be in the labour force? "The answer might appear by looking at women's reasons for not participating in work, or choosing part-time work over full-time work. These reasons matter. And in this regard, policy may help to explain the participation gap," noted Ms. Mullen. A robust economy depends on being able to develop, nurture and engage skilled talent. With employers struggling to find workers at all skill levels, and a rising cohort of highly educated women not being engaged in work, the result is a substantial unrealized benefit to our economy. "To address this lost opportunity, we must identify and understand the barriers affecting women's participation in the workplace. Then, action needs to be taken by government and business leaders to address the challenges women face in work, which will ultimately drive a stronger, and more resilient economy," stated Ms. Mullen.   
Key stats explored in the series:
While the gap in BC labour force participation rates between men and women narrowed in the second half of the last century (1961-1994), it has remained stable for nearly three decades at about 9 percentage points.

More women than men graduate with some form of post-secondary educational credential – a certificate, a diploma, or a degree.

Since 1990, women aged 20 to 49 years have had steady labour force participation rates between 78% and 80%. Despite a rising cohort of highly educated women, these rates have not increased.

Women's employment earnings are, on average, still lower than men's—even when they have the same education level.

Women are dominant in part-time employment – 67% compared to 33% for men.

The BC economy is set to have 917,000 job openings over the next decade. Attracting more women into the workforce could help meet future labour demand.

Fifty one percent of small businesses in BC are self-employed individuals. Of this, women account for 38% - the highest percentage in Canada.

Women over 50 have the fastest growing labour force participation rate. Between the ages of 50 – 64, women participate at a rate higher than the overall average for women (67% and 60%, respectively).

The 2018 federal budget is a step in the right direction: measures to combat the gender gap feature throughout.
Read our Women and Work in BC blog series here, with more to come over the course of the week:
About the Business Council of British Columbia
Now in its 52nd year as the premier business organization in British Columbia, the Business Council of B.C. is a non-partisan organization made up of 250 leading companies, post-secondary institutions and industry associations from across B.C.'s diverse economy.  The Council produces exceptional public policy research and advocacy in support of creating a competitive economy for the benefit of all British Columbians.
Contact:
Greg Descantes 
Pace Group
604-646-3564
The National Council of Canadian Muslims (NCCM), a prominent civil liberties and advocacy organization, welcomes Bashir Makhtal's return home to Canada to his family after over a decade of
unjust imprisonment
in Ethiopia.
In 2006, Bashir was "extraordinarily renditioned" from Kenya to Ethiopia, where in 2009 he was subjected to a grossly unfair trial
on politically-motivated charges
, a life sentence, and incommunicado detention. The NCCM has called for Bashir's release and repatriation to Canada for 10 years.
"We welcome Bashir's long overdue release and return to Canada, which comes after a sustained and persistent campaign undertaken by his family, his legal team, and civil society including allies such as Amnesty International Canada. We commend all those involved for vigorously fighting for Bashir's human rights, and by extension, the rights of all Canadians unjustly detained abroad to be treated according to the principles of fundamental justice," says NCCM Executive Director Ihsaan Gardee.
"We also thank the federal government for their efforts to achieve Bashir's release, particularly Parliamentary Secretary for Consular Affairs Omar Alghabra," adds Gardee.
The NCCM is an independent, non-partisan, and non-profit organization that is a leading voice for Muslim civic engagement and the promotion of human rights.
Leila Nasr, Communications Coordinator, 613-254-9704 or 613-407-3834, lnasr@nccm.ca
"The decision of Justice Sharma in our case has put aboriginal case law back 30 years," said Malii (Glen Williams), Chief Negotiator and President. "If this decision stands, it will give government power to effectively extinguish aboriginal hunting rights of nations who have territories which are overlapped even for hunting purposes by those nations who have signed treaties."
The Gitanyow brought the case forward in November 2015 after years of attempts to engage the Province in consultation on the Total Allowable Harvest and Annual Management Plan for Nisga'a Nation moose hunting that takes place in the Gitanyow Lax'yip (territory). The Nass Wildlife Area created by the Nisga'a Final Agreement overlaps 84% of the Gitanyow Lax'yip. Following the signing of the Nisga'a Final Agreement in 1999, the Nass Moose Population declined by approximately 65%. "What we have sought in our case is to protect our aboriginal hunting rights, and to ensure meaningful consultation on any activities that affect that right," said Simogyet Gamlaxyeltxw (Wil Marsden). "We have data that shows, and the Nisga'a have agreed, that their Total Allowable Harvest was set too high following the signing of the treaty. This has contributed significantly to the decline of the moose population in our territory, and availability of moose for our people. The Government repeatedly assured us that the Nisga'a Final Agreement would not impact our aboriginal rights, both before and after the treaty was signed. We are committed to sustainability and preserving our Lax'yip for future generations. With the decline in the moose population, our people have lost over 30,000 pounds of organic meat from our territory. This is a real impact that the Government will not have to consult with us about as a result of this decision.
"In her decision, Justice Sharma concluded that treaty rights take precedence over "asserted" rights of their neighbours. The decision means that whenever there is a conflict between the Crown's duty to consult with a non-treaty Nation regarding its asserted rights and/or title and a treaty right, then either the Crown may not be required to consult with the non-treaty Nation, or the extent of Crown consultation with the non-treaty Nation may be decreased. The Gitanyow case was dismissed and no annual consultation on the Annual Management Plan was ordered.
"The Gitanyow territory boundaries have never changed, we have evidence to support our title and rights that the courts have already acknowledged as strong," said Malii. "The problem we face is that the modern treaty process is not based on evidence, and nations claim areas that are larger than their territory to ensure they get a larger amount of treaty settlement lands. This case demonstrates that based on bare assertions of claims in treaty negotiations that are then accepted as hunting areas, our Aboriginal title is rendered meaningless unless we and every other non-treaty nation in British Columbia actively pursue our title case in the courts. "


For interviews: Glen Williams/Malii, 250-615-9597 & Karenna Williams, Counsel with Peter Grant and
Associates, 604-685-1229
For copies of the Decision and Appeal: Tara Marsden, Tara.Marsden@gitanyowchiefs.com
For more information: www.gitanyowchiefs.com

From helping to free the wrongfully detained or imprisoned abroad, to confronting racial bias in policing and overreaching national security practices, to defending the rights of investigative journalists, the Liberty Award winners showcase the significant gains that can be achieved through dedicated and passionate work.  Learn more about their incredible achievements here.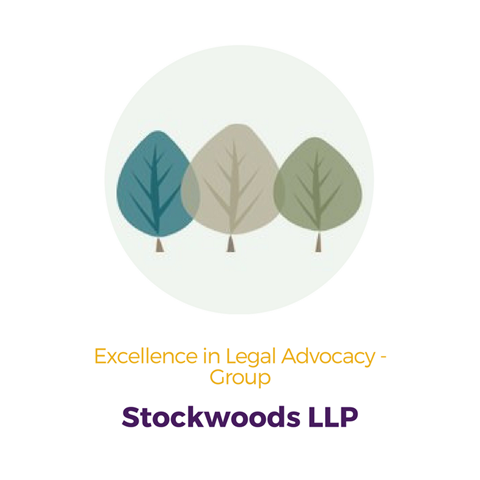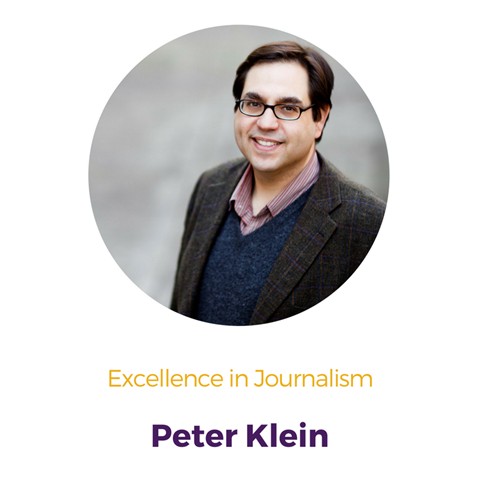 Canadian Centre for Gender & Sexual Diversity is launching several initiatives worth covering via feature or interview:


Intersex Awareness and Allyship Toolkit

The goal of this campaign is to validate and celebrate the intersexed – those people whose physical sex characteristics contain elements of both sexes, and who cannot be defined as exclusively either male or female. Our medical culture has shown a queasy discomfort with intersex conditions, but we believe it's time our culture and our institutions acknowledged the intersexed, without erasure or shame.
Find the toolkit here
A New Mascot: The Gender Elephant

Based largely on
TSER's Gender Unicorn graphic
, The Gender Elephant is an educational tool that can be used by anyone to help learn and teach the concepts of gender identity, gender expression, sex, physical attraction, and romantic attraction.
Queering the Curriculum: changes to public education

How do we get more LGBTQ+ folks interested in the field and encourage them to pursue careers in STEM?  Once they're there, how do we ensure that the environment is welcoming and accepting? 
For students to succeed academically, it's important that they feel supported, included, and safe. One way to do this is to include a wider range of people in readings, assignments, and examples.  Students will be more engaged if they can better relate to the course content and feel like their lived experiences are relevant.  Also, the normalization of LGBTQ+ experiences helps foster a culture of acceptance and allyship. The centre offers workshops and other support to develop and diversify curriculums in science, math, and other fields.
More info here
The Pink Agenda: Advocating to support the changes to the Summer Jobs Grant

The CCGSD has been a long advocate for stopping public funding of anti-LGBTQ2+ organizations, and is campaining in support
of

the recent changes made to the Canada Summer Jobs (CSJ) program, which seek to secure greater fulfillment of human rights in accordance with the Canadian Charter of Rights and Freedoms.

More info on the campaign here, and on the Pink Agenda here

Continuing to push for trans & non-binary inclusion in ALL government facilities--including corrections

Fighting for the implementation of Bill C-16, including allowing inmates to be placed in a men's or women's facility based on how they self-identify.

more info

New funding for organizations working to END Gender Based Violence

The CCGSD's executive Director ED on the Minister of Status of Women's Gender Based Violence Committee. As part of that work, the Committee has been lobbying the Ministry of the Status of Women to have more resources and community funding.

On January 17, 2018, Minister of Status of Women,Maryam Monsef announced funding reform and $20 million to address gender-based violence in Canada.

more info about the funding reform here

Working with MPs to create a national plan to end homelessness

At least two people lose their lives every week due to homelessness, with the number of unreported deaths as a result of living on the street thought to be much higher. On any given night, there are 35,000 people who find themselves without a place to sleep in Canada (23% of that are homeless LGBTQ2+ persons). It's hard to wrap your head around, but Canada is the only G8 country without a national housing strategy. That fact is doubly disconcerting given that the right to housing is considered a fundamental human right according the Universal Declaration of Human Rights, a document heralded by Canada as an important and necessary emblem of progressiveness.

This is why Member of Parliament Sheri Benson of the NDP is proposing M-147, the motion whose aim it is defeat homelessness, in the House of Commons.

More info here
This issue is the subject of intense debate across BC, Alberta, and the rest of the country, but is of particular interest to SFU students and Burnaby Residents because it's happening right here in Burnaby, and right here on Burnaby Mountain!
http://www.policynote.ca/kinder-morgan/
Kinder Morgan has decided to halt non-essential work
:
http://www.timescolonist.com/news/b-c/kinder-morgan-halts-pipeline-work-cites-b-c-opposition-1.23259849
It brings so much hope that the efforts of grassroots activism are causing tangible change. But let's not forget that it's more important than ever to increase pressure against the project. These are some orgs to follow to keep up with the actions: 
TransMountain: Canadians weigh in on economic implications, protesters, and 'social licence'
Six-in-ten say Kinder Morgan could have done a better job earning public's trust on this project
---
April 23, 2018 –
Protests against Kinder Morgan's TransMountain Pipeline have followed Prime Minister Justin Trudeau for months, from Vancouver to Ottawa to London.  
Not London, Ontario. London, England.  
The protests from the United Kingdom's branch of Greenpeace during Trudeau's recent visit for the Commonwealth Heads of Government meeting serve as an indication of the scale of interest this pipeline debate has garnered. But, while Canadian protesters may find unity in the demonstration by their international counterparts, the broader Canadian public is less enthusiastic about resistance to this project.  
The second report in a two-part Angus Reid Institute study of the TransMountain conflict finds Canadians are three times more likely to say the protesters (the Canadian ones) do not represent the mainstream view of their compatriots.  
This opinion may be driven by the perceived benefits of approval or consequent harms of rejection on this project. Six-in-ten Canadians (59%) say the pipeline expansion would help the Canadian economy overall, while one-in-five (17%) say it would have negative consequences.
More Key Findings:
Six-in-ten Canadians (60%) say that they view the protests against TransMountain as not representative of the mainstream view, but fewer (46%) say they would like to see B.C. Premier John Horgan should condemn them
By a ratio of three-to-one (58% vs 20%) Canadians say Kinder Morgan could have done a better job of earning public support, and brought much of this conflict upon itself. This opinion is held by supporters (56%) and opponents (70%) alike.
The debate over the TransMountain project has captured the nation's attention. More than half of Canadians say they're paying close attention to this issue – including majorities in every region other than Quebec
Link to the poll here: www.angusreid.org/transmountain-kindermorgan-part2
Download .PDF (645 KB) with detailed tables, graphs and methodology.
Media Contact: 
Shachi Kurl: 604.908.1693 (mobile) shachi.kurl@angusreid.org @shachikurl
Pipeline opponents demand all-party investigation after whistleblowers reveal rigged approval
April 26, 2018, Unceded Coast Salish Territories/ Vancouver BC. — Indigenous leaders, conservation organizations, and community groups are calling for an all-party investigation into the federal approval for Kinder Morgan's Trans Mountain pipeline and tanker expansion project after revelations this week that insiders rigged the federal approval process.
Whistleblowers in the federal government revealed that they were pressured "to give cabinet a legally-sound basis to say 'yes'" to the pipeline and tanker proposal," one month before the pipeline was actually approved.
Grand Chief Stewart Phillip, president of the Union of BC Indian Chiefs, "We are absolutely shocked and outraged to learn that the legally required consultation process for the destructive Kinder Morgan Trans Mountain pipeline expansion may have been disingenuous. Even though consultation and accommodation is a red herring in the era of consent, it exists as a minimum legal standard that the government is required to carry out. We expect a full and independent investigation immediately."
Seven First Nations are awaiting court decisions which could overturn the approval due to improper consultation. These revelations appear to confirm concerns at the time that the federal government had already made up its mind.
"The serious allegations in this reporting, if true, means the Kinder Morgan review process was a rigged game from the very beginning," said Mike Hudema, Climate Campaigner with Greenpeace Canada. "We need an investigation to look into the claims, to determine whether Indigenous leaders and people across the country were lied to, and whether the only answer the federal government would hear for this destructive project was the one Kinder Morgan demanded."
High-ranking public servant Erin O'Gorman ordered the five involved federal departments to create a rationale for the approval on October 27, 2016, while consultation talks with local First Nations were going on. The Ministerial Panel that was to fill gaps in the National Energy Board process under the Harper government didn't issue its report into meetings along the pipeline and tanker route until November 1, 2016. The panel was the centerpiece of Justin Trudeau's election campaign promise to reform the National Energy Board. 
"Thousands of people took time out of their day to voice their opposition to the only federal representatives who would listen," said Peter McCartney, Climate Campaigner for the Wilderness Committee, who attended all of those meetings. "To know that Cabinet didn't even consider their input is a slap in the face to all British Columbians."
Supporting organizations: Wilderness Committee, Greenpeace, 350.org, Dogwood, Council of Canadians, SumofUs, BROKE - Burnaby Residents Opposed to Kinder Morgan Expansion, Coast Protectors, PIPE UP Network
-30-
Grand Chief Stewart Phillip, President, Union of BC Indian Chiefs (UBCIC): 250-490-5314
Mike Hudema, Climate and Energy Campaigner , Greenpeace: 780-504-5601
Peter McCartney, Climate Campaigner, Wilderness Committee: 778-239-1935
Try talking to: 
Kinder Morgan Representatives

Local, Provincial and Federal Government representatives

Councillor/MLA/MP, Mayor/Premier/PM, Representatives from Department of Energy, Environment Canada, Natural Resources Canada, etc

Professors from Political Science, Environmental Science, Geography, Economics, Geology Departments etc (SFU, UBC, Langara, etc)
https://www.transmountain.com/pipeline-safety
https://twnsacredtrust.ca
https://www.kindermorgan.com/pages/business/canada/tmep.aspx
Following on the historic victory to stop the Beedie development at 105 Keefer in Chinatown, Downtown Eastside and Chinatown residents are calling on the City of Vancouver to build 100% social housing at welfare and pension rates at 58 West Hastings.
Since 2007, Downtown Eastside residents have struggled to get the site at #58WHastings for social housing for low-income community members. Residents and supporters have marched through the streets, organized two tent cities including the 2010 Olympic tent city and 2016 tent city, guided tours with BC's new government, and held countless public meetings, demonstrations, and more.

There have been important victories at this site. In 2008, Concord Pacific was forced to pause its 154 units of condos at #58WHastings after a year of community resistance. In 2010, Olympic tent city led by Indigenous women and elders won the immediate demand for housing all homeless residents living on the site. Following a second tent city in 2016, Mayor Gregor Robertson signed a commitment to build 100% welfare and pension rate, community-controlled social housing at #58WHastings.

Since then, the city has reneged on its promise. Instead of a project that would provide over 300 units to low-income people, the city is moving along with a project that could provide as few as 70 units at a time with record high homelessness.

Based on the past decade of struggle and recent victories, we are determined to secure 58 West Hastings as 100 percent social housing at welfare and pension rates.

This site is on the faultline of a mass dislocation of poor people that the Woodwards development accelerated in 2010, where the community lost 450 social housing units and gained only 125 units of social housing for those on welfare and pension. OHCW wants to reverse this trend and prioritize low-income residents to live in dignity in their community.

http://www.carnegieaction.org/ourhomescantwait/

announcements@carnegieaction.org

The thousands of deaths across Canada as a result of opioid use and addiction has been a dominating public health, public safety, and public policy issue for more than two years.
Beyond the headlines and the grim statistics, a new public opinion poll from the Angus Reid Institute finds this nationwide epidemic striking close to home for a significant number of Canadians. One-in-eight (12%) – the equivalent of nearly 3.5 million Canadian adults – say they have close friends or family members who have become dependent on opioids in the last five years.
The issue opioid dependency rises to the level of a "crisis" in the eyes of more than one-in-four Canadians (26%), and a further four-in-ten (42%) say it is "a serious problem" for Canada today.
But while relatively few are of the opinion government is responding appropriately to the situation, most offer strong majority support for safe-consumption sites for drug users (67% support them) and mandatory treatment programs for those who overdose (85%).
More Key Findings:
One-in-five Canadian adults (19%) say they have personally been prescribed opioids in the last five years, and fully three-in-ten (30%) say they are close with someone else who has
Fewer than one-in-four (23%) say the federal government has "responded appropriately" to this issue, and nearly five times as many say it has put "too few" resources into its response (38%) as say it has allocated "too many" (8%)
Provincial governments also receive a more negative than positive assessment for their responses to the epidemic
More than three-quarters of Canadians (77%) agree with the statement, "The opioid problem is going to get a lot worse before it gets better," and seven-in-ten (71%) say a public health issue of this magnitude would be receiving more attention if its victims weren't primarily drug users
Two-in-three Canadians (67%) say they are in favour of supervised-injection sites, and more than eight-in-ten (85%) support compulsory treatment programs for those who overdose
Residents of British Columbia – the province that saw the largest number of opioid-related deaths in 2016 – are paying closer attention to this issue and more likely to see it as a crisis for all levels of government
Vancouver continues to struggle with Fentanyl and general opioid consumption, concentrated in but not limited to the city's Downtown Eastside. Interesting perspectives might include workers at safe injection sites, individuals and groups involved with harm-reduction projects like pre-party drug testing, harm-reduction advocates, law enforcement and medical authorities, etc.
Despite the controversial Dam project's recent approval by the BC NDP, opposition continues with The Site C Summit, which will review the rationale and the consultation/decision-making processes that led to the decision.
This will be followed by community action planning in solidarity with First Nations.
More info: http://www.sitecsummit.ca/

Andrew MacLeod - All Together Healthy: A Canadian Wellness Revolution

Award-winning Author and Journalist Andrew MacLeod combines meticulous research and lively interviews and personla stories in this examination of the pressing issu 

   

inequalities in health and public policy in Canada with a focus on BC
http://thisvancouver.vpl.ca/Story_City
The Vancouver Public Library recently launched a really interesting multimedia exhibit online that features audio storytelling about many neighbourhoods across the city and throughout time. I've laid some groundwork here and VPL is interested in doing some interviews as well as letting us use their existing audio to edit into radio content.
 The SFSS has decided not to award space in the new SUB to CJSF, the Peak, and most of the other external student groups. Many of those groups currently share space in the Rotunda, which SFU intends to redevelop, meaning that these groups are at risk of being homeless.
CJSF staff
The Peak
SFPIRG
FNSA
SFSS Representatives
SFU Representatives

Embark is SFU's student sustainability organization, and they regularly host events on and off-campus that could make for great radio.
http://www.emba
rksustainabilit
y.org
Connect with a writer from The Peak to discuss their recent story!
https://the-peak.ca/
May is Asian Heritage Month, presenting a great opportunity to showcase the culture, history and heritage of Asian Canadians and people of Asian descent across the world. You can find out more about AHM here:
https://explorasian.org/
and
https://en.wikipedia.org/wiki/Asian_Pacific_American_Heritage_Month
(Note that there are different names for AHM in different countries).
ExplorASIAN Festival

explorASIAN is an annual festival organised by VAHMS that takes place each May to coincide with the National Asian Heritage Month across Canada.  The festival includes art and cultural programs, activities and events produced in collaboration with various partners from the diverse communities in Metro Vancouver.

MAY 1 – 31: Pan Asian Routes
Dimasalang III International Artist Group, Vancouver Asian Heritage Month Society (VAHMS)
Opening reception: May 3, 6:00 pm - 8:00 pm
Pan Asian Routes is a visual art exhibition in celebration of the 50th anniversary of the Dimasalang Artist Group (Philippines 1968)
Vancouver Public Library, Central Branch, 350 West Georgia St., Vancouver. 
dimasalang.org, leo@leocunanan.com,
MAY 2 – MAY 27: Irodori – We Love Canada
Gallery Bistro 2411 Clarke St., Port Moody
Opening reception: May 12, 1:30 pm – 3:30 pm
Chieko Art Studio's 20 Artists hail from Japan, Korea and Taiwan
gallerybistroportmoody.com, info@gallerybistroportmoody.com   
MAY 2 – MAY 31: A Bridge to Taiwan
Taiwanese Canadian Cultural Society
A series of Taiwanese Films
Taiwanese Cultural Centre, 8853 Selkirk St., Vancouver
info@tccs.ca, tccs.ca 

MAY 3 – JUNE 17 The Lost Fleet Exhibition
Vancouver Maritime Museum, 1905 Ogden Ave., Vancouver
lectures: May 3 at 7:30 pm and May 24 at 7:30 pm
THE LOST FLEET exhibition centres around the seizure of Japanese-Canadian fishing vessels during WWII.
 info@vancouvermaritimemuseum.com, https://www.vancouvermaritimemuseum.com/ 604-257-8300
MAY 5 "All Our Father's Relations": Exploring a New Learning Tool for Educators & Facilitators,
PCHC Museum of Migration Society in partnership with All Our Father's Relations
Participate in a film screening about one Musqueam-Chinese family's journey and a facilitated discussion on how to use
this documentary for intercultural teaching and learning
1:30 pm - 3:30 pm, UBC Learning Exchange, 612 Main St., Vancouver BC
right.relations.productions@gmail.com, pchc-mom.ca, allourfathersrelations.com 

MAY 5 – 31 Unthreaded,
Ian Tan Gallery, 2342 Granville St., Vancouver
opening reception: May 5, 2:00 pm - 4:00 pm
Aligning with the festival mandate, the exhibition features five Asian women who have come together to celebrate the common threads and unique identities of their Pan-Asian backgrounds through visual art.
iantangallery.com

MAY 5 Ganito Kami Noon, Paano Kayo Ngayon? (This is How We Were Before, How Are You Doing Now?)
100 Filipino Film Series, Consulate General of the Philippines Vancouver, Dahong Pilipino, Anyone Can Act Theatre, Tulayan - Filipino Diaspora Society, Kathara Pilipino Indigenous Arts Society, Arnis Kali Maharlika, UP Alumni Association in BC
One of the best of classic Filipino Cinema, Ganito Kami Noon, Paano Kayo Ngayon? This is How We Were
Before, How Are You Doing Now?, is a Filipino romantic musical drama film set in the year of Spanish colonization in the Philippines with English Subtitles. A panel discussion will follow the movie.
2:00 pm – 5:00 pm, Alice MacKay Room, Vancouver Public Library, Central Branch, 350 West Georgia St., Vancouver. 
leo@dahongpilipino.ca. 

MAY 5 Pull of the Net: A Multicultural Celebration
Gulf of Georgia Cannery Society
Family-friendly event to celebrate multiculturalism of the West Coast fishing industry, inside the historic cannery in Steveston village.
11:00 am - 4:00 pm, Gulf of Georgia Cannery National Historic Site, 12138 Fourth Ave., Richmond, BC
gulfofgeorgiacannery.org, 604-664-9009
MAY 6 3:00 pm – 5:00 pm, May Melfil Chai House
The Ismaili Council of BC and Dreamzz Radio are pleased to host the May Mehfil Chai House as part of the Asian Heritage Month explorASIAN Festival with this year's theme "Pan Asian Routes", featuring writers and performers of Asian heritage.
Ismaili Centre Social Hall (second floor), 4010 Canada Way, Burnaby  778-708-0690
MAY 6 & MAY 13 Chinese Tea Ceremony & Photography Discussion
Viridian Gallery
Drop by and enjoy a Chinese tea ceremony with a chance to meet up with the artist Axel Breutigam of the current exhibition and the gallery curator Dong Yue Su for a casual talk of fine art photography.
1:00 pm – 3:00 pmViridian Gallery, 1570 Coal Harbour Quay, Vancouver
info@viridiangallery.ca, viridiangallery.ca

MAY 6 - Love Speaks #31,Hafez Literature Club
An evening celebration of Persian literature, music & arts.
6:30 pm – 10:00 pm, Evergreen Cultural Centre, 1205 Pinetree Way, Coquitlam
info@hafezliteratureclub.com

MAY 6 Tracing Malong/Guhit ng Ating Malong,
Evening of dance centred around the malong (the wrap-around garment associated in the Mindanao region) with community sharing and arts dialogue for Asian Heritage Month.
3:00 pm – 5:00 pm Glad Tidings, 3456 Fraser St., Vancouver
604-879-5850, migrantebc.com, companyerasgadance.ca, migrante.event@gmail.com

MAY 11 Japanese Canadian Internment Legacy Sign Unveiling: Lillooet
Commemorating the 75th anniversary of the Japanese Canadian Internment (1942-2017), a historic sign will be unveiled for the self-supporting sites of East Lillooet, Bridge River, Minto, McGillvray Falls, Taylor Lake by the Province of British Columbia and the Japanese Canadian Legacy Project Committee.
1:30pm, Lillooet Internment Memorial Garden, Highway 12 & Sumner Rd., Lillooet, BC
centre.nikkeiplace.org, lsaimoto4@gmail.com

MAY 12 Scripting Aloud
2:00 pm
Seasonal public staged reading event that helps develop original or adapted short- and long- form scripts for multiple channels and platforms, focusing on diverse, inclusive content, writers, and performers.
scriptingaloud.ca, scriptingaloud@gmail.com

MAY 12 A Century of Asian Canadian Writing
Ricepaper magazine has been a pioneering periodical devoted to Asian Canadian writing for over twenty years. Ricepaper's focus has shifted from predominately arts and culture reporting to the publication of original literature. In featuring editors from past generations of Ricepaper, this event showcases the evolution of Asian Canadian literature, publishing, and the art of editing.
1:00 pm – 2:30 pm Sun Wah Centre, 268 Keefer St., Vancouver
ricepapermagazine.ca, info@ricepapermagazine.ca

MAY 12 "Chinese-Canadian Miracle Concert"
BC Chinese Music Association Fundraiser for BC Children's Hospital Foundation
Orchestra music by BC Chinese Orchestra
8:00 pm, Gateway Theatre, 6500 Gilbert Rd., Richmond
bccma.net

MAY 12 Dialogue on Human Rights – 30 Years After Redress,
National Association of Japanese Canadians Human Rights Speaker Series.
Online event najc.ca; national@najc.ca

MAY 12 Vancouver Ikebana Association Spring Show 2018,
An afternoon of Ikebana, the Japanese art of flower arranging. Displays, live demonstrations at 1:30 pm and 3:30 pm, and hands-on workshops. 
1:00pm Alan Emmott Centre, 6650 Southoaks, Burnaby
vancouver-ikebana.ca, vancouverikebana@gmail.com

MAY 14 - Dr. Jai Li Pipa Recital
Pipa recital by Dr. Jia Li from the China Conservatory
of Music, Beijing, China.
7:30 pm Norman Rothstein Theatre, 950 West 41st Ave., Vancouver
bccma.net

MAY 19 - 4th Annual Tagore Spring Festival 2018,
A multicultural celebration of Spring through dance, music and poetry, inspired by Nobel-laureate Rabindranath Tagore's idea of cultural diversity and pluralism.
7:00 pm – 9:00 pm Surrey Councils Chambers, Surrey City Hall, 13450 – 104th Ave., Surrey
vancouvertagoresociety.org, vancouvertagoresociety@gmail.com.

MAY 20 Walking Tour: Reflections on Asian Canadian Life & Work,
Hear the stories of how Asian Canadians lived and worked in the Powell Street area over 75 years ago.
10:00 am – 12:00 pm Meet near Chapel Arts (304 Dunlevy) at the corner of Dunlevy and East Cordova, Vancouver |
gvjcca@gmail.com, gvjcca.ca, 604-777-5222

MAY 20 Surrey Golden Melody Concert
Orchestra music by BC Chinese Orchestra
7:00 pm, Surrey Bell Centre, 6250 144th St., Surrey  |
 bccma.net

MAY 20 Past, Present and Future of the Punjabi Market,
Take a walking tour of Punjabi Market and learn about its history, present cultural landscape and what the future of
the Punjabi Market means to the city and the community.
10:30 am – 12:00 pm Lobby, Sunset Community Centre, 6810 Main St., Vancouver
explorasian.org, office.vahms@gmail.com

MAY 24 Asianess Workshop with Imtiaz Popat
This workshop will explore what it is to be Asian? Globally the term Asian means all of Asia, but in North America it means East Asian. So the word South Asian needed to be created. How do South East Asians and West Asians fit in? Or do they? Join in the the conversation as we explore Asianess to fit in with this year's Pan Asian theme.
7:00 pm - 9:00 pm,UBC Learning Exchange, 612 Main St., Vancouver
778-708-0690

MAY 26 90th Anniversary Historic Japantown Walking Tours
Celebrating the 90th anniversary of our 1928 Heritage Building and Japan/Canada Relations, this building and walking tour of the Powell Street neighbourhood will take you back in time to pre-war Japantown and the story of Japanese Canadians.
11:00 am, Japanese Hall, 487 & 475 Alexander St., Vancouver
vjls-jh.com, vjls@vjls-jh.com, 604-254-2551

MAY 26 "Hot+Noisy" Chinatown Mahjong Social
Bringing the "hot+noisy" back to Vancouver Chinatown through community free-play mahjong between cultures and generations! All levels welcome, with teachers on hand. No gambling. 
3:00 pm – 6:00 pm Chinatown Plaza Mall, 180 Keefer St., Vancouver (if the weather's nice, find us OUTSIDE in Memorial Square (Keefer & Columbia))
ycc-yvr.com, ycc.yvr@gmail.com

MAY 27 World Poetry Celebrates First Nations & South Asian Cultures
First in Vancouver! First Nations and South Asian cultures come together through dance, music and poetry.
2:00 pm – 3:30 pm, Alice MacKay Room, Vancouver Public Library, Central Branch, 350 West Georgia St., Vancouver
ariadnes@uniserve.com, 604-526-4729

MAY 27 & 28 Taste of Taiwan
Chefs from Taiwan to showcase Taiwanese cuisines
2:00 pm – 3:30 pm, Taiwanese Cultural Centre, 8853 Selkirk St., Vancouver
info@tccs.ca, tccs.ca

MAY 27 Exploring Vancouver Chinatown's Ever-changing Cultural Landscape,
Please join John Atkin, Bob Sung & Hayne Wai in exploring Chinatown's unique and ever-changing cultural landscape in relation to the past, present and future.
11:00 am – 1:00 pm, Chinese Cultural Centre, 50 East Pender St., Vancouver
office.vahms@gmail.com explorasian.org

MAY 27 Mixed Me: Multi-ethnic Storytelling for Teens & Kids,
For story-tellers and story-lovers! Hapa-palooza Festival, a celebration of mixed heritage arts and ideas, presents an afternoon of multi-ethnic storytelling for teens, kids, and families. Please join three exciting mixed race authors — poet and memoirist Chelene Knight (Dear Current Occupant), young adult writer Michelle Kim (Running Through Sprinklers), and animator/children's book author Jeff Chiba Stearns (Mixed Critters: An ABC Book) — for creativity workshops focusing on youth, children, or authors who write for youth, followed by readings and discussion of their newest works.
1:00 pm - 3:00 pm Museum of Vancouver (Joyce Walley Room), 1100 Chestnut St., Vancouver
info@hapapalooza.com

MAY 2018 EVENTS • RICHMOND ART GALLERY
Richmond Art Gallery, 7700 Minoru Gate, Richmond
Admission by donation, richmondartgallery.org,
gallery@richmond.ca, 604-247-8300


MAY 5 1:00 pm, Artist Talk by Karilynn Ming Ho

Meet the exhibiting artist as she shares the process and ideas behind her work in the Gallery's current exhibition For the Left Hand Alone


MAY 17 7:00 pm - 9:00 pm Cross-Cultural Collage Night 

Hands-on art-making event for ages 16 +. All materials and basic instructions in English, Mandarin and Cantonese.


MAY 26 1:00 pm - Exhibitions Tour in Mandarin

Learn more about our exhibitions at this tour to be conducted in Mandarin.


MAY 26 2:00 pm – 4:00 pm - Video Screening with Ho Tam

Exhibiting artist Ho Tam will screen a selection of his video works to coincide with his gallery exhibition, Cover to Cover, investigating the mediated construction of public persona.