Snake Eyes (28/09/2007)
Ethereal (17/09/2007)
By Any Other Name (05/09/2007)
Weavecube (01/09/2007
Homage to Changes (01/09/2007)
Implosion (27/08/2007)
Parabola (09/08/07)
Connected (09/08/07)
Maelstrom (08/08/07)
Blood Fire (07/08/07)
Sphere Afloat (06/08/07)
 Greenstone Well (12/07/2007)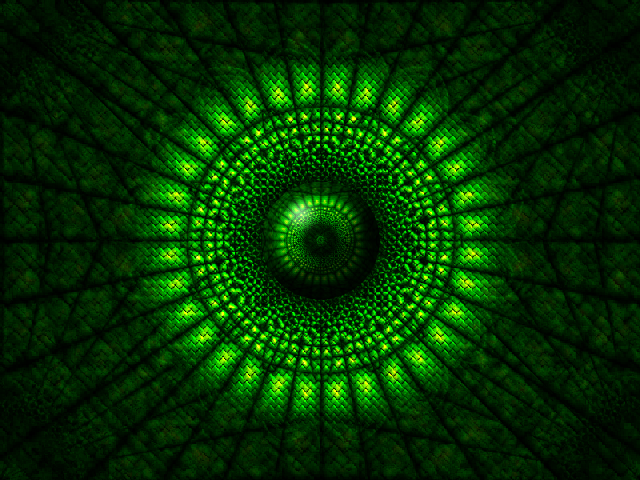 Framed Orb (created 18/06/2007)
Mystical Orb (created 04/05/2007)
Download as Desktop Wallpaper:     1024x768    800x600
Ripple in Stone (created 04/05/2007)
This started life as an attempt to put something plain, but abstract, on my desktop. It was originally designed to be viewed landscape but I think it has more effect viewed portrait.
3D Infinity Cyber Tunnel (created 28/04/07)
I spent ages trying to come up with some sort of Cyberspace meets Matrix type of effect. This was the end product. It's basically a combination of, Clouds > Pixelate > Relief > Edge Detect > RGB Curves > Rotate Zoom effects.
Take-Away Menu (created 18/04/07)
This was created using a flat image of the take-away menu and applying techniques described in the Paint.NET forum tutorial, 'Lets Make a Software Box', by BuzzKill.
Geometric Neon Cross (created 11/04/07)
Derived from techniques described in the Paint.NET tutorial 'Make A Wave', by Europe.
London's Burning (created 22/03/07)
Created using techniques described in the Paint.NET tutorial 'Negation Fire Text', by Jelp
My PDN signatures
Firday 13th Sig (09/07/07)
Four Seasons Sig (18/06/07)
Floating Button Sig (16/06/07)
Purple Haze Sig (15/06/07)
Tron Sig (30/05/07)
Vista Sig (27/05/07)
Green Pill Signature (05/05/07)
Techno Wall Signature (04/05/2007)
LCARS [Library Computer Access & Retrieval System] Signature (01/05/2007)
The main font used is called Federation
Glass Text Signature (28/04/07)
The font used to create this signature is called Bala Cynwyd
Sin City Signature (26/04/07)
The font used in ths signature is called Sin City
Glass Button Signature (16/04/07)
The font used in this signature is called Tagster
Graffiti on a wall Signature (10/04/07)
The font used in this signature is called Tagster
Scrolling Marquee Signature (09/04/07)
My first Signature (21/03/07)
The font used to create this signature is called Bala Cynwyd