HAPPY GROUNDHOG DAY!
Doing the Lyme Challenge
While Punxsutawney Phil is the nation's 
Premiere Rodent Meteorologist, 
Shadow-casting Contenders... 
Doctor of Southern Groundology)
(Competes With Wooly Worms, 
(Known for Biting The Mayor!)
Quarryville, Pennsylvania
(You've got to see video!)
(From The Groundhog Capital!)
(Has His Own Facebook Page!)
(WV State Wildlife Center- Free Event)
(After Katrinia He Lived In 
A single groundhog can move over 
700 pounds of dirt when making a burrow.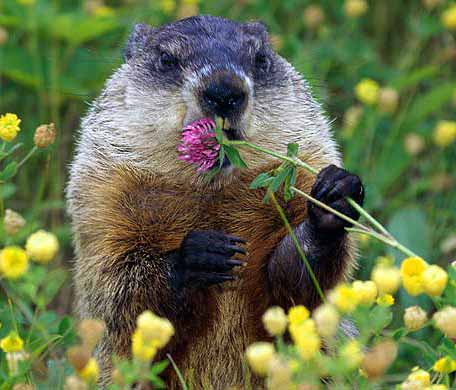 Along with vegetation, they also eat grubs, 
grasshoppers, insects, snails, 
other small animals and bird eggs.
The groundhog (
Marmota monax
) is one of 
14 species of marmots and is closely related to squirrels.
Groundhogs go by several aliases, including 
woodchuck, 
whistle-pig, forest marmot, 
Groundhog Day was adopted in the U.S. in 1887. 
Clymer H. Freas was the editor of the local paper 
Punxsutawney Spirit
 at the time.
He began promoting the town's groundhog 
as the official "Groundhog Day meteorologist".
They're impressive builders! 
A groundhog's burrow can be up to 66 feet long! 
It has multiple levels, exits, and rooms. 
They even have bathrooms.
Groundhogs generally weigh between 
When not feeding or burrowing, groundhogs will 
stand erect and be on the lookout.
When sensing danger, they emit a 
high-pitched squeaky whistle.
Mom groundhogs have one litter per year of 
two to six babes, which are called kits or pups.
As "true hibernators", groundhogs go into a dormant state 
and can reduce their body temperature to 41F degrees 
and slow their hearts to about five beats a minute.
Although they conform to their name by staying 
primarily on the ground, groundhogs 
are also decent swimmers and can climb trees!
The largest Groundhog Day Celebration is held in 
Crowds as large as 40,000 
have gathered 
to celebrate the holiday since 1886.
Phil, oh Phil, you can come out now!
? 2017 ?
If Phil sees his shadow he will 
go back into his "home" and 
there will be another 6 weeks of winter!
If he doesn't see his shadow there will be an early spring!
Like other members of the rodent family 
Sciuridae
, 
groundhogs have exceedingly dense cerebral bones 
and can survive blows to the skull that would 
likely be fatal to other mammals of the same size.
While most marmots are gregarious and 
love company, 
groundhogs are loners.
Additional Groundhog 
Facts & Information
Groundhog Day
Groundhog Song
Thanks to TreeHugger Melissa Breyer & 
Wiki for the groundhog facts.